Trains from Paris to Marseille
Trains are a fast and efficient way of traveling from Paris to Marseille. High-speed trains are the fastest means of getting from Paris to Marseille. A train ride to Marseille gets you to the heart of the city center so that you won't have to commute from your arrival location to the city center. Marseille lies 410 miles (660 km) from Paris, and the average train takes 3h 3min to travel the distance. Daily there are about 19 trains that provide services from Paris to Marseille. All trains from Paris to Marseille are operated by SNCF.
Paris to Marseille Train time: Daily departure
On average, 19 daily trains depart Paris headed to Marseille. The earliest daily trains depart Paris at 6:55 a.m., while the last train starts its journey at 10:12 p.m. Weekends and holidays typically have more rides, and schedules vary depending on the day of the week. The Omio platform provides all schedules available daily for you to get the most convenient schedule.
How long is the journey by train from Paris to Marseille?
The average train takes 3h 3min to get from Paris to Marseille. Trains can take up to 3h 20 min depending on the type of journey. Trains with connecting services normally have stops in Lyon, and the slowest journey can take up to 4h 4min.
What are the departure and arrival stations for trains from Paris to Marseille?
Departure train station: The departure train station for trains from Paris to Marseille is Paris Gare de Lyon with various train companies like TGV operating this route. Its address is 4 Place Louis –Armand, 75012 Paris, France. The station features several halls with platforms and arched windows. For travelers that need help with their luggage, the station [provides baggage handling and storage services. There are several ticket halls and a lost and found area.
The station features an SNCF Grand Voyageur first-class lounge that operates daily from 5:40 a.m. and 9:00 p.m. The lounge provides water coolers, coffee machines, Wi-Fi, phone chargers, and a seating area. There is a police station and a tourist information center for travelers that require their services. The station features a car rental stand below Hall 1.
The station also provides several food concessions and shopping stalls. The station is reachable by several transportation options. Metro lines 1 and 14 provide services to and from the station. Bus lines 29, 57, 61, 91, 20, 24, 63, 65, and 87 provide services to and from the train station. Paris Gare de Lyon train station is wheelchair enabled and provides amenities for easier access by reduced mobility travelers. Paris Gare de Lyon train station has flat-level access on corneous and platforms for easy use by travelers in wheelchairs. There are wheelchair-enabled ticket offices, washrooms, and TTY phones for travelers with hearing problems.
Arrival train station: The arrival train station for trains from Paris to Marseille is the Marseille St Charles station. It features 14 dead-end platforms lettered A to N from right to left. Its address is Square Narvik 13232 Marseille Cedex1. It operates daily from 4:30 a.m. to 1:00 a.m. Marseille St Charles train station features several restaurants, cafes, shops, book shops, and pharmacies. For travelers' entertainment, the station features free Wi-Fi and a newsstand. The station provides washrooms, waiting rooms, a tourist office, several ATMs, and a defibrillator. The station also features a parking area for travelers driving to the facility. If you need help with your luggage, the station provides luggage storage facilities daily from 8:15 a.m. to 9:00 p.m.
The station also features a lounge for first-class and business-class travelers. The facility is wheelchair enabled, and it features wheelchair lifts and courtesy wheelchairs all over the facility. Platforms feature ramps and flat surfaces for easy use by reduced mobility travelers. The station has a taxi stand and car rental agencies for travelers that require private transfer services. You can also get from the station by various public transport options like buses, metro or tram to your preferred destination.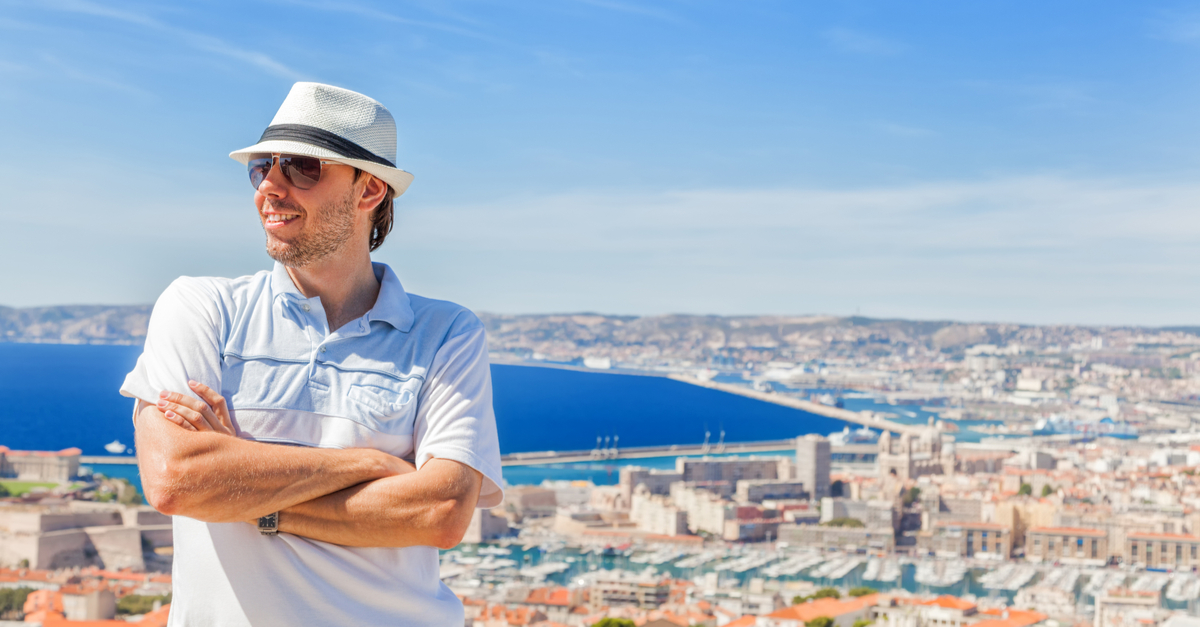 Marseille Tourist Cityscape Top. Source: Shutterstock
Which train companies travel from Paris to Marseille
The main provider for trains from Paris to Marseille is SNCF. SNCF is the national train operator of France, and it operates all domestic train routes across France. The train company also provides international services to Spain and Germany. It features three types of domestic trains, including TGV, intercities, and TER.
SNCF trains from Paris to Marseille
SNCF provides TGV, intercity, and TER services on the Paris- Marseille route. TGV trains are high-speed train services that orate at an average speed of 200 mph (320km/h). SNCF also provides TGV OUIGO trains, low-cost, high-speed trains on this route. TGV OUIGO typically have more train rides than TGV trains.
Train from Paris to Marseille: services on board
Trains from Paris to Marseille feature two travel categories. They include First Class and Second class seating. First-class travelers get a choice of seat preference for solo, duo, group, or private cabins. Seats are more spacious and comfortable, and they have headrests and footrests. Each first-class traveler gets a power socket, a retractable table, reading lights, and the option to travel in the Quiet area for free. They also get priority boarding, access to the SNCF Grand Voyage lounge, and a dedicated welcome on the platform. Regular seating features rows of four passengers, ample legroom, and reclining seats. TGV trains provide Wi-Fi access for travelers' entertainment.
Each coach provides luggage storage for travelers to store luggage. Some trains provide office spaces with a table and electric sockets. The nursing areas on TGV trains allow travelers to feed and change their babies in privacy. TGV trains allow a maximum of their items of luggage under 33*22*14 inches (85*55*35 cm) and less than 50 lbs (25 kg). In addition, travelers can bring hand luggage less than 66 lbs (30 kg). For passengers traveling with bicycles, bikes are stored in bicycle covers with a maximum limit of 47*35 inches (120*90cm). Each passenger is limited to two pets per person, and travelers should fit them in carriers of 17*12*10 inches (45*30*25cm). If a traveler has more than two carriers, they have to purchase tickets for additional carriers.
TGV trains provide various services for passengers with reduced mobility. Onboard washrooms are adopted and accessible, and there is a transfer chair to help them move independently. They also get special fares, and guided dogs are allowed on board for free. Travelers can get extra assistance for their reduced mobility passengers, but they have to make prior arrangements with their carriers.
How to find cheaper train tickets from Paris to Marseille
Travelers looking for cheaper train tickets should book in advance. If you buy train tickets a few days or months before their travel date, you will likely land a cheaper train ticket deal. Flexibility helps when it comes to scoring cheaper tickets. If you have a fixed schedule, you may discover a cheaper train ticket deal a few days before or after your travel date.
If you are flexible, you can easily land a cheaper train ticket. If you are not in a hurry to get to Marseille, consider getting train rides with connecting services. Trains with connecting services are often cheaper than direct services. Remember to watch out for discount and promotion periods by various platforms to score cheaper ticket deals.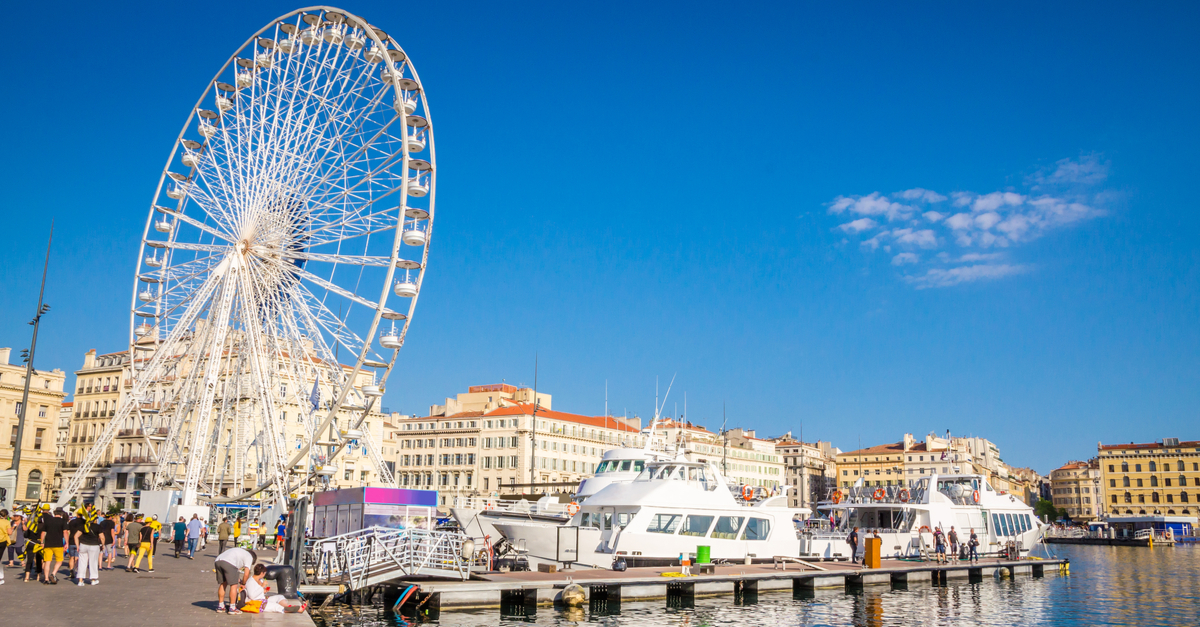 Marseille Tourists Ferriswheel Port. Source: Shutterstock
To Marseille by train – travel tips
Marseille is an old city best known for its harbor and vibrant urban charm. It provides a distinct Mediterranean ambiance with fishing boats in its port and red-tiled roofed houses. Marseille attracts visitors due to its serene blue waters and charming old street views.
Art lovers will love guided tours of the Basilique Notre-Dame de la Garde, one of the most significant landmarks in the city. It boasts a lavish design with a breathtaking interior. Visitors can take in marvelous panorama views and the old harbor on the facility's splendid terrace.
Abbaye Saint-Victor boasts history remains and design from the 5th century. It also houses the tombstone of Abbot Isarnus of the 11th century. During your visit to Marseille, be sure to visit Vieux Port, the birthplace of the city. Turquoise waters and port views surround it. It provides several seafood restaurants, a fish market, and sports crafts.
Le Panier is a colorful neighborhood and a historic center of the city. It has quaint pastel buildings, narrow winding streets, and a vibrant boulevard. It features gourmet food shops, art galleries, and artisan boutiques ideal for shopping lovers. Nature lovers can visit the Calanques, a breathtaking natural attraction where the Mediterranean meets with the Massif des Calanques Mountains. It features a distinguished landscape with majestic limestone rock walls with pools of saltwater.
Outdoor lovers can enjoy swimming, kayaking, hiking, and rock climbing at the Parc National des Calanques. The site also provides yacht and boat cruises that provide great views of the tranquil maritime scenery. Chateau d'If is another ideal destination for nature lovers that houses protected coves, serene blue waters, pristine beaches, impressive limestone cliffs, and sandy creeks.
Marseille also features a diverse culinary scene with worldwide fares for food lovers. Schilling restaurant lies near the Mucem, and it provides exceptional Chinese cabbage and carpaccio with mango. Deep is an excellent coffee shop with beverages, pastries, and hot dishes like fresh pea soups. Treat your taste buds to Restaurant Bubo's creamy chocolate mousse with orange and rhubarb ice cream during your visit to Marseille.
Quick Guide: Trains from
Paris

to

Marseille

Transfers:

Direct, Avignon
Trains from Paris to Marseille
Trains in France are an effective way to travel between cities, with SNCF offering domestic and international train routes. Trains from Paris to Marseille begin early in the morning, after 6:00 am. Trains continue throughout the day. The last train of the day leaves after 9:00 pm. Most trains are direct, but some have one or more changes, often at Avignon or Aix-en-Provence. Journey times can vary, but most take approximately 3 hours and 20 minutes to arrive in Marseille.
Paris to Marseille trains: Not what you're looking for?
Return trains from Marseille to Paris | Compare all modes of traveling from Paris to Marseille | Or learn more about cheap trains to Marseille
Paris to Marseille Train Cost
Average prices for SNCF trains from Paris to Marseille when you book in advance
| Booking Period | Average Price |
| --- | --- |
| Same Day | €106 |
| 1 Day in Advance | €113 |
| 1 Week in Advance | €101 |
| 2 Weeks in Advance | €110 |
| 1 Month in Advance | €84 |
| 3 Months in Advance | €58 |
Paris to Marseille Trains: General Information
Travelers can offset some of the cost of SNCF train tickets from Paris to Marseille by planning ahead and booking tickets as far in advance as possible.
All Paris to Marseille trains are run by SNCF.
Most SNCF trains are direct, depart from Paris' Gare du Lyon and arrive at Marseille's St-Charles train station.
Journey Time: The Paris to Marseille train journey takes as little as 3 hours and 17 minutes to arrive in Marseille
Most travelers book their Paris to Marseille train tickets 1 day in advance of the travel date.
Based on Omio's travel data, ticket prices on SNCF Paris to Marseille trains decrease the further they are booked in advance:
It is 4% cheaper to book a SNCF Paris to Marseille train ticket 1 week in advanced as opposed to the day you intend to travel.
Paris to Marseille train costs are 21% cheaper when booked 1 month in advance as opposed to purchasing a train ticket the day of.