Trains in the Netherlands
The Netherlands is a beautiful country, famed for its tulip fields, canals, and windmills. It has an extensive railway network, and you can reach just about any large city or small town by train. In fact, you can get to just about any town in the Netherlands within 3h from either Amsterdam or Rotterdam. NS International operates most domestic train service in The Netherlands. You can take one of their high-speed between the country's major cities.
If your destination is not served by a high-speed train, you can pick up either an InterCity train, which stops at most cities and larger towns, or a regional train, which stops at all cities and towns along the route. There is also high-speed rail service to major cities in the countries surrounding The Netherlands, including Germany, France and Switzerland.
Booking your train ticket with Omio for the Netherlands
The journey planner app on Omio makes it easy to book your next train trip to the Netherlands. Start by selecting your departure and arrival train stations or cities as well as your travel date(s). Click the search button to see current information about the available trains, including train types, trip durations and prices. Too many choices? Use the filter to refine your search by selecting the number of stops, price, trip duration, train company, and/or train station. Once you've found the perfect train to fit your schedule, you can purchase your ticket. Simply select your travel class, pay for your ticket in your currency of choice, and add on any personal discount cards. Once your tickets are booked, they can be accessed using any mobile device.
Train companies in the Netherlands
NS International, part of Nederlandse Spoorwegen, is the primary train company in the Netherlands. It provides high-speed, InterCity and regional service to between cities in the Netherlands, and it coordinates scheduling for other companies that provide international high-speed service. NS International also operates some international routes on its InterCity and InterCity Direct trains. There are several companies that operate international lines in the Netherlands.
The InterCity Express (ICE) and InterCity trains that are operated by Deutsche Bahn (DB) connect major cities in The Netherlands, Germany and Sweden. Eurostar operates a line that travels between London and Amsterdam, with stops in Rotterdam, Brussels and Lille. Thalys operates daily services between Amsterdam and Brussels/Paris as well as between Amsterdam and Lille.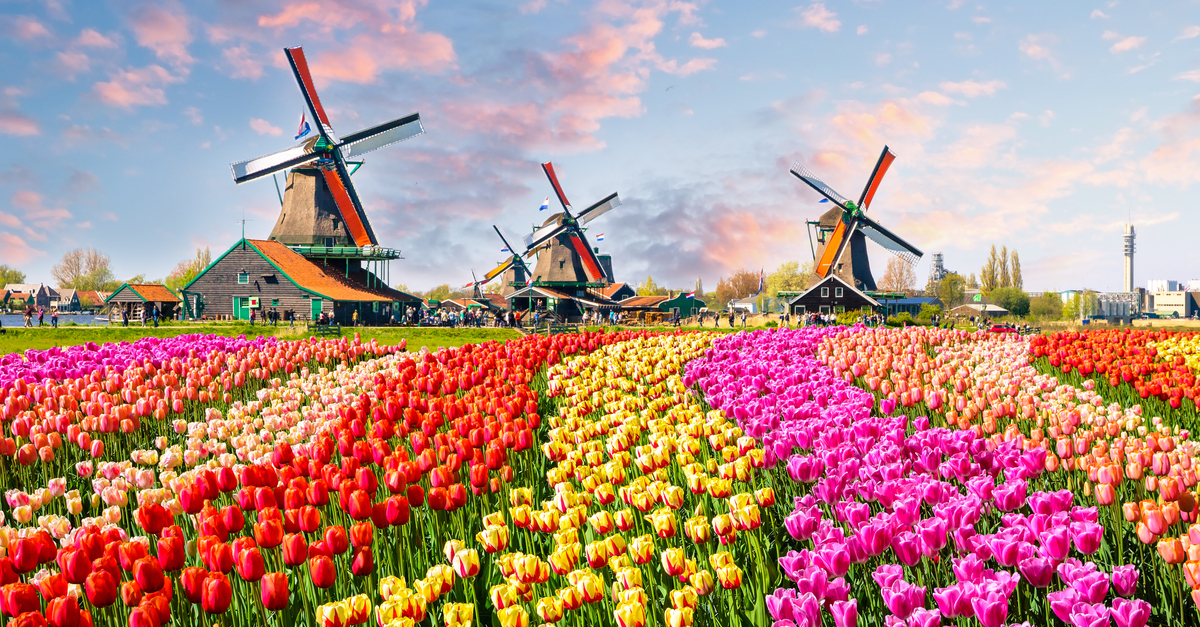 Netherlands Tulips. Source: Shutterstock
Popular international routes by train
Some of the most popular international routes carry passengers between the Netherlands and cities in France and Germany. For example, Deutsche Bahn (DB) operates an InterCity train route between Amsterdam and Berlin, completing the journey in about 6h 20min and stopping at all major cities along the way. It takes about 4h to travel between Amsterdam and Frankfurt on one of DB's InterCity Express high-speed trains, which stops at major cities such as Cologne and Dusseldorf.
Passengers traveling between Amsterdam and Paris can take a Thalys high-speed train; the total trip takes about 3h 30min and stops at Schiphol Airport, Rotterdam, Antwerp and Brussels. NS International operates its InterCity trains between Rotterdam and Brussels (a 2h 10min journey) and between The Hague and Brussels (a 2h 30min journey). Eurostar's daily high-speed train that travels between London and Amsterdam (with stops in Rotterdam, Brussels and Lille) reaches its destination in about 3h 52min.
When arriving by train in the Netherlands
Part of knowing how to plan a trip to The Netherlands includes knowing some key terms in the native language, Dutch. Some popular terms you may come across on your travels include Eerste Klas (first class) and Tweede Klas (second class), Den Haag (The Hague), Centraal Station (Central Station), and noorden (north), zuiden (south), oosten (east) and west, westelijk or westwaarts (west, western/westerly or westward). When planning your itinerary, be sure to plan your shopping excursions for the earlier part of the day (most shops close by 6:00 p.m.), and keep in mind that museums and other attractions are often closed on Mondays. Also be sure to carry a few dollars (well, euros) in change for the toilets, as you will have to pay a small charge to use the public restrooms.
Train Providers in the Netherlands
Almost all train routes the Netherlands are served by NS International, the national train company of the Netherlands. The NS International high-speed trains, known as InterCity Direct, operate on the HSL-Zuid railway line and make limited stops between Amsterdam in the north to Breda at the Belgian border, with some trains continuing on to Brussels (Belgium). Stops along this route include Schiphol Airport and Rotterdam, and it takes about 32min to travel between the end points of Amsterdam and Breda.
The NS International InterCity trains travel at speeds up to about 86 mph (140 kph) and connect the larger towns and cities in the country. It takes about 24min to travel between Rotterdam and The Hague and about 2h 24min to travel between Amsterdam and Maastricht on an InterCity train. NS International's regional service is called the Sprinter, which is slower than the InterCity trains and stops at all stations on any given route. For this reason, the Sprinter trains are usually used for short trips.
Main train stations in the Netherlands
Utrecht Centraal railway station is one of the largest and busiest train stations in the Netherlands. Located at Stationshal 305, 3511 CE Utrecht, Netherlands, the station is conveniently situated in the city center, less than 0.5 miles (750 m) west of the Dom tower. If you don't want to walk or bike to the Dom tower from the station, you can take an 11min ride on the #73 U-Link bus. Other U-Link buses to the city center include the #77, #50 and #28 lines. Amenities at the station include train ticket windows, automated ticket machines, luggage lockers, elevators, travel assistance, waiting rooms, currency exchange, restrooms, and shops and restaurants.
Another main train station is Amsterdam Centraal (Stationsplein, 1012 AB Amsterdam, Netherlands) in the city's center. You can take the #2, #12, #13 or #17 tram lines or the metro's Blue line (#52) from the station to points in the city center. The station features train ticket windows and automated ticket machines, luggage lockers, elevators, travel assistance counters, waiting rooms, a passenger lounge, car rental counters, restrooms, and many shops and restaurants. Rotterdam Centraal station (Stationsplein 2, 3013 AJ Rotterdam, Netherlands) is a modern station that offers train ticket windows and ticket machines, luggage storage, elevators, assistance for travelers, waiting rooms, currency exchange, NS International lounges, restrooms, and a variety of shops and restaurants.
Rotterdam Centraal is located in the city center, about 0.7 miles (1.1 km) northwest of the Stadhuis (Town Hall). Public transportation options from the station to the city center include the D and E metro lines and the RET tram lines 7, 8, 12, 21, 23, 24 and 25. Travelers using the Den Haag Centraal train station (10 Koningin Julianaplein 1st floor, 2595 AA Den Haag, Netherlands), which is The Hague's largest station, will find amenities such as train ticket windows and automated machines, luggage storage, elevators, travel information and assistance, a waiting room, currency exchange, restrooms, a hair salon, and shopping and dining options. From the station, it takes less than 10min to reach the Hague's Binnenhof government offices in the city center using the #3A, #15, or #16 trams.
At the Schiphol Airport Railway Station (Arrival passage 1, 1118 AX Schiphol, Netherlands), located about 10 miles (16 km) southwest of Amsterdam's city center, travelers will find train ticket windows and ticket machines, elevators, travel assistance, a waiting room, currency exchange, an NS International lounge, and restrooms. Passengers can take a Thalys or InterCity Direct train into Amsterdam. GVB's 69, 245, 246, 247 and 369 bus lines as well as Connexxion's 397 airport express bus are also good options.
Popular journey in the Netherlands
You can travel between most train stations in the Netherlands in under 3h on an NS International train, making trains a convenient and affordable option for travel within the country. The InterCity Direct trains from Amsterdam to Breda take about 32min to reach their destination, with tickets from $28. The trip from Rotterdam to Arnhem on an InterCity train takes about 2h 24min and starts at about $26. It costs only about $7 to travel from Rotterdam to the Hague, and the trip takes less than 20min. It takes about 2h to travel from Utrecht to Maastricht; tickets for this scenic route cost about $33. Travel between the two largest cities of the Netherlands, Amsterdam and Rotterdam, takes about 40min on an NS International InterCity Direct train or a Thalys high-speed train; tickets start at about $21.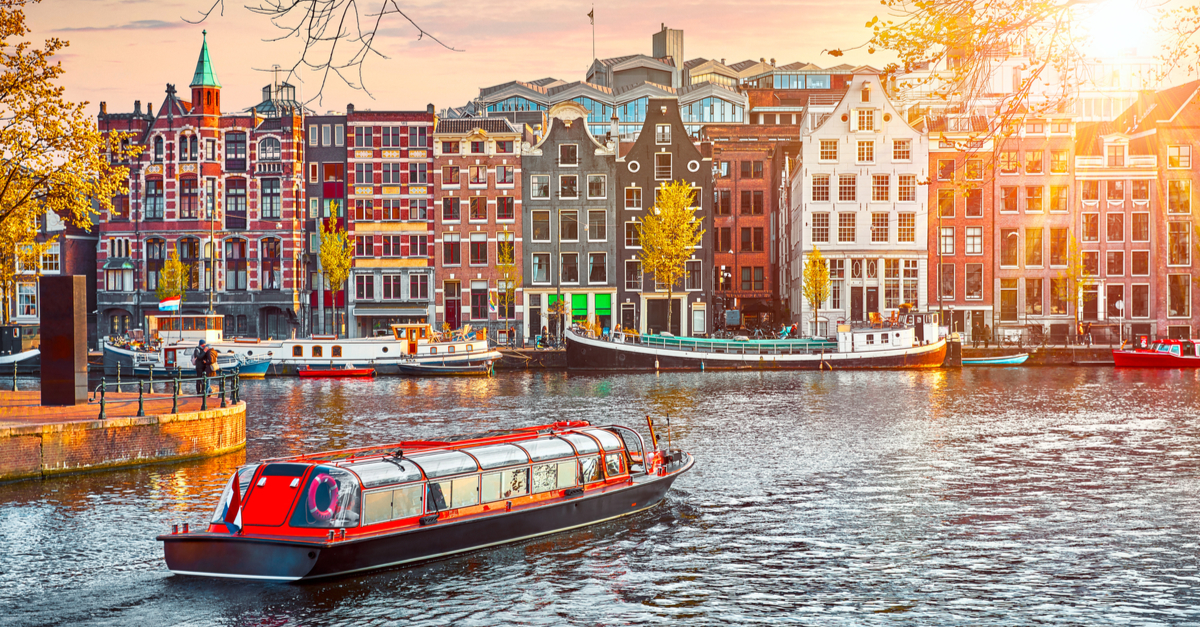 Amsterdam. Source: Shutterstock
Popular train routes from the Netherlands
The train system in the countries surrounding the Netherlands is well developed, making international travel from the Netherlands fast and convenient. Eurostar passengers can travel from London to Amsterdam in about 3h 52min from about $72. It takes only about 1h 53min to travel on a Thalys train from Brussels to Amsterdam, with tickets starting at about $34. Thalys also offers trains from Paris to Amsterdam, with tickets starting at about $90 for the 3h 20min trip. NS International offers several daily trains from The Hague to Brussels; tickets for the 2h 30min trip start at around $27. Travelers coming from Germany can catch a Deutsche Bahn InterCity Express train in Frankfurt, reaching Amsterdam in just over 4h at a cost of about $50.
Good to Know
Train travel is cheap and easy in the Netherlands, and with hundreds of train stations in the country, you can get to just about anywhere using the railways. If you'll be doing a lot of traveling by train while traveling around the Netherlands, you'll need to purchase an OV-Chip Card, which you can buy in any of the stations and in tobacco shops. The OV-Chip Card (or "OV-chipkaart" in Dutch) is the smart card for travelers using the country's trains, buses, trams, and metro services.
The Netherlands is very friendly to bicyclists. If you're planning to bring a bike with you on the train, you'll be happy to know that you can bring your bike on board the NS International trains. You may need to book a spot for your bike in advance if you're traveling in July, August and September, and you'll want to make sure you can bring your bike on board if you're traveling during peak travel times (such as morning and evening rush hours).
The Netherlands by train—travel tips
Tulip fields. Wooden shoes. Windmills. Canals. These are just some of the things brought to mind when thinking about traveling in the Netherlands. Netherlands is certainly a beautiful country filled with plenty of things to keep you busy, no matter what your interests are. For history and architecture buffs, there are palaces, cathedrals and unique buildings in every city. You can admire the royal palace in Amsterdam, St. Martin's Cathedral in Utrecht, or the cube houses in Rotterdam. Foodies can take a food tour to sample such Dutch delights as their famous cheeses, Dutch fries, Stroopwafels, Stamppot, and chocolate.
Amsterdam is known for its extensive canal system, and a great way to see the city is on a cruise thru the canals. The country has a number of national parks, where residents and tourists alike can enjoy the natural surroundings. In parks such as the Hoge Veluwe National Park, visitors can hike or bike through the park to see the sights. You can take a trip back through time to see what local life was like in the 17th and 18th centuries at Zaanse Schans, which features five of the country's iconic windmills.