Are you ready to explore England? The train offers an exceptional option for travel across the UK. As you sit comfortably in one of Southern Railways' trains, you will get to see the beautiful countryside of south London, Surrey and Sussex pass by. Tickets are easy to find with Omio. We offer the best possible options to help you save money. Booking train tickets for your trip with Southern Railways is just a few clicks away with Omio. A quick search will show you which connection is the fastest and which is the cheapest.
Book Southern Railways tickets easily & conveniently with Omio
Whether you want to use the Brighton Main Line from London to Brighton or the West London Line from Clapham Junction to Watford Junction, you will always find great deals at a low price at Omio. Tickets can be booked on the Omio website as well as the Omio app. Your dream trip is always just a few clicks away. Thanks to the online booking options you will find all necessary information in one convenient location. Omio provides you with all available departure and arrival times as well as the duration of the trip down to the minute. This allows you to optimize your travel plans, all at a low cost. Omio will search for the cheapest connection that is currently available. Of course, you can be sure that all data displayed is always up to date. Tickets are immediately available after purchasing and can be used offline as well.
Find cheap tickets from Southern Railways with Omio
Ticket prices can vary based on multiple factors such as the route, day of the week, departure time and how many connections are needed. For example, traveling from London Victoria to Brighton, the Advance Ticket is the cheapest travel option in the morning or early afternoon. Omio gives you an overview of all the ticket options available, so you can make your selection at your convenience. No matter what ticket you book – when it comes to cheap tickets, Omio will take care of your travel needs.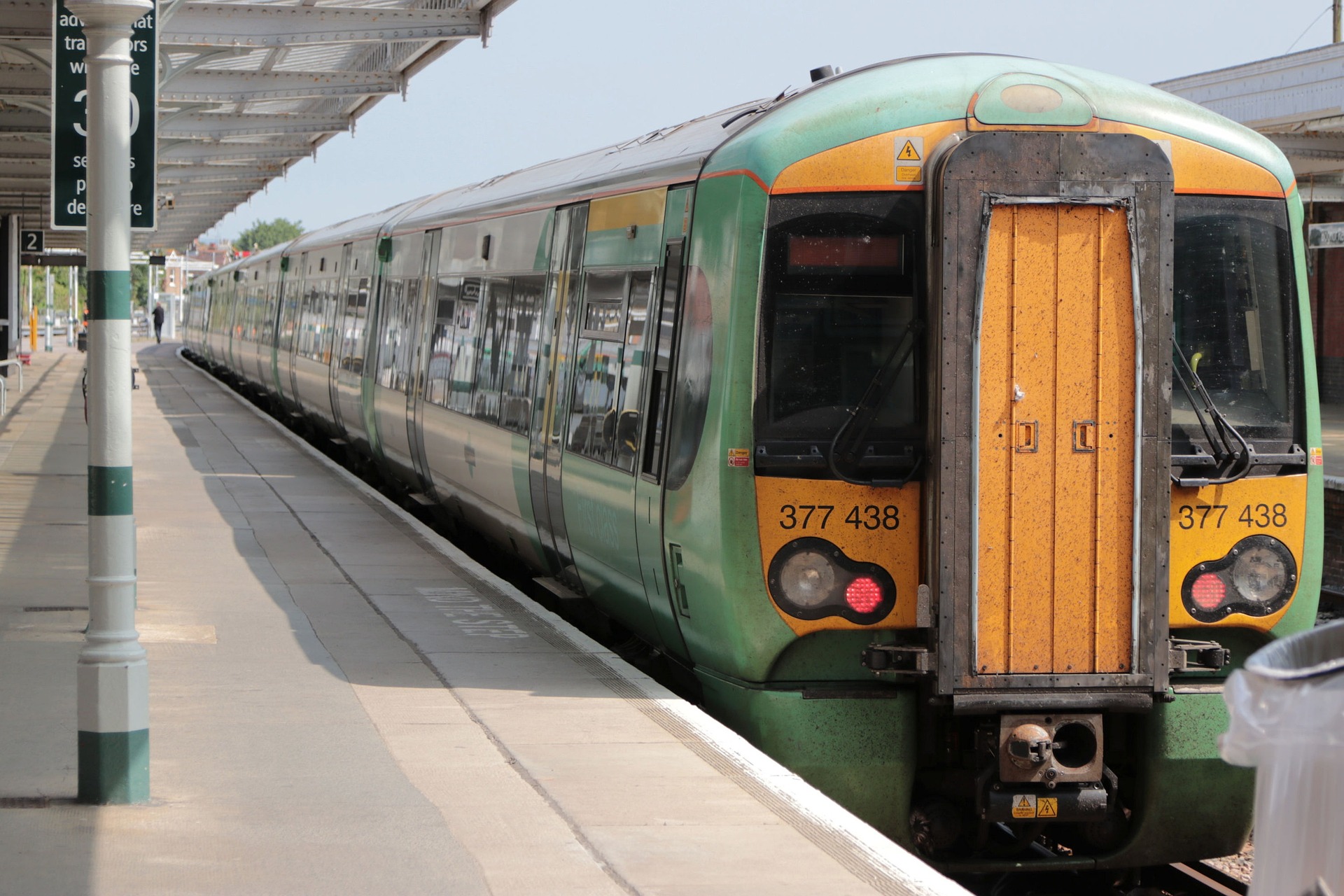 Southern Train Station. Source: Pixabay
UK National Rail: Everything you need to know about Southern
Southern is a national brand name rail service within the UK. Southern is part of Govia Thameslink Railway, which operated the South Central franchise and the Gatwick Express until a few years ago. After the merger of the Southern, Great Northern and Thameslink networks, the company was called New Southern Railway Ltd, but was renamed Southern in 2004. Southern provides numerous services between London Victoria and London Bridge stations and the southern counties of Surrey and Sussex. In addition, Southern Railway operates the transfer service between London Victoria station and Gatwick Airport, the Gatwick Express.
Good to know: Southern also offers easy access to Brighton from London. During rush hour Southern operates a number of additional express trains to accommodate the volume of passengers.
Southern Railways also operates trains on many main routes such as the East Coastway Line from Brighton to Eastbourne and Hastings, the West Coastway Line from Brighton to Portsmouth or Southampton. As well as the Sutton & Mole Valley Lines from London Victoria or London Bridge stations to Sutton, Dorking, Horsham or Guildford and the already mentioned Brighton Main Line and West London Line routes.
Advance, Off-Peak, Anytime & Co – Train ticket types from Southern Railways
Southern offers many types of tickets that give the consumer lots of flexibility: the Advance ticket, the Off-Peak ticket, the Anytime ticket and the Season ticket.
Advance ticket
The Advance tickets, as the name suggests, are purchased in advance. If you have a specific travel date and time you can take advantage of big savings by purchasing a ticket in advance.
The earlier you book, the better chances of getting one of the highly discounted tickets.
It pays to plan and book ahead, Southern Railways gives you a discount of up to 33 percent off the regular ticket price.
Advance tickets can only be booked as one-way tickets. So, you'll need to buy two separate tickets for the outward and return trips.
This may sound a bit cumbersome, but it also offers you the most flexibility as you can combine different ticket options. For example, you can travel in standard class on the way there and treat yourself to a first-class ticket on the way back.
Advance tickets can be upgraded at any time.
Advance tickets can be purchased up to a few hours before departure depending on availability.
Advance tickets are only valid on the specific date, time and train of your reservation. Therefore, it is not possible to interrupt your trip and get off at a station and continue later on another train.
Off-Peak tickets
Off-Peak tickets are great for those who don't need to travel during the busiest times of the day. Want to travel from Brighton to London for a stroll? Or planning a trip to Horsham? You can save money with the Off-Peak ticket by choosing a connection that is not during rush hour. A less crowded train with more seat options is another bonus of the off-peak ticket.
With the Off-Peak ticket you can save money by choosing a connection that is not during rush hour.
Off-Peak tickets are flexible and can be used on weekdays during off-peak hours, on weekends and on holidays.
Off-peak tickets are valid on the date indicated on the ticket until the early morning hours of the next day.
Off-peak tickets are discounted for up to 33 percent off regular fares
Traveling with kids? Up to four children between the ages of five and fifteen can travel at highly discounted fares on some routes.
Anytime tickets
The business meeting took a little longer than expected? The outing with the kids was so much fun that you just kept going? This is no problem with the Anytime Ticket. Anytime-Tickets offer the most flexibility.
The Anytime Ticket is valid at any time – even during rush hour.
You can interrupt your trip at any station and continue it at any time.
The Anytime Ticket is only valid on the specified date until the early morning hours of the next day.
Another alternative is the Anytime Return ticket if you are not sure of your travel. This ticket is valid for up to one month after your outbound trip.
Season tickets
Season tickets – these are cheap weekly, monthly or annual tickets that allow you to travel during the timeframe you choose.
Season tickets allow you to travel whenever it suits you.
The Season ticket allows you to travel on Southern's routes on any day around the clock. In addition, you are able to interrupt your trip and continue at a later time. The longer the validity of the Season ticket, the higher the savings.
The annual ticket offers you the best value. Savings are so big that for a few weeks a year you can virtually travel for free.
Southern Railways offers additional discounts such as the Gold Card, which is linked to the purchase of an annual pass and gives you even more benefits. The customized season ticket can be configured according to your travel needs. More discounts are available for teenagers, seniors and families. Special rates are also available for HM Forces, Family & Friends, Two Together or the Disabled Person Railcard.
1st class & 2nd class – relax with Southern Railways through the UK
Traveling first class across the country offers the most comfortable ride. Many amenities and excellent service make your trip a very special experience. Of course, ticket prices are a little more expensive, but the experience and comfort is worth it. In first class, you can expect individually adjustable seats and larger, more practical tables. Power outlets and free wi-fi is standard for every seat. First class customers enjoy more space in between seats and more legroom. The extra expense is worth considering to treat yourself to a little more luxury and comfort.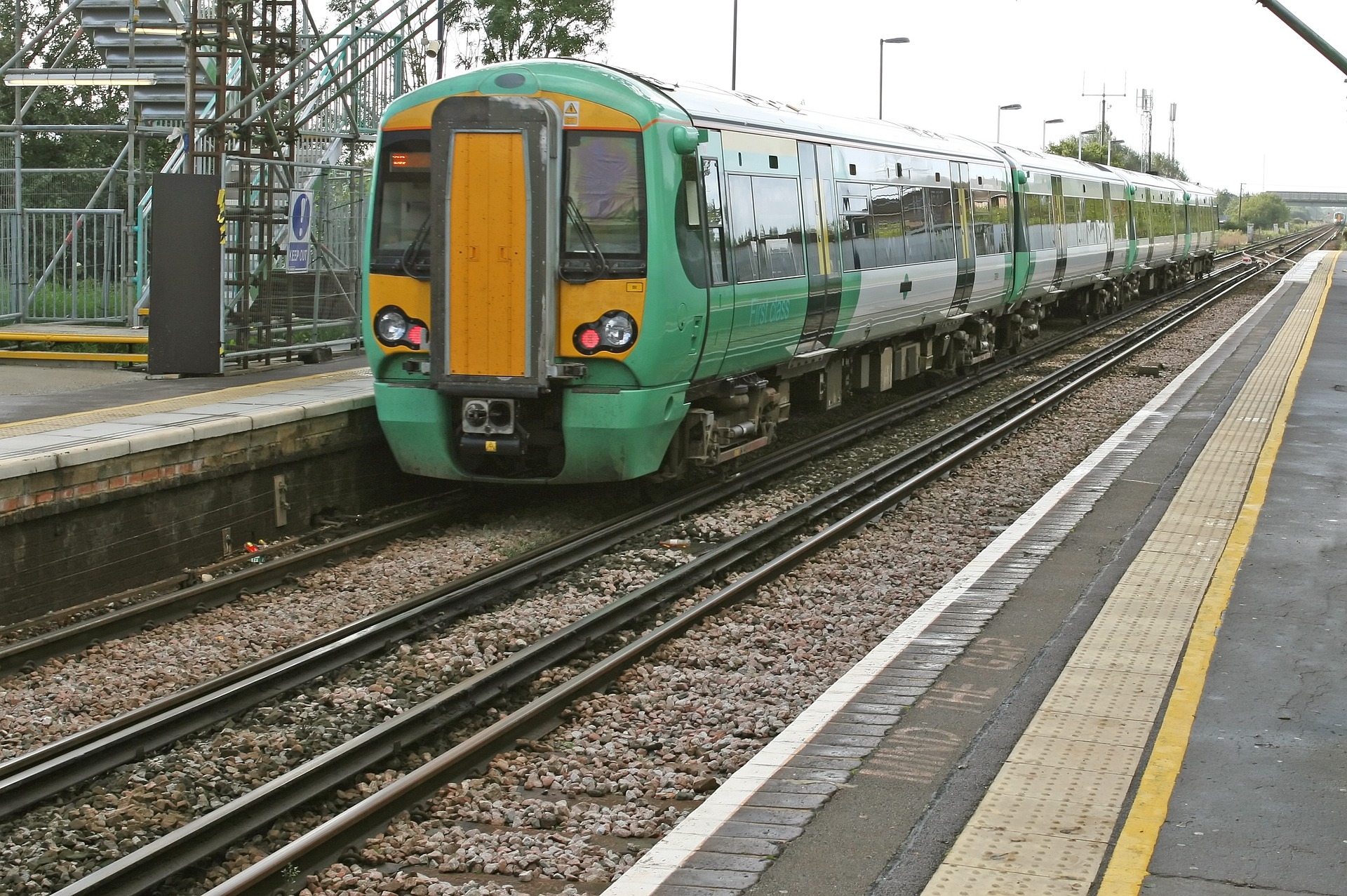 Southern Train at Station. Source: Pixabay
Train types: taking the Electrostar from station to station
In the past, British Railways used classic diesel railcars. The British Class 171 (Turbostar) continued to serve the stations to London at speeds of up to 100 mph (160 km/h) until 2004. Electric railcars were already in use between 2002 and 2014, but have now been almost entirely replaced with newer British Class 377 electric railcars.
For trips to London, Southern Railways operates a fleet of trains known as Electrostar. The Electrostar operates on almost the entire route network, except for sections that are not fitted for electric railcars yet. Therefore, Class 171 diesel units are still used on the Marshlink Line and the Oxted Line. On the east and west coast routes the new class 311 is supported by older class 313 trains.
Southern Railways currently operates more than 200 Electrostar trains. The Electrostar is also used in South Africa on the route between Johannesburg, Pretoria and Johannesburg International Airport. In the UK, you can enjoy the comfort of the Electrostar on the Brighton Main Line, Arun Valley Line and many other routes.
Schedules & schedule changes at Southern Railways
Southern Railways covers the most popular train routes between London and many cities south of London. Popular connections, such as London to Brighton depart multiple times per hour. Within an hour you can comfortably reach your destination without having to change trains. You can also reach Horsham from London within one hour. Here, too, you can usually choose between several connections per hour. When planning your trip, keep in mind that schedules can change at short notice.
Train travel with Southern through UK and Europe
Southern offers a wide range of connections on the railway map of Great Britain. Whether it's from Brighton to London, from Southampton to London, from London to Seaford, or from Southampton to Brighton, you can travel across the south of England with Southern Railways. You can reach London stations and London Gatwick Airport from many places. With Southern Railways you can reach all of the central hubs that are the gateway to Europe.
More than London & Brighton – most popular routes with Southern
London is, of course, one of the most popular destinations on the Southern railways map, but Brighton and Horsham are always worth a visit as well. Victoria Station in London is very centrally located and you can easily walk to Big Ben and Buckingham Palace from there. Victoria Station is located near a large bus station, the Victoria Coach Station. You can reach all the major sights of the city by bus or subway. The train station in Brighton is also centrally located. So, when traveling from London to Brighton with Southern, you are already close to the action when getting off the train. Other destinations in Brighton are easily reached by bus or taxi. Horsham can also be explored by bus or taxi.
Southern Railways offers a sustainable way to travel
The days when diesel locomotives were a burden on the environment are largely a thing of the past. Travel with Southern Railways is almost exclusively on modern, electrically powered trains. Southern Railways has recognized the change of times and offers the opportunity to travel in an environmentally friendly way. Train travel is just the right thing for your ecological conscience. Traveling by car may seem more convenient at first glance, but when you take a closer look train travel is a great alternative. You can relax during your journey and make an important contribution to the preservation of our environment. Thanks to the good infrastructure your travel plans are flexible.
Tips for train travel with Southern
You want to travel with your four-legged friend? Your dog, cat or other pet is welcome to accompany you on your trip with Southern. You are allowed to take up to two animals with you. The only condition is that your dogs must be kept on a leash. All other animals must be placed in an appropriate carrier.
Taking foldable bicycles on Southern Railways is usually not a problem either, but could be restricted during peak times.
It is not allowed to leave luggage in the aisles of the train, it should be stored in the luggage rack.
Discover the world with Southern Railways: the main destinations
Thanks to Southern's excellent railway network, you will have no trouble getting anywhere in the south of England. Whether you're commuting to work every day or exploring the region's attractions, Southern Railways makes it easy to get to your destination. In London, there are several stations that you can use as a starting point for your visit to the city. London Victoria, London Bridge or Waterloo are just around the corner from the next attraction. Take a ride on the London Eye and get carried high above the rooftops of the city, visit one of the fascinating shows in London's West End or stroll along the world-famous Carnaby Street. Explore London, Eastbourne, Hastings and Portsmouth and enjoy unforgettable days in England.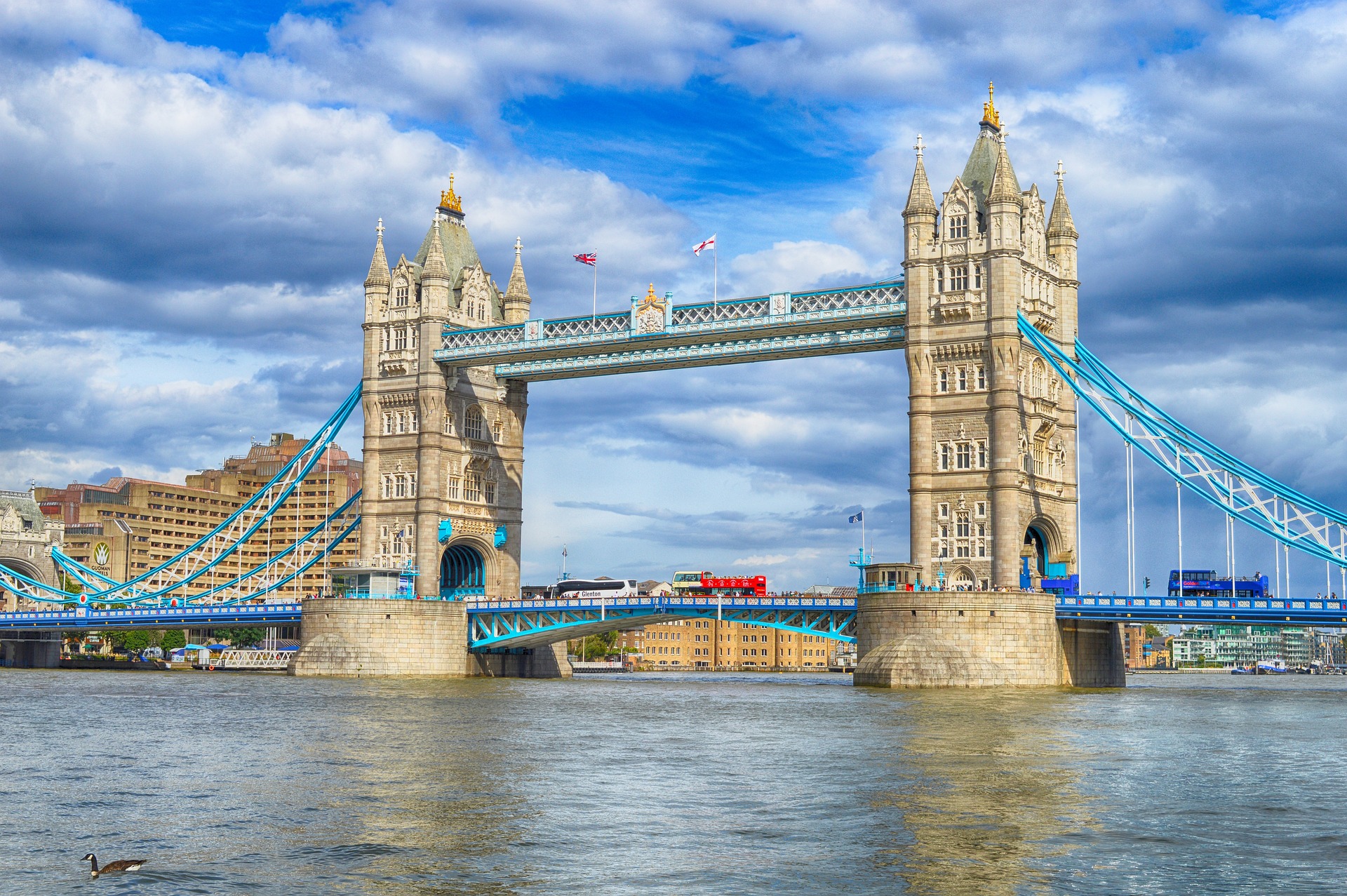 London Tower Bridge. Source: Pixabay
Planning a trip beyond England? Via London Gatwick Airport and the ferry station in Brighton and Hove – both of which can be reached by Southern – you can set off for other exciting destinations outside the UK.
Southern Railways: offers & deals
Southern Railways offers a wide selection of great deals to help you save big. Discounts are available for group fares for three to nine people, traveling with children and weekend day passes. Southern Railways discounts and deals offer an attractive option for travel. You can save even more by booking in advance. Promotions include 2FOR1 deals and much more.
FAQ
Can I use Oyster on Southern Railway?
You can use the Oyster Card with all Southern Railways fares.
Can you reserve seats on Southern trains?
Seat reservation is not possible.
Can I use contactless payment on Southern Rail?
The option to pay contactless is available at most stations.
Can I get an earlier train with an advance ticket?
No, the Advance Ticket is only valid for the pre-booked train.
Are Tube tickets included in train tickets?
It depends on the ticket you choose. The Freedom Pass allows you to use most means of transportation from TfL services within London. The Season Ticket, which includes "London Zones 1-6", also allows you to travel on the Tube.
Is a General ticket available on Southern Railway?
There are many offers, but no General Ticket that you can use without restrictions.
Which stations are on the Southern railway map?
The Southern railway map includes several stations in southern England. Important stations are London Victoria, London Bridge, Gatwick Airport, Peckham Rye, Ashford International, Brighton, Horsham and East Croyden. At all these stations you also have the possibility to connect to other providers such as the Gatwick Express or Thameslink.
Can I exchange or cancel my ticket?
Southern Railways offers a money-back guarantee on a variety of tickets under certain conditions.
Can I take pets with me?
Yes, but they must be kept on a leash or in a carrier.
Can I take bicycles on the train at Southern?
Foldable bikes are usually not a problem.
Is there Wi-Fi on the train?
Generally, yes. Trains with Wi-Fi capability are marked with a Wi-Fi label.