Explore Europe with Omio
Deciding on the right location and way to travel in Europe can often be an arduous task, especially given the number of different options at your disposal. Should you take the train through Italy or fly between Paris and the French Riviera? No matter if you want to take it easy and relax in a single location or tick off 12 countries as you travel across the continent—we at Omio are here to help you perfect your European travel plans when you decide to travel to Europe!
Travel to Europe: Popular European Destinations
Popular European Cities
All European cities are unique and all have their own rich history and culture. Go to Paris and fall in love or visit Naples and eat your weight in pizza. Where ever you decide to explore, you'll be sure to be in for a treat.
How to travel in Europe
Whatever your preference, traveling Europe is easy. Every country has their own transport networks, with many countries having strong links with the neighboring countries and beyond. When traveling within a country often buses and trains are a popular way to explore. All the stress of driving, often on the wrong side of the road, is taken away when traveling by public transport. All you need to do is sit back and enjoy the view. Alternatively those who want to travel across Europe are privy to many flight options from carrier such as British Airways, Air France and Iberia that will take across the continent. There are also many low-cost options that will also take you all over Europe, including Ryanair, easyJet and Vueling. To discover more about traveling around Europe by either bus, train or plane. Click on the links below.
Traveling to Europe from USA
Omio offers plenty of flight options for finding affordable trips to Europe from USA. Easily plan, compare and book to find the best cross-atlantic ticket for you.
To travel Europe, we recommend:
Trains: Trains are particularly good if you're traveling with a family or with a lot of luggage, as there isn't an extra cost for normal luggage. Amenities are good and seats are comfortable so they're especially good if you have children.
Buses: Buses are good for backpackers or those on a tight budget. The journey times may be longer but prices don't increase much it means that they're a good option for last minute journeys.
Flights: Flying around Europe is good for those who are traveling light or want see many different countries in a short amount of time. If booked in advance flights can be very cheap but do get more expensive if you leave it to last minute.
Plan your Europe Trip
No matter if you've just graduated from college or are just taking a summer vacation across the pond, taking a multi-city Europe trip is a rite of passage for many American students. There are so many fantastic European destinations it can often be difficult to decide exactly where you want to spend your precious vacation time. As such, a properly planned travel itinerary is essential for using your time and money effectively while in Europe.
Eurail Passes
Eurail passes are a single ticket that allow the bearer to travel on almost any train in Europe. They often provide a convenient way for Americans to navigate the complexity of Europe's train networks. If you value flexibility while traveling or simply don't want to have to meticulously plan out your entire Europe trip ahead of time, a Eurail pass may be the perfect travel companion. However, the variety of options can make choosing the perfect Eurail pass a frustrating experience. Never fear, Omio's got you covered! Check out our comprehensive guide to learn when it makes sense to buy a Eurail pass and how to select the best type of pass for your Europe trip!
Popular Routes Across Europe
Inner-city Mobility in European Cities
As a platform that helps travelers find the fastest and best routes across Europe, Omio understands that a journey doesn't end at a destination. Navigating around a city, even if it's your first time there, should be simple, time-saving and cost-effective so that you can enjoy a fully immersive experience.
From the Colosseum in Rome to the Berlin Wall Memorial to the Eiffel Tower in Paris, Europe's cities offer countless sites and attractions. In the past, inner-city transportation—aside from the public kind—was limited, but today, urban mobility alternatives such as shared bikes, scooters and e-scooters are all the rage.
We wanted to find out which cities were the best-connected in terms of transport options. To calculate this, Omio compared public transport networks and ticket prices—as well as shared mobility options and their usage fees—across the top 30 destinations in Europe. We then ranked these cities and highlighted the ones with the most convenient and best-value inner-city travel options.
Country
City
Public
Transportation
Shared Mobility
Transportation
Cost of
Transportation
Final Score
1
Switzerland
Zurich
100.0
75.5
41.7
100.0
2
Germany
Berlin
25.8
100.0
76.7
79.0
3
Austria
Vienna
31.8
91.1
82.8
78.4
4
Italy
Milan
29.0
89.7
89.1
77.2
5
France
Paris
29.2
90.1
79.7
76.0
6
Portugal
Porto
79.1
47.2
44.5
74.1
7
Portugal
Lisbon
46.0
63.5
89.7
72.3
8
Belgium
Brussels
32.1
68.4
77.5
65.5
9
Poland
Warsaw
38.5
54.2
100.0
65.0
10
Germany
Frankfurt am Main
49.1
45.8
48.6
57.9
Zurich tops the list thanks to its extensive network of transport options. With 60 different tram, train and bus routes, travelers can easily roam from the shores of Lake Zurich to the heart of Switzerland's largest city. Berlin follows in second place, with a wide range of scooters, e-scooters, and rental bikes on offer. With more than 16 shared mobility companies and 8,000+ taxis, Berlin is the European leader for shared mobility and individual urban exploration. Warsaw, Budapest and Madrid stand out for their affordable public transit, making it easy to explore the breadth and depth of their attractions for only one Euro each way. We didn't forget cabs. Lisbon and Porto, Portugal, offer the best-value cab rides on the continent.
How Omio compiled the rankings
This study examined the 30 most-booked European cities on Omio. Commercial transport providers and municipal sources provided information on public transit services. In order to compare cities of different sizes, we divided transport networks by the population of each city. Find the complete methodology with all sources here.
Know before you go: 10 facts about inner-city transport
Whilst analyzing urban transportation in Europe, we discovered some fun facts about each city. Check them out now!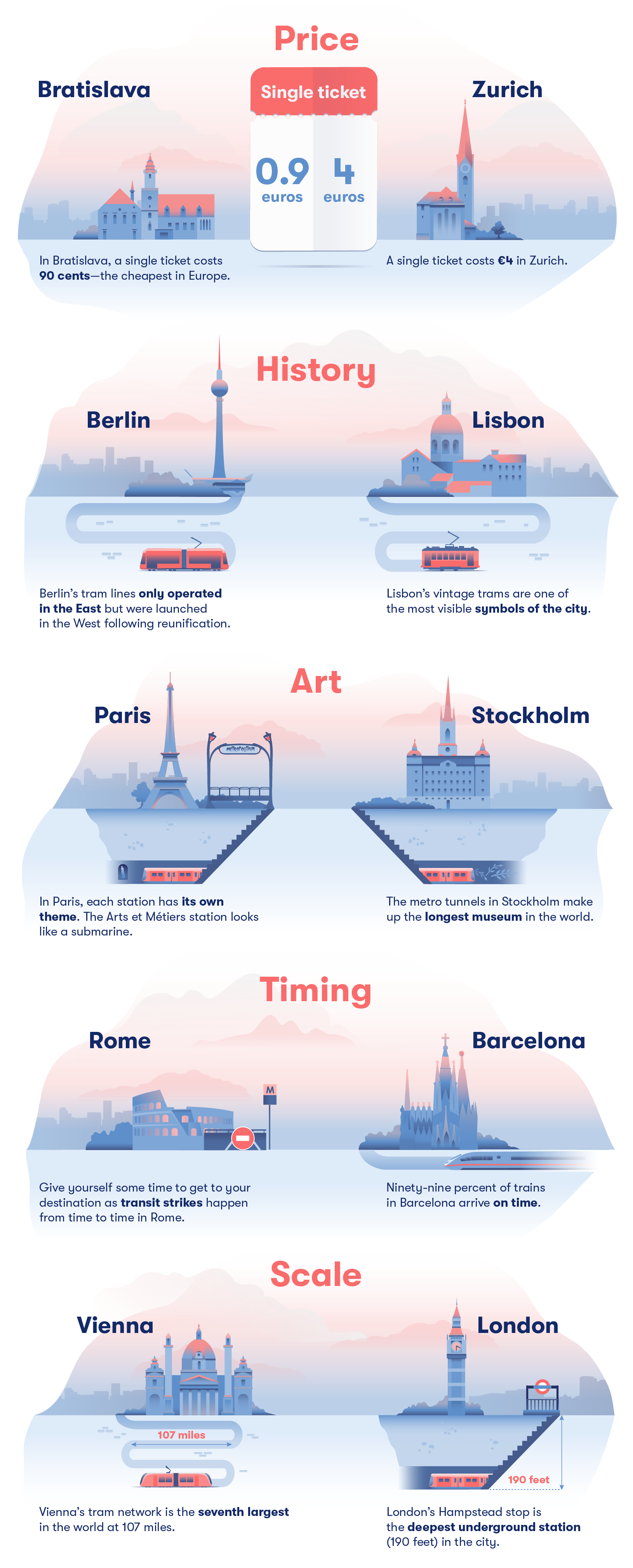 Top three cities for inner-city mobility