Explore Europe with Omio
Deciding on the right location and way to travel in Europe can often be an arduous task, especially given the number of different options at your disposal. Should you take the train through Italy or fly between Paris and the French Riviera? No matter if you want to take it easy and relax in a single location or tick off 12 countries as you travel across the continent, Omio's here to help you perfect your European travel plans!
Best of Europe | Plan a Europe trip | Eurail Passes

&nbsp
Popular European Destinations
&nbsp
How to Travel in Europe
Popular European Cities
All European cities are unique and all have their own rich history and culture. Go to Paris and fall in love or visit Naples and eat your weight in pizza. Where ever you decide to explore, you'll be sure to be in for a treat.
&nbsp
Plan your Europe Trip
No matter if you've just graduated from college or are just taking a summer vacation across the pond, taking a multi-city Europe trip is a rite of passage for many American students. There are so many fantastic European destinations it can often be difficult to decide exactly where you want to spend your precious vacation time. As such, a properly planned travel itinerary is essential for using your time and money effectively while in Europe.
Planning a Europe trip itinerary is time-consuming and can initially seem a daunting task. Whether you're trying to figure out how to plan a European backpacking tour or just looking for itinerary inspiration while on the continent, Omio's got you covered with everything you need to know about planning the perfect Europe trip!
Our top Europe Trip Itineraries
Eurail Passes
Eurail passes are a single ticket that allow the bearer to travel on almost any train in Europe. They often provide a convenient way for Americans to navigate the complexity of Europe's train networks. If you value flexibility while traveling or simply don't want to have to meticulously plan out your entire Europe trip ahead of time, a Eurail pass may be the perfect travel companion. However, the variety of options can make choosing the perfect Eurail pass a frustrating experience. Never fear, Omio's got you covered! Check out our comprehensive guide to learn when it makes sense to buy a Eurail pass and how to select the best type of pass for your Europe trip!
Eurail Global Pass
Travel through 28 European countries
with one rail pass
Best rail pass for long Europe trips
Prices start as low as $348
Eurail Select Pass
Select up to 4 bordering European
countries to travel through
Best rail pass for 1-2 week trips
Prices start as low as $151
Eurail One Country Pass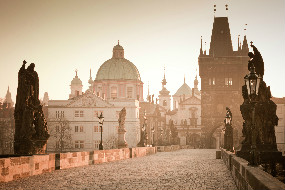 Travel by train in a single European
country
Best rail pass for one country
Prices start as low as $70