Trains from Madrid to Seville
Trains are a reliable, fast, and easy way of traveling from Madrid to Seville. A train ride gets you to the heart of Seville, saving you the hassle of having to commute from the arrival point to the city center. Moreover, you won't have to worry about outrageous parking fees or traffic delays with a train ride. Seville lies 241 miles (391 km) from Madrid and the average journey time takes 3h 10min. Daily, about 12 trains provide services between Madrid and Seville. Trains offer direct and connecting services, and the major train provider for the trains is Renfe.
Madrid to Seville Train time: Daily departure
Daily, about 12 trains provide services from Madrid to Seville. This leaves over 70 weekly options for travelers to choose from. Saturday typically has more train rides than the other days. The first daily train departs Madrid at around 6:20 a.m. while the last daily train leaves at approximately 9:25 p.m. Omio provides all daily schedules for travelers to get the most convenient option.
How long is the journey by train from Madrid to Seville?
The average journey time for trains from Madrid to Seville is 3h 10min. The fastest train offers direct services taking 2h 20min. The longest journey takes about 2h 50min. The duration of the journey depends on the day of the week and the route taken.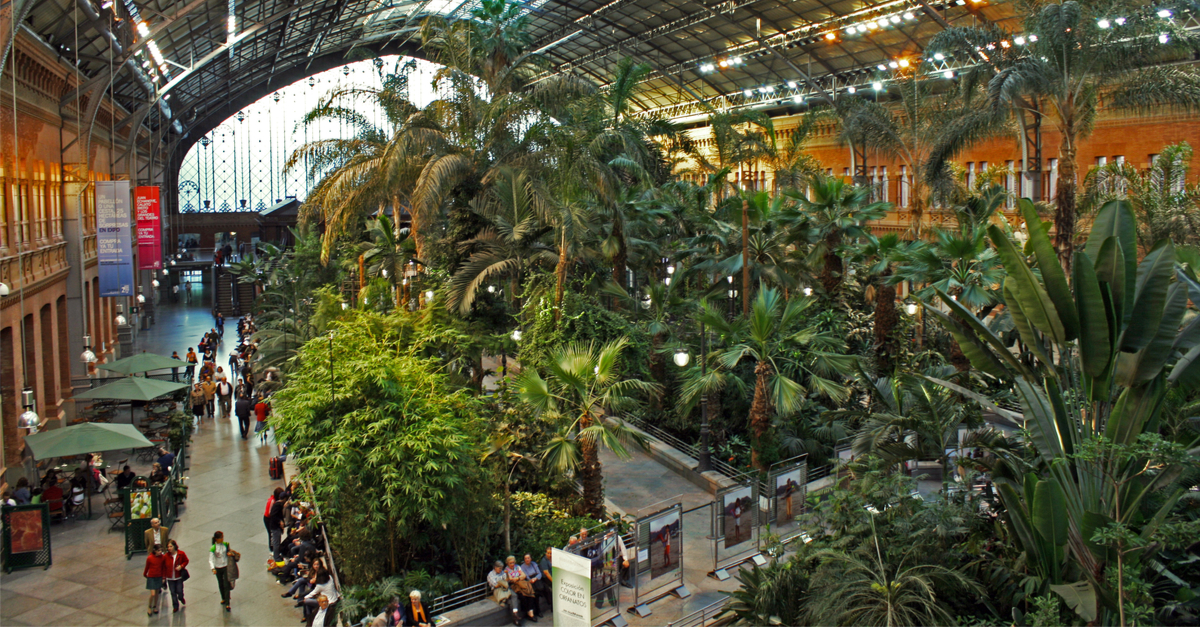 Atocha train station in Madrid. Source: Shutterstock
What are the departure and arrival stations for trains from Madrid to Seville?
Departure train station: Trains from Madrid to Seville start their journeys at Madrid Atocha Railway Station. This station is popular for its beautiful historic setting blended with a tropical garden next to a modern terminus. If you need help with your luggage, the station features a left luggage area and luggage lockers with long-term and short-term storage options. It also offers several food and shopping concessions, ATMs, currency exchange services, and a waiting area. There are several washrooms, baby changing facilities, and water fountains. Travelers can get to the station by foot from the city center. Alternatively, they can get taxis or private transfers. Travelers can also hop on the metro with line 2 providing services to and from the station.
Arrival train station: Trains arrive at Seville's Santa Justa train station. It features a baggage consignment area and a ticket office that operates daily from about 8 a.m. to 10 p.m. It also offers coffee shops and food concessions throughout the facility. Other services include a tourist information center, newsstands, ATMs, and parking. First-class and business-class travelers can find a first-class lounge with drinks and an internet connection. If you need luggage storage services, there are luggage lockers. Travelers with lost items can find a lost and found area at the facility. Travelers can get to the train station via bus and taxis. Bus lines 36 and 2 offer services to and from the station. The station is wheelchair enabled with accessible water fountains, washrooms, ticket offices, and waiting rooms. There are also TTY phones for travelers with hearing problems.
Which train companies travel from Madrid to Seville
Trains from Madrid to Seville are operated by Renfe. It is the national railroad operator for Spain and it provides most regional and high-speed Ave trains. Renfe provides Renfe Ave trains to operate services from Madrid to Seville.
Night trains in Madrid
Renfe operates Trenhotel, a long-distance night train, which facilitates overnight travel in Madrid. These trains feature seats and compartments for two or four travelers. They are mostly separated from other parts of the train, including private toilets and showers. Aboard Trenhotel, Renfe offers several classes, which come with different levels of comfort. At the tourist class, the carriages have a two-by-two seating arrangement with reclining seats and folding tables. Preference offers super reclining seats with wide folding tables and armrests. Grand Comfort seats recline horizontally and offer a lot of space between rows. They also feature magazine racks, power sockets, and an audio system with four channels. Tourist beds have two upper and two lower beds with washbasins, sheets, and towels. Travelers can also choose between lady cabins and gentlemen cabins. Grand Class Bed is equipped with two beds, showers, and washrooms. They also get personalized services, including sheets, towels, daily newspapers, lockable doors, and la carte food.
Renfe Trains from Madrid to Seville
Renfe provides 12 Ave trains from Madrid to Seville on a daily basis. All Renfe trains offer direct services from Madrid to Seville. Renfe Ave trains operate at an average speed of 193 mph (310 km/h).
Trains from Madrid to Seville: Sustainability Travel
Trains are by far the most sustainable and greenest means of travel. Their emissions only represent about two percent of the transport sector emissions. They also have a low energy consumption, which equals a tenth of the fuel used by small cars and aircraft. Trains have the ability to occupy minimal space in the environment and at the same time offer the most spacious areas to passengers onboard. Trains have a long lifetime and can go for up to 50 years without the need to re-invest in spare parts and non-renewable energy.
Train from Madrid to Seville: Services on Board
Renfe trains offer two travel classes, including Turista (Second Class) and Preferente (First Class). The major difference between the first and second classes is the seating arrangement. Second-class coaches offer a two-by-two-seat configuration, while first class offers two-by-one seat configurations. Seats in first class are far more spacious, and they offer more legroom. Another perk of first-class travel is the at-seat catering service available. Renfe trains have on-board personnel who provide services in different languages throughout the train journeys.
Trains are also equipped with a Buffet Car, which offers seasonal menus, a children's menu, and a variety of drinks. The trains also provide free Wi-Fi onboard for travelers' entertainment. Renfe trains have luggage restrictions with a maximum of three luggage items per traveler. The measurement limit is 33x21x13 inches (85x55x35 cm), and the weight limit is 50 lbs (25 kg). They also offer power outlets for travelers to keep their equipment charged. Pets are allowed on board for free as long as they are on a leash. Renfe trains are wheelchair accessible with designated areas for wheelchairs, step-free boarding equipment, and adapted services. The Omio Magazine offers you advice on the best travel experience from Madrid to Seville.
How to find cheap train tickets from Madrid to Seville
Travelers that need cheaper train tickets from Madrid to Seville should consider buying tickets in advance. Ticket sellers often release tickets a few months before their scheduled dates. The earlier you buy these tickets, the cheaper they will cost. Also, consider being flexible with your schedule. With a flexible schedule, you can easily land a cheaper train ticket deal as opposed to a fixed schedule. Trains with stops often have cheaper tickets than trains with direct faster services.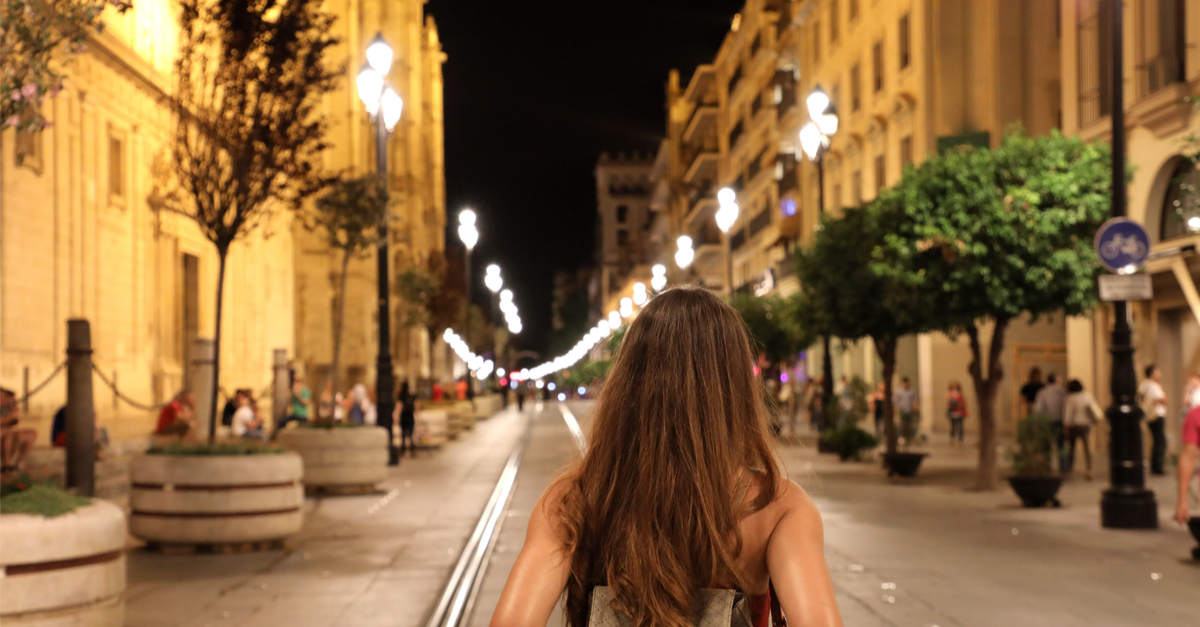 Woman visiting Seville. Source: Shutterstock
To Seville by train – travel tips
Like every other major city in Europe, Seville offers a fair share of must-see attractions. It offers elegant edifices, horse-drawn carriages, and old-fashioned street lamps. It also houses the famous Alcazar, which dazzles with lush gardens and lavish Mudehjar décor. This medieval neighborhood offers a labyrinth of cobblestone walkways, white-washed structures with scenic patios, and breath-taking plazas with outdoor patios. It also houses Plaza Refinadores, which features a statue of Din Juan Tenorio, and two museums that illustrate the story of the Spanish Jews. Nature lovers will enjoy a visit to Parque de Maria Luisa, Seville's major public park, which stretches along the Guadalquivir River. Art lovers can visit Metropol Parasol. This is the largest wooden structure in the world. It houses a marketplace, an open-air plaza, and a restaurant. Another popular attraction is Toro del Oro, which showcases the Spanish colonial period. Here are other attractions in Seville:
Catedral de Seville
Parque de Maria Luisa
Museo de Bellas Artes
Real Maestranza Bull Ring
Barrio de Triana