Bus to Paris
Buses to Paris offer the most convenient and scenic journey. The France capital is accessible by bus from around 377 other cities, and you can choose from over 1400 daily scheduled trips when you look for coaches to Paris on Omio. FlixBus is the main operator with the most buses on this route on any given day.
What are the Bus Stops When Arriving in Paris?
Once you get to Paris, you'll stop at Paris Gallieni Porte Bagnolet Bus Station. It is the main and busiest bus station where most buses to Paris stop. Gare de Bercy Seine, also known as Paris Bercy Bus Station, is a secondary station in the city preferred by most providers. You can also alight at other active bus stations in Paris, including Paris Porte Maillot, Paris Cours La Reine, Paris Saint-Denis University, Paris Pont de Sèvres, and Paris Pont de Levallois.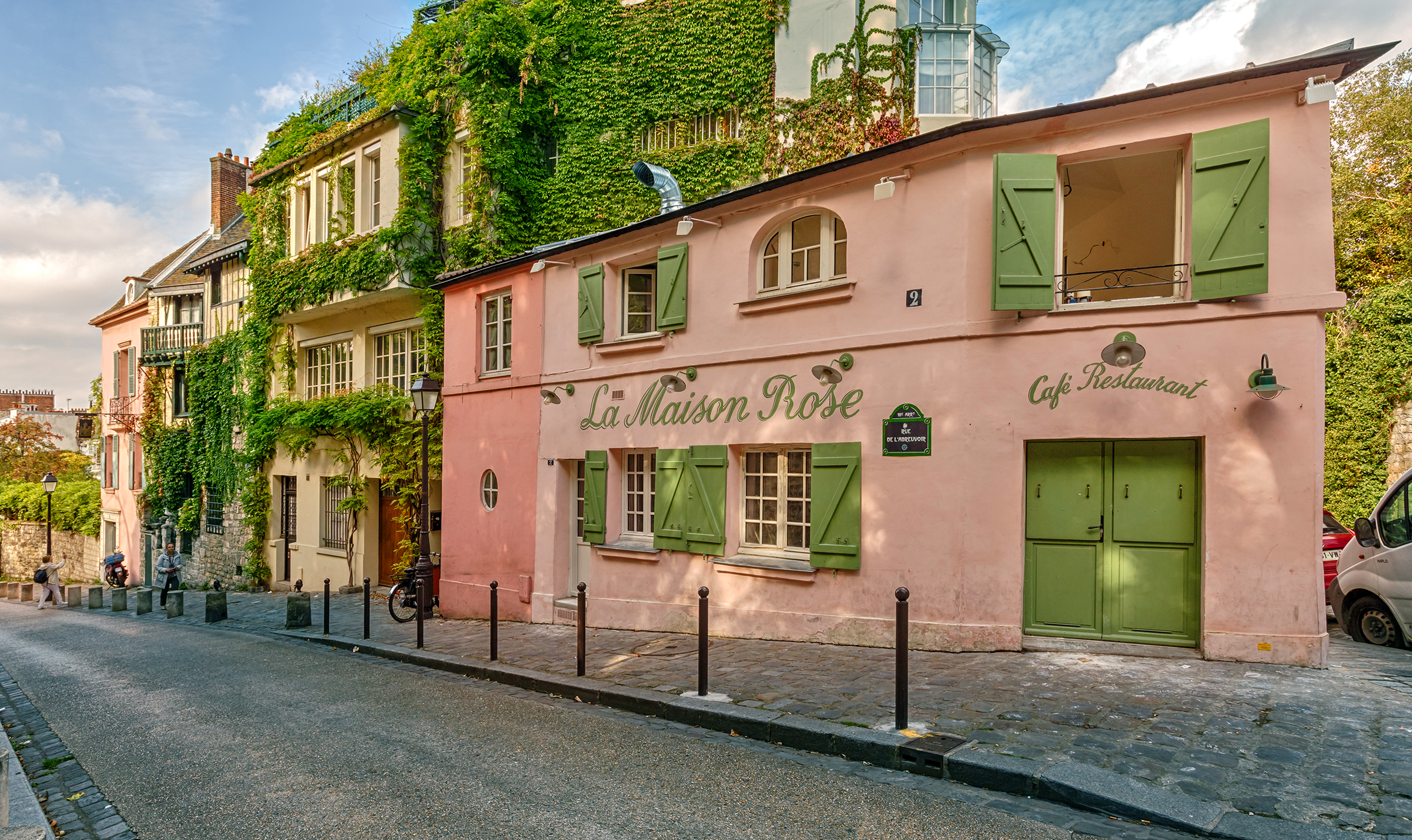 The Pink House in Paris. Source: Shutterstock
Information on Paris Gallieni Porte Bagnolet Bus Station
Located in Bagnolet, the eastern part of Paris, Paris Gallieni Porte Bagnolet is in an ideal place to grant you easy access to the city. The two-level international bus station has a few shops and clean restrooms. It is close to several cafes and restaurants, so you'll find a place to grab a bite or drink after your trip.
Which Providers Offer Bus Services to Paris?
FlixBus is one of the bus companies offering buses to Paris. It is the main bus provider on this route connecting 344 different cities to Paris, with daily nonstop rides from various departure points. With FlixBus, you can opt for the overnight bus to Paris and save on hotel costs.
Other popular providers on this route include Alsa, which only offers direct buses from various departure points and Blablacarbus, which connects Paris to over 100 cities. You can also find direct coaches to Paris with National Express, Ecolines, and Avanza.
Buses to Paris: Sustainability Travel
Taking a bus to Paris is the best option since it's the most sustainable means of transport available. Buses are more sustainable since they carry more passengers compared to privately-owned vehicles, meaning the number of emissions per person per kilometer will be low. Some buses come with improved propulsion systems that produce cleaner and fewer emissions. For example, some FlixBus buses have a modernized Euro6 Diesel product. There are electric buses and solar-powered FlixBus buses on the Paris route. On the other hand, Alsa has buses running on hydrogen and electricity, providing a sustainable means of travel. Buses take fewer trips than privately-owned vehicles, meaning there will be fewer carbon emissions.
Bus to Paris: Services on Board
FlixBus has invested in buses with excellent amenities to ensure passengers have the best travel experience. You'll find the following amenities and services when you travel with FlixBus to Paris:
Seat Reservation: When booking your FlixBus ticket to Paris, you can choose from the different seat categories available. The Classic Seat is perfect if you want to sit next to family or friends, while the Table Seat is perfect for travelers who wish to study, work, or play cards during their trip. You can opt for the Panorama Seat to enjoy the best views during your trip or reserve the Extra Seat for a free seat next to you and enjoy extra space. Buses have comfortable reclining seats with plenty of space, providing extra legroom.
Luggage Storage: Passengers are allowed to bring 1 Carry-on bag of up to 25lbs (11kg) and 1 Stored bag of up to 50lbs (23kg) for free onboard FlixBus. Excess baggage of up to 50 lbs (23kg) is accepted at a fee. There is limited space for this option, so we advise you to book your excess baggage in advance. You can carry your bicycle on FlixBus, but there is a limit of 3 bikes per bus if you use a bike cover and 5 bikes per bus for transportation using the bike carrier. Electric bicycles are not allowed on buses. If you're planning to bring your bicycle, we advise you to book in advance for availability. FlixBus does not allow animals on their buses. Only service animals for travelers with disabilities are allowed. Other items you can carry on your FlixBus trip for free include 1 stroller per passenger and 1 small instrument
Mobility and Wheelchair Services: Boarding help is available for travelers with reduced mobility. FlixBus buses have a hydraulic lift, so your driver can help you board before securing your wheelchair in one of the wheelchair spaces available. We advise you to contact the bus company in advance to confirm the availability of this service or any mobility assistance you may need.
Snacks and Drinks: If you want to grab a bite or a drink during your trip, you can purchase snacks and drinks from the FlixBus bus drivers.
Entertainment Portal: FlixBus has an online entertainment portal with a broad selection of movies, e-books, audiobooks, music, and games for an entertaining ride.
Power Outlets: You don't have to worry about your phone or laptop running out of charge during your trip. Take advantage of the power outlets close to the seats and charge your device.
You'll enjoy the following amenities and services onboard an Alsa bus to Paris:
Travel Classes: You'll find three types of buses when you opt for the Alsa bus to Paris: Normal, Supra, and Eurobus. If you're going to spend more hours on the road, you can opt for Eurobus, which offers more legroom, free Wi-Fi, and headphones. It has VIP lounges in several stations. Supra buses offer the most luxurious trip with hostess services, a cafeteria, entertainment screens, and free Wi-Fi.
Seat Reservation: Alsa buses have no seat categories, so it's impossible to choose a preferred seat for your bus to Paris. You'll be assigned the next available seat after booking.
Baggage: Passengers traveling from various departure points in France to Paris onboard Alsa buses are allowed to carry luggage of up to 66 lbs (30kg) for free. Travelers headed to Paris from various destinations out of France onboard Alsa buses can carry luggage of up to 110 lbs (50kg) for free. You can bring your bicycle on your trip with the Alsa bus for free. Only 4 bicycles are allowed per bus (one per ticket), so book in advance for availability. Travelers coming to Paris from different departure points outside France onboard Alsa buses can carry their bicycles at a fee. Few buses accept small pets under 10kg, with a limit of one pet per bus. You should book in advance for availability. Service dogs are accepted but should always be under their owners' watch.
Mobility and Wheelchair Services: Travelers with limited mobility can request boarding help. Some Alsa buses have hydraulic lifts and are designed to accommodate passengers with reduced mobility. It is best to contact the company when reserving your ticket for availability.
Catering: Foods and drinks are not available on the Normal Alsa bus to Paris. You can only access catering services on the Supra travel class, which comes with a hostess onboard.
Booking a Blablacarbus bus to Paris grants you access to the following amenities and services:
Luggage Storage: BlaBlaCar bus lets you bring one carry-on bag and 2 Checked bags for free. Your checked luggage shouldn't exceed 50 lbs (23kg) and should bear a label with your name, phone number, and address. The bus can only carry 4 bicycles (one per ticket). Book in advance for availability. Assistance animals and pets are not allowed on the bus. Only guide dogs are accepted.
Wi-Fi: You'll access free Wi-FI on BlaBlaCar bus. We recommend downloading music, movies, and other entertainment materials before your trip since you can experience poor connections when passing through rural areas.
Mobility and Wheelchair Services: BlaBlaCar buses are equipped to accommodate passengers with reduced mobility. You should notify the company when booking for necessary assistance during your trip.
There are no seat categories on BlaBlaCar buses, so it's impossible to reserve a preferred seat. After booking, your seat will be determined automatically, and you'll receive your seat number an hour before boarding your bus to Paris.
When to Book Your Bus Tickets to Paris?
The best time to find cheap bus tickets to Paris is during the low season since they are less pricey due to low demand. If you're planning to visit Paris during peak travel, we advise you to book at least two months in advance. You can also opt for a slower journey or connecting buses since they are more affordable. If possible, try to be flexible with your travel schedule to find more affordable bus options to Paris.
To Paris by Bus: Travel Tips
Paris, the famous City of Love and Light, is the capital of France and a prime destination of choice for people visiting the European nation. With a rich cultural heritage and one of the most popular global landmarks, you'll be amazed by what the city has to offer. The famous Eiffel Tower is the city's star attraction and one of the must-visit places for everyone coming to Paris. You can also visit the Musée du Louvre, another iconic landmark, or sample Paris' food scene, which is full of traditional and modern restaurants.
If you don't have an idea of where to start during your visit to the France capital, check out our Paris travel guide to learn more about things you can do during your stay in the city. In Paris, you can also:
Take a trip to the Atelier des Lumières and sample the digital art on display.
Sample some French cocktails in one of the coolest bars in Paris, Le Syndicat.
Visit The Château De Versailles (Palace of Versailles) to learn French history and how former rulers lived.
Explore Tuileries Gardens close to the Louvre museum.
Head to the Buttes Chaumont park in the northern part of Paris to relax and enjoy great city views.
Stroll through the Marché des Enfants Rouges food market in the Marais neighborhood.
Visit the Vignes du Clos vineyard in Montmartre.
Check into the famous Les Duex Magots café for a drink.
Walk through the Place des Vosges square in Le Marais.
Enjoy some seafood at l'Avant Comptoir de la Mer.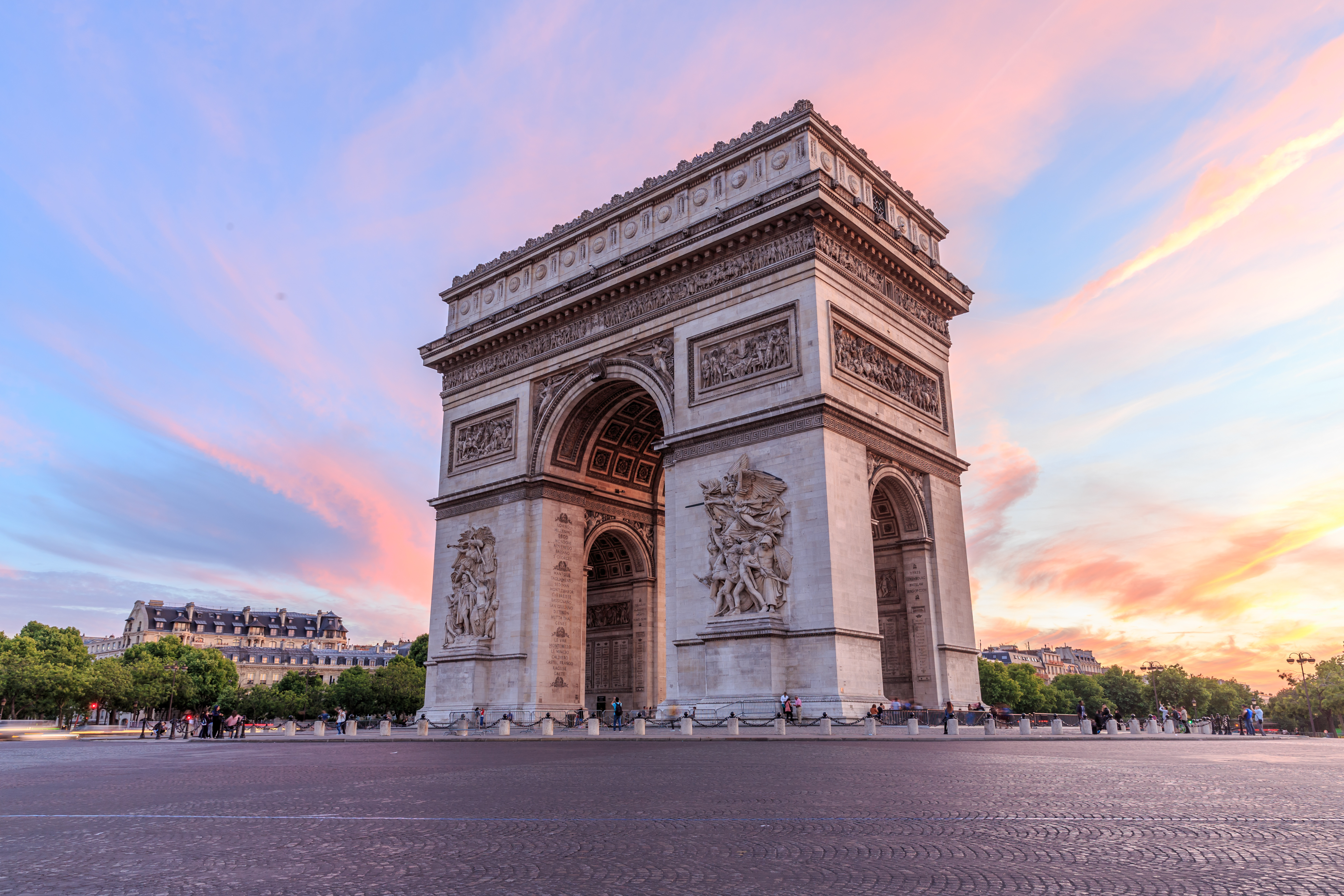 Arc de Triomphe in Paris. Source: Shutterstock
Popular Destinations from Paris
There are multiple destinations to travel to by bus from Paris. You can take the Chamonix to Geneva bus and enjoy the scenic views along the way. You can also take a bus from Paris to Lisbon, where you can enjoy the city's fascinating history, fantastic food, and stunning architecture. The bus from Paris to Brussels is another option if you want to sample the delicious cuisines and historical side of the European political capital, or you can take the Paris to Amsterdam bus to enjoy the city's charming canals, bike culture, and contemporary art scene.