Train to Belgium
The trains in Belgium are a wonderful method of transportation for those looking to explore the country. Visitors will find that Belgium offers a variety of trains to cater to their needs. There are high-speed trains, mostly serviced by Thalys, InterCityExpress (ICE), Eurostar, Eurocity, and TGV. Some of the most popular routes for visitors using high-speed trains in Belgium are the London to Brussels route with Eurostar, the Amsterdam to Brussels route with Thalys, and the Paris to Brussels route using TGV.
Belgium also has regional and intercity trains, which are serviced by NMBS/SNCB (Société Nationale des Chemins de fer Belges). A few noteworthy routes using these regional trains are from Brussels to Bruges, and from Ghent to Antwerp. The trains in Belgium also connect travelers between the main cities and the airport. The Flemish region of the country has a few trains with two floors, which allow passengers to have an enhanced "sight-seeing" experience while traveling by train. Using the Omio app, travelers will find it easy and convenient to book their journey while navigating between trains by having all their tickets purchased and saved on their mobile phone.
Trains to Belgium provide convenient means of accessing and exploring the country, enhancing your convenience during tourism and business travels. The country has multiple train types operated by major companies such as Eurostar, Thalys, TurboTrain a Grande Vitesse (TGV), Deutsche Bahn AG (DB) and Societe national des chemins de fer francais (SNCF). These providers offer high-speed options that efficiently connect you to international cities like Luxembourg, Paris, London, and Rotterdam. The 95-year-old National Railway Company of Belgium (NMBS/SNCB) presents fast-paced models, and Intercity (IC) trains to several popular regional cities, including Brussels, Bruges, Leuven, and Liege.
Belgium is a beautiful country with scenic train trips that allow you to appreciate the land's wonderful landscapes, such as the rides covering the Dorsale wallone (Spine of Wallonia) region that connects Mons to Liege while following the Meuse River.
Booking your train ticket with Omio for Belgium
Omio offers a comfortable way of obtaining and booking tickets when traveling by train to Belgium. You can begin the hassle-free process by inputting your departure time, departure location and destination point. After entering the details, the site directs you to a comprehensively structured page with all the required information, including expected trip durations and prices. You can choose your preferred currency to make your payment and incorporate any discount card you possess. Additionally, you can select your journey type according to your itinerary and budget, such as picking slower and longer train types or high-speed options. Upon completing your booking, you will get your ticket for a train to Belgium directly on your mobile phone.
Train companies in Belgium
SNCB is the main provider for trains operating within Belgian cities, offering InterCity (IC) and high-speed models. The IC rides run short distances between major cities and only stop at the country's biggest stations, serving areas like Brussels, Antwerp, Ghent, and Liege. Local (L) services operate trains to Belgium's provincial villages and towns with regular stops, conveniently enabling you to reach remote locations. SNCB also has four high-speed lines (HSL), with HSL 1 connecting to the French border and HSL 2 between Leuven and Liege-Guillemin. HSL 3 goes from Liege to German's border close to Aachen, and HSL 4 links to the Dutch HSL-Zuid line in the Netherlands.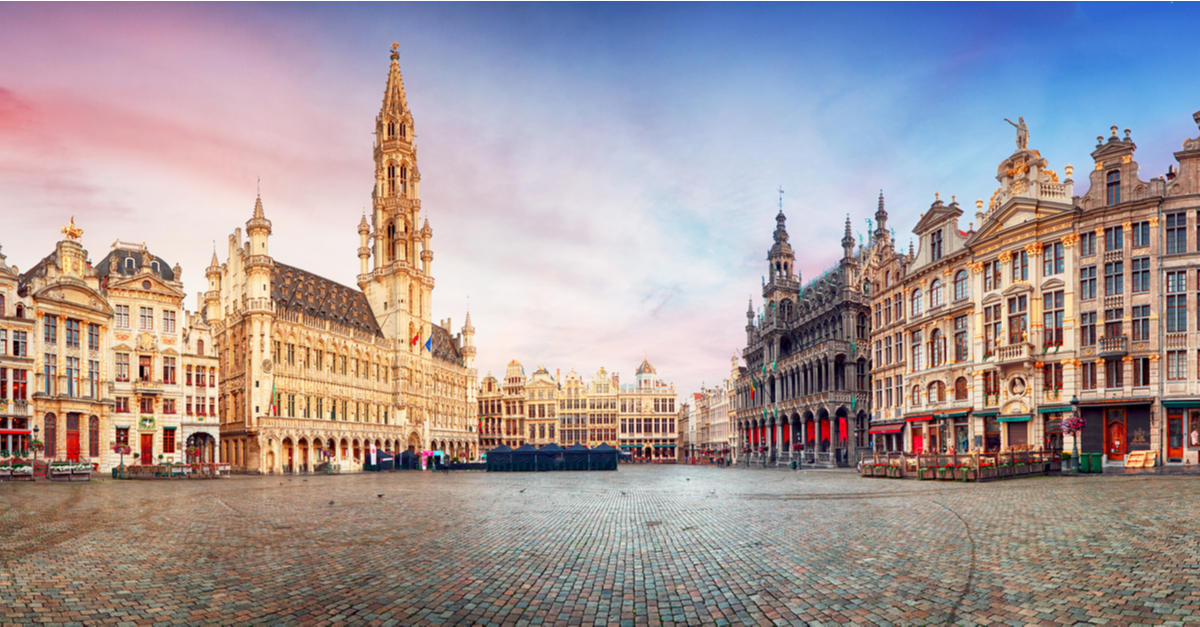 Belgium Brussels. Source: Shutterstock
Popular international routes by train
You can comfortably select from several fast-paced rides that offer international trips to nearby regions when journeying to Belgium by train. Thalys is a well-known provider operating trains to Belgium and linking the country to international cities, delivering excellent services and efficient travel times. It operates from Brussels to Paris (France), Cologne (Germany), and Amsterdam (Netherlands).
Eurostar enables you to reach London (United Kingdom), while InterCity Express (ICE) trains link to the German cities of Frankfurt and Cologne. TGV rides connect Brussels to Marseille and Lille in France. The German DB trains transport you between Liege, Brussels, Aachen, Frankfurt, and Cologne. These international routes can include stops in Belgian towns that may cause time and price variations. It is generally advisable to verify the route if you intend to access other smaller regional areas.
When arriving by train in Belgium
Belgium is a multilingual nation that speaks French, Dutch, and German in different regions, making it wise to learn some associated vocabularies for easier communication with the locals. For this reason, you can find some Belgians referring to the Societe Nationale des Chemins de fer Belges (SNCB) train network using its Dutch name, the Nationale Maatschappij der Belgische Spoorwegen (NMBS). Belgians also have dinner between around 7 p.m. and 8 p.m., with some social areas serving up to 11 p.m. Traveling by train to Belgium is convenient for most European travelers since the country's currency is the Euro.
Train Provider in Belgium
SNCB is Belgium's main train provider, categorized into intercity (IC), local (L), Train d'heure de Pointe (P), and Reseau Express Regional (S). The intercity options are the most common types and offer the fastest durations, with the others having more stops on their courses. You can ride along popular routes such as Brussels to Antwerp, Bruges to Ghent, and Brussels to Liege.
Main train stations in Belgium
The Brussels-South Station sits at Avenue Fonsny 47B, 1060 Brussel and features a concourse, elevators, TV screens, international and domestic ticket offices, luggage storage room, minimarket, and a VIP waiting room with Wi-Fi access. You can reach this venue via train, line 3 tram, line 2 subway or a taxi. Brussels-Central is at Carrefour de l'Europe, 1000 Bruxelles, which you can access through Line 1 subway, taxi, or Line 71 bus. It has a coffee shop, eateries, stores, ticket vending machines, toilets, and lockers. Brussels-North on Rue du Progres 76, 1030 Schaerbeek is accessible by taxi, bus, or Line 3 tram from the city center.
It provides bicycle parking, restaurant, ticket vending machines, and wheelchair accessibility. You can visit the Gent-St-Pieters at 9000 Ghent from central town using Line 65 bus, taxi, or Line 2 tram. This station incorporates cafés, a luggage storage area, and wheelchair-accessible restrooms. The Line 5 tram and taxis service the Antwerp-Centraal at Koningin Astridplein 27, 2018 Antwerpen. You can find wheelchair-accessible facilities, toilets, lounges, shops, and international ticket offices at this site.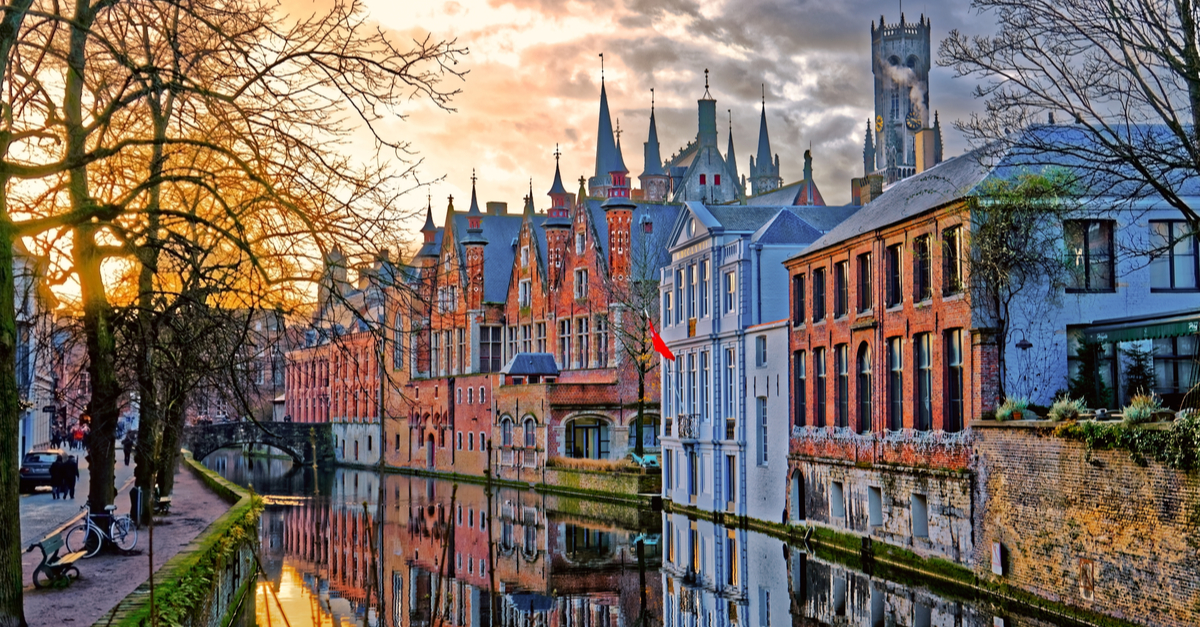 Belgium Gent. Source: Shutterstock
Popular journey in Belgium
The journey from Brussels to Antwerp offers early voyages that take between about 46min and 4h 53min, with fare starting at around $13. You can also travel from the capital to Ghent in about 28min to 1h, paying around $15 per ticket. Another popular trip within Belgium is the Bruges to Ghent voyage, lasting approximately 41min at around $12 for every seat. You can go along the Liege to Gouvy route that costs about $19 and take roughly 1h 14min. Brussels to Mons has durations ranging from around 47min to 4h 48min, charging approximately $16 per passenger.
Popular train routes from Belgium
One of the busiest routes from Belgium by train is the Brussels to Paris trip that runs for about 1h 22min at about $128 per ticket. Another popular French route is between Brussels and Lille, taking about 6h 1min with price beginning from around $177. You can reach London in approximately 1h 57min and purchase tickets at about $369. A popular German trip goes from Liege to Aachen, with the voyage lasting around 53min and having its price starting from about $13. The famous Brussels to Amsterdam journey takes about 2h 53min, with rates.
Good to Know
You can find the Train D'Heure de Pointe (P) trains that operate during morning and evening rush hours to alleviate congestion. The rush hour in Belgium generally begins at about 9 a.m. and around 5 p.m., lasting approximately two hours.
To Belgium by train – travel tips
A trip to Belgium by train allows you to access multiple local attractions that you can visit alone, with friends, family, or colleagues. The Canals and Belfry of Bruges allow you to take in the scenic reminders of Bruges' history during a relaxing walk or cruise around the channels and Main Square. You can access the inner canals to see the picturesque bridges and reach hidden gardens in the area. La Grand Place in Brussels offers another touring site that you can visit to appreciate architectural masterpieces representing the late 17th-century buildings.
You can learn about Belgium's role in World War I during a trip to the Battlefields of Flanders in the Ypres region, featuring preserved trenches and soldiers' cemeteries. The Horta Museum and Town Houses enable you to look at stunning buildings by Victor Horta, with several structures constituting a UNESCO World Heritage Site. The influential architect designed his work using Art Nouveau, an early 20th-century construction style.
ou can enjoy Belgian delicacies at several restaurants such as GUS and Alexandre Restaurant in Brussels or 'T Pakhuis in Antwerp. Moreover, you can also go to famous eateries like Comme Chez Soi that opened in 1925, serving high-quality French cuisine.
Popular Train Routes in Belgium
| | |
| --- | --- |
| Trains London to Brussels | |
| Trains Paris to Brussels | |
| Trains Cologne to Brussels | |
| Trains Brussels to Bruges | |
| Trains Ghent to Antwerp | |
Popular International Routes by Train
Travelers wishing to visit cities in Belgium from other countries in Europe will find that Omio is a useful and convenient tool to make their planning process smoother. Here are two of the main cities in Belgium and how to get there by train:
Antwerp: Travelers that wish to visit Antwerp will find that the city is well connected to a few major capitals of Europe. For example, the Eurostar departing from London St. Pancras International station will arrive at Brussels Midi station, where travelers may switch to a regional IC train that will take them straight to Antwerp. Meanwhile, travelers coming from Rotterdam or Amsterdam will find direct IC trains that will take them straight to Antwerp. Lastly, the high-speed Thalys train provides a direct route between Paris and Antwerp.
Brussels: The capital of Belgium is directly connected with several of the major cities in Europe, such as Luxembourg city (using EuroCity), London (using Eurostar), Cologne and Frankfurt (using ICE), Amsterdam (using Thalys), and Paris (using TGV). Travelers that wish to arrive in any other city in Belgium will most likely have to make a connection in Brussels.
When arriving
When travelers decide to visit Belgium, they should be aware of the following information in order to facilitate their trip. Belgium is a country made up of many languages, therefore depending on where the traveler is located, the primary language that is spoken and visible on street signs/directions will vary accordingly. The north side of Belgium is predominantly Flemish-speaking, which is a language similar to Dutch. The southern side of the country is typically French-speaking. There's also a minor area on the eastern part of Belgium that speaks primarily German. Therefore, it is suggested that travelers figure out the primary language spoken in the area they decide to visit, prior to their departure. Nonetheless, English is also widely spoken in Belgium, therefore travelers should not have a problem communicating with locals.