Eurail: Everything You Need to Know
The complexity of Europe's train network often makes buying a Eurail Pass seem like the easiest way to travel around the continent. But how can you be sure that you're actually getting the best deal? Which pass makes the most sense for your specific trip? When are individual train tickets actually cheaper than buying a rail pass? There are no definitive answers to any of these questions but we're here to help you through the decision-making process with our comprehensive guide to buying European rail passes.
Here are a few things you'll want to consider before buying:


Your residency: A Eurail pass can only be used by non-European citizens/residents. European citizens can purchase an Interrail pass instead.
Your travel plan: You'll also find that passes can be very convenient for exploring off-the-beaten path destinations as you won't need to reserve seats on regional trains
Your seat reservations: When you're traveling between major cities or on high-speed trains, you'll usually need to pay additional seat reservation fees on top of the cost of the Eurail Pass
Your booking period: As a general rule, the longer you plan to travel, the more likely it is that you'll save with some kind of Eurail pass especially if you're last-minute planner (train tickets in Europe can get pretty expensive when you book last-minute)
Your age: Eurail passes makes the most sense for travelers under 25 years old who are planning a longer trip involving many towns and cities in multiple countries
No matter your travel plans, you'll definitely want to use Omio to double check prices for your specific trip to see if you can string together a cheaper itinerary yourself. You can check prices for most train companies 2-4 months in advance of your intended travel date.
3 routes where buying a Eurail Pass will save you money
South to North: Eurail Global Pass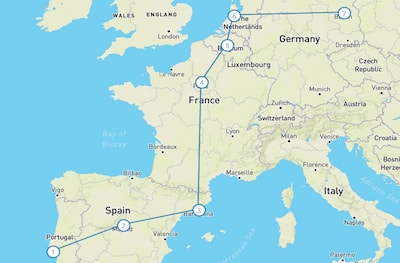 Visit 7 European cities in 6 countries with the Eurail Global Pass starting from $431. Doing this itinerary with a Eurail Global Pass is 9% cheaper than purchasing equivalent point-to-point tickets.
South to North Europe Trip
Travel between 28 European countries with the simplicity of the Eurail Global Pass.
More Information →
2 Weeks in France & Italy: Eurail Select Pass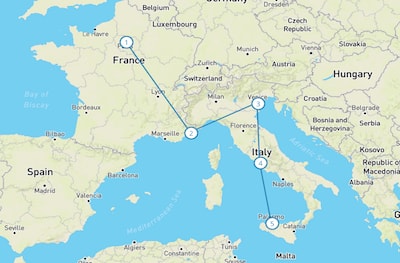 Visit 5 cities in France and Italy with the Eurail Select Pass starting from $246. Doing this itinerary with a Eurail Select Pass is 26% cheaper than purchasing equivalent point-to-point tickets.
2 Weeks in France & Italy
The Eurail Select Pass lets you can easily explore 2-4 bordering countries in Europe.

2 Weeks in Spain: Eurail One-Country Pass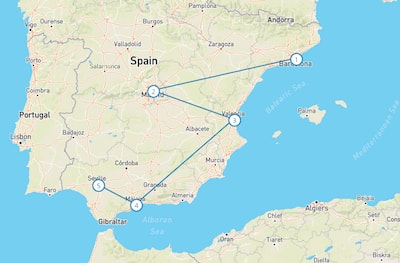 Visit 5 cities in Spain with the Eurail One Country Pass starting from $179. If you're booking point-to-point tickets for this route at the last minute, you should consider purchasing a Spanish Eurail pass.
2 Weeks in Spain
Explore one of Eurail's many partner countries with the one-country pass.

Suggested Itineraries for Eurail Global Passes
Eurail Global Pass: Terms & Conditions
What You Should Know about the Eurail Global Pass
The Eurail Global Pass allows you to travel by train between 28 European countries
Variable pass validity allows you to customize your travel itinerary. Choose between a variety of options from traveling on 5 specific days in a month to selecting 3 months of unlimited train travel
Eurail passes can be purchased up to 11 months ahead of time or as late as a week before you intend to travel
The Eurail pass is a physical document so it needs to be shipped to you. Eurail can ship passes to both European and American addresses but cannot be shipped to European train stations
Eurail passes must be activated at any major train station in Europe before they can be used. Alternatively, passes can be ordered "pre-activated" from Eurail if you are intending on using it to travel immediately
Eurail Select Pass
The Eurail Select Pass lets you travel through a variety of bordering European countries. You can select 2, 3 or 4 European countries to travel through as long as they share a border. Eurail Select Pass prices depend upon the number of travel days and the countries selected. The Eurail Select pass is ideal for when you're looking to explore the best of Europe. Fly into Paris and stroll along the Seine for a few days before taking the train over the Alps to explore Switzerland. Similarly, if you're after Europe's culinary delights you can travel throughout Italy sampling pasta and bruschetta before traveling to France's wine region and sampling some world-class Burgundy and Bordeaux. No matter if you're exploring Central Europe or traveling through the most popular destinations in Spain and France, the Eurail Select Pass provides the flexibility for any European travel itinerary.
A Eurail Select Pass allows you to choose 2, 3 or 4 bordering countries in Europe: Austria, Belgium, Bosnia-Herzegovina, Bulgaria, Croatia, Czech Republic, Denmark, Finland, France, Germany, Greece, Hungary, Ireland, Italy, Luxembourg, Montenegro, Netherlands, Norway, Poland, Portugal, Romania, Serbia, Slovakia, Slovenia, Spain, Sweden, Switzerland and Turkey.
2 Country Select Passes
3 Country Select Passes
4 Country Select Passes
Suggested Itineraries for Eurail Select Passes
What you should know about the Eurail Select Pass
The Eurail Select Pass allows you to select 2, 3, or 4 bordering countries in Europe and travel between them by train. In the event that you need to pass between a country not included on your rail pass you will need to pay an additional fee.
Eurail Select Passes are highly customizable - choose 4 travel days between 2 countries or 10 travel days between 4 countries. Choose from a variety of country combinations to make the most out of your Europe trip.
Eurail considers Belgium, the Netherlands and Luxembourg as one country under the name BeNeLux. Some Eurail Select Passes also include regional ferries. For example, when you choose a Select Pass for Italy and Greece a regional ferry is included for traveling between the two countries.
Eurail passes can be purchased as early as 11 months prior to your journey; however, these passes must be activated before they are able to be used. If you are planning on traveling immediately Eurail passes can be ordered "pre-activated."
Eurail passes are a physical object which need to be shipped to the user. Delivery times can be as fast as 3 business days and can be sent to European mailing addresses.

Eurail One Country Passes

Eurail One Country Passes are unfortunately not currently available for France; however, France can be included as a travel destination in both Eurail Select Passes and the Eurail Global Pass. Similarly, German rail passes are only available through Deutsche Bahn.




| Country | Price |
| --- | --- |
| One Country Pass for Austria | From $151 |
| One Country Pass for BeNeLux | From $151 |
| One Country Pass for Bulgaria | From $94 |
| One Country Pass for Croatia | From $94 |
| One Country Pass for Czech Republic | From $94 |
| One Country Pass for Denmark | From $127 |
| One Country Pass for Finland | From $151 |
| One Country Pass for Greece | From $94 |
| One Country Pass for Hungary | From $94 |
| One Country Pass for Ireland | From $151 |

| Country | Price |
| --- | --- |
| One Country Pass for Italy | From $151 |
| One Country Pass for Norway | From $176 |
| One Country Pass for Poland | From $70 |
| One Country Pass for Portugal | From $94 |
| One Country Pass for Romania | From $70 |
| One Country Pass for Scandinavia | From $203 |
| One Country Pass for Slovakia | From $127 |
| One Country Pass for Slovenia | From $70 |
| One Country Pass for Spain | From $176 |
| One Country Pass for Sweden | From $176 |

Eurail One Country Pass: Terms & Conditions

What You Should Know about the Eurail One Country Pass

The Eurail pass is available for specific countries. Passes range in cost from $70 to $500 depending on both the size of the country and the number of travel days. For example, 3 days of travel in Benelux will set you back $180 while 10 travel days costs nearly $400.
Eurail One Country passes consider Belgium, Netherlands and Luxembourg to be a single country called BeNeLux.
Other exceptions to the 1 country rule include the Greek Islands pass which covers ferry travel to and from Italy as well as a few ferry trips within the Greek Islands. Similarly, the Scandinavia One Country Pass covers trips within Sweden, Finland and Norway.
It is important the remember that reservation fees will apply to some train types. Specifically, overnight and high-speed trains will always require a reserved seat; however, you can avoid these extra reservation fees by taking smaller, regional trains that stop more frequently.

Popular Train Routes in Europe