Train to Galway
The picturesque city of Galway is situated on Ireland's rugged west coast on the shores of Galway Bay. One of the largest cities in Ireland, Galway is considered by many to be the cultural heart of Ireland and a place where you'll find a lively atmosphere full of "ceol agus craic" (roughly translated: music, chat, and fun). In Ireland, the InterCity rail service connects most major cities in Ireland. The direct InterCity train to Galway from Dublin takes about 2h to reach their destination, and direct trips from Limerick take about 2.5h. Trips from other cities such as Belfast in Northern Ireland, Cork, and Waterford require at least one transfer along the way. All trains to Galway end their journey at Ceannt Station, which is the city's only railway station.
Irish Rail to Galway
InterCity train to Galway is operated by Irish Rail, Ireland's national railway service provider. Irish Rail also operates the Galway (Ceannt) railway station. Also known by its Irish name, Iarnród Éireann (IÉ), the company operates its InterCity trains between Ireland's major cities (including Galway), plus the Dublin Area Rapid Transit (DART) trains and the commuter railway services around Dublin and Cork. There are two primary InterCity train routes that serve the city of Galway.
The Galway InterCity route runs every 2h from Dublin's Heuston Station to Galway Ceannt, with stops at Portarlington, Tullamore, Clara, Athlone, Ballinasloe, Woodlawn, Attymon, Athenry, and Oranmore. The Western Rail Corridor route runs five times per day from Limerick's Colbert Station to Galway Ceannt, with stops at Sixmilebridge, Ennis, Gort, Ardrahan, Craughwell, Athenry, and Oranmore. Passengers can also access indirect rail services to Galway from other major Irish cities. For example, trains from Cork connect through Thurles and Portarlington, and trains from Ballina connect through Manulla Junction and Athlone.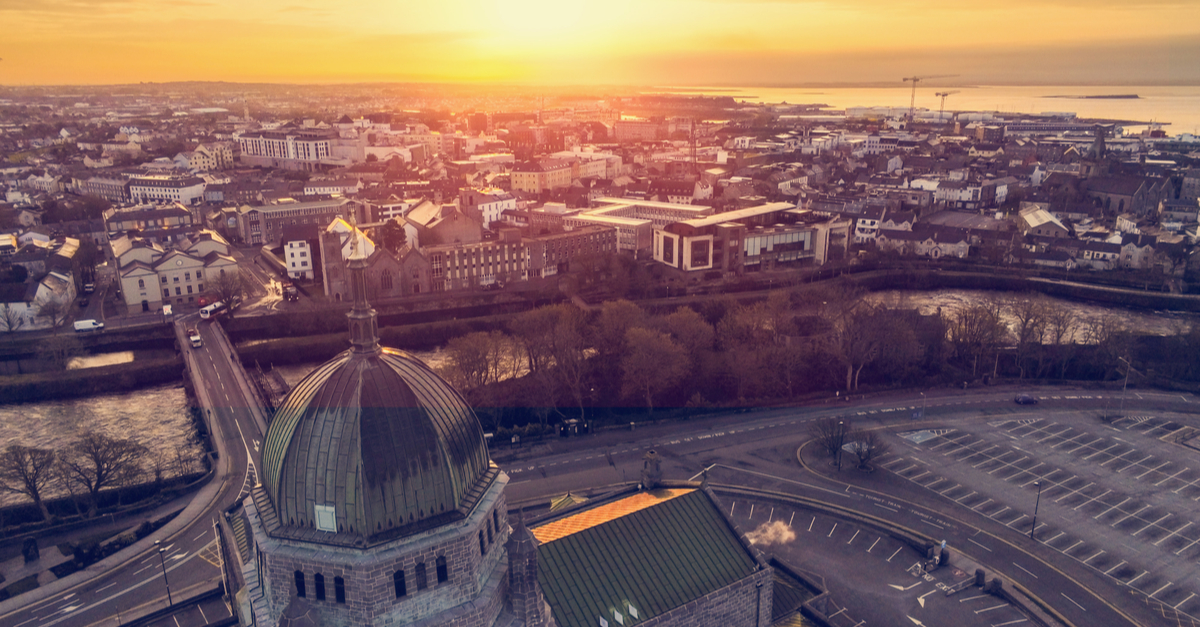 Galway Aerial View. : Shutterstock
Main train stations in Galway
Galway railway station is also known as Ceannt Station. The station is named after Éamonn Ceannt, one of the Irish nationalists who was executed for his role in the 1916 Easter Rising of 1916. Ceannt Station is centrally located just off Eyre Square in the heart of the city. Like most railway stations in Ireland, Ceannt is a small station with two platforms. Trains to and from Dublin use Platform 1, while trains to and from Limerick use Platform 2. Although the station is small, travelers will find a few amenities such as ticket counters and automatic ticket machines, waiting areas, restrooms, vending machines, and a café. Galway's main bus station is adjacent to the train station, making for convenient connections to the next phase of your journey.
Onboard facilities Galway
InterCity trains to Galway offer comfortable, modern cars with air conditioning, free Wi-Fi, and electrical outlets at each seat, and most InterCity trains offer a catering service. There are no limits for luggage that may be brought onboard the trains, as long as it can be stored in the designated compartments above the seats and at the end of the cars. If you're planning to bring your bike with you, you're in luck! There are no restrictions for bikes that are folded and stored in a bag or are otherwise covered during the trip. Simply store the bike in one of the designated luggage compartments on the train.
If you wish to bring a fully assembled bike on the train, you must add the bike when you book your ticket online; there is no fee for the bike when booked online. If you don't book your bicycle in advance, you can still bring it on board as long as there is room for it in the bicycle spaces in the passenger car, but you may be charged an additional fee. You may also bring small pets onboard the InterCity trains for free, provided the pet stays on your lap during the trip (either on a leash or in an appropriate pet carrier).
Unfortunately, larger dogs are not allowed onboard the InterCity trains to Galway. Of course, persons with disabilities may bring guide dogs with them without any restrictions. Passengers with disabilities should contact Irish Rail at least 24h before traveling if special accommodations will be needed to ensure a safe and comfortable ride. Each InterCity train has limited wheelchair seating, so if you use a wheelchair, you're encouraged to book a wheelchair seat in advance.
Train tickets to Galway: useful to know
When purchasing tickets for trains to Galway, buying in advance will ensure you get the best price for your trip. You can buy your ticket up to 90 days before your desired departure date, and you can reserve your seat when you book your ticket online. When you purchase your ticket online, you'll receive a ticket confirmation number. Be sure to keep this number in a safe place! You'll need to provide this number when you arrive at the station to print out your ticket.
There are ticket machines at every station in Ireland where you can print your ticket before you board the train. Remember that you can only print your ticket one time and lost or stolen tickets cannot be replaced or refunded, so keep your ticket safe with you. When you purchase your train tickets to Galway on Omio, you can store all of your tickets in your Omio account, making it easy to retrieve your ticket information at the station so you can print and board without any complications or delays.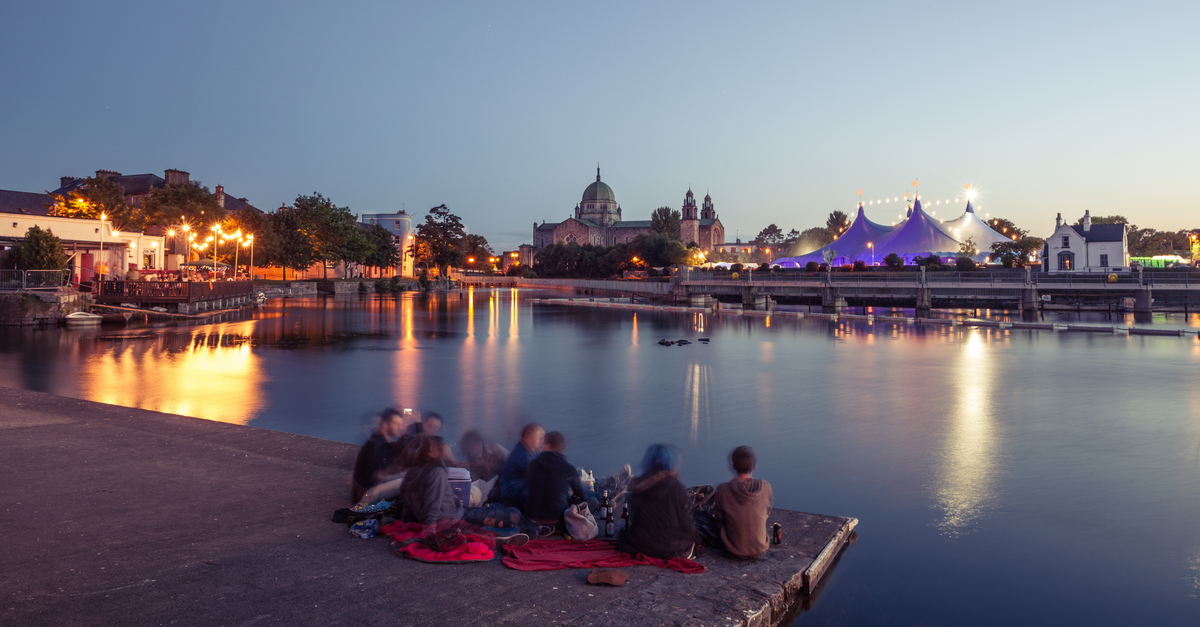 Gallaway People Night. : Shutterstock
To Galway by train—travel tips
A good thing about traveling by train to Galway is that the city is very walkable and accessible by bikes and buses, making it easy to get around the city after arriving at the train station. When you arrive at the station, you'll be within easy walking distances of the shops and pubs at Eyre Square and within one mile of many of the city's attractions, including the free Galway City Museum (which features the area's folk history, art, and archeology), the medieval St Nicholas' Collegiate Church, and the Spanish Arch.
If you prefer to get around by bicycle, the city has a number of bike rentals to choose from. Coca-Cola Zero Bikes has several bike-sharing stations in the city, including one at Eyre Square. Most of the city's bus routes stop at the city's main bus station, which is located next to the railway station. There are two bus operators that provide regular bus service throughout Galway.
Bus Éireann is the national bus service that offers several routes within the Galway city center as well as longer routes throughout Ireland. City Direct is a private company that offers a few routes in the city center, with a higher concentration of service to the west of the city center in areas such as Knocknacarra and Rahoon.
If you're like most travelers to Galway, you'll want to spend some time wandering through the lively streets, soaking up the impromptu entertainment provided by the buskers, and stopping at the pubs to enjoy the music and dancing while enjoying your beverage of choice.
One of the first places you may encounter after exiting the train station is Eyre Square, the central plaza that's often buzzing with Irish folk music as well as with the conversations of the locals and tourists who are gathered nearby. Walk a few blocks west and you'll find the Latin Quarter, an especially pedestrian-friendly part of the city that is dotted with pubs, art galleries, and boutiques that are waiting to be discovered.
Visitors seeking an outdoor adventure can go whitewater rafting on the short but mighty River Corrib, which flows through the city into Galway Bay, or take a day trip to hike one of the 50 mountain peaks in Connemara National Park. For a more relaxing outdoor activity, you can simply hang out on the beach and enjoy the natural beauty of the coastal landscape and waters.
Salthill Beach is just stepping off the city's promenade and has a mix of pebbly and sandy beaches for the family to enjoy. So get ready to don your Claddagh Ring and your warm and woolly Aran sweater and enjoy your next visit to Galway!