Train to Florence
Florence, popularly known as "Firenze," rich culture and history is what attracts many visitors. The accomplishments made in the renaissance era make the city's art, architecture, philosophical and scientific history something to marvel at whenever you visit the city's museums. Florence's central location provides access to and from major cities in Italy via rail. The city has four major train stations or terminals that connect to Florence. You can use a train to travel from anywhere in Italy to Florence.
Trenitalia to Florence
Trenitalia train to Florence is the most popular amongst the public. These high-speed trains, including Freciarossa and Frecciagento, provide the fastest travel period. The trains offer ample room for travelers, are Wi-Fi enabled, and allow passage with pets. Using these trains makes the journey more refreshing and enjoyable. The only catch is that these trains do not offer many train trips in a single day. Ensure that you book a Freciarossa or Frecciagento train before your travel time, day, or week.
Italo to Florence
Italo train to Florence are high-speed trains offering comfortable and fast travel services. You can connect to various cities from Florence using Italo trains. The company trains are Wi-Fi enabled and allow passengers to travel more enjoyable for travelers with pets. Place a booking to your favorite destination terminal in Florence any time of the day or week.
Trenitalia Regional to Florence
Trenitalia Regional trains provide long-distance travel services. These regional trains include Regionale, Regionale Veloce, IntercityNotte that offers night travel, and many more. The travel period for these trains differs with the train type, whose classification range from high-speed, mid-speed to low-speed depending on the destination and distance. However, they offer comfortable travel services, have Wi-Fi services, and are available for short-distance travels to Florence
Main train stations in Florence
The main train terminal in Florence is the Florence Santa Maria Novella. It is around 15min a distance of 5 miles (8 km) using a taxi from the Florence Airport. It is the largest train terminal in Florence. The Campo di Marte is more popular with international train services due to its nearness to the Artemio Franchi Stadium.
The terminal is only 7min, a distance of 1.6 miles (2.5 km) via public transport, e.g., a bus from the city center. The Florence Rifredi terminal ranks third in importance in Florence. It is only 13min and is 1.7 miles (2.8 km) from the Florence Airport. The Florence Statuto terminal is the farthest from the Florence Airport. It is 2.6 miles (4.2 km) and around 20min drive by bus. It is also the smallest and ranked fourth out of the four terminals in Florence.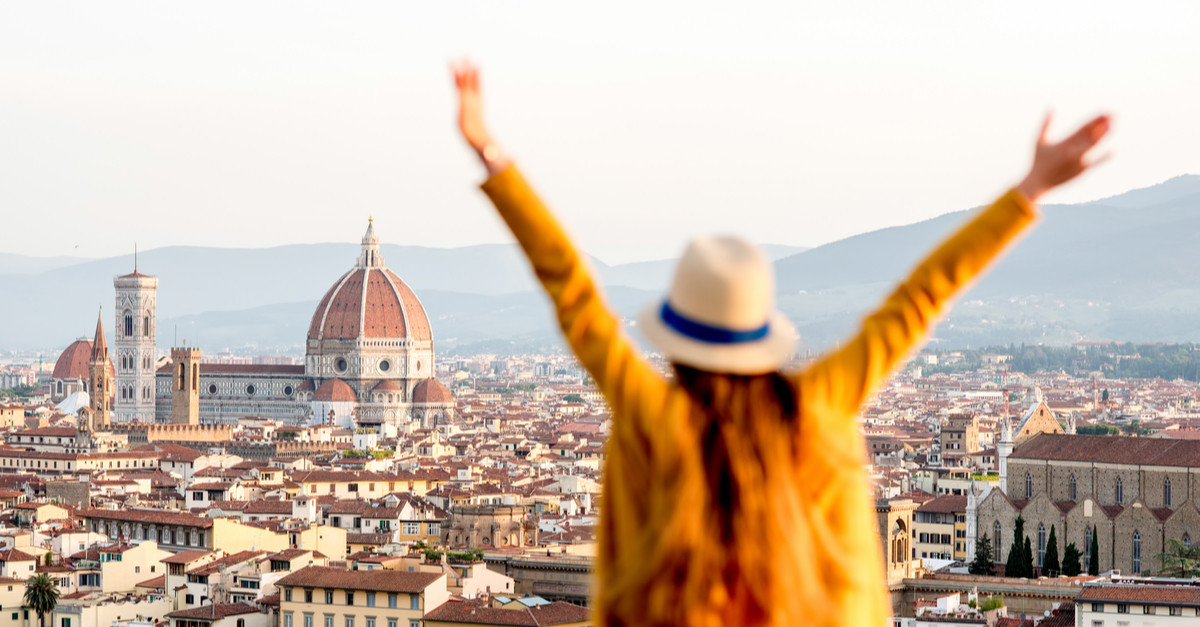 Florence View: Shutterstock
Onboard facilities Florence
Trenitalia Freciagento and Freciarossa trains have both direct and connecting train to Florence. You can enjoy free WI-FI to search for potential attractions to visit while in Florence. Pets are also given passage, and if carrying extra luggage, you can ask for extra space. There are facilities for people with disabilities to enjoy the ride to Florence. Italo trains are also high-speed trains to Florence. The trains have ample room for travelers to stretch and relax while traveling.
You can search for accommodation or a cool restaurant for local cuisine via train Wi-Fi as you travel. Ask for extra space to keep the extra luggage in the train. Bring your pets with you for the travel experience. Trenitalia Regional trains follow the same principles and policies as Trenitalia Freciarossa and Freciagento. The company is the same but contains varying train travel companies. therefore, Trenitalia policies apply to either.
Train tickets to Florence: useful to know
You can purchase an e-ticket for all of your travels via Trenitalia trains. The ticket purchase can be an online transaction, a PNR code via travel agencies, and calls made to the Call Center. The online purchase is in the form of an email containing all of your travel details. The agency and Call center PNR codes contain all data essential for a successful journey.
You do not have to print the e-ticket, but you need the code or email to board the train. However, you may consider printing and keeping a copy with your luggage for backup if you lose the e-ticket. Forgotten or lost e-tickets are not valid, and travelers have to purchase a new one which can be expensive. Therefore, consider getting your ticket through Omio. The process is easy, fast, and safe. You can keep all tickets together stored in your Omio account thus, accessible anytime and anywhere.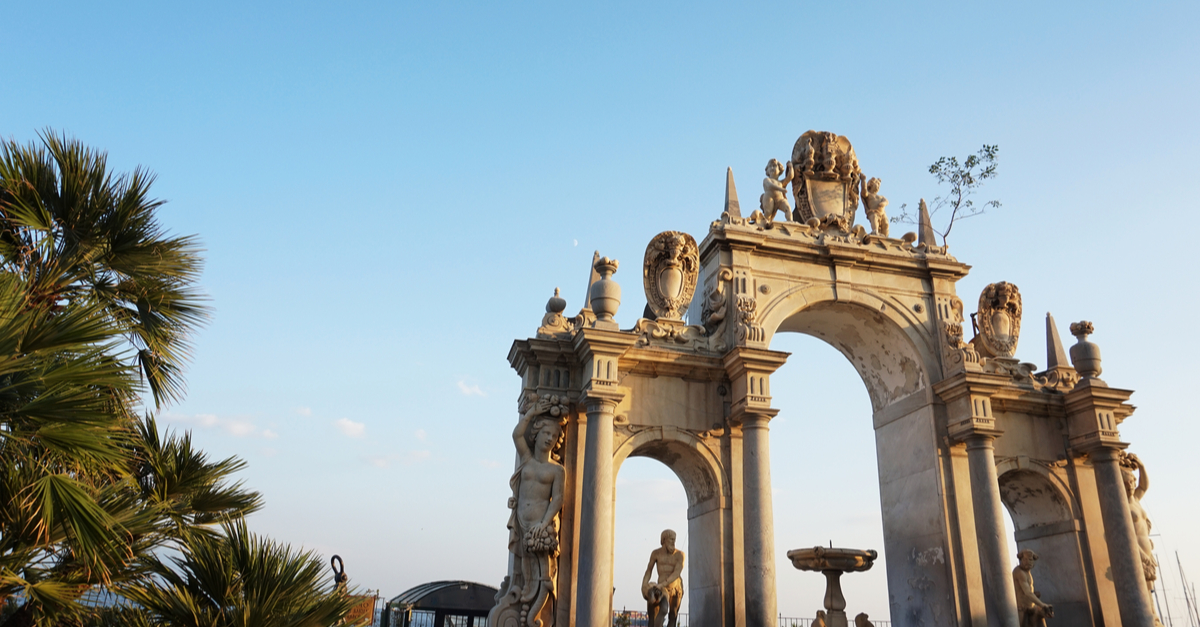 Florence Mounment Angel. Source: Shutterstock
To Florence by train—travel tips
Before arriving in Florence, it is essential to know your available modes of transportation in and around the city. You can travel by bus or use Tramvia or Tramlines. These will take you to different places to experience the city, including restaurants, accommodation places, the airport, and many more. It is advisable to always purchase your travel tickets before boarding a bus or a tram.
The drivers do have the keys but sell them at a higher rate than the online e-ticket services. Plus, their availability is not a guarantee, as the driver's storage gets depleted fast. Also, some buses have ticket validation machines. One ticket can have a validation period of 90min.
You can use the time to visit different areas. A single ticket can bring you to other places within the validation period, even when traveling using different buses and various destinations. Some tickets can work when traveling by bus and tram. Get a ticket that works across both means of transportation as it can help to depend on the area you are visiting. Also, when aboard a bus, the middle doors are for travelers getting off the bus. Therefore, stay in the front on the back doors if not descending in the following destination.
Italy is a magnificent country, but Florence is the city where all the remarkable qualities witnessed in the country began. The city is the source of all the amazing art pieces witnessed in the country. If you desire to view the most incredible architectural history in the world, visit Florence in Italy. You can learn more about the source of science in the Museum of the History of Science located in Florence.
Nothing can be more relaxing than having the cool air brush against your skin on a hot summer day in Florence. But, the locals have investments in expansive pools, explore the city in air-conditioned vehicles for the rental of relaxing in ice-cold gelatos. Walk with your loved ones alongside the Arno for a fantastic evening out. Explore the city during the night and identify with varying practices.
Don't forget to try a little pasta accompanied with some of the popular Florence Steaks grilled to perfection. Don't forget to taste the city's pasta and most amazing breakfast item, the Florentine Bread. When moving around the city visiting cool eating places in Florence, consider squeezing in some time for shopping. Don't leave the city without a souvenir from Prada or Gucci. These are notable designers but if you are a free spirit, consider hitting the Florence open-air markets!