Trains from Providence to New York
Trains from Providence, Rhode Island to New Yor City depart every day of the week, with around 15 departures Monday through Friday (fewer on the weekend). These departures are direct, without transfers along the way. Trains traveling south west to New York from Rhode Island make the 187-mile (301 km) journey in about 3h to 4h, depending on the speed of your particular train.
Providence to New York Train Time: Daily Departures
Trains from Providence to New York operate daily, with multiple departures throughout the day, sometimes more than once per hour. The number of trains each day will vary, with 15 departures available on weekdays. On Saturdays, there are fewer departures, at about 11, while Sundays have closer to 13 departures. On weekdays, trains begin leaving at about 6:38 a.m. The trains leave later on the weekends, beginning at 6:41 a.m. on Saturdays and around 7:15 a.m. on Sundays. The final trains leave at 10:22 p.m. each day. With about 99 departures to choose from each week, there's sure to be a train that's just right for your needs.
How long is the journey by train from Providence to New York?
Your total travel time by train from Providence to New York will depend on the time of day you depart and on how fast your particular train travels. The journey to New Your is direct on these trains, so no transfers will be necessary along the way. Expect your total travel time to last between 3h and 4h, with most itineraries lasting around 3h 30m.
What are the departure and arrival stations for trains from Providence to New York?
Departure train station:Providence's train station, located on Gaspee Street, is conveniently positioned right in the Downtown area of the city, easily accessible by taxi or public transportation from anywhere else in the city. Paid parking is available at the station, and the entire facility is handicap accessible, including the restrooms and platforms. Amenities include an ATM, vending machines, WiFi, sales office and Quick Trak kiosk. It is advised to arrive at least 30m early for check in and boarding, or 45m early if you will be checking luggage.
Rhode Island Capitol. Source: Shutterstock
Arrival train station:Penn Station and the Moynihan Train Hall are located on West 31st Street, about three miles (4.8 km) from downtown Manhattan. MTA New York transit makes the 20m trip to downtown on lines A, C, and E every three minutes. Paid parking is available at the station, as is baggage storage if you will have a quick turnaround in the city. Amenities at this station include a Metropolitan Lounge, ATM, ticket office, Quick Trak kiosk, and public restrooms. The entire station is Americans With Disabilities Act compliant, including at the platform and in the waiting room.
Which train companies travel from Providence to New York?
Amtrak is the only provider of passenger railway service between Rhode Island and New York. Amtrak offers this service on two lines: the Northeast Regional line and its high-speed Acela line. These Amtrak trains travel between Providence and New York City every day of the week, making the direct journey without any transfers and traveling from Providence Train Station to Penn Station in around 3h to 4h, depending on the time of day and the speed at which the trains travel.
Amtrak trains from Providence to New York
Amtrak trains from Providence to New York travel every day of the week, with multiple departures offered throughout the day on both the Northeast Regional and Acela trains. The Northeast Regional trains offer passengers a choice between coach and business class seating. Likewise, high-spedd Acela trains traveling to New York from Rhode Island offer a choice between business class and first class seating. Both lines make the journey directly without transfers along the way.
Train Providence to New York: Services on Board
Services on board Amtrak's trains to New York from Providence are similar to those on other Amtrak routes across the United States. For example, all passengers, regardless of which line they travel on, may bring up to two bags weighing no more than 50lbs (23 kg) onto the train. Pets are also permitted on both the Northeast Regional and Acela trains. These pets must not weigh more than 20 lbs (9kg), including their traveling carrier. Pets brought aboard Amtrak trains will require an additional fee.
On Northeast Regional trains, passengers may enjoy Café Service dining and can select Business Class tickets which include larger seats and a complimentary non-alcoholic drink on board. These trains allow for carry-on bicycles (weighing no more than 50lbs or 23 kg), and certain trains also allow for trainside checking of bicycles with the same weight restrictions.
On Acela line trains, passengers may select either business class or first class tickets, with First Class including additional services like at-seat dining options, access to Amtrak's Metropolitan Lounges, and priority boarding. Acela trains allow for faster boarding, faster travel times to New York from Rhode Island, and also feature a Quiet Car for a more peaceful traveling experience. All Amtrak trains feature accessible facilities for travelers with reduced mobility, with baggage service provided by station staff. Registered service animals are welcome without restriction on both Acela and Northeast Regional trains.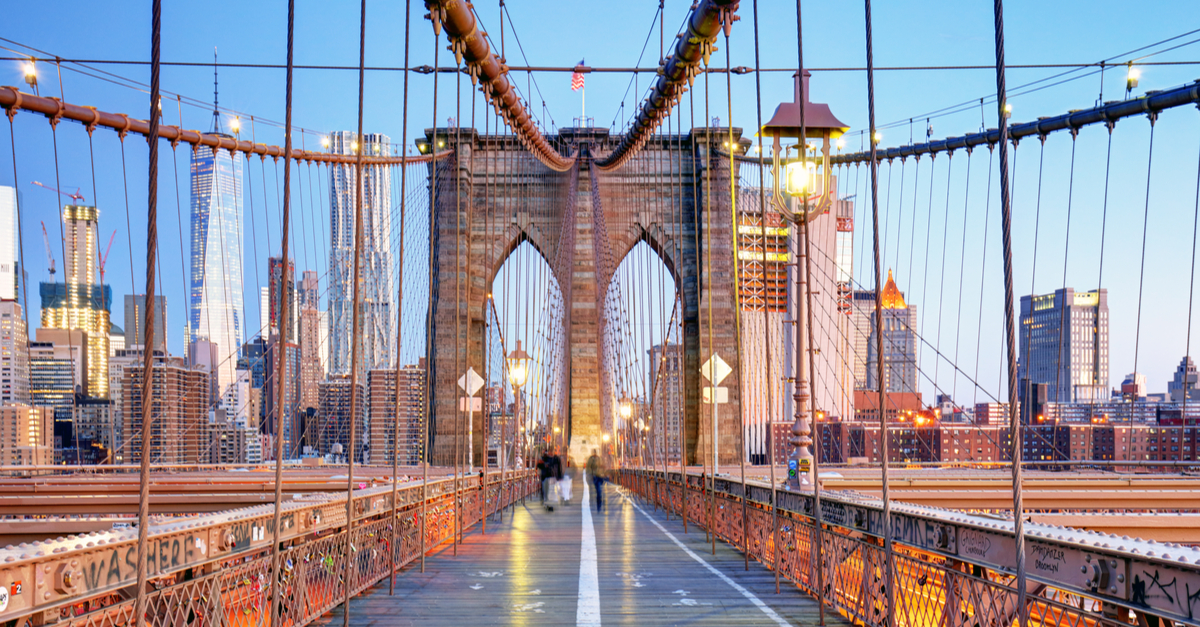 New York Brooklyn Bridge. Source: Shutterstock
How to find cheap train tickets from Providence to New York?
Experienced travelers know that finding cheap tickets is only a matter of keeping these three practices in mind. First, it is always recommended that you book your ticket in advance. This way you can lock in cheap fares before busy train routes fill up. It also allows you more time to make any needed changes.
Secondly, it is always a good idea to compare different travel times. For instance, you may be surprised to see just how much money can be saved by choosing to leave an hour earlier or a day later. Lastly, don't forget to enjoy the ride. Trains which travel a bit slower or include connections along the way are often less expensive to book. Why not take just a little longer and save some money? You'll be glad you did.
To New York by train: travel tips
There are so many places to see and things to do in New York, many of them within a short distance of Penn Station. For example, just two blocks away is the popular Korean Sidewalk, featuring an authentic Korean dessert bar as well as a Korean emporium. For something a bit out of the ordinary, why not stop by the Houdini Museum of New York and admire all the bizarre artefacts on display from one of the city's most famous performers?
Of course, for the best views of New York City, every visitor will want to walk a couple of blocks to see the grand Empire State Building.
Here you can take in a bird's eye view of the city from the observation deck on the 102nd floor or perhaps take the selfie of a lifetime imitating your own King Kong moment in front of the two-story model of the building located in the Lobby Entrance on 34th Street. With baggage storage at the train station and abundant taxis waiting to take you anywhere in the city, your adventure in the Big Apple will begin the moment you step off the train from Rhode Island.