Trains from London to Edinburgh
The majority of Trains operating from London to Edinburgh are high-speed electric trains. However, few slower trains use the route. At least 20 trains are departing from the king cross station to Edinburgh. Fast trains such as the LNER Azuma and Virgin East Coast traveling at a speed of 124 mph (200 km/h) take an average of 4h 30min through the journey. The Caledonian sleeper car, a sleeper train moving to Scotland, also passes through Edinburgh. The trains are suited for long-distance travel as they have the necessary accommodation facilities. Other trains include the east coast, Serco Caledonian Sleeper, and the London North Eastern Railway.
If it's your first time traveling from London to Edinburgh, you will have one of the best experiences with train travel. The moving train will expose you to new scenery views as it moves, leaving you admiring the beauty of nature. Your four-hour trip will feel like a thirty-minute trip. Book with Omio today and get your ticket ready.
Booking your train ticket with Omio for London to Edinburgh
Millions of people book trains every day, sometimes the booking process might take most of your valuable time. Omio helps you book your travel wherever you are. Our website is simple to operate. Visit our website and key in your destination field. Search for an available ticket and choose your convenient railway. For example, you can choose London kings to cross or the London Euston. You will then fill in your details such as; name, the class you wish to pay for, and mode of payment.
Finally, download and print your ticket. You can also download the Omio app on your phone for easy booking. With us, you can book as early as two months before your trip. Always plan early, especially for family vacations, to avoid the last-minute rush: the last-minute rush comes with increased ticket prices, and worse, postponing your trip. Book with us and enjoy your train bonus.
Train companies in London
There are 28 train companies in London. However, the London North Eastern railways are the primary train providers from London to Edinburgh. They have high-speed trains departing at a 30-min interval to Edinburgh. Other train providers are the Serco, the hull, and the virgin east coast. With Omio, you get to choose the train that suits your comfort, affordability and select your preferred train provider.
Popular international routes by train
There are numerous international routes by train from London, to mention a few: London to Paris route has 214 miles (344 km) journey. London to Brussels route is also a popular route. You can enjoy the 199 miles (320 km) distance for 2h and 5min. The London to St Ives trip will take 253 miles (408 km) and 6h-30min. London to Milan has 596 miles (959 km), four trains in a day and will take 16h 9min.
When arriving in Edinburgh
You have your ticket with you, and now you might be wondering what it's like in Edinburgh. Let me walk you through some of the things you should probably know before you get there. Kilts are also men wear in Edinburgh. If it's your first time visiting, you might find yourself staring. Well, not all men wear kits, but some do. Book your ticket before the festive season begins if you don't plan to attend because you will have difficulty getting accommodation.
Dress for cold weather, or better yet, ensure you carry some warm clothes with you. Scotland is a cold country. Carry your boots for Sunday and hike to the "sleeping lion" hill. The hill is raised above the city, giving you an elevated aerial view of the city. Finally, don't worry about changing currencies; Scotland and England use the sterling pound.
Train providers from London to Edinburgh
There are two main train providers from London to Edinburgh. The London North Eastern Railway is a British train company run and operated by the department for transport. It has a high-speed train running through the east coast route from London to Scotland. Its primary destinations are Leeds, Newcastle, and Edinburgh, managing 11 stations and offering 55 stations. The other train provider is Serco; It owns the famous Caledonian steeper for long-distance travel with comfort and steeper cars for accommodation. It mainly operates on the west coastline, to the Aberdeen Line Highland and West Highland Line. It calls at 46 stations.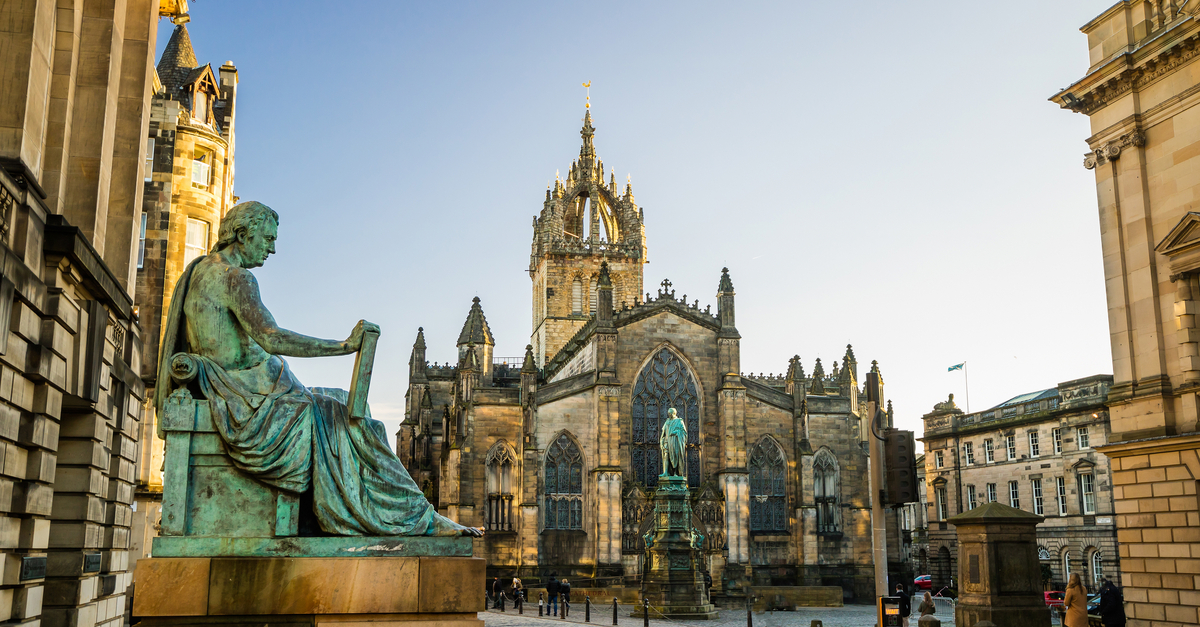 Edinburgh Historic Royal. Source: Shutterstock
Main train stations in London
The central train station from London to Edinburgh is the London kings cross station. However, London has 12 major train stations moving to other cities. Some of the most common stations include the London bridge station: it takes most of the area on the southeastern part of the London Bridge. Address: SE1 9SP cited in station approach road, London SE1 9SP. King's Cross rail station is located at the inner ring road, the east of Euston Road. Address: Euston Rd, London N1 9AL, UKCrouch Hill, in the Gospel Ork- barking line. Address: Finsbury Park, London N4 4AQ, United Kingdom, London St. Pancras International, has 15 platforms. Address: London N1C 4QL, United Kingdom. Liverpool Street Station, located at bishops gate. Address, Liverpool St, London EC2M 7PY, United Kingdom.
A popular route from London Edinburgh
Train travel from London to Edinburgh can take two routes: the west-coast route through Carlisle and Preston or the east coast route passing through New York. The east coast is the commonly used route, operated by The LNER and London. The trains leave the London kings cross station to Edinburgh train station.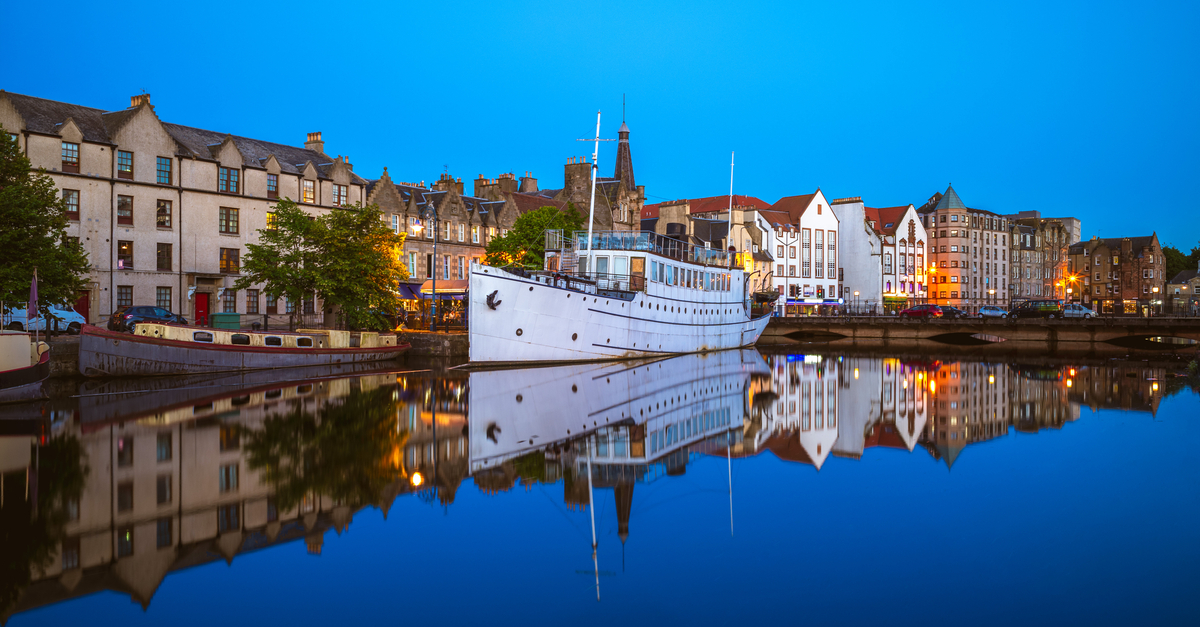 Edinburgh Parliment Night. Source: Shutterstock
Popular train routes from London to other cities
London transports thousands of people from London to other cities daily. Examples of popular routes from London include London to Paris, a 212 miles (342 km) journey that will take you approximately 6h. Another typical journey from New York is the London-Lyon route, taking approximately 5h 25min. Other popular journeys from London are trips to Venice, Malmö, and Moscow. Don't miss out; book your train ticket with Omio from the comfort of your home.
Good to Know
When traveling by train, always remember: You should get on time to the train station, ensure you get there at least 30min before departure. Check to ensure you have your printed ticket or at least save it on your device. Study the weather patterns of your destination because it's prone to changes; you might leave from London on a happy sunny day, only to arrive in Edinburgh when the air is freezing. Carry your camera and your tour guide, make your tour memorable.
To Edinburgh by train
Edinburgh is a city of fun. Not just the ordinary kind of fun, but the festive style as the town holds numerous events annually. The Fringe Festival is one of the largest festivals held in the city for a whole 25 days. If you are a festive kind of guy, you shouldn't miss the festive seasons in Edinburgh. The architecture around the city will wow you; both old and new designs are beautiful and authentic.
The city-hill-view is an excellent place to start your trip from; you can view all the places you will probably visit, giving you a visual journey. Edinburgh has one of the most delicate dishes prepared in the city, and if you like trying new tastes, you can start by trying the Huggies; you will love them. However, if you prefer sticking to your native food, be sure to find your favorite food in most Edinburgh restaurants.