Train to Venice
The romance. The canals. The art. The history. These are just some of the things that come to mind when people think of the city of Venice. Located in northeastern Italy, Venice (known in Italy as "Venezia") is built on a group of over 110 islands that are scattered throughout the Venetian Lagoon and are connected by bridges and canals. The historic city center is about 2.5 miles (4 km) from the mainland section of the city. Taking a train to Venice is a convenient way to travel to the city, and you can take a train from just about anywhere in Italy.
Many routes to Venice are served by high-speed trains as well as the slower (but less expensive) InterCity and Regional trains. It takes as little as 2.5h to travel on a high-speed train from Milan to Venice, 4h to travel from Rome, and 5.5h to travel from Naples. Most trains arrive at the city's Santa Lucia station, but some of the high-speed and InterCity trains arrive on the mainland at the Venezia Mestre station.
Trenitalia trains to Venice
Trenitalia is the largest train company in Italy, and it is the company that offers the most routes to Venice. Trenitalia provides service to Venice on its Regional, InterCity, and high-speed trains. Regional trains are a comfortable and economical way to travel, but they do take the longest to reach their destination because they stop at just about every small, medium, and large town and city along the way. Regional trains always end their journey at Venice's Santa Lucia station.
Trenitalia's InterCity trains to Venice are a bit faster because they usually only stop at the larger towns and cities. Some popular InterCity routes to Venice are from Bologna, Rome, and Lecce. InterCity trains almost always arrive at Venice's Mestre station on the mainland. The fastest way to travel from just about anywhere in Italy to Venice is via a high-speed train, and Trenitalia's Frecciarossa trains are the most popular choice for most of our customers.
These trains offer the fastest service between major cities because they travel at faster speeds than the Regional and InterCity trains, and they only stop at major cities. Frecciarossa trains offer direct service to Venice from many cities, including Bologna, Milan, Rome, and Naples. Frecciarossa trains use both the Mestre and the Santa Lucia stations, so passengers should check the route information before booking their tickets.
Italo trains to Venice
Another choice for train service to Venice is Italo, a privately run company that offers modern, high-speed train service to Venice and over 30 other cities in Italy. Italo offers non-stop service to Venice from many major Italian cities, including Milan, Rome, Naples, Florence, and Bologna. Most of the Italo trains stop at Venice's Santa Lucia station, but a few stop at the Mestre station on the mainland.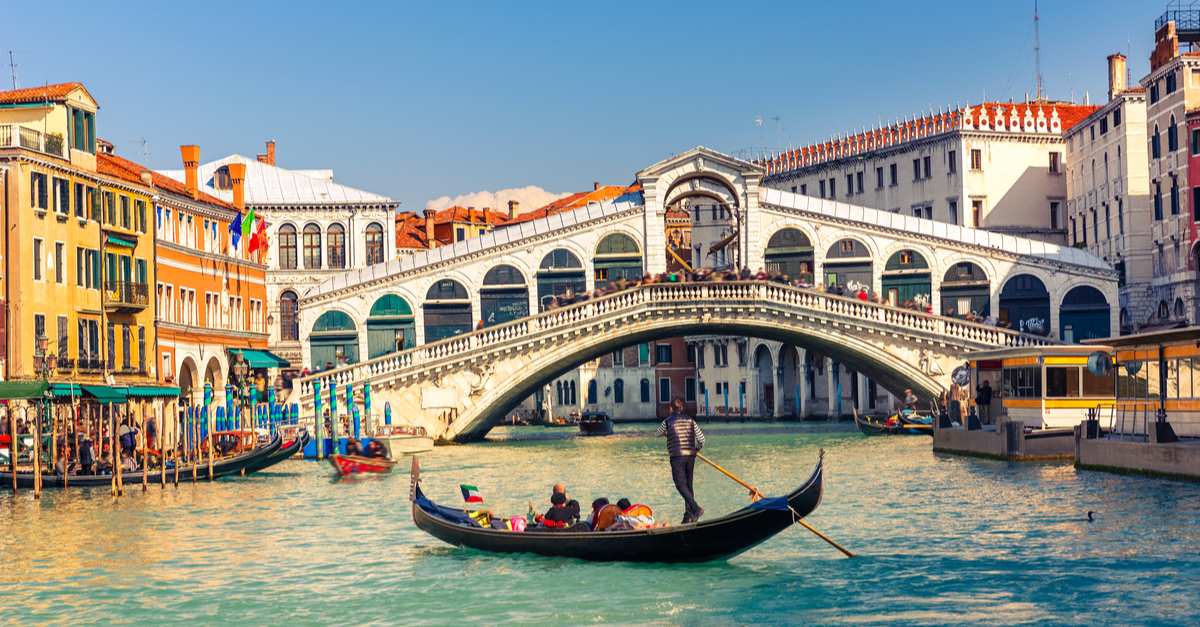 Venice Gondola Bridge. : Shutterstock
Main train stations in Venice
All trains to Venice arrive at one of the city's two main train stations: Venice Santa Lucia or Venizia Mestre. Most trains arrive at Santa Lucia (also called Venezia S Lucia or simply Venezia SL), which is the main train station in Venice, Italy located in the historic city center. From the station, it is just a 20min to the Rialto Bridge or about a 30min walk to St. Mark's Square. Passengers who don't want to walk to their destination from the station can board one of the water taxis or water buses that stop in the Grand Canal directly in front of the train station.
Journeys to Venice via the Regional trains and most of the high-speed trains end at Santa Lucia station. The other Venice station is Venezia Mestre, which is located on the mainland, about 5.6 miles (9 km) west of the historic city. Some high-speed trains arrive at Mestre, as do almost all of Trenitalia's InterCity trains. If your plan is to visit historic Venice after arriving at Mestre, you have several options to get across the Venetian Lagoon.
You can catch one of Trenitalia's Regional trains that depart every few minutes for the 10min journey to the Santa Lucia station. If you prefer to take a bus, the number 7 ACTV bus makes frequent trips between Mestre and the main bus station on the Piazzale Roma, which is very close to the Santa Lucia train station. ACTV's T1 Tram also makes frequent trips between Mestra and its terminus at Piazzale Roma.
Onboard facilities Venice
When traveling to Venice on a high-speed train, you'll enjoy modern, comfortable cars that have air conditioning, restrooms, and food and beverage service (usually a café car for the Trenitalia trains and vending machines plus first-class catering services for the Italo trains). The roomy seats on these trains are equipped with electrical outlets, and passengers can use the free Wi-Fi. Intercity trains to Venice offer air conditioning, restrooms, bistro service, and comfortable seats with power outlets. Regional trains to Venice also have restrooms and comfortable seating, but they are not always air-conditioned and they do not offer any food service (although passengers may bring their own food and beverages onto the train).
Train tickets to Venice: useful to know
If you're looking for cheap train tickets to Venice, be sure to buy your ticket as early as possible to lock in the best price. Keep in mind that you can buy your ticket as early as six months before your departure date for most trains. If you're traveling with Trenitalia, you'll need to print out your ticket before boarding the train.
This can be done at home before your trip or at one of the self-service kiosks at the train station using the PNR code that you receive with your ticket confirmation. If you're traveling with Italo, you can either print out your ticket in advance, present the ticket's barcode on your mobile phone or simply provide the PNR code to the train conductor.
Be ready to show your passport, driver's license, or other valid photo ID to the conductor when you present your ticket. If you're taking a Regional train, you'll need to validate your ticket before boarding the train. There are validation machines on the platforms at every station, and validated tickets are good for up to 4h. Omio makes it easy to search for your train, purchase your tickets online, store all of your tickets for your trips in one account, and retrieve your ticket information when you're ready to board your train.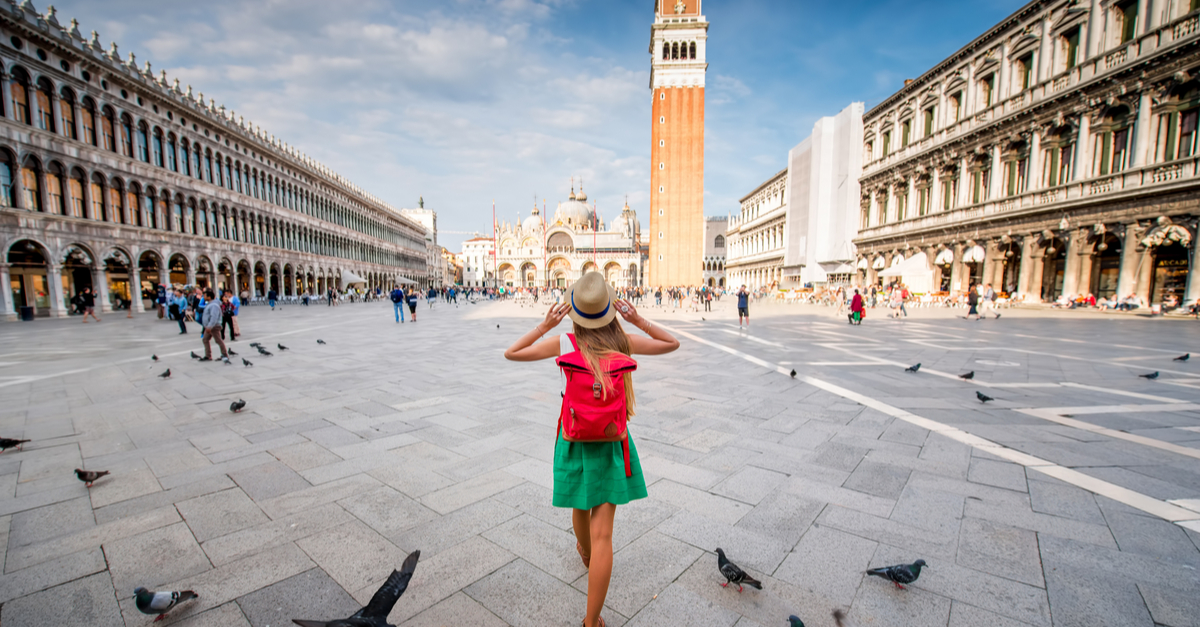 Venice Square. : Shutterstock
To Venice by train—travel tips
Traveling to Venice by train is an easy way to get to the famous Floating City. Once you set out from the train station, you'll find a compact city that is easy to walk. This is good to know, since there are no cars in the historic city center, and even bikes are not allowed! If you do find the distances too far to walk, or if you just want to take a break from walking, you can get around town using the water buses (called the "Vaporetto") or the more expensive water taxis that cruise through the canals and among the islands. Most of the Vaporetto is operated by ACTV, the same company that operates the buses and trams on the mainland, and the tickets and passes are interchangeable among most ACTV transportation services.
When in Venice, most travelers want to take in the city's most famous attractions such as St Mark's Basilica and the Palazzo Ducale. The Scuola Grande di San Rocco showcases an amazing collection of art, including works by Tintoretto and Titian. Housed in the Ca' Pesaro, the International Museum of Modern Art and the Oriental Art Museum provide other opportunities to view a variety of art collections.
Of course, a trip to Venice simply would not be complete a boat ride along the canals. Yes, you can hire a gondola for the quintessential Venice experience, but riding the Vaporetto is a much more affordable option that still allows visitors to enjoy the beauty of the city from the canal.
An evening ride on either the #1 or #2 Vaporetto line is a lovely way to view the main sights of the Venetian Lagoon and the Grand Canal. Or venture out beyond the main island of Venice and explore the other islands such as Murano (where you can explore the glass-making shops and facilities) and Burano Island, with its colorful houses that line the canals. Torcello Island provides a nice break from the crowds and the city streets; you can visit the island's Byzantine Cathedral of Santa Maria Dell'Assunta or wander through the nature preserves that cover most of the island.