Trains from New York to Washington DC
Connecting New York and Washington DC via a train is an affordable, fast, and relatively hassle-free means of traveling. Trains cover a stretch of approximately 203 miles (328 km) when ferrying passengers to Washington DC from New York, a city of adorable Broadway shows. The travel time for the journey amounts to a minimum of 2h 55min. However, you may end up spending an estimated 3h 48min if aboard a slower train. The voyage is relatively comfortable as it doesn't include transfers along the way. On average, you can choose to travel aboard any of the 29 trains that make the New York-Washington DC trip daily. On weekends, the number of daily departures is slightly lower at 26 trains. On arriving in Washington DC, you can be sure to delight in sights like the White House, Washington Monument, and US Capitol.
New York to Washington DC Train Time: Daily Departures
An approximate 197 trains travel the rail route between New York and Washington DC each week. Almost all trips are direct, and you can expect a luxurious ride without worrying about transferring to another train. As early as about 3.20 a.m., you can board a train and leave New York for Washington DC. The relatively fast train needs roughly 3h 40min to get to the arrival station by around 7.00 a.m. For late travelers, it is possible to catch a train as late as 10.05 p.m. The train will usually dock at a station in Washington DC around 1.47 a.m., having voyaged for approximately 3h 41min. Every hour, either one or two trains leave a train station in New York for arrival in Washington DC.
How long is the journey by train from New York to Washington DC?
By rail, the distance from New York to Washington DC measure nearly 203 miles (328 km), and the travel time that trains call for when traversing is roughly 3h 23min. Through Omio, you can book a ticket and cover the distance within an estimated 2h 55min if you board the high-speed Amtrak Acela Express trains. If you are in for minimal spending but relatively longer travel times, you take the slower trains, which don't arrive in Washington DC until around 3h 48min.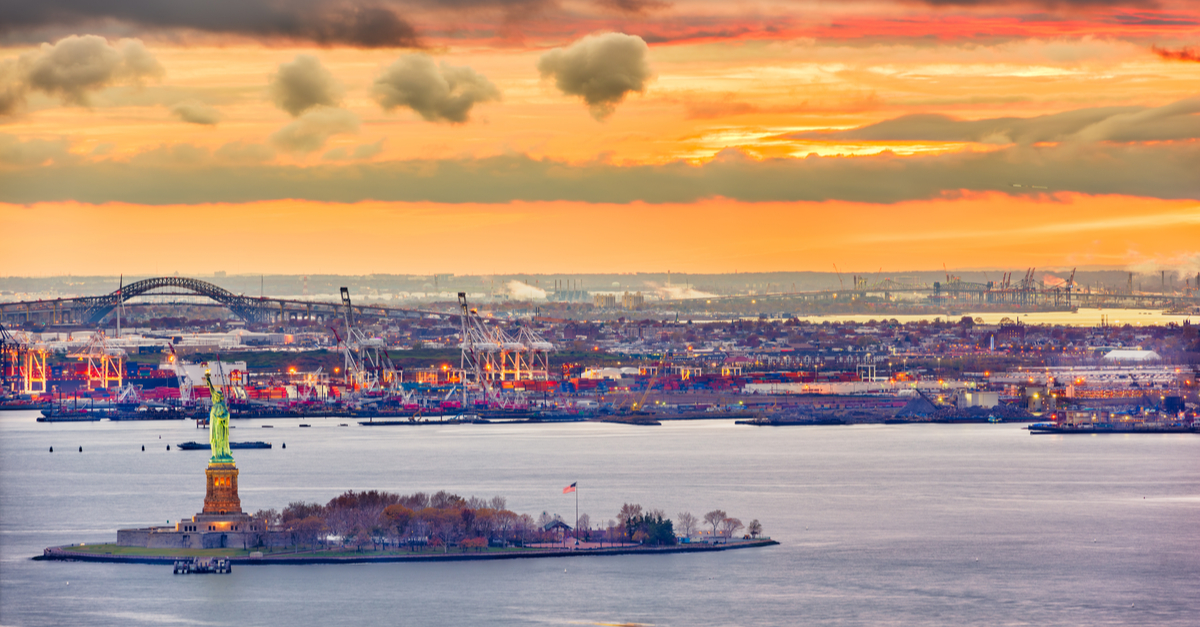 New York Clouds. Source: Shutterstock
What is/are the departure and arrival stations for trains from New York to Washington DC?
Departure train station: When traveling from New York for a Washington DC by train, you will usually depart from New York Penn Station. Also known as Pennsylvania Station, the terminal is a busy hub serving thousands of passengers daily, and you should arrive 30min to 45min early when traveling. New York Penn Station sits in mid-Manhattan at a distance of nearly 1.6 miles (2.5 km). To get to the railway station from New York City center, you can explore a plethora of transfer options. Firstly, you can board buses including M34-SBS, M55, Q32, and QM15, all of which get to New York Penn Station in roughly 13min. You may also ride subways like Subway Line 1, 2, 3, and A to get to the terminal. If you have adequate time in your hands, you may find it enjoyable to trek from the city center to the rail station. The eventful walk takes nearly 25min. Taxis are also an excellent travel means for travelers who prefer getting to New York Penn Station within an estimated 7min. Refreshment-selling mini-shops are available in plenty. Further, amenities like washrooms, lactation rooms, and free Wi-Fi are readily are present.
Arrival train station: The end of the New York-Washington DC train trip is Washington DC Union Station. Between the terminal and Washington DC city center, there exist approximately 1.2 miles (1.9 km). Depending on your travel budget, there are three transfer means you can check out. Taxis are relatively faster and can allow travel times of nearly 8min. While being comparatively cheaper than taxis, Buses take approximately 8min to 21min for the same journey. Of course, there it is also possible to get to central Washington DC from Union Station by foot. However, trekking requires an estimated duration of 23min. As you await your train in the terminal, be sure to take advantage of a variety of amenities, including free Wi-Fi, well-maintained washrooms, and fairly-priced snacks at the cafes located on-site.
Which train companies travel from New York to Washington DC?
The company you will be using for the voyage from New York to Washington DC is Amtrak. Amtrak is an established rail transport corporation connecting various destinations throughout the United States. For greater convenience, Amtrak provides different train travel types and varied prices.
Amtrak trains from New York to Washington DC
Amtrak ferries passengers from New York to Washington DC via three train travel services. The relatively slower but mildly affordable train is Northeast Regional. Through Omio, you can book tickets for this train and board it at specific times from around 3.20 a.m. The train's travel time amounts to approximately 3h 40min. Acela Express is the other train, and its speed surpasses that of the Northeast Regional. The first departure by this train occurs around 6.00 a.m. However, the travel time this train requires is nearly 2h 59min. The third and relatively fast Amtrak train is the Acela Nonstop service. The train makes a single trip per day. Be sure to check its departure time and make a booking in advance as the Acela Nonstop service tickets usually sell quickly. Note that, despite different names, all Amtrak trains exclude transfers during trips.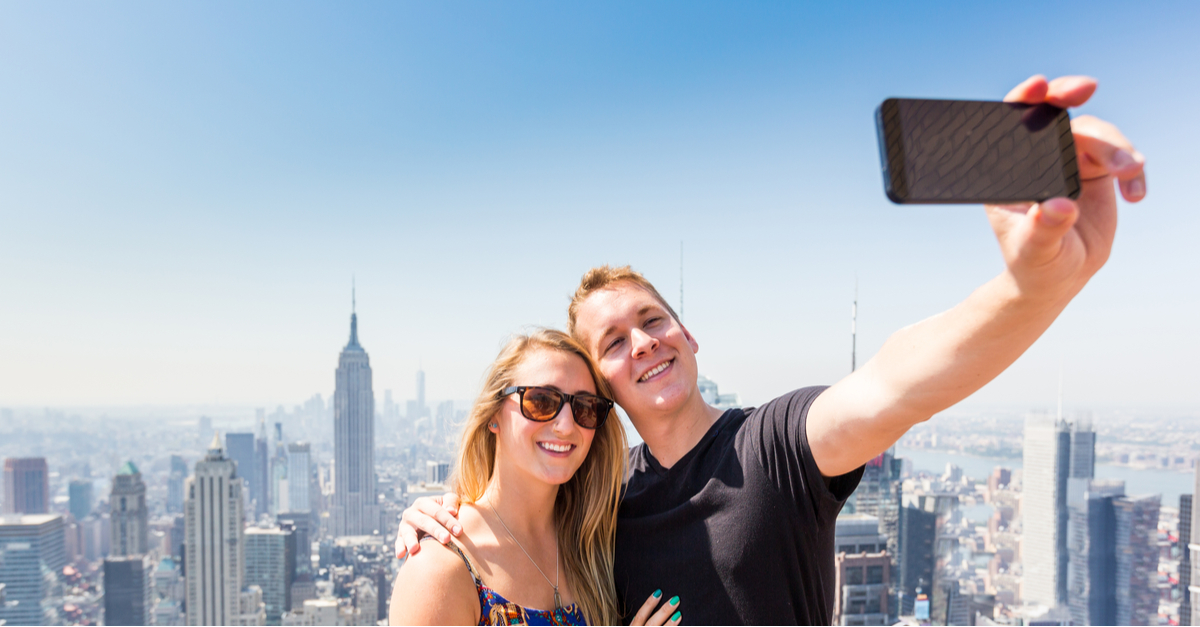 New York Couple Selfie. Source: Shutterstock
Train New York to Washington DC: Services on Board
You can purchase any of the five Amtrak tickets - Saver, Value, Flexible, Business, and First Class - and enjoy lux rides on cheap trains from New York to Washington DC. Amtrak will provide free and reliable Wi-Fi on trains as well as air conditioning for extra travel comfort. The coach-like, reclining seats in the trains feature adequate legroom. If you need to charge your phone or laptop, Amtrak provides power outlets for every passenger seat. Further, there are washrooms available onboard, which you can use at no cost. For long-distance travelers, roomettes that feature a private restroom are available. If you bring some luggage on the train, you will find sufficient luggage spaces free of cost. Amtrak's policy allows two baggage pieces. Together with the bags, you may include a foldable bike. Be free to let your pet ride on the train alongside you. However, such a pet must remain confined within a carrier. Amtrak has a special service provision for disabled passengers, provided they make a booking in advance and indicate so when buying tickets.
How to find cheap train tickets from New York to Washington DC?
If you travel aboard the slower Northeast Regional Amtrak trains from New York to Washington DC, you may end up spending less. Further, you can save on travel costs by buying tickets that don't limit the number of times you can change travel dates. With flexible tickets, you may find a fair discount available on a specific date and change your travel date to take advantage of the slashed prices. Moreover, you can get cheap train tickets by buying tickets a few weeks before making your journey.
To Washington DC by train—travel tips
With Washington DC being the administrative hub of the United States, there are numerous reputable constructions and sites. Firstly, pass by the White House and enjoy the splendor of the historic building. Other structures to add to your must-visit list include the Washington Monument, Supreme Court of the United States, US Capitol, and Library of Congress. There is also no shortage of outdoors in the city. Be sure to relax in sceneries like Waterfront near Georgetown. At Smithsonian National Air and Space Museum, you can learn few things about the journey to space and make observations via enormous telescopes. If you would love to catch a live show, wander off to Kennedy Center and explore an opera house as well as numerous stages. Before wrapping your tour, explore the exotic yet affordable fine dining establishments on U Street Corridor.