Trains in Santa Barbara to San Francisco
Journeying by train from Santa Barbara to San Francisco takes over ten hours, allowing you to enjoy lovely scenery during the long voyage. Amtrak is the main provider running the trains in Santa Barbara to offer timesaving means of moving within and around the region. The available services incorporate various train kinds, including regular Amtrak coaches and long-distance types with sightseer café and sleeping accommodations.
Booking your train ticket with Omio for San Francisco
Whether you are a frequent San Francisco traveler or a first-time passenger, Omio presents a convenient and easy-to-use website. You can begin booking a ticket through the site by first putting in your travel details, such as your departure station, date of travel, and arrival point. After that, you click enter, with the resulting page giving you the available trains and their schedules. You can also view the train types on offer and select between express options and slower, long-distance services, depending on your itinerary and preferences.
Train companies in Santa Barbara
Amtrak is the only company running a train from Santa Barbara to San Francisco. The provider also services the connecting buses along this course, enhancing convenience for all travelers, including first-time passengers. This company operates two rides per day, with both requiring changes on route. Amtrak provides the first daily services via the regular San Joaquins that you board during the transfer at Bakersfield Station before switching back to an Amtrak shuttle to complete the voyage. The second departure commences via a long-distance train, the Coast Starlight, which delivers the shortest duration when visiting San Francisco from Santa Barbara. Furthermore, Coast Starlight has only one layover, whereas San Joaquins incorporates two changes on the course.
Popular routes by train
Amtrak operates well-liked Santa Barbara routes via different train models, such as San Joaquins, Coast Starlight, and Pacific Surfliner. San Joaquins allows you to journey throughout the San Joaquin Valley and California, including stops in San Francisco Bay Area, Stockton, Merced, Modesto, Martinez, Fresno, and Bakersfield. Coast Starlight is an Amtrak model that operates long distances from Santa Barbara, linking you to Los Angeles and Seattle. Pacific Surfliner enables you to travel to neighboring regions along southern California like San Luis Obispo and San Diego, with several stops in Orange, Los Angeles, Ventura counties.
When arriving by train in San Francisco
Santa Barbara to San Francisco voyages stop at the Mission St & Fremont St at the Salesforce Plaza area. This station offers convenient access to central San Francisco via a bus or subway that takes about 8min. You can also get restrooms and vending machines at this stop. In addition, the station's proximity to retail shops, restaurants, a coffee shop, convenience store, subway station, and transit stops ensures you can maneuver the city with ease. San Francisco is famous for various delicacies, including abalone, bay shrimp, sand dabs, Dungeness crab, and crusty sourdough French bread.
Train Provider in Santa Barabara
The company servicing most trains in Santa Barbara is Amtrak, providing convenient connections to downtown areas since it stops at major stations in different cities. You can select long-distance or regular train types when riding this company's services, including the trains from Santa Barbara to San Francisco. Most models incorporate roomy storage areas, sightseer lounges, café service, and sleeping areas. Santa Barbara to Los Angeles, Santa Barbara to Stockton, and Santa Barbara to San Diego are among the most popular courses by Amtrak.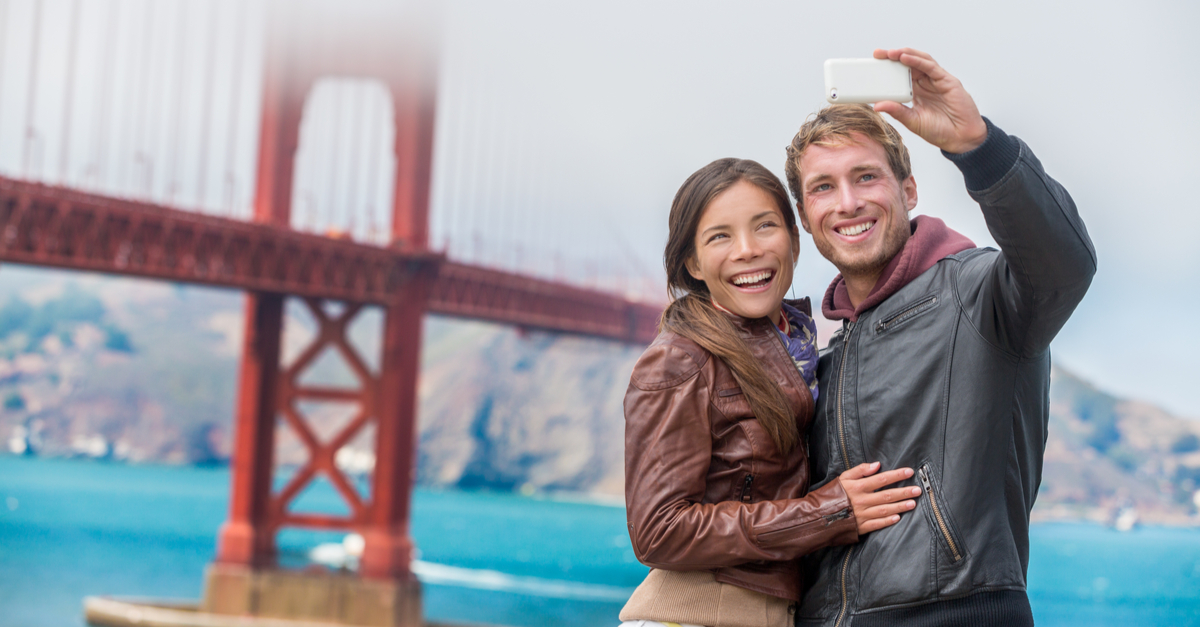 San Francisco Golden Gate. Source: Shutterstock
Main train stations in Santa Barbara
Trains in San Francisco depart from the Santa Barbara Station. You can access this stop from the town's center by taxi or on foot within around 5min. This station has Quik-Trak kiosks, payphones, restrooms, vending machines, coffee shops, and eateries to enhance utility during the waiting period.
Popular journey in Santa Barbara to San Francisco
Trains from Santa Barbara to San Francisco operate twice each day, with the first daily departure taking about 10h 50min via San Joaquins. You can get a ticket for this service beginning from approximately $46. The second daily ride comes from Coast Starlight and lasts around 10h 5min to make it the fastest option per day, with a seat's starting price at approximately $57.
Notably, the two Amtrak trains include changes along the way, with the former stopping at Bakersfield and Emeryville Stations. Coast Starlight only stops at Emeryville. You can conveniently travel from Santa Barbara to San Francisco by train on public holidays because the company maintains a similar operating schedule. However, the first voyage on holidays takes slightly longer, lasting about 11h 50min at about $46 per ticket.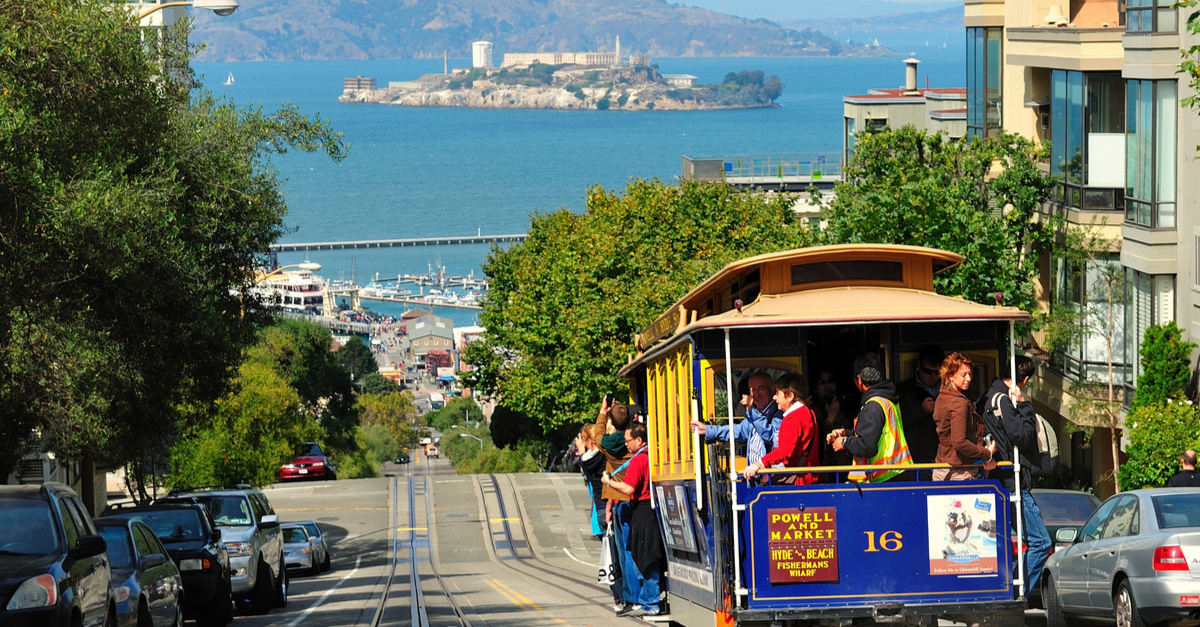 San Francisco Tourist Tram. Source: Shutterstock
Popular train routes from Santa Barbara
Santa Barbara to San Diego is one of the most popular courses from the city, lasting from about 5h 47min to 7h 13min. This ride offers tickets beginning from approximately $45. The second well-liked route is Santa Barbara to Los Angeles that charges around $20 per seat, taking about 2h 46min. You can take a more extended yet comfortable trip to Seattle from Santa Barbara in around 31h 16min, with prices starting from around $237. Another route commonly used is the Santa Barbara to Merced train that takes approximately 7h 18min, with a ticket starting from around $43. You can also travel to scenic San Luis Obispo from Santa Barbara within about 2h 42min, with a starting charge of approximately $23 per seat.
Good to Know
San Francisco is a geographically small town that conveniently facilitates self-guided tours. The city also has unique microclimates around its neighborhoods, leading you to experience different conditions as your stroll from one street to the next.
To San Francisco by train – travel tips
You can visit the country's third-most visited park, Golden Gate Park, and enjoy a relaxing stroll along the several trails and roads to explore the area. The venue also offers remarkable views of the famous Golden Gate Bridge, delivering quality photos for unforgettable memories. You can also find a licensed Segway operating company that enables you to participate in fun-filled and narrated tour rides around the whole park. San Francisco's Chinatown is the oldest venue of its kind in North America and the largest outside Asia.
You can stroll around the site for sightseeing and shopping at the antique and souvenirs stores. One of the city's most popular attractions is Fisherman's Wharf, famous for its restaurants, shops, and lovely waterfront setting. You can take sweeping views of the town from Pier 39, making it an ideal location for photography enthusiasts. San Francisco has some cable cars that you can ride to explore the Californian city in comfort and style. The rides pass through scenic routes like Powell-Hyde and Powell-Mason while providing convenient access to tourist spots such as Ferry Building and Ghirardelli Square.
If you want to learn about history, you can visit The Palace of Fine Arts, a beautiful building with a classical look. It is the last standing structure from the 1915 Panama Pacific Exposition, featuring art performances and exhibitions. Additionally, you can view art pieces from the 20th century at The San Francisco Museum of Modern Art, housed in an architecturally impressive building. Exploratorium is a family-friendly science museum designed with exhibits for adults and children to enjoy. The interactive displays make it especially fun for tourists with kids since they can participate in different fun experiments.