Trains from Paris to Bordeaux
Trains are an efficient way of traveling from Paris to Bordeaux. If you take high-speed trains, they provide the fastest means to travel between the two cities. Plus, trains save you the hassle of commuting from the station to the city center as the arrival station is set in the heart of the city. Bordeaux lies 3089 miles (498 km) from Paris, and trains take 2h 21min to travel the distance. There are about 20 daily trains that provide services from Paris to Bordeaux. Trains on the Paris- Bordeaux route are provided by Renfe.
Paris to Bordeaux Train time: Daily departure
There are about 20 daily trains that operate services from Paris to Bordeaux. Out of the 21, 15 provide direct services on this route. The earliest train departs Paris at 5:07 a.m., while the last train departs at 9:08 p.m. These schedules vary depending on the day of the week, the season, and holidays. Omio platform provides all the daily schedules for you to get the most convenient ride.
How long is the journey by train from Paris to Bordeaux?
The average journey time for the train from Paris to Bordeaux take 2h 21min. The fastest train can travel the distance in 2h 7min while the slowest trains take 3h. Travel times may change depending on the day of the week and holidays.
What are the departure and arrival stations for trains from Paris to Bordeaux?
Departure train station: The departure train station for trains from Paris to Bordeaux is Paris Montparnasse Train Station. It is a hub for Intercity TGV trains, and it features a metro station. Travelers can get to the station using several means. Buses lines 28 and 91 provide rides from Bastille and Porte d'Orleans to the train station. Subway lines 4, 6, 12, and 13 also have stops at the station.
You can also take the TGV trains from other locations to the station. The station features a restroom and showers at level +1 near the Micromania store. It also features about six food concessions. There's us a supermarket at the main entrance on level 0. The station features a first-class lounge on level 3. The station has a tickets sale office and a lost and found area for travelers with lost items. The station also features luggage lockers and luggage storage facilities. The station also features an observation deck where travelers can wait for trains and get great city views.
Paris Montparnasse features automatic doors and glass walls for people that are visually impaired. It also provides a designated parking spot for reduced mobility customers. There are guidance strips, hazard warning strips, wheelchair lifts, safe stairs, and magnetic loops for reduced mobility customers. If you drive to the station, car parking options are for long-term and short-term periods.
Arrival train station: The arrival train station for trains from Paris to Bordeaux is the Bordeaux Saint-Jean train station that lies in Rue Charles Domercq. The station features wine shops, bakeries, gift shops, supermarkets, cafeterias, and Tobacconists. There is free Wi-Fi for travelers' entertainment. Bordeaux Saint-Jean train station provides a first-class lounge for first-class travelers and business class travelers. It provides a Family area, photo booths, post boxes, and several ATMs. There's a newsstand, defibrillators, and a tourist center. The station also provides luggage services and luggage storage daily from 8:00 a.m. to 5:00 p.m. The station operates daily from 4:45 a.m. to 11:00 p.m. The station also provides several means of getting from the station to other parts of Bordeaux. Bus lines 1, 9, 10, and 11 have stops at the exit to Hall 2. Alternatively, tram line C stops at the exit to Hall 2. Bordeaux St-Jean station is wheelchair enabled, and it provides an accessible ticket sales office, restrooms, TTY phones, and ramps all over the facility for easy use by disabled travelers.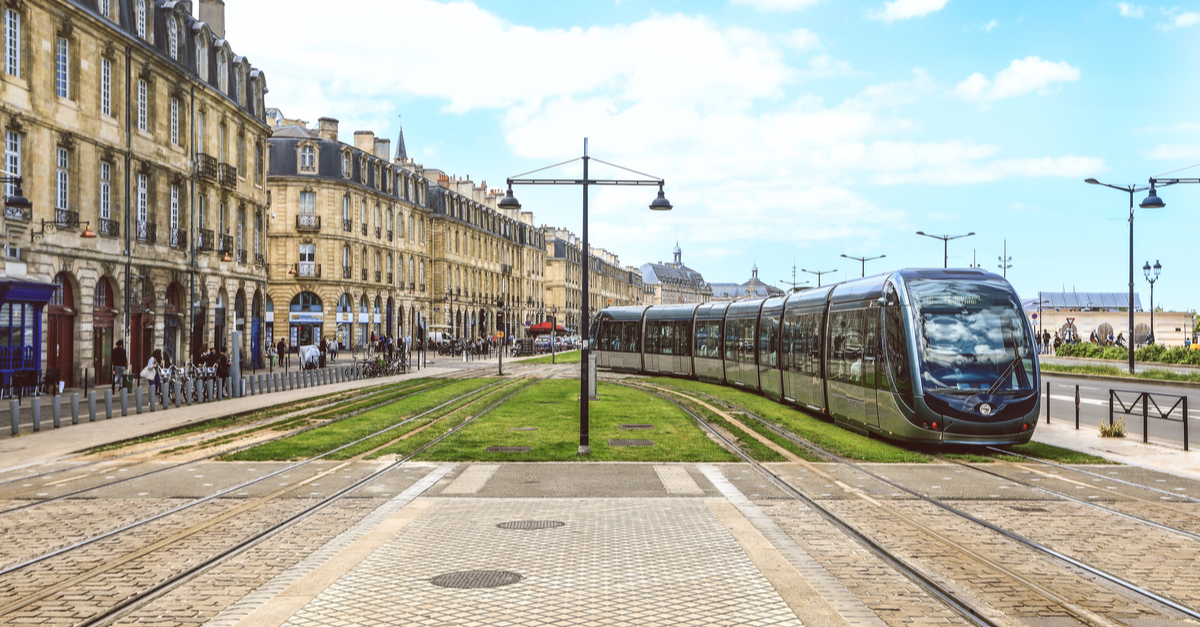 Bordeaux Train City. Source: Shutterstock
Which train companies travel from Paris to Bordeaux
The main provider for trains from Paris to Bordeaux is Renfe. Renfe allies with SNCF to provide high-speed trains in France and Spain. Several trains provide services in autonomous communities like FGV and Euskotren Train independently to Renfe.
Renfe trains from Paris to Bordeaux
Renfe provides TGV SNCF trains from Paris to Bordeaux. Travelers can choose from Renfe or Renfe Ave connections. Renfe Ave trains provide high-speed trains that operate at a speed of 193mph (310 km/h).
Train from Paris to Bordeaux services on board
Renfe trains have three travel classes for travelers to choose from. They include Prefente (First class) and Turista Plus (Second class premium), and Turista (second class). First-class seating is designed for maximum comfort. They provide comfortable seats with power charging outlets, media screens, newspapers, and free Wi-Fi for your entertainment. First-class travelers also get catering services, onboard club space, access to VIP rooms at stations, and priority boarding. Turista Plus premium features first-class seats, more elbow, and legroom. Sets are spacious and provide power sockets, media centers, individual folding tables, free Wi-Fi, and air conditioning.
Turista is the simplest choice for travel classes in Renfe trains. It does not provide meals, but travelers can purchase snacks and meals from the buffet car. Seating is on two-by-two arrangements, and seats come with folding tables. Renfe h trains come with onboard buffet cars where travelers can get meals and drinks. The cage also features a children's menu and several meal options. Trains also provide Wi-Fi on board for your entertainment Renfe's luggage policy is generous and rarely reinforced.
Each passenger can bring three bags on board less than 55 lbs (25 kg) and 144 inches (290 cm). Renfe trains allow pets on board as long as they are cats, fetters, digs, and birds. The pet must be less than 22 lbs (10 kg). They also must be confined in carriers not more than 24*14*14 inches (60*35*35cm). Only one pet is allowed per passenger, and each pet must have a ticket. This restriction does not apply to service animals as they are allowed on board for free in the company of their owners. Renfe trains provide washrooms, luggage compartments, and payphones on board.
If you have your bike, Renfe restricts each passenger to one bike, and they must be placed in designated spaces. Renfe trains are wheelchair equipped, and they provide additional services to passengers with limited mobility. There is an adapted WC with a bell that lets you request personal services. Three are designated spaces for wheelchairs in train cars, enabled washrooms, low resistance doors, TTY phones for passengers with hearing problems.
How to find cheaper train tickets from Paris to Bordeaux
If you are out to get cheaper train tickets from Paris to Bordeaux, consider booking tickets in advance. Ticket selling companies often release train tickets a few months before their travel dates. The earlier you buy the ticket, the cheaper it costs.
Also, consider being flexible with your travel dates. When you are flexible, it is easier to land cheaper ticket deals as opposed to foxed schedules. Also, it helps getting tickets for connecting services rather than direct services. Trains with stops along the Paris-Bordeaux route tend to have cheaper train tickets than direct trains. If you are not in a hurry to get to Bordeaux, consider getting in connecting rides. Keep an eye for discount and promotion periods available on various platforms to land a cheaper train ticket.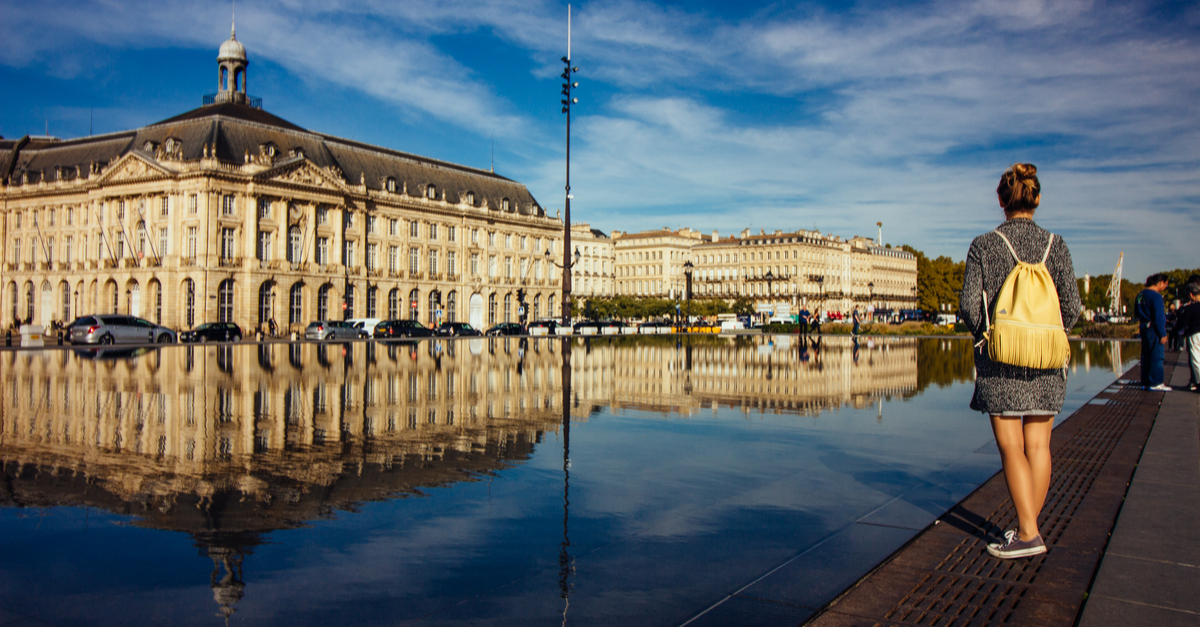 Bordeaux Tourist Backpack City. Source: Shutterstock
To Bordeaux by train – travel tips
With its blend of provincial charm and urban elegance, Bordeaux is an appealing destination for nay travelers. The city lies in the southwest region of France and is popularly known as the "Port of the Moon" due to its location on the crescent-shaped bend of the Garonne River.
Art lovers are spoilt, or choices as the city boasts excellent art and character destinations. Cathedral Saint Andre is an example, and it features an impressive façade with the Last Supper sculptures and ascension artworks. Art lovers can also tout Le Grand Theater, a centerpiece of the Roman Lifestyle. It boasts an impeccable exterior with 12 colossal Corinthian columns, statues of muses and goddesses.
Plac de la Bourse features the elegance of the 18th-century design with a fountain and pavilion-like buildings. Visitors can get on guided tours of the Customs museum and views of the Garonne River. Avid shoppers can visit the Esplanade des Quincoces that features great waterfront views lines with plenty of shops and cafes. The street is also lined with statues of Montaigne and Montesquieu.
Nature lovers will love a visit to Qais de Bordeaux that features splendid waterfront views, benches, flowerbeds, and lawns under plane trees where you can enjoy a picnic. Saint-Emillion is another ideal destination for nature lovers as it provides tours of wine-making and wine storage.
If you visit during summer, its beautiful grounds blossoms vibrant colors that give a blissful ambiance. Bordelaise cuisine is rich and sophisticated that boasts its own France identity. Treat your taste buds to Miles' signature dishes like swordfish with Madras curry jelly and coconut during your visit to Bordeaux.
French Bistro provides appetizers, the main course, and dessert combinations in a relaxed atmosphere. Petit Mignon is famous for its tartare, burgers, and casual meals, while Lume provides classic Italian dishes with great flavor.