Frecciarossa trains: High speed trains in Italy
Trenitalia's flagship fleet of Frecciarossa trains operate some of the fastest trains in Italy. Engineered to run at an incredible 186 mph (300 km/h), they come equipped with spacious seats, WIFI, air-conditioning, plug sockets and an onboard bistro. Frecciarossa trains are sleekly designed, comfortable, fast and convenient. Travelers can choose between four seating classes , including Standard, Premium, Business and Executive, and unlike many first class service options they're all affordable.
Read on to find out all about train travel in Italy with Trenitalia's Frecciarossa trains. You can check schedules, compare ticket prices, and discover top destinations for trains in Italy. Book your Frecciarossa tickets with Omio and embark on an unforgettable adventure.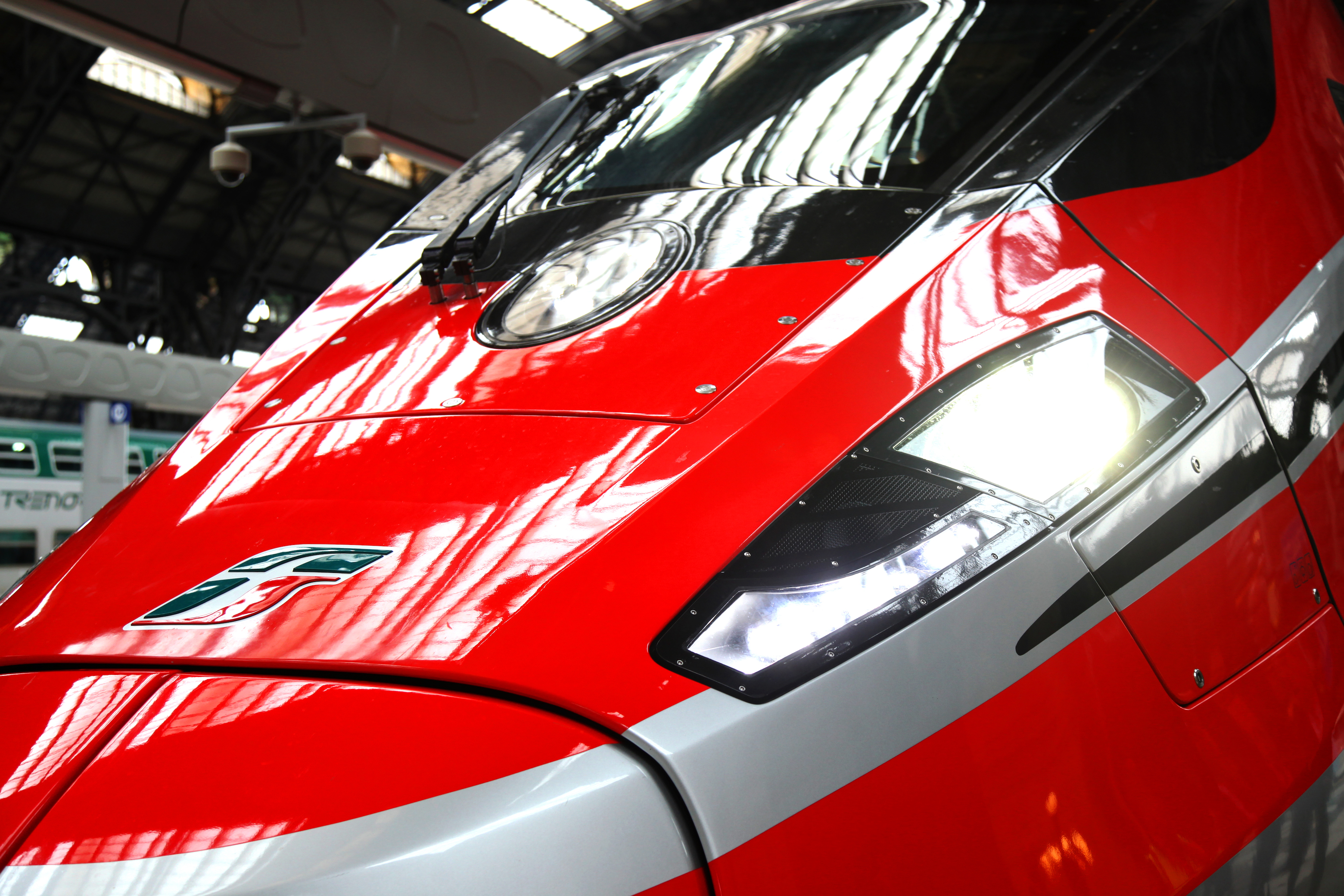 Trenitalia Front. Source: Trenitalia
Get to your destination faster with Frecciarossa trains
Trenitalia is now offering daily, high-speed train service that connects international airport hubs to Italy's biggest cities, including Rome, Milan, Naples, Florence and Venice. It's now easier to land in Rome or Milan and explore the rest of Italy's most iconic cities by train. There's no need to take a connecting flight, just hop on a Frecciarossa and enjoy a picturesque (and comfortable) journey instead. Check out some of the routes, destinations and schedules from Rome Fiumicino airport to the rest of Italy.
Trenitalia's Summer Train Experience
New for the summer vacation! Trenitalia is opening up multiple routes from the North to Southern Italy. The new routes include 8 new high-speeds trains from the North to Calabria, 32 new trains from Northern Italy to the Adriatic coast, and 13 from Rome to Puglia.
Whether you're pining for mountains, the sea or cities full of art – you can build your dream vacation by train. Check out the easy Inter City (IC) route from Rome to San Candido in the mountains, or the IC train from Milan to Savona by the sea. Some of the latest summer stops also include Polignano a Mare, Cattolica, Diamante, and Orbetello, as well as the highly anticipated, high-speed Frecciarossa train to Pompei, close to the city of Naples. Two direct trains run every third Sunday from Rome's Termini train station and from Florence's Firenze train station to Pompeii.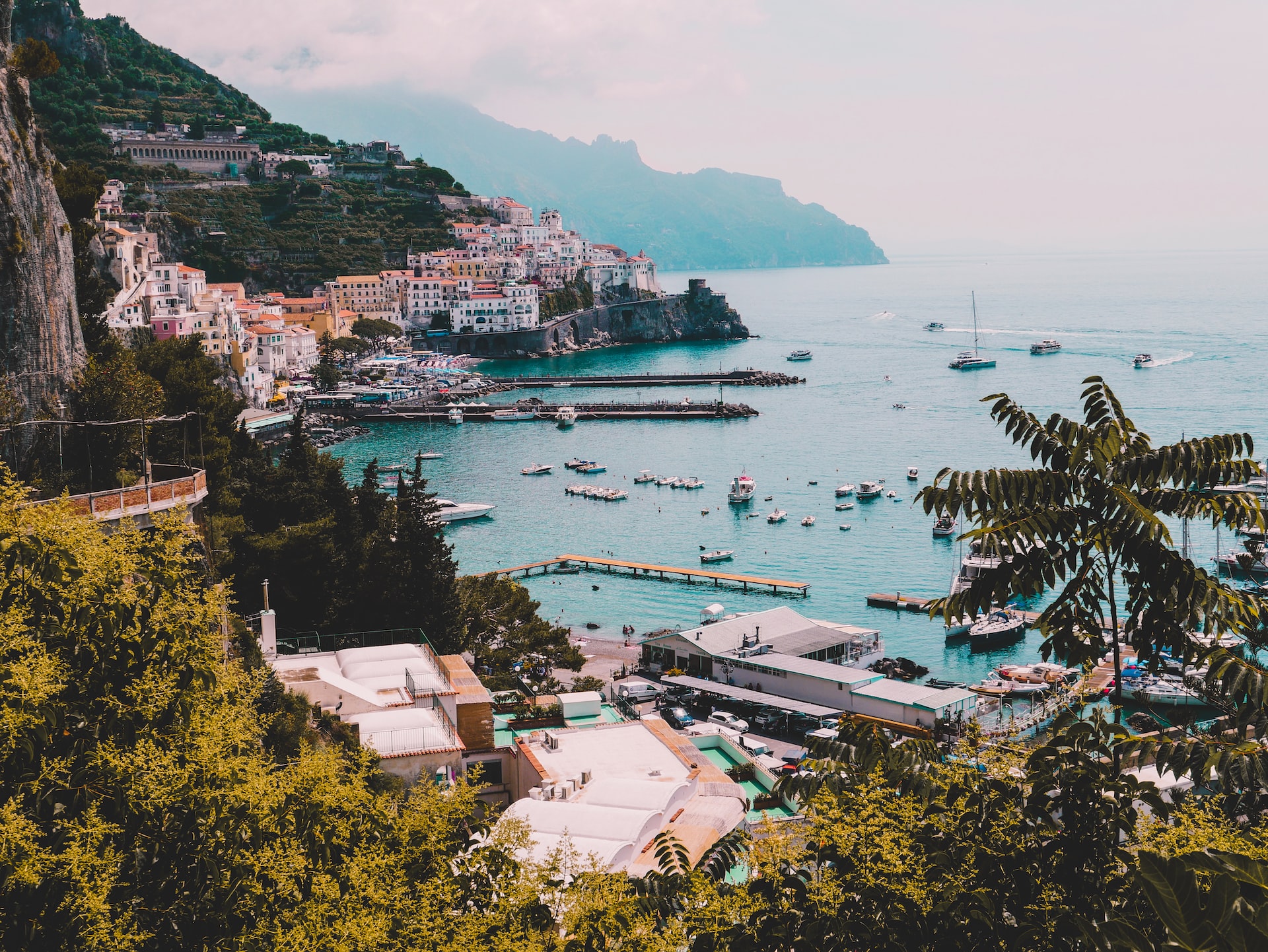 Italy's stunning Amalfi Coast. Source: Unsplash
More ways to travel with Trenitalia
To make your vacation extra special, Trenitalia have teamed up with bus, ferry and plane providers to link up some of the most beautiful destinations across Italy. It's now possible to hop on a train then find an easy ferry connection across the Gulf of Naples. You can take a Freccelink, a combination of train and bus, to seaside towns such as Sorrento, Piombino, Cecina, Vieste or Peschici. Or travel to the rest of Europe along popular routes such as Milan to Paris, with a stop in the mountain town of Bardonecchia en route.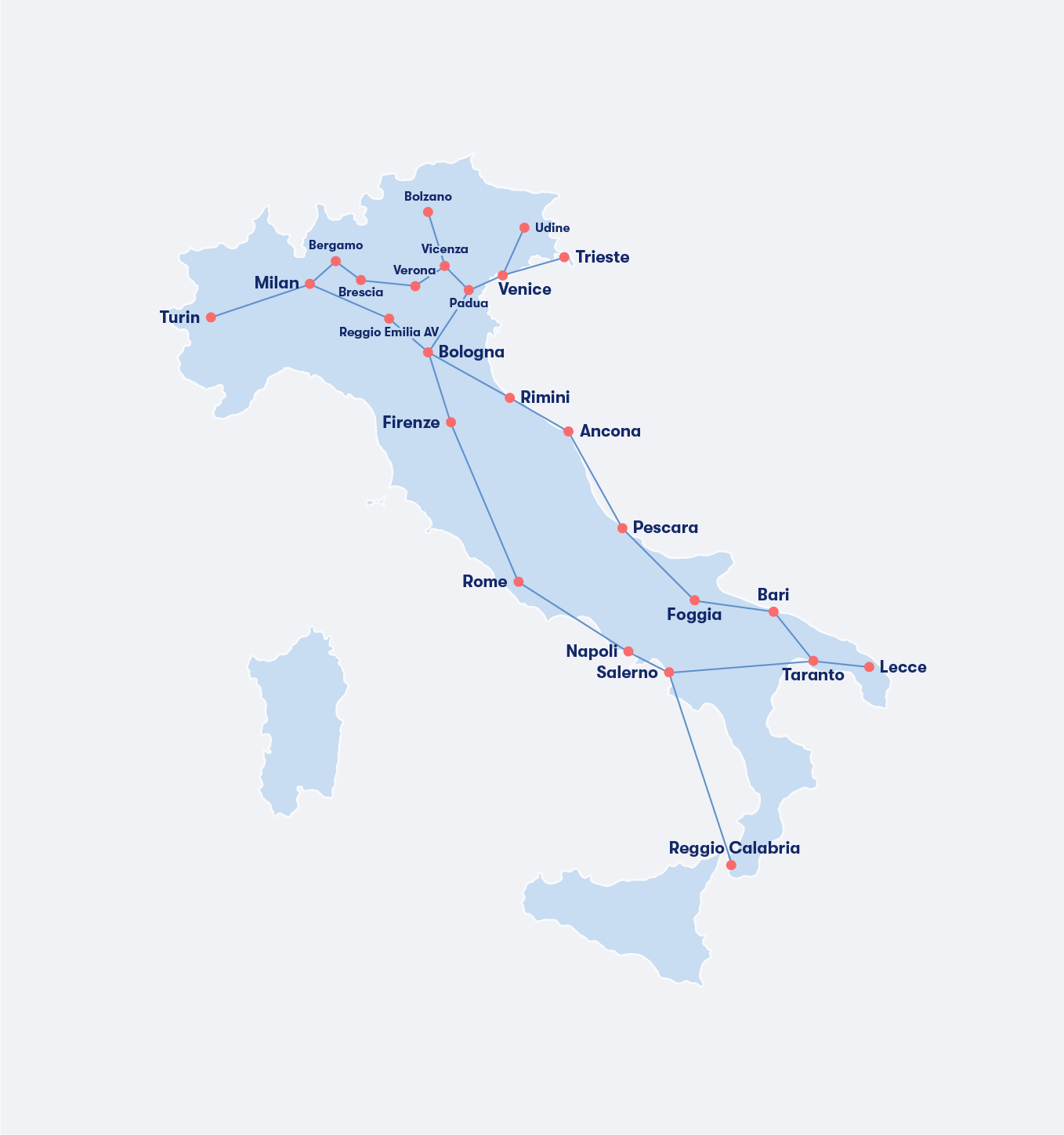 Frecciarossa Map connections in Italy
Frecciarossa Train Schedule and Timetables
Frecciarossa trains connect different cities within Italy on the high-speed line. You'll also find a connection from Milan to Paris.
| Frecciarossa Route | Schedule | Frequency | Duration | Price |
| --- | --- | --- | --- | --- |
| Turin – Salerno | From 05:05 to 21:55 | 30 trains a day | From 6h29m to 11h44m | From $47 |
| Venice – Salerno | From 05:26 to 23:05 | 30 trains a day | From 5h53m to 10h09m | From $49 |
| Trieste – Turin | From 04:26 to 17:05 | 11 trains a day | From 5h to 7h49m | From $51 |
| Milan – Paris | From 06:25 to 15:53 | 2 trains a day | From 6h44m to 6h57m | From $124 |
| Turin – Lecce | From 05:50 to 13:50 | 7 trains a day | From 9h40m to 11h05m | From $71 |
| Rome – Naples | From 07:00 to 22:35 | 38 trains a day | From 1h02m to 1h53m | From $16 |
| Florence – Milan | From 06:55 to 21:55 | 26 trains a day | From 1h55m to 2h39m | From $30 |
| Milan – Bari | From 06:10 to 16:10 | 16 trains a day | From 6h57m to 8h | from $76 |
| Venice – Rome | From 05:26 to 19:26 | 23 trains a day | From 3h26m to 4h19m | From $40 |
| Rome – Florence | From 05:10 to 21:48 | 44 trains a day | From 1h35m to 1h57m | From $23 |
How to buy Frecciarossa train tickets
If you're looking to get tickets delivered straight to your phone, Omio offers a quick and easy way to compare and book Frecciarossa tickets without the need to print anything.Frecciarossa tickets are usually in high demand, so it's best to book your tickets as early as possible. To purchase your Frecciarossa train tickets:
Visit the Omio booking page
Enter your Departure station (e.g., Rome Termini)
Enter your Arrival Station (e.g Milan Centrale)
Select your travel date (you can add a return date in case of a round trip)
Click the red 'Search' button.
This will open a new page with a list of trains scheduled for departure on the selected date. Since there are different providers on the list, you can adjust your filters to display Frecciarossa trains with scheduled departures only. You can do this simply by clicking the 'Show all filters' button, then the 'Train Companies' option, and selecting Frecciarossa from the drop-down list.
You can also filter your selection by choosing you're preference on price, speed and departure time. Once you have selected your journey, you will also be given the option to choose between Frecciarossa's different carriage class which are, Standard, Premium, Business and Executive Once you have made your selection, key in your personal details before making your payment to finalize the process
The Omio booking pages have been designed to give you a quick and easy snapshot of the best tickets available. You can compare cheap train tickets, filter a journey by the ticket price, journey duration, travel company, departure times and the number of changes. You can also enjoy live journey updates, meaning you'll be notified if any platform changes or delays occur, and we'll send you a reminder when it's time to set off. What's more, you'll receive everything straight to your phone with no need to print. Explore your train options on Omio and book Trenitalia train tickets from the comfort of your home or on the go.
Ticket types for Trenitalia's Frecciarossa trains
Frecciarossa offers 3 types of tickets:
Super Economy Ticket: Frecciarossa super economy tickets are the most affordable ticket options, however they are also the least flexible. Once you've made your purchase you cannot exchange, refund or travel on a different train.
Economy Ticket: just like super economy tickets, economy tickets are cheap ticket options. However, unlike super economy tickets, you can change the date or time of travel once before your planned train departs.
Base Fare Ticket: slightly more expensive than the Frecciarossa train tickets, but the most flexible. The Base fare ticket allows you to change the date and time of your departure as often as you'd like, and up to an hour after your initial train departs. You can also request a refund and change the train journey.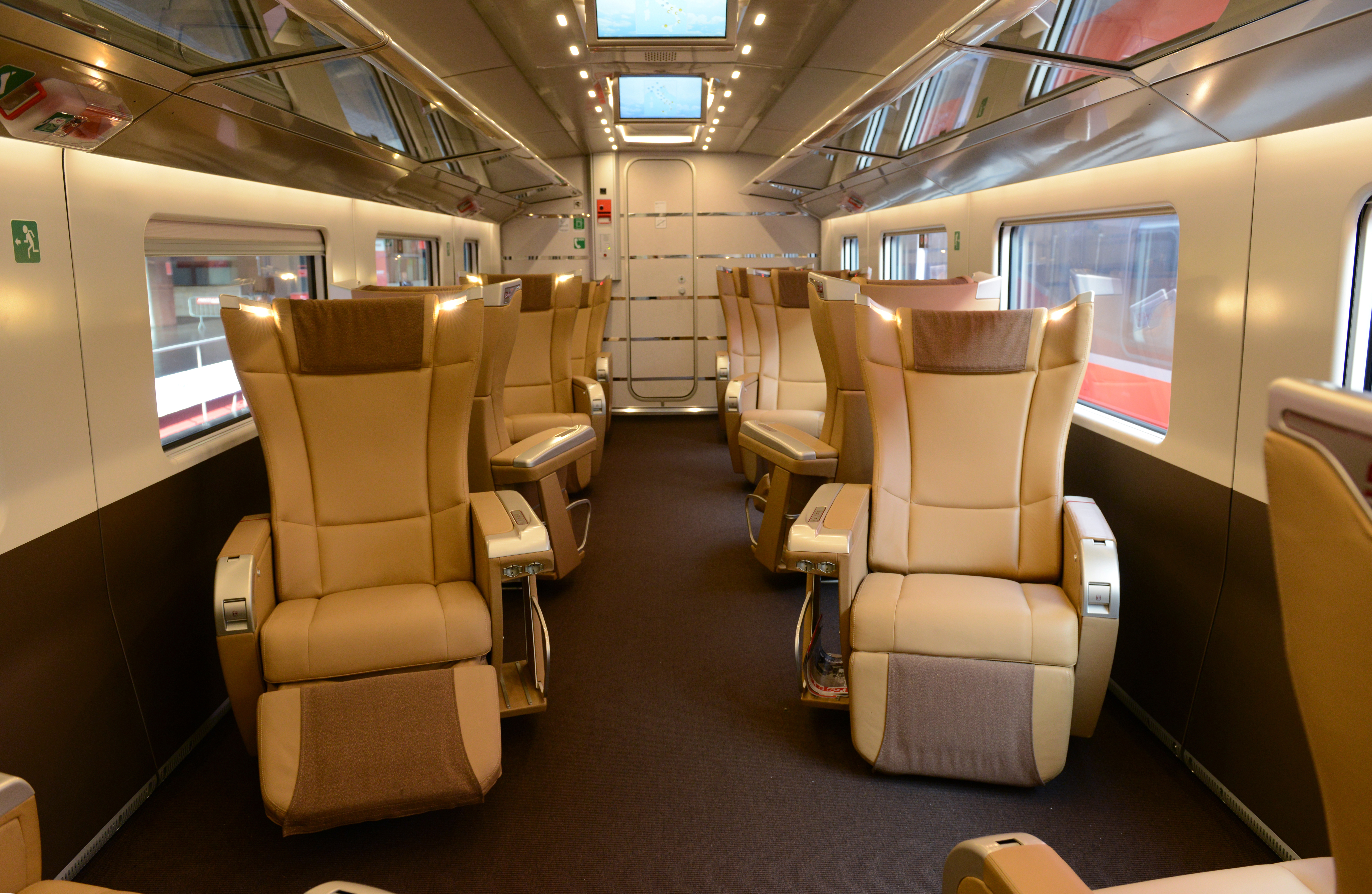 Executive Class Frecciarossa 1000. Source: Trenitalia
Travel first class with Frecciarossa Trains
Looking for a luxury train ride with extra-wide reclinable seats? Or perhaps you're in need of some quiet time to work while you travel? Frecciarossa trains have multiple classes with different levels of comfort to suit all passengers' needs. They include:
Executive class: top tier luxury on the Frecciarossa 1000 train. With Executive class tickets you'll get:

All the standard, premium and business class benefits
Extra-wide, reclinable leather chairs
Two seats per row, set far apart
Onboard meeting room
An open bar with staff at the customer's disposal
A selection of craft beers, cocktails and DOC wines
Dishes designed by Chef Carlo Cracco, prepared with local and seasonal ingredients
Complimentary welcome drink
Complimentary newspapers in the morning
Access to FrecciaClub and FrecciaLounge, the first class lounges at main train stations

Business class: From €33 extra, with a Business ticket you'll get:

All the standard and premium class benefits
More leg and elbow room
Table service
Complimentary package of freshly made food
Complimentary welcome drink
Complimentary newspapers in the morning
Quiet carriage

Premium class: From €10 extra, with a Premium ticket you'll get:

All the standard class benefits
Large leather seats
Complimentary newspapers in the morning
Complimentary welcome drink (coffee, soft drink or bottled water)

Standard class: With Standard class, inclusive of your ticket, you'll also get:

WiFi
Tables
Bistro table service
Power sockets
Entertainment portal
Discount Tickets and Interrail Passes
Look out for more ways to travel and get a discount when traveling with Freciarossa trains. Additional Frecciarossa train tickets and pass options include:
The Interrail pass: using the Interrail Frecciarossa pass, travlers can explore multiple countries across Europe
Young Offer: CartaFRECCIA loyalty card holders (under 30 years of age) can enjoy up to 70% discounts on all Frecce trains with the Frecciarossa Young Offer ("Offerta Young").
Green Card ("Carta Verde"): The Frecciarossa Green Pass with Railplus discount for young people aged 12 to 26 offers discounts on national (Business, Premium and Standard) and international connections.
Silver Card ("Carta d'Argento"): The Frecciarossa Silver pass with Railplus discount for travelers over 30 years offers discounts on couchettes and wagon lits, national (Business, Premium and Standard), and international connections.
Carnet: The Frecciarossa carnet lets you purchase a bundle of discounted tickets and save around 60% on the price of a normal ticket.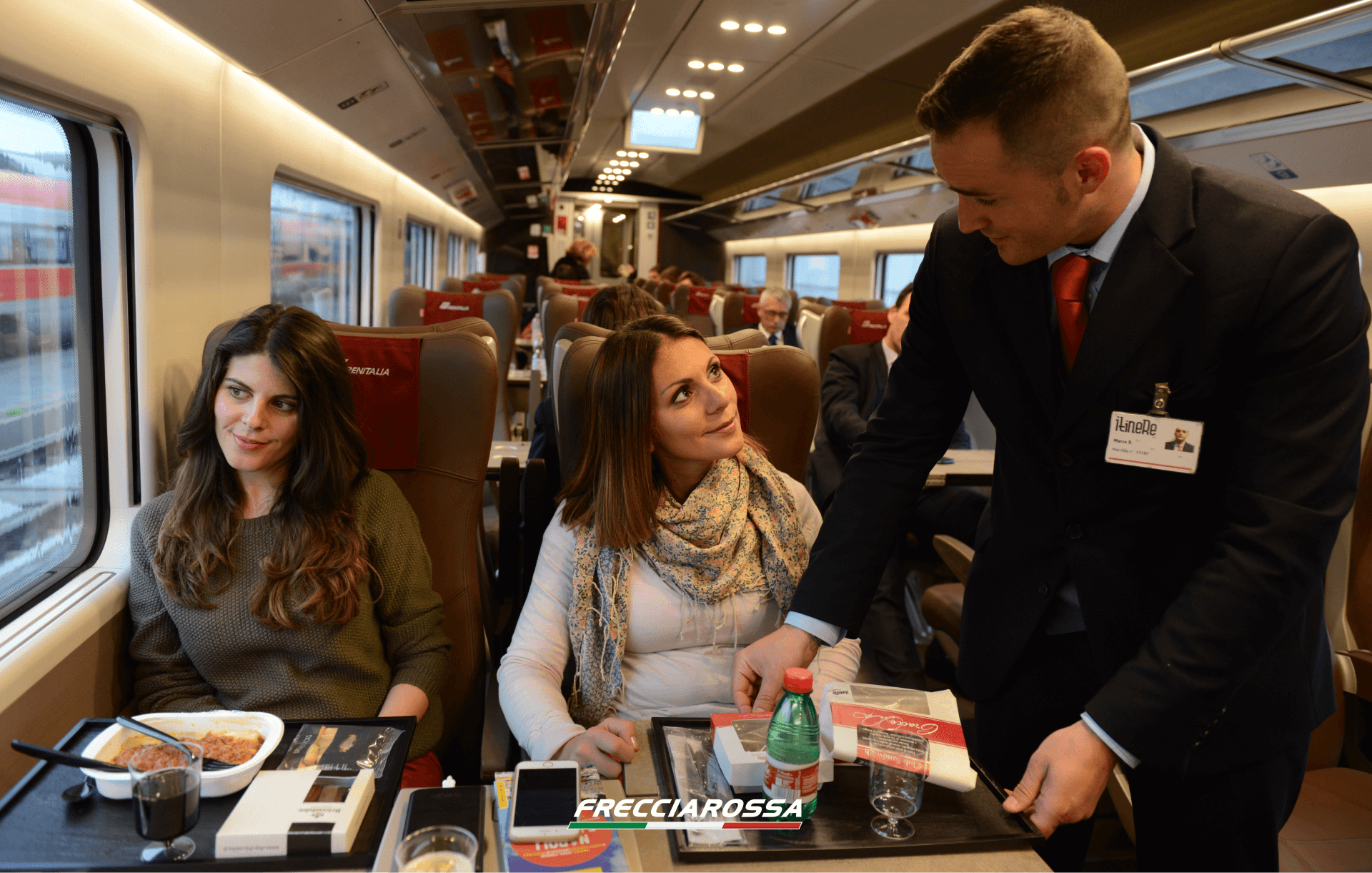 Convenient seat service is one of the many benefits of traveling with a Premium ticket. Source: Trenitalia
Frecciarossa trains: Services on Board
Luggage space: overhead racks for small bags and backpacks, plus spaces under the seat, and an extra luggage rack in some cabins close to the outside doors. There is no luggage limit on Frecciarossa trains, although the first class carriages offer larger luggage storage. it is possible to travel with your pet, provided it is in a carrier that does not exceed 70 x 30 x 50 cm in size. Bike must be folded or disassembled.
Catering services: Frecciarossa trains have a full restaurant service at the center of the train serving lunches and evening meals. It's accessible to everyone, including travelers in Standard Class carriages. The "Easy Food" seat- service restaurant lets you try different meals without getting off your seat. You can book your menu online through the FRECCE PORTAL App and it will be delivered to you by restaurant staff. Premium, Business and Executive travelers will receive a special welcome service with a selection of drinks and snacks to choose from. On specific routes, the Easy Gourmet option provides seat service for travelers in Business or Premium Class cabins with a choice of 3 course menus, including "Traditional Italian," "Carlo Cracco," designed by the top TV chef, and "Fresh Flavors."
Entertainment services: Frecciarossa offers entertainment services through its FRECCE entertainment portal. On this portal, guests can stream their preferred movies and listen to their favorite music tracks. You have to connect to the Frecciarossa Wi-Fi and then launch the internet browser. You'll automatically be redirected to the FRECCE portal homepage.
Comfortable seats: You'll find comfortable seats in First Class and Second Class carriages. The Frecciarossa First Class carriages (Executive, Business, and Premium) feature comfortable leather reclining chairs, while Standard Class carriages have regular but comfortable seats.
Special Assistance services: To cater to individuals with disabilities or mobility needs, Freicciarossa offers special assistance services across its trains.
Trenitalia's Frecciarossa Train Fleet
Trenitalia is state-owned and Italy's primary train operator. The high-speed Frecciarossa trains are part of the distinct Frecce ("Arrow") families, which include Frecciargento, and Frecciabianca, which tend to take slower and more regional routes. Frecciarossa was introduced in 2008 after operating as Eurostar Italia. It travels at speeds of up to 300 km/h (190mph) on the high-speed line, connecting different cities across Italy like Milan, Rome, Naples, Turin, Florence, Venice, Bari, and Lecce. The Frecciarossa high-speed train service is made up of two train sets: Frecciarossa 1000 and ETR 500 trains. The Frecciarossa 1000 train model can reach a max speed of 400 km/h (250 mph) and has more amenities than the Frecciarossa ETR 500 trains.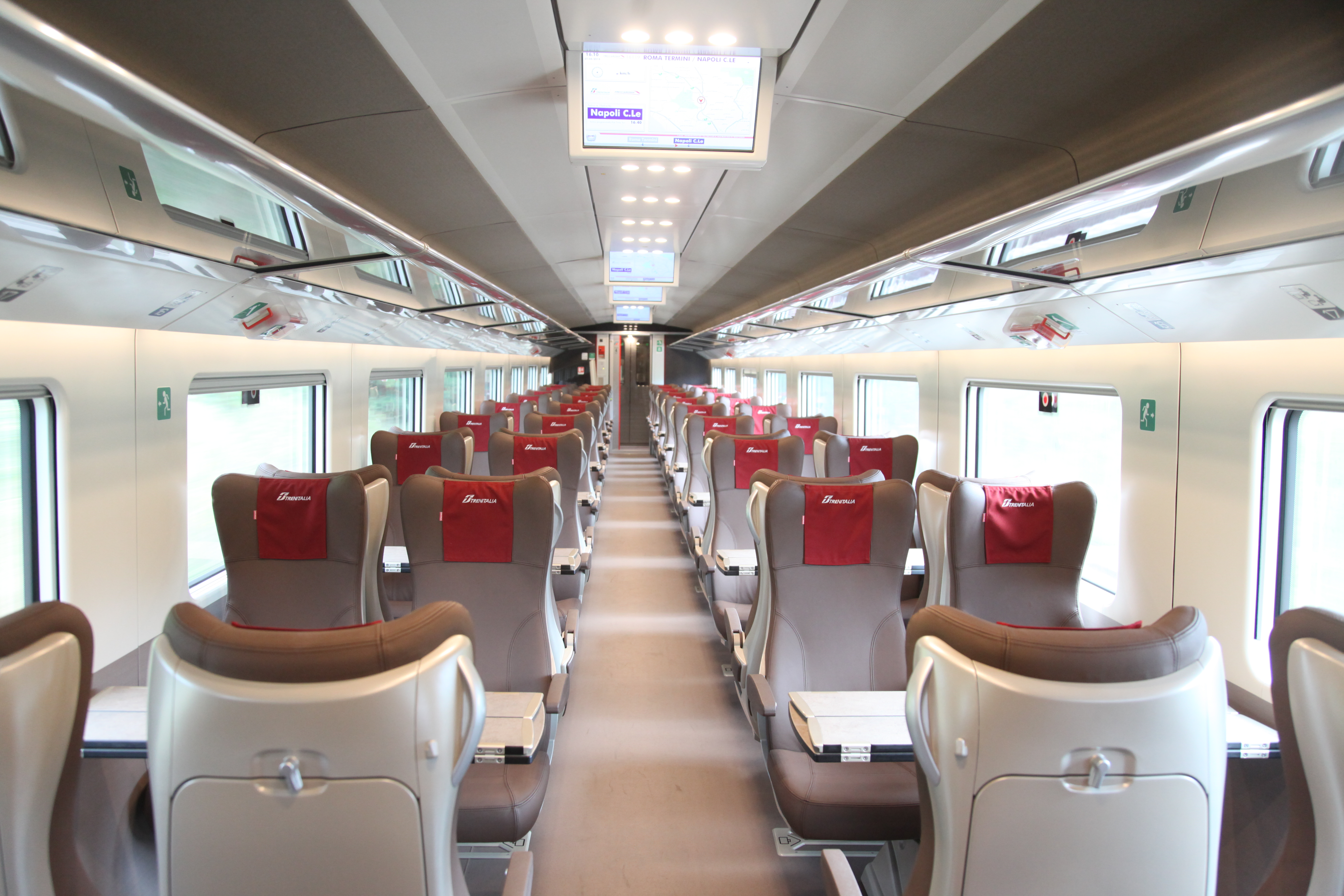 Frecciarossa Premium Class. Source: Trenitalia
Top Frecciarossa train destinations
Italy, the birthplace of the Roman Empire, is one of the most visited countries in the world and it's no surprise considering its rich history, the foods, its cities full of art, opera and fashion, as well as its gorgeous landscapes. Some of the most popular routes served by Frecciarossa trains include Milan to Rome,Bologna to Florence, and Milan to Venice. With so much to see and do in Italy, Omio have compiled pages of what to do in Italy through our online magazine, the Window Seat. We cover everything from nature walks around Lake Como, Verona's Roman Arena and Historic Center, the largest Gothic church in the world at Milan Duomo, and the world-famous David of Michelangelo statue in Florence. Read on to find out how to get to some the top destinations using Frecciarossa trains.
Frecciarossa Rome to Florence
There are approximately 41 daily Frecciarossa trains from Rome to Florence. The earliest high-speed Frecciarossa train from Rome to Florence usually leaves at about 5:35 a.m., while the latest tends to leave at about 9:10 p.m. The Rome to Florence Frecciarossa train time usually lasts around 1h 36 min< strong> and departs from Rome Termini station.
Frecciarossa Florence to Milan
To cover the 155 mile (249 km) journey from Florence to Milan, there are roughly 25 daily Frecciarossa trains. The first train normally leaves at 7:55 a.m., while the last one tends to leave at 9:55 p.m. Out of the 25 daily trains that cover this route, 20 are direct.The departure station in Florence is Florence Santa Maria Novella. Given that it is normally crowded, it is advised to arrive at the station 30 min before your train departs.
Frecciarossa Venice to Rome
There are at least 23 daily Frecciarossa trains that cover the 245 miles (394 km) from Venice to Rome. The first train usually leaves at 5:26 a.m., whereas the last train normally departs at 7:26 p.m. Of the 23 trains that cover this route, six are connecting trains, while the rest travel directly.
If you're on a budget, consider traveling on routes that use Frecciarossa connecting trains as the ticket prices are cheaper. For the fastest journey, book a ticket for the 8:46 a.m. train which reaches Rome in the shortest time. Aboard this fast Frecciarossa train, your train time will last roughly 3h 45min.
Frecciarossa Paris to Milan
Two Frecciarossa trains travel from Paris to Milan every day. The first train departs the train station in Paris at 7:25 am, while the latest departs around 3:12 pm for the non-stop trip to Milan. The average duration of the journey is around 6h 42min to 6h 55min.
Trains depart from Paris Gare de Lyon and arrive at Milan Centrale train station. It is recommended that passengers arrive at the station in Paris at least 45 minutes before departure to leave enough time for check-in
Frecciarossa Rome to Naples
About 37 Frecciarossa trains depart from Rome to Naples daily. The earliest train leaves at 8:53 am, while the latest train leaves at 10:35 pm. On average, the trip takes around 1h 02 mins to 1h 53 mins. Trains depart from Roma Termini and arrive at Naples Centrale station
More Train Routes in Italy
Night trains in Italy
Looking for a good night's sleep while on the move? Night trains in Italy offer comfortable sleeping carriages to get you to your destination with minimum hassle. InterCityNotte is Trenitalia's long-distance train, traveling from Northern Italy to the south in spacious modern coaches. Sleeping options include couchettes (cuccetta), roomy comfortable cabins with space for up to three people, or single options and private cabins (cabina).
Comfort carriages with four beds and night seats are also an option. Some of the most popular routes served by night trains are Rome to Palermo, Naples to Milan, and Rome to Syracuse. Learn more about night trains in Italy from the Omio magazine, Window Seat.
Rome to Palermo: Around six trains are available on this route daily, three of them being night trains. Departures for night trains start at around 8:30 p.m., with most trains taking about 12 hours to get to Palermo. Trenitalia is the main provider of night trains from Rome to Palermo.
Naples to Milan: Naples to Milan is a popular route served by Trenitalia and Italo trains. Beyond 6:00 p.m., around six trains make the journey north, most take about 5h 30min, while the long-distance sleeper train offered by Trenitalia takes about 9h 30min.
Rome to Syracuse: Around six trains make the trip from Rome to Syracuse every day, with half of these departures being night trains. Night trains from Rome to Syracuse are available from around 8:30 p.m., and they take about 12 hours to get to Syracuse. Trenitalia is the only provider with night trains on this route.
Travel with Frecciarossa: Sustainability travel
Just as it is committed to ensuring its passengers enjoy comfortable travel, Trenitalia is also committed to reducing its carbon footprint. To achieve this goal, it has replaced its old trains with fuel-efficient models and partnered with several carbon offset companies. Additionally, it has implemented many in-house policies to reduce its waste and use of pollutant products, such as the use of recycled packaging for its onboard restaurant. Traveling by train in Italy is currently the most a href="https://www.omio.com/window-seat/culture-lifestyle/young-environmental-activists-tell-all/">eco-friendly way to travel long distances.
Frecciarossa FAQs
There is no luggage limit when traveling with Frecciarossa trains, but storage space varies according to the different class of ticket you have purchased. Premium, Business and Executive Class ticket holders have more luggage space in their carriages..
Most Trenitalia trains offer wheelchair-accessible seating, especially the long-distance and high-speed routes. In the case of the Trenitalia Frecciarossa high-speed trains, the accessible seating is located in first class. Passengers will not be charged a higher fare.
Frecciarossa trains offer assistance through its dedicated team at Sala Blu. You can contact them in advance or at the station to make arrangements for any requirements. If you'd like to move from one part of the train to another while on your journey, contact one of the staff members and you'll get the help you need.
If you've got special equipment such as musical instruments, sports equipment or medical machines, you can travel with them on a Frecciarossa train, so long as they don't surpass the weight limit.
Most of the high-speed Frecciarossa routes have a restaurant service on board their trains. In some cabin classes, a welcome drink, snack and food may be included in your train fare. Frecciarossa trains come equipped with WIFI, an entertainment portal, air conditioning, plug sockets and luggage storage. All Trenitalia trains have restrooms
If you'd like to change the name on your Frecciarossa ticket, you can do so with ease. However, for authentication, the name change request must be made at least an hour before the train departs.
Reserving a seat is quite simple. All you have to do is visit the Omio website, key in the required travel details, book your ticket, and reserve a seat in the process.
There are multiple Frecciarossa trains which travel to neighboring countries in Europe, including France, Austria and Switzerland.
Children above eight can travel by themselves on a Frecciarossa high-speed train, only if they have a seat in economy or business class. They must be handed over to train staff at the station by a guardian.