Buy your Frecciarossa tickets directly with Omio
If you'd like to book your Frecciarossa train tickets, you should consider doing so through us at Omio. We are a search and booking platform that offers routes for different modes of transportation, including flights,trains, and buses. On our platform, you can easily compare train tickets for whichever route you intend on covering, as we enable guests to filter by price, train company, departure times, and the number of layovers. If you choose to purchase cheap Frecciarossa tickets from us:
You can count on receiving authentic tickets, as we are licensed and certified partners of Frecciarossa.
You can rest assured of getting the best ticket deals. This is because, at Omio, we offer all our tickets at competitive rates.
You won't struggle to find the cheap Frecciarossa ticket you desire, given that we boast a platform which is easy to navigate.
Get to your destination faster with Frecciarossa
If you're flying into Rome's Fiumicino 'Leonardo da Vinci' Airport and plan on traveling to another Italian city (or vice versa), you can now do so without taking a connecting flight!
Frecciarossa, Trenitalia's high-speed train, now runs daily services direct from Rome's Fiumicino airport to Italy's biggest cities, including Venice, Bologna, Florence and Naples.
So, now it's easier than ever to land in Rome and explore the rest of Italy's most iconic cities by train—and it's better for the environment, too! Book your direct trains to and from Rome's Fiumicino airport with Omio.
Special Offer! Trenitalia tickets from 29 Euros for Milan-Paris route
On Saturday, 18th of December, at approximately 6:25 a.m., the first Trenitalia Freccirossa train left for Paris Gare de Lyon from Milano Centrale. Two days later, on the 20th of December, it became possible for guests to book tickets for these Trenitalia trains through our platform. To promote this Milan to Paris route, we have been offering standard class tickets for trains that cover it at a promotional price starting from 29 Euros. It's worth noting that as the 29 Euros promotional price is subject to changes and availability, it usually is higher on certain days.
Discover Frecciarossa
Introduced in 2009, Frecciarossa trains are high-speed trains operated by Italy's national train operator, Trenitalia. Beloved by many constant users for being rapid, with speeds of up to 300 km/h (190 mph), these trains feature superb amenities like comfortable seats, optimally-functioning air conditioners, consistent Wi-Fi, and squeaky clean onboard toilets. Apart from having superb amenities, these trains also have amazing staff. Thus, aboard them, passengers are always treated with exceptional customer care.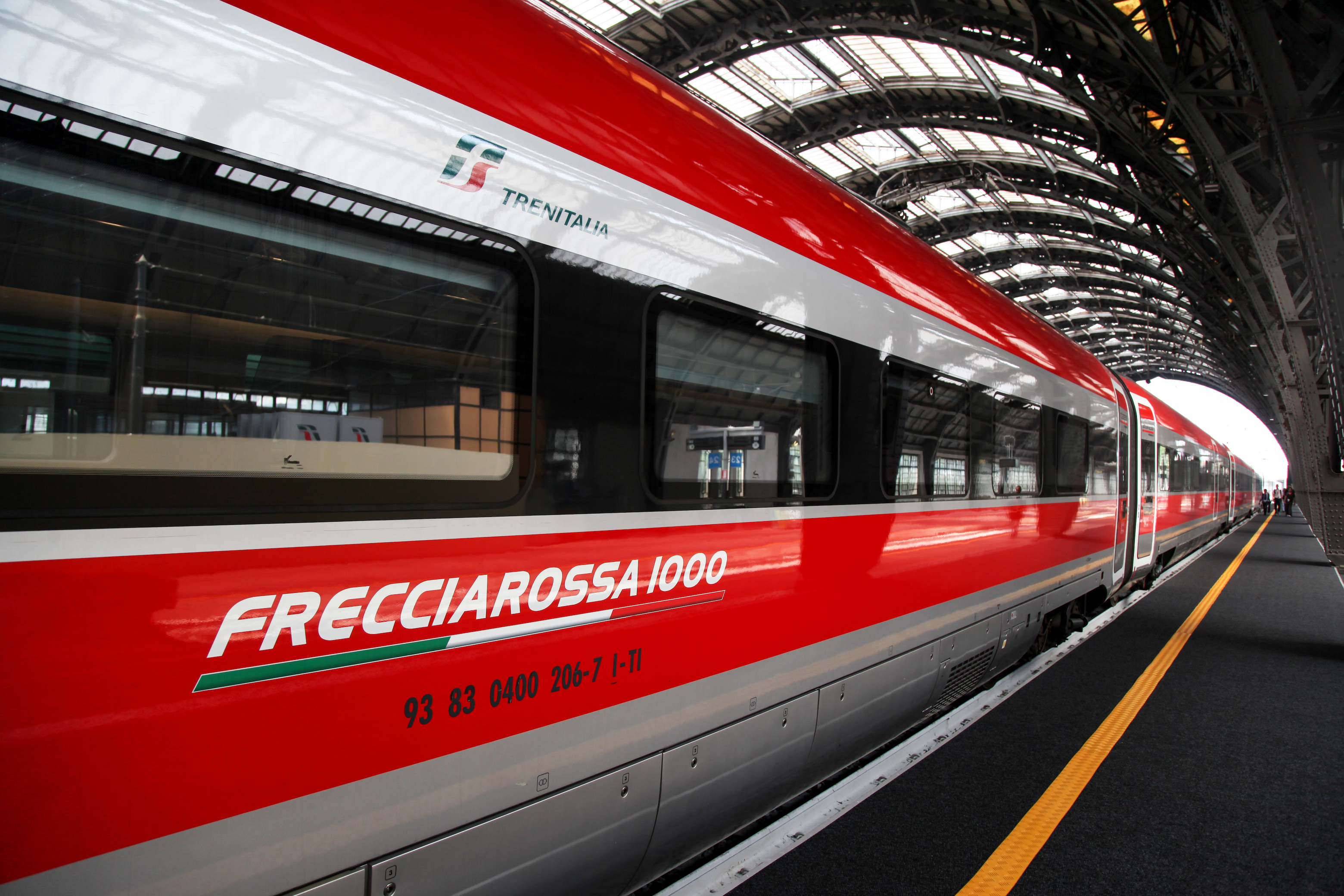 Frecciarossa 1000. Source: Frecciarossa
Frecciarossa timetable & schedule
Daily, Frecciarossa offers nearly 200 connections across Italy. It's worth noting that different Frecciarossa trains, on different routes, usually depart at varying times. For example, on the Milan to Rome route, the first Frecciarossa train usually begins its journey at 5:10 a.m., while the last one normally departs at 8:10 p.m. On the other hand, on the Bologna to Florence route, the first train normally departs at 6:27 a.m. while the last one usually commences its journey at 9:27 p.m. This being the case, if you'd like to cover a certain route aboard a Frecciarossa train, you should check out the timetable for the trains serving the route so that you find the most convenient Frecciarossa train for you.
Ticket types for Frecciarossa trains
Frecciarossa offers 3 types of tickets:
Super Economy Ticket: Frecciarossa super economy tickets are the most affordable ticket options. However, they are also the least flexible, as once you purchase them, you can't ask for an exchange, refund, or the opportunity to travel on a different train.
Economy Ticket: Just like super economy tickets, economy tickets are cheap ticket options. However, unlike super economy tickets, you can change the date or time of travel on these tickets. On these tickets, the listed changes can only be done once, before the trains they belong to depart.
Base Fare Ticket: Of all Frecciarossa train tickets, Base Fare tickets are the least affordable. Despite being relatively more expensive than the other tickets, they are the most recommended, as they are the most flexible. If you purchase this ticket, you can change the date and time of your departure as often as you'd like, up to an hour after your initial train departs. You can also request a refund and change trains if you have this ticket.
Frecciarossa train classes
There are different classes when you travel with Frecciarossa for different types of travelers.
Standard Class: The standard class is the most cost-effective Frecciarossa class. It features eco-leather reclining armchairs arranged in rows of two, a special luggage zone, and at-seat food service.
Business Class: The business class, as its name suggests, is the ideal class to travel in if you'd like to work on the go. It features enormous reclining leather armchairs arranged in rows of 2+1, a welcome service, and a quiet carriage. Additionally, this class features glass dividers to enhance privacy.
Premium Class: If you'd like to travel in comfort, you should consider booking premium class seat tickets. A few Euros more expensive than the standard class, this class features extremely comfy leather reclining seats arranged in the same layout as the standard class, extra luggage space, and free newspapers and magazines. In this class, you'll be welcomed with a complimentary drink or snack.
Executive Class: The Trenitalia Frecciarossa Executive Class is the most exclusive class option. Home to wide leather armchairs with reclining backrests and adaptable footrests, this class offers its guests a truly memorable rail experience. Although it doesn't have a quiet carriage, it does have a meeting room with five seats, power outlets, and a TV, where you can work. If you book your seat in this class, you'll enjoy free access to FrecciaLounge and FrecciaClub at main stations. Thus, if you'd like to enjoy maximum comfort while aboard a Freccirarossa train from Florence to Milan, you should book a ticket in this class.
When is the best time to book your Frecciarossa train ticket?
Frecciarossa train tickets are usually in high demand. As this is the case, once you settle on the date you'd like to travel, you should immediately book your ticket. By booking in advance, you'll not only be able to reserve your seat but also save money, as advance tickets are normally cheaper than final-day tickets.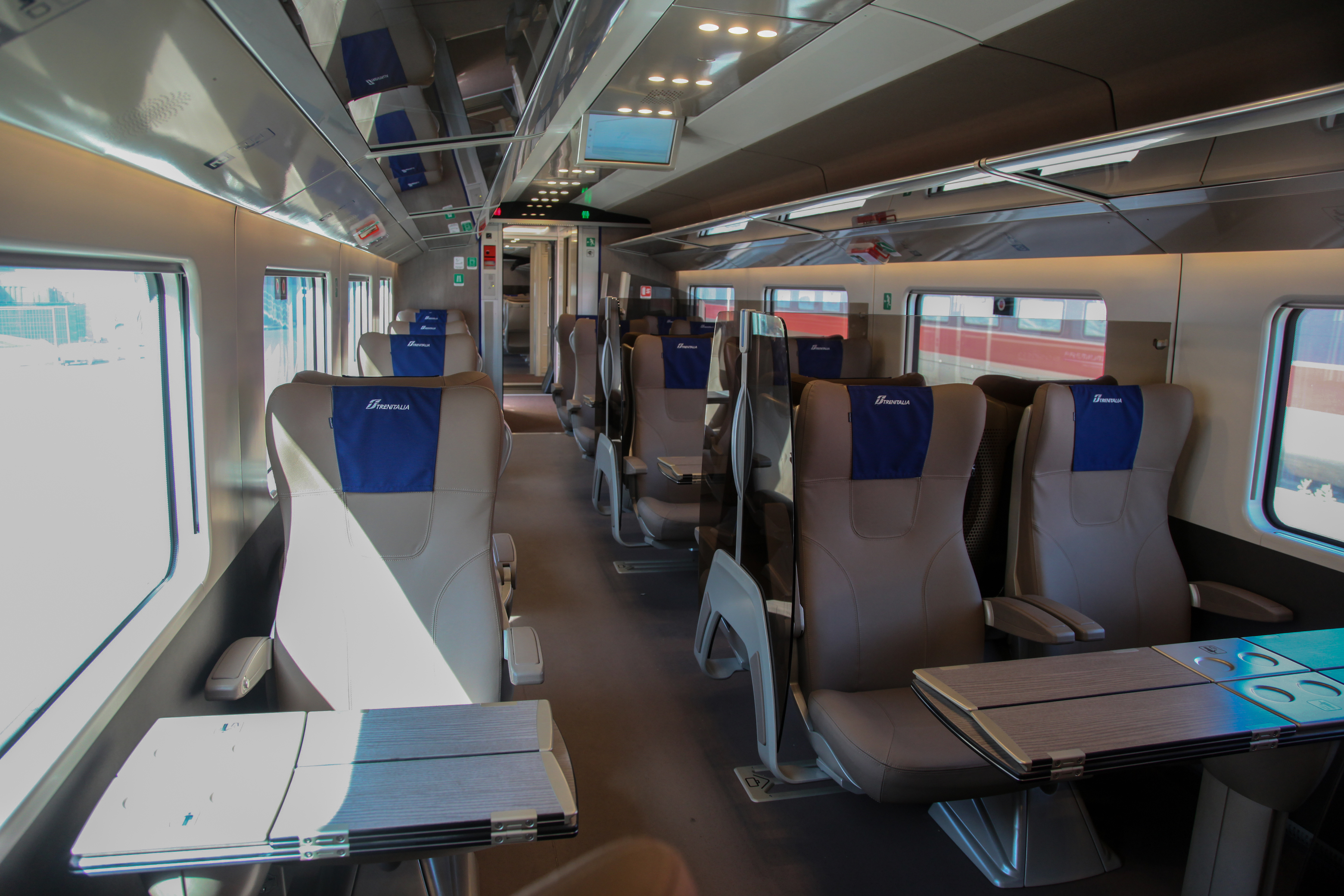 Frecciarossa Business. Source: Frecciarossa
Most popular routes with Frecciarossa
As noted, Frecciarossa offers over 200 daily connections across Italy, with Milan, Florence, and Rome being the cities served most by these trains. As a result, it's unsurprising that the most popular routes served by Frecciarossa trains include Milan to Rome,Bologna to Florence, and Milan to Venice.
Frecciarossa Rome to Florence
Every day, approximately 41 Frecciarossa trains travel from Rome to Florence. The earliest speed Frecciarossa train from Rome to Florence usually leaves at about 5:35 a.m., while the latest tends to leave at about 9:10 p.m. Given that all these trains usually take the same amount of time to cover the distance between the two cities, aboard any, your Rome to Florence Frecciarossa train time will be about 1h 36min.
To board your Frecciarossa train in Rome, you'll have to make your way to Rome Termini, as all Frecciarossa trains covering the route depart from this station.
On the date you're scheduled to travel, get to the station at least 30 min before your flight so that you have enough time to go through security.
Frecciarossa Florence to Milan
To cover the 155-mile (249 km) journey from Florence to Milan, there are roughly 25 daily Frecciarrossa trains. The first one normally leaves at 7:55 a.m., while the last one tends to leave at 9:55 p.m. Only five of the 25 daily trains that cover this route don't travel nonstop.
Florence Santa Maria Novella is the station from which you'll board your train to Milan in Florence. Given that it is normally crowded, it's in your best interest to get to this station at least 30 min before your train so that you're cleared for travel in time.
Most Frecciarossa trains usually begin their journeys to Milan in the morning. Thus, if you'd like to book a ticket at the station on the day you want to travel, your chances of getting a ticket are highest in the morning.
Frecciarossa Venice to Rome
Daily, at least 23 Frecciarossa trains cover the 245 miles (394 km) from Venice to Rome. The first one usually leaves at 5:26 a.m., whereas the last one normally departs at 7:26 p.m. Of the 23 trains that cover this route, six are connecting trains, while the rest travel directly.
If you're on a budget, you should consider traveling via the Frecciarossa connecting trains, as their tickets are cheaper than those for trains that directly cover this route.
If you'd like to travel as quickly as possible aboard a train from Venice to Rome, you should book a ticket for the 8:46 a.m. train, as it travels the fastest. Aboard this fast Frecciarossa train, your train time will last roughly 3h 45min.
Frecciarossa trains: Services on Board
Trenitalia has always been dedicated to offering its passengers nothing but the best. As a result, it has invested in superb trains with exceptional amenities. It has also invested in several off-board and onboard services to enhance its passengers' comfort. Currently, some of the services offered by Trenitalia Frecciarossa trains include:
Luggage transportation: Aboard a Frecciarossa train, you can travel with two suitcases and one piece of hand luggage. You can also travel with your pet, provided it is in a carrier that does not exceed 70 x 30 x 50 cm in size, and your bike, provided it is folded or disassembled.
Catering services: While traveling aboard a Frecciarossa train, you can purchase quality dishes from Frecciarossa's Easy menu options: breakfast, snack, and meal.
Lounge services: If you travel on a Frecciarossa train, you can access its lounges in major train stations. In one of these lounges, you'll enjoy fabulous amenities like strong Wi-Fi, clean bathrooms, and various magazines.
Entertainment services: Frecciarossa offers entertainment services through its FRECCE entertainment portal. On this portal, guests can stream their preferred movies and listen to their favorite music tracks.
Seat reservation: More often than not, Frecciarossa seats are automatically assigned when booking tickets. However, if you visit Trenitalia's main website, you can comfortably pick the seat you'd like to book
Special Assistance services: To cater to individuals with disabilities, Freicciarossa offers top-notch special assistance services. Thus, if you'd like to travel with an accessible means of transport, Frecciarossa has got you covered.
Frecciarossa: Night trains
A majority of Frecciarossa train services are normally during the day. However, on some routes, Frecciarossa night trains are present. Given that not all routes served by Frecciarossa have night trains, if you'd love to cover the distance between two destinations aboard a Frecciarossa night train, you should check the route's timetable to check if such a train service exists.
Travel with Frecciarossa: Sustainability travel
Just as it is committed to ensuring its passengers enjoy comfortable travel, Trenitalia is also committed to reducing its carbon footprint. To achieve this goal, it has replaced its old trains with fuel-efficient models and partnered with several carbon offset companies. Additionally, it has implemented many in-house policies to reduce its wastage and use of pollutant products. Given that this company has continually shown just how committed it is to safeguard the environment, it's fair to say that if you'd love to travel sustainably, traveling aboard one of its eco-friendly Frecciarossa trains would be a good move.
Enter the most authentic Italy with Frecciarossa — Travel Tips
Italy, the birthplace of the Roman Empire, is one of the most toured countries in the world. This is primarily because this remarkable country is home to several spectacular destinations. If you plan on visiting Italy, you should consider touring Rome. In this city, you'll be able to visit iconic sites like the Colosseum, St Peter's Basilica, the Vatican Museums, the Roman Forum, and many more destinations highlighted in The Window Seat Travel guide by Omio, Rome Edition. Other than Rome, you should consider visiting Florence. While here, you'll be able to visit astonishing sites like Palazzo Vecchio, Pitti Palace, and the world-famous David of Michelangelo statue. In Italy, you can:
Enjoy scenic views and nature in Lake Como
Check out Verona's Roman Arena and Historic Center
Have a good time on the Amalfi Coast
Visit Milan Duomo, the largest Gothic church in the world
Take a short trip to Pisa and Luca
In Italy, there's something for everyone. To learn more wonderful destinations worth visiting while in the country, check out the Window Seat Travel guide by Omio.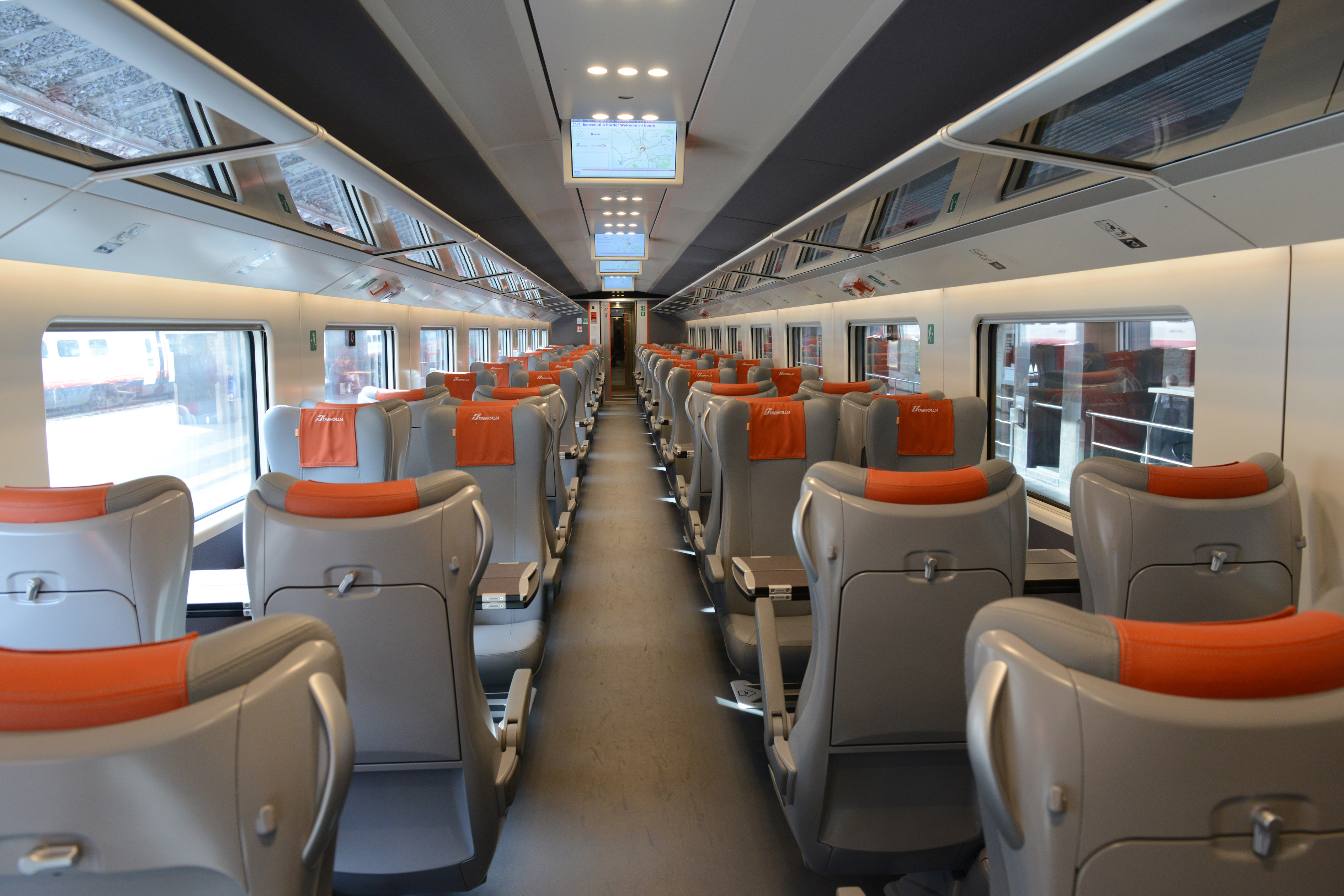 Frecciarossa Standard. Source: Frecciarossa
Frecciarossa FAQs
If you want to purchase tickets, you should get them on Omio. Through our platform, you can rest assured of finding the best train ticket deals for the most convenient Frecciarossa train for you.
If you purchase an online Frecciarossa train ticket, you don't have to print it. When asked for your ticket, all you have to do is quote your 6-character booking reference.
You can only cancel your ticket if it is a base fare ticket. To do so, send an email with your order number to
[email protected]
You can exchange your Frecciarossa train ticket if it is a Base ticket or an Economy ticket. If you've got a base ticket, you can exchange it unlimited times before departure and once one hour after your initial train departs for free. If, on the other hand, you've got an economy ticket, you can only exchange the date and hour of your ticket once, before departure.
If you'd like to travel with your luggage aboard a Frecciarossa train, you can travel with up to three pieces of luggage. However, your luggage should not exceed 25 kilos.
All Frecciarossa trains are equipped with areas for transporting people with disabilities. Additionally, they all have accessible-to-all toilets.
If you've got reduced mobility or a wheelchair, you need not worry about having a difficult time aboard a Frecciarossa train, as each Frecciarossa train usually has well-trained staff who are always ready to help. If you'd like to move from one part of the train to another, all you have to do is contact one of the staff, and you'll get the help you need.
If you've special equipment such as musical instruments and medical machines, you can travel with them on a Frecciarossa train, so long as they don't surpass the weight limit. Weapons are, however, not allowed.
Frecciarossa trains offer some elite services during their journeys. These services include catering, entertainment, and special assistance services for the disabled.
If you'd like to change the name on your Frecciarossa ticket, you can do so with ease. However, for authentication, the name change request must be made at least an hour before the train it is for departs.
On a Frecciarossa train, you can board your carriage with only one carry-on luggage. The luggage must be small enough to fit beneath your seat.
Children under 18 but above eight can travel by themselves on a Frecciarossa train, only if they have a seat in the economy or business class. They must be handed over to train staff at the station by a guardian