Train to London
Undoubtedly, London has no inadequacy when it comes to public transport. It is particularly well connected by rail, making it easy for you to explore. Notably, the underground, commonly referred to by locals as The Tube, is the oldest underground metro network globally. However, although it's called Underground, almost half of its tracks are above the ground. Besides the Underground, London has tracks that run entirely above the ground, named Overground. Being a more recent addition to the city, the Overground operates parallel to The Tube. Additionally, London has Docklands Light Railway, an automated rail system that serves the Dockland areas of London. Notably, there are many cities connected to London by rail. You can take a train from London to Edinburgh, Glasgow, Leeds, and many more.
London North Eastern Railway to London
London North Eastern Railway (LNER) took over from Virgin Trains East Coast in 2018 and has since been operating trains on the East Coast mainline. The company operates trains to London from multiple routes, such as London to Edinburgh and Newcastle. While boarding an LNER train to London, you can either book a seat in the standard class or the first class. Notably, LNER trains are relatively faster than other operators. For instance, a trip from Leeds would only take you around 1h 53min.
Great Western Railway
Great Western Railway is another popular rail operator to London. The company operates several routes, such as Bath to London, Bristol to London, and Oxford to London. Whether you are boarding a train to London for work or leisure, you can choose to book a seat in the standard class or first class. However, even the standard class comes with a wide range of thoughtful amenities for you, such as power sockets and favorable luggage allowances.
Southern Railways
If you are traveling to London from the south coast, you could board a Southern Railways train. Then, depending on which route you are on, you could travel to one of the many London train stations, such as London Victoria, Waterloo, and London Bridge. The trains are also relatively fast and convenient. For instance, a trip from Brighton would only take you approximately 90min.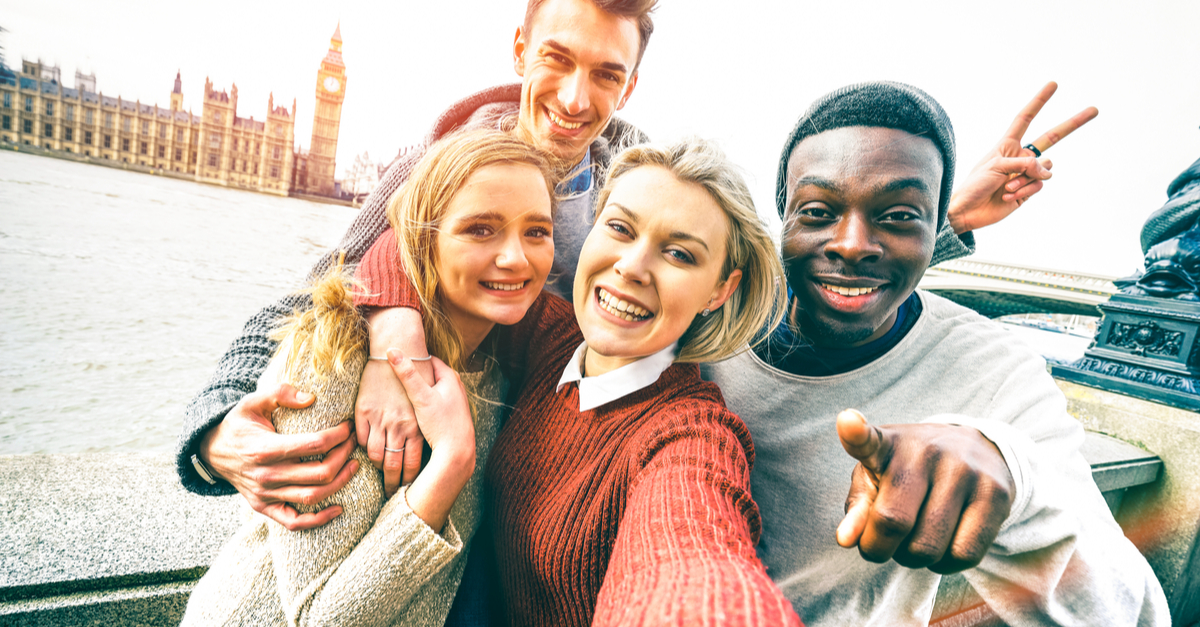 London Selfie. Source: Shutterstock
Main Train Stations in London
Given that London has such an extensive rail network, it doesn't come as a surprise that it has several railway stations. Among these stations is Waterloo Station, which is strategically located in central London. Ideally, Waterloo is an Underground station operated by South West trains. The station, which is the biggest and busiest across the UK, has 24 terminals in use. The station has a wide range of amenities, such as gift shops and eateries. The other major train station in London is Victoria. It is located in central London and is near popular tourist attractions, such as Buckingham palace and St. James's Park. Victoria links several cities to London, such as Brighton, Dover, and Southampton.
Onboard Facilities London
Various train companies to London have well-thought-of onboard facilities to make your journey as comfortable as possible on various routes such as train London Edinburgh. For instance, LNER trains have an onboard café. Here, you can enjoy hot and cold soft drinks, snacks, and sandwiches. Furthermore, you can bring your bike onboard. However, if it's not foldable, you would have to reserve a space for it before traveling. LNER trains have a favorable luggage policy, which allows you up to three items: a small handbag, one carry-on bag, and a large suitcase.
Great Western Railway trains also have a wide range of onboard facilities. Most of their trains have complimentary Wi-Fi for both standard and First classes. Other facilities on Great Western Railway trains include traveling with your bicycle and light refreshments. If you are boarding a Southern Railways train, expect to enjoy onboard facilities such as complimentary Wi-Fi and a generous luggage allowance.
Train Tickets to London: Useful to Know
Before buying a train ticket to London, it's vital to know your options. In a city like London, where almost everything has been digitized, you can book a train ticket digitally conveniently. Even better, you don't have to print it out, as you can present it to the relevant authorities in PDF format. Since you receive your ticket as a PDF attachment, you can open it on multiple devices.
By booking an electronic ticket, you skip the long queues at the ticket machine and walk straight through the gates. Even better, you can use electronic tickets even for group travels. Although you won't be required to enter details of your ID when booking an electronic train ticket to London, you will have to present a valid ID card while traveling. Besides, you don't have to worry about losing your electronic ticket since you can store it in your Omio account.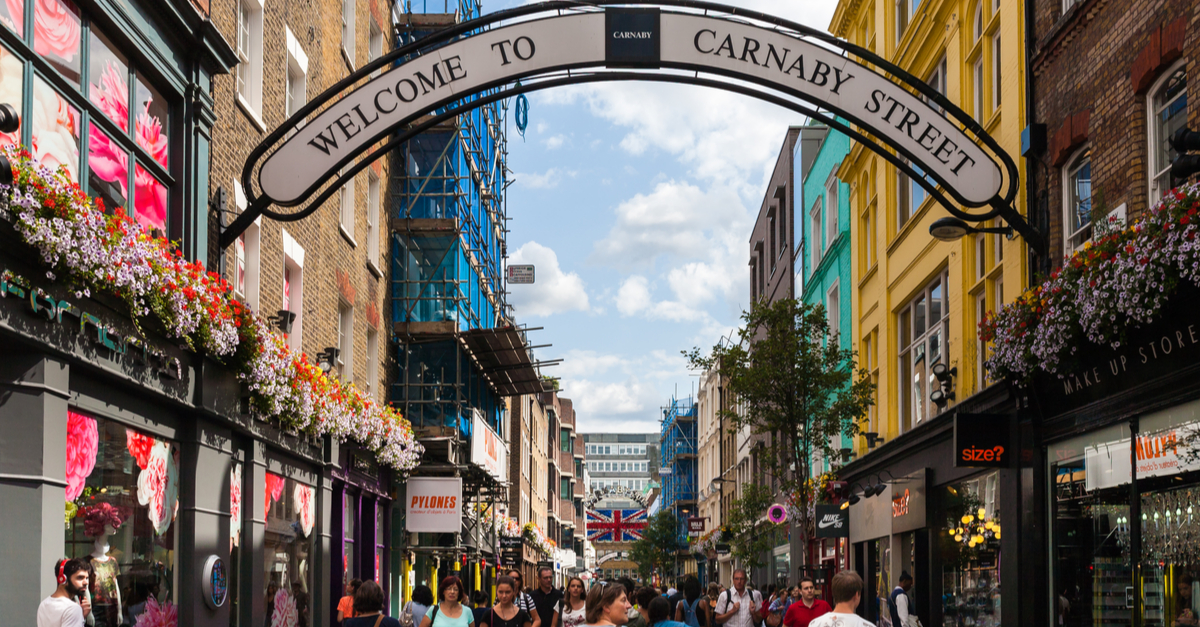 Carnaby Street. Source: Shutterstock
To London by Train – Travel Tips
Beyond reasonable doubt, London is among the most famous cities in the world. It stands out for being dynamic and character that other cities may lack. No matter what your idea of fun is, you most definitely will enjoy a trip to London. For instance, if you love live theatre, you would enjoy visiting Theatreland, which offers a wide variety of shows and performances. Another iconic element in London you might consider visiting is the Thames River, which has several sites along with it.
You would also enjoy a trip to the London Eye, which is like London's version of the Eiffel Tower. You can enjoy a clear view of some of the city's attractions from the revolving observation wheel. Besides, London boasts a spectacular skyline, with appealing buildings like St Paul's Cathedral and the Shard. London is fascinating since it's constantly changing. Even if you have been to this great city before, you will still find exciting things to see or do.
If anything, they only get better and more vibrant over time. While in London, you could take some time to learn about the city's interesting history by visiting one of the museums around. The good thing is, London has an excellent public transport system, making it easy to navigate the city. Some options include a hop-on hop-off bus, which is a good way to get acquainted with the city, or cycling. For a hassle-free experience, plan your trips for off-peak hours.
London is a fascinating city like no other, with so much to choose from. You might get into a dilemma, not able to decide what to see first. London is popular for famous sights, such as Buckingham Palace and the Tower of London. If you love shopping, you will find London an ideal city for a spree as it spoils you for choice. Some of the famous streets in London you could go shopping include Oxford Street and Carnaby Street. When in London, you will notice that the locals work hard, but they play in equal measure. You stand a chance to enjoy the vibrant London nightlife. Whether you choose to go to a classic pub or a live concert, London has it all.
If you are a sports enthusiast, visiting London would be like a dream come true. The capital is famous for the Premier League and is home to prestigious sporting grounds, like the Wembley Stadium and Wimbledon (for lawn tennis). Most importantly, you would enjoy the company of the people of London. They are not only very friendly and welcoming but also very diverse. Hear intriguing stories about the city from the horse's mouth as you enjoy other bits such as delicious dishes.