Trains from Budapest to Vienna
Trains from Budapest are a cheap and reliable way of traveling between the two locations. When it comes to convenience, trains offer a hassle-free way of traveling as you won't have to worry about traffic delays, outrageous parking fees, and commuting from the arrival station to the city center. Budapest lies 133 miles( 214 km) from Vienna, and the average train journey takes 2h 59min. Daily, about 19 trains operate services from Budapest to Vienna. Train operators on the Budapest-Vienna route are Regiojet and Vienna.
Budapest to Vienna Train Time: Daily Departure
About 19 trains operate services from Budapest to Vienna each day. This means that there are about 100 options per week for travelers to get the most convenient ride. The first train departs Budapest at around 5:40 a.m., while the last train departs at around 11:25 p.m. Departure hours vary depending on the day of the week and the train provider. Omio provides all daily schedules.
How long is the journey by train from Budapest to Vienna?
The average train journey from Budapest to Vienna takes 2h 59min. Travel durations are typically determined by the provider and the number of stops along the journey. The fastest train can take 2h 34min to get from Budapest to Vienna. The slowest train takes 7h 18min with two layovers at Gyor and Leita.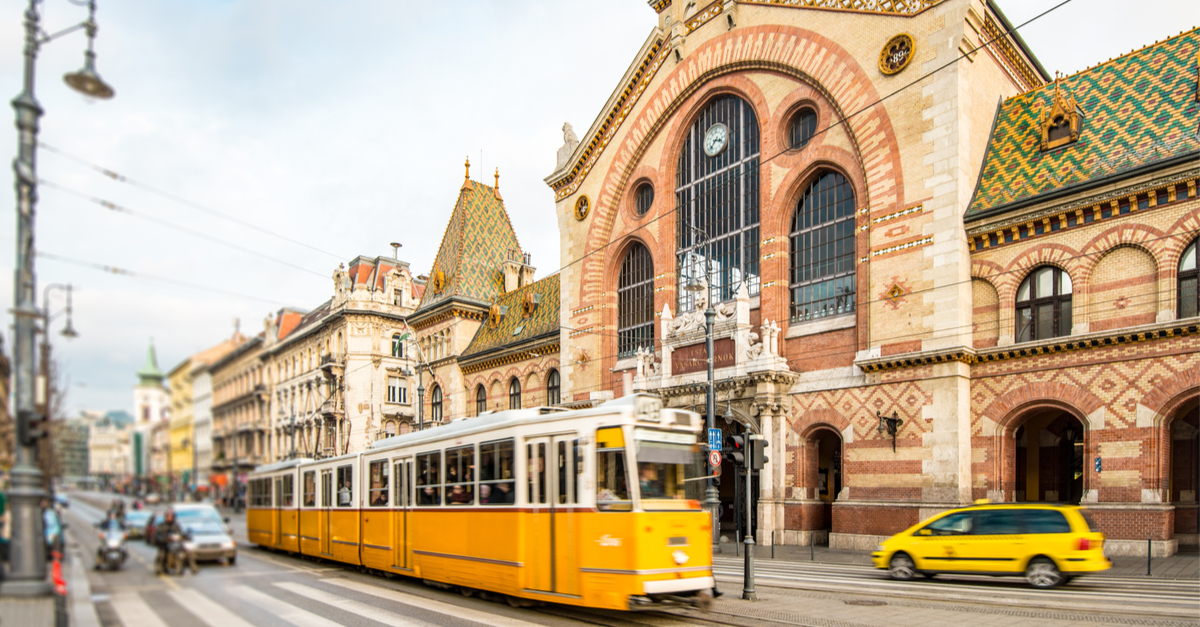 Central Market Hall in Budapest. Source: Shutterstock
What are the departure and arrival stations for trains from Budapest to Vienna?
Departure train station:Trains from Budapest to Vienna start their journeys at Budapest Keleti or Budapest-Deli Railway station. Budapest Deli Railway Station features 12 platforms, several ticket offices, a bar, and several food concessions. If you need help with your luggage, the station features luggage lockers and storage facilities. There are several ATMs, currency exchange services, and vending machines. Travelers can get to the station from the city center by foot. Alternatively, they can take a taxi or metro line 2, which stops at the station. The station is wheelchair enabled with accessible platforms, washrooms, and ticket offices. Budapest Keleti Station features 18 wheelchair-enabled platforms. The station provides several ATM cash points alongside currency exchange services. Travelers can find a coffee shop and several food concessions as well.
Arrival train station: The arrival train station for trains from Budapest to Vienna is Vienna Central Station. It offers several passenger facilities for easy use and convenience and features a train information display screen and waiting rooms. It provides over 100 shops and food concessions as well. First-class and business-class travelers can find a lounge with Wi-Fi, snacks, and beverages. There are a left luggage area and luggage storage facilities for travelers who need help with luggage. Vienna U Bahn line U1 provides services from the station to local areas. The station also features a taxi stand for travelers that need private transfers.
Which train companies travel from Budapest to Vienna
Trains from Budapest to Vienna are provided by two major railway companies. They include Regiojet and OEBB. OEBB typically provides more services than Regiojet. Regiojet is a private Czech provider for trains and buses. OEBB is an Austrian company that offers train rides in European countries.
Night trains in Budapest.
Travelers on night trains can choose between three comfort classes, including seater carriages, couchettes and sleeper cabins. Couchettes are ideal for groups and families as they can house from six to eight travelers. Seater carriages are for six people, while sleeper carriages are for one, two, or three individuals. Night trains feature welcome services, washrooms, bathrooms, and sleeping equipment. These night cabins are lockable from the inside for maximum privacy and rest. Travelers also get complimentary water bottles and a food menu with drinks and snacks. Regiojet trains have four-bed seaters and four-bed cabins with meals, vanity kits, and beddings. They also offer drinks, meals, and snacks onboard.
Regiojet Trains from Budapest to Vienna
Regiojet provides two daily trains from Budapest to Vienna. They all provide direct services on this route and operate from Budapest Kelenfold train station. Regiojet trains travel at an average speed of 124 mph (200 km/h).
OEBB trains from Budapest to Vienna
OEBB provides 17 daily rides from Budapest to Vienna. They operate direct services and connecting services between the two cities. Trains with stops have one or two layovers along the way at either Gyor or Leitha. Trains operate at an average speed of 56 mph (90 km/h).
Trains from Budapest to Vienna: Sustainability Travel
Trains are the most sustainable means of travel as they are the greenest and cleanest means of transport. They represent two percent of the travel sector emissions. They have low energy consumption and operate on a tenth of the fuel that small cars and aircraft consume. Railway travel is extremely durable and trains can go for up to 50 years without needing super costly repairs and materials made from non-renewable energy.
Train from Budapest to Vienna: Services on Board
Regiojet trains provide three classes of seating. First-class travelers get modern open space cars with a one-by-one seating arrangement. Seats are extra comfortable and recline to the passenger's preference. They also feature armrests and spacious tables. Regiojet trains offer free Wi-Fi onboard for travelers' entertainment. All travelers get a complimentary bottle of water. They also offer special train cars for families and parents traveling with toddlers. Webb trains have economy class, first-class, and business class. First-class travelers get adjustable seats that provide more legroom.
Each seat in first class has extra-wide tables and at-seat electric outlets with free unlimited Wi-Fi. They also get mobile onboard service, seat meal services, and optimized mobile communications. Business-class travelers get spacious leather seats, generous folding tables, at-seat electrical outlets, and reading lamps. They are also provided with a welcome drink and cabin service with drinks and meals. Small luggage can be stowed in the overhead rack and under traveler's seats. Large items of luggage can be stored near doors or in other designated spaces. Trains from Budapest to Vienna cater for reduced mobility travelers. They provide induction loops, accessible washrooms, step-free boarding ramps, and designated spots for wheelchairs. The Omio Magazine offers travelers tips on the best travel experience from Budapest to Vienna.
How to find cheaper train tickets from Budapest to Vienna
If you need cheaper train tickets from Budapest to Vienna, consider booking tickets in advance. Ticket providers often release tickets a few months before the scheduled date of the trip. The earlier you purchase a ticket, the cheaper it's likely to cost. Flexibility also helps when it comes to scoring cheaper tickets. If you are flexible with your travel dates, you are more likely to land a cheaper ticket deal than a fixed schedule. Also, opt for trains with slower journeys. Trains with stops along the way usually offer cheaper train tickets compared to trains with faster and direct journeys. If you aren't in a hurry to reach Vienna, consider choosing a train with layovers.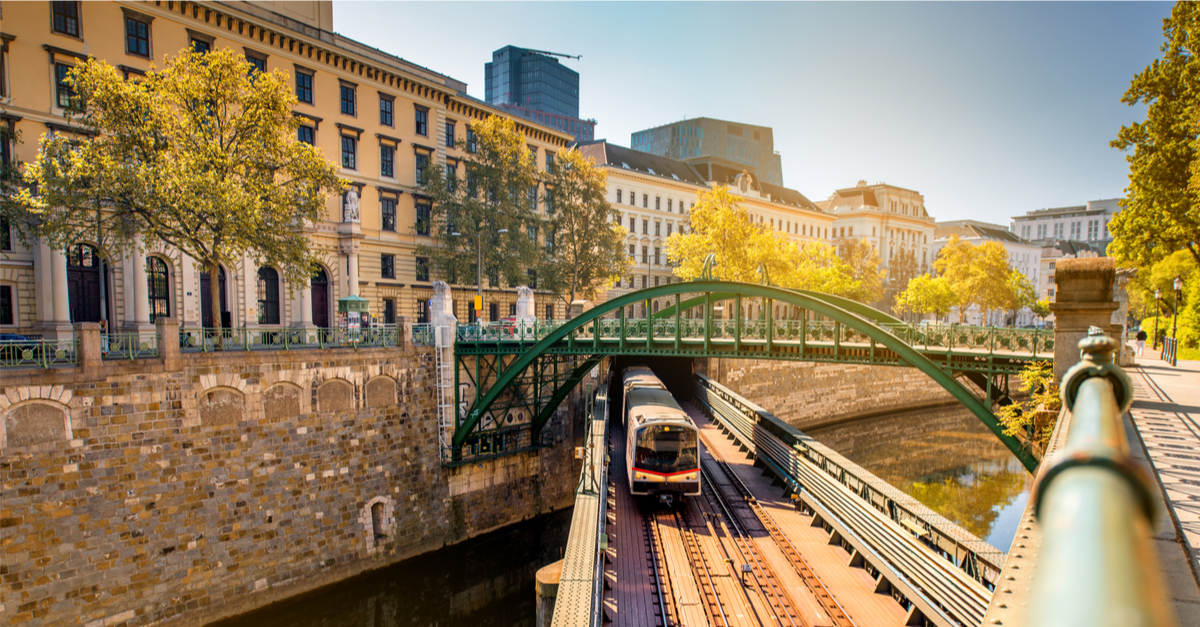 Train in a bridge of Vienna. Source: Shutterstock
To Vienna by train – travel tips
Vienna, Austria's capital, lies east of Danube Rover. For years, it has attracted visitors due to its popular attractions like Schonbrunn, Habsburg's summer residence. It boasts historic and contemporary structures that display artwork by Egon Schiele and Gustav Klimt, among other major artists. Belvedere Palace is among Vienna's most popular attractions and is famous for its artistic design. It offers a stunning marble hall with numerous paintings, period sculptures, and ceiling frescoes. A popular attraction for history lovers is Place de Vosges, the oldest square in Vienna, which was constructed from 1605 to 1612. It features Renaissance architecture with an asymmetrical design. Nature lovers can visit Vienna Zoo, founded in 1752. This zoo is the oldest zoo in the world. It houses more than 750 species, including giant pandas. Visitors can opt for guided tours and special theme tours. Other attractions in Vienna include:
The Prater
Vienna City Hall
St. Stephen Cathedral
The Spanish Riding School
The Hofburg