Flights in Germany
The primary national airline of Germany is Lufthansa, operating domestic and international flights including routes to and from North America. The main operations base is located at Frankfurt Airport, with a secondary hub at Munich Airport. If you are flying from North America, specifically the United States, you might find yourself flying with Lufthansa. Flights from major American cities on the east coast, such as New York City, are generally direct flights that last about 8h.
If you are departing from the Midwest or further south, you will likely have one connection in a hub such as New York City or Dallas-Fort Worth before continuing into Germany. Flights from major international airports on the west coast such as Portland International Airport are direct flights, lasting about 11h. You may also find yourself making an international connection, such as a layover in Iceland or London that connects to Germany.
Booking your flight ticket with Omio for Germany
Omio is a travel-booking website that compares the prices of various providers for air, rail, and bus travel throughout the world. When purchasing plane tickets to Germany, you can take advantage of the filters and search tools built into the Omio website to find the best deal within your budget. If you know that you are flexible with your travel dates, Omio has a filter that can explore options across multiple days simultaneously. If you have a preferred airline, you can limit your search to only include that specific company. When you purchase a ticket, you can save all of your tickets onto your Omio account for safe and secure access whenever you need it.
Flight Companies in Germany
The largest flight company in Germany is Lufthansa, which offers travel to 220 destinations around the world. This includes a large number of international flights that depart from major airports in the United States. American companies that operate flights into Germany with Omio are American Airlines, Delta Airlines, and United Airlines. Other international airlines that operate flights into Germany include Air Canada, IcelandAir, FinnAir, Lot Polish Airlines, British Airways, AirPortugal, and AirEuropa.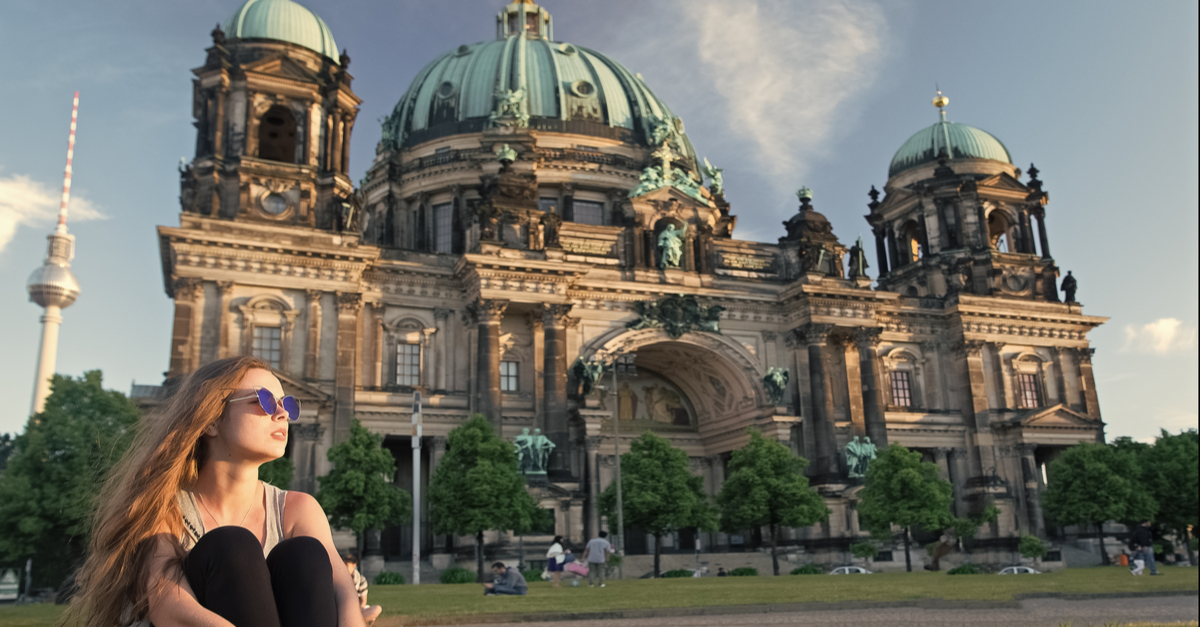 Germany Berlin. Source: Shutterstock
Popular international routes by flight
The most popular international routes into Germany are typically from major European cities in the surrounding countries. One of the most popular international flights is from London to Berlin, which can be completed in about 1h 45min. Another popular international flight is from Paris to Frankfurt, a flight that generally takes about 1h 15min to complete. Flights from New York City to Munich take just over 8h with a direct flight.
When arriving by flight in Germany
Upon your arrival in Germany, you will immediately notice the historic architecture and rich culture that makes this country one of the most prominent and influential countries in all of Europe. The primary language of Germany is obviously German, with over 95% of the country speaking German as their natural language. The currency used in Germany is the Euro, and has been since they switched from the Deutsche Mark in 2002.
Germany is part of the Schengen Area, a group of countries that have agreed to allow international travel without any restriction within their mutual borders. This allows for simple travel to neighboring countries such as France and Poland. While the dining culture of Germany is fairly similar to American style, there are a few differences to be aware of when you eat out. In Germany, you are typically expected to find your own table when you arrive at a restaurant.
The waiter will not show you to your seat, unless you are at an extremely high-end restaurant. You will also find that flat water is not a common request at German restaurants. If you ask for water, it will typically come as sparkling mineral water - though most German diners will usually pair their dinner with something a bit stronger. Many restaurants in Germany do not accept credit cards, even the high-end restaurants, so be sure to check what is accepted before dining and carry cash with you.
Flight Providers in Germany
Flights in Germany are provided by Lufthansa, American Airlines, Delta Airlines, United Airlines, Air Canada, IcelandAir, FinnAir, Lot Polish Airlines, British Airways, AirPortugal, and AirEuropa. The primary operator of flights in Germany is Lufthansa, which serves popular routes such as Berlin to Munich, Hamburg to Berlin, and Frankfurt to Hamburg. Lufthansa prides itself on providing high-quality travel experiences with punctual arrival, friendly service, and reliable transport. As an official partner of Lufthansa, Omio makes booking your travel through this company and all other airlines operating throughout Germany an easy and convenient experience.
Main airports in Germany
The largest airport in Germany is Frankfurt Airport, also known as Frankfurt am Main. It serves as the main hub for Lufthansa, the largest airline in Germany. The airport is located just under 8 miles (12 km) to the southwest of Frankfurt city centre, near the intersection of two major Autobahn motorways at Frankfurter Kreuz. It is connected to an extensive public transport system, with one train station at the airport dedicated to local and regional trains while another is dedicated to long-distance and international trains. You can also connect with taxi or bus transport from outside the arrivals gate.
The second-busiest airport in Germany is Munich Airport, about 18 miles (29 km) to the northeast of Munich city centre. The airport is connected to the city via the Munich suburban railway, better known as the S-Bahn, on lines S1 and S8. The third major airport in Germany is Düsseldorf Airport, about 4 miles (7 km) north of the Düsseldorf city centre. This airport also has a station connecting to the S-Bahn railway, along with a station that serves local and long-distance train travel. Another major airport in Germany is Hamburg Airport, 5 miles (8 km) north of the Hamburg city centre, with a station connecting to the S-Bahn and bus transit.
Popular journeys in Germany
As you explore plane tickets to Germany, keep in mind that travel within its borders is fast and convenient. One of the most popular trips within Germany is between two major cities - Berlin and Frankfurt. The journey takes just over 1h and generally costs less than $100. Another popular journey is from Hamburg to Munich, which costs about $135 and brings you from north to south in about 1h 15min.
Keep in mind that Germany is part of the Schengen Area, so you will be able to travel into neighboring countries that are part of the Schengen Agreement, 26 countries in total, without any border restrictions. Other popular journeys in Germany are from Frankfurt to Berlin - costing about $90 for the 1h 10min journey, Frankfurt to Hamburg - costing about $90 for the 1h 5min journey, and Cologne to Berlin - costing about $50 for the 1h 10min journey.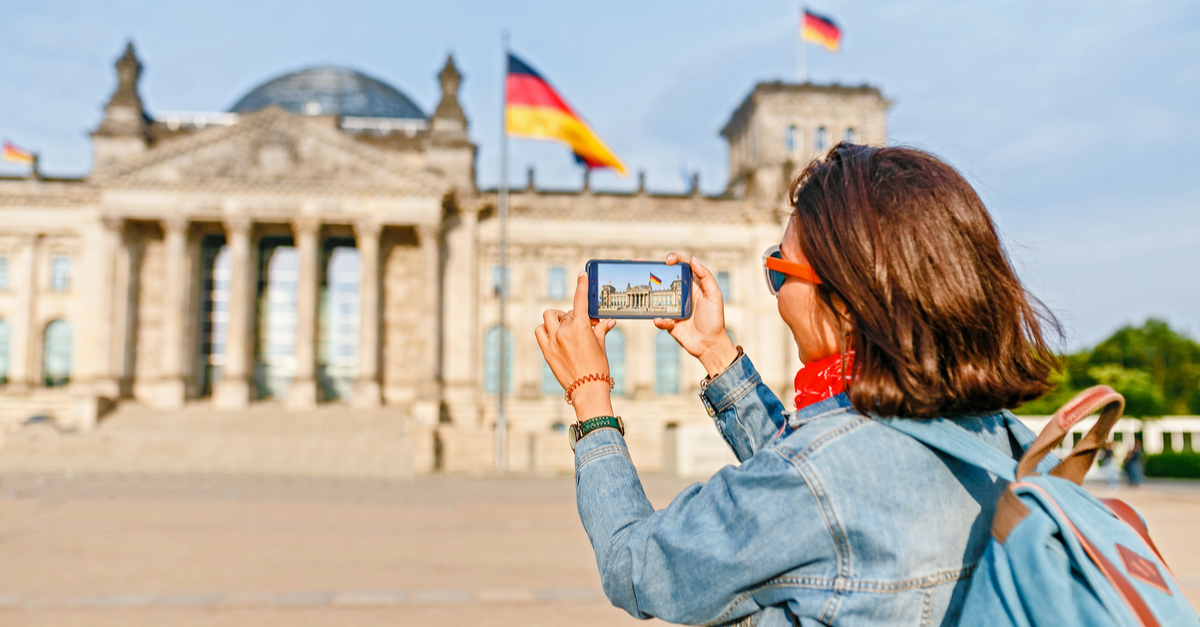 Germany Flag. Source: Shutterstock
Popular flight routes from Germany
As part of the Schengen Area, international travel from journey is convenient and easy. Some of the most popular international routes from Germany are from Berlin to Paris, France - which costs about $50 and takes around 1h 50min, Berlin to Amsterdam, Netherlands - which costs about $50 for the 1h 30min journey, and Berlin to Vienna, Austria - which costs around $110 for the 5h 10min journey.
You can also find popular international routes departing from other cities, such as Munich to Zurich, Switzerland - costing about $130 for the 1h journey, or Hamburg to Copenhagen, Denmark - costing around $95 for the 50min journey.
Good to Know
Germany is in the Central European Time Zone, which you should pay attention to while flying if you are coming from another time zone. Even if you are coming from an international location that does not use Euros as currency, be sure to have Euros in cash form when you arrive. Cash is heavily used in Germany, and you might not be able to purchase certain necessities like food and transportation upon arrival if you are solely relying on a credit card.
To Germany by flight—travel tips
From natural beauty to historic architecture, Germany is filled with inspiration for visitors and locals alike. Famous landmarks such as the Reichstag Building, Cologne Cathedral, and Marienplatz are the perfect destination for history buffs, while the Mercedes-Benz Museum is a hotspot for automobile enthusiasts from around the world.
You do not need to be visiting during Oktoberfest to enjoy the best food and drink that Germany has to offer, as this country is home to popular dishes such as bratwurst, pretzels, and Black Forest cherry cake. You may have tasted these iconic foods before, but nothing compares to eating them in their country of origin.
When you have eaten your fill and are ready to explore, you can choose from the many natural wonders that Germany has to offer. Stroll along the banks of the Rhine, marvel at Urach Waterfall located in the Swabian Alb, be inspired by the island of Rügen and its famous Chalk cliffs, and relax in the picturesque Königssee in Bavaria.