Trains from Málaga to Madrid
The trains operating from Málaga to Madrid take an estimated 2h 40min to cover the 258 miles (416 km) distance. The slowest high-speed train travels for an average of 3h. At least 16 direct trains depart from MálagaMaríaZambrano railway station heading to Madrid on weekdays. The AVE is one of the high-speed trains operating the route at an average of 192 mph (310km/h). The fastest AVE can travel for 1h 48min to Madrid from Málaga.
Málaga to Madrid Train Time: Daily Departures
The earliest AVE train departs at around 6:20 a.m. from Málaga for Madrid. However, different days have different early departures. You can always check with Omio for more information. The last train departs at around 7:00 p.m. The trains depart at a frequency of about 45min. Also, the frequency differs on weekends and holidays. If there are events going on in Madrid, then there may be a higher frequency of departures.
How long is the journey by train from Málaga to Madrid?
Almost all trains from Málaga to Madrid are direct route trains with one or zero transfers in a day. The sole train provider is the AVE Company, owned by Renfe. The trains are high-speed trains that take approximately 2h 30 min to travel from Málaga to Madrid. The distance covered by the train for the journey is 258 miles (416 km).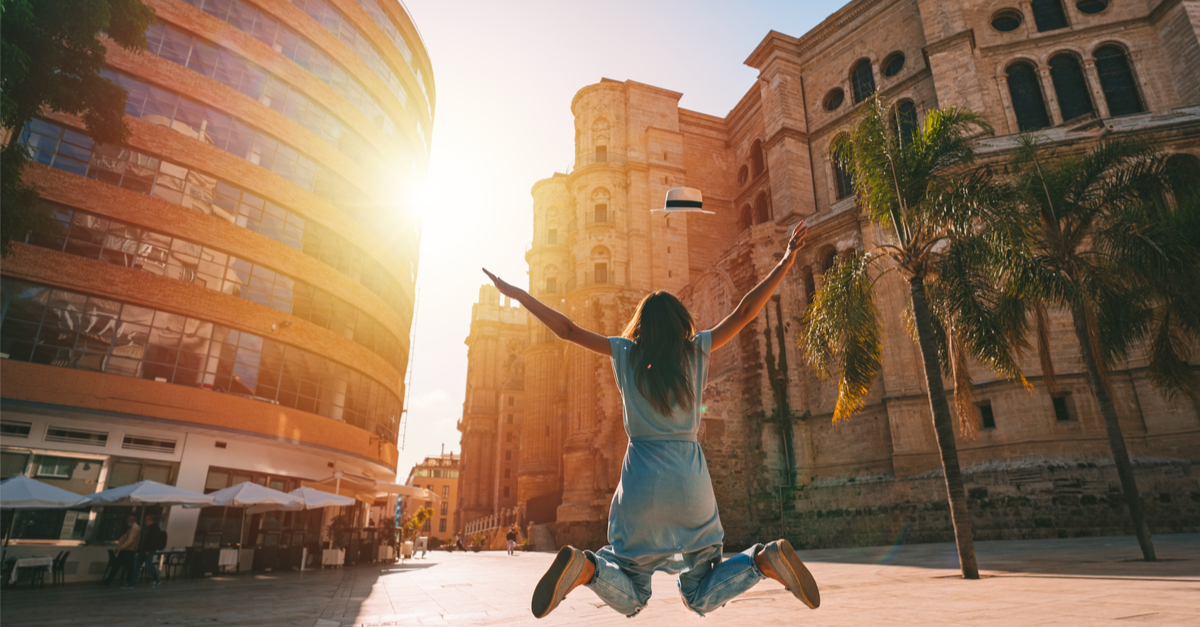 Woman jumping in the streets of Malaga. Source: Shutterstock
What is/are the departure and arrival stations for trains from Málaga to Madrid?
Departure train station:You will depart from MálagaMaríaZambrano railway station for your trip to Madrid. The railway station is 17min away from the city center if you decide to walk. You can also take a taxi or a bus to the market center, which takes 3-5min. The rail station operates a shopping mall where you can buy things you may need for your journey. The station also has a lounge where you can wait for your train to arrive. Other facilities include luggage storage, an ATM and toilets.
Arrival train station:You will arrive in Madrid via the Madrid Atocha train station. The station has several restaurants and bars to refresh yourself after your trip. There are beautiful lounges for both first-class and second-class travelers. It will take you 20min to walk from the Madrid train station to the city center. if you have luggage with you, you can opt for a taxi or board the metro train to the city center, which takes about 8min.
Which train companies travel from Málaga to Madrid?
The leading train company operating in Madrid from Málaga is AVE Company, run by Renfe. The company operates high-speed trains within the route. The train carries a maximum of 347 passengers, while still providing adequate leg allowance. Most passengers prefer the train to other modes of transportation due to its comfort and high speed. Compared to flights, trains are cheaper as well. The AVE trains are fully renovated to allow maximum comfort. Additionally, the trains are all high-speed and direct with no stops along the way. From time to time, they offer discounts for their travelers. You can always get discount alerts when you install the Omio booking app on your phone.
Night trains Málaga to Madrid
An evening train departs from Málaga at around 7:00 pm and arrives at around 9:40 pm. However, if you plan to travel later in the night, you may opt for a bus. With the high-speed train, you can wake up early and catch the earliest train, and you will still get to the destination earlier.
AVE trains from Málaga to Madrid
The AVE trains provide train travel services, connecting the whole of Spain via high-speed trains. They are the second fastest when compared with flights, buses, and personal cars. Their speed ranges from 173-192 mph (280-310 km/h). They provide at least 16 direct trains from Madrid to Málaga in a day. The trains ferry their customers to their destination without changing them to other trains. You can book the AVE trains as early as two months ahead with Omio. You can also cancel your ticket and get refunded if you present a valid reason for your cancellation. However, booking charges are non-refundable.
Trains from Málaga to Madrid: Sustainability travel
Trains are the most environmentally sustainable mode of transport worldwide. High-speed improved trains emit minimal carbon dioxide and methane into the atmosphere. Trains produce less than 89% of the carbon dioxide emitted in the transport industry. With more countries adopting high-speed transportation, air pollution will go further down by more than 10%. Trains are sustainable to passengers as they are pocket-friendly compared to flights. They are also faster compared to buses.
Train Málaga to Madrid: Services on Board
AVE has first and second-class cars. First-class cabins have extra comfort as seats can recline at a decent angle for relaxing or napping. There are footrests and leg rests for each passenger as well. Each seat has a power outlet and a table for your laptop. Also, the car has more space and fewer passengers, making it quieter. The second classes are the best in terms of economy. The seats are comfortable, have a power outlet, come with a work table, and include Wi-Fi. Renfe policy allows passengers to bring up to three items of luggage. You can carry your bike as part of the luggage; however, you will need to specify that you have a bicycle with you. AVE has special prices and services for the disabled traveling on the train. People in a wheelchair also receive ticket discounts.
How to find cheap train tickets from Málaga to Madrid?
Booking in advance is your best chance to secure a cheaper ticket. Earlier booking can offer you up to a 20% discount. Also, if you are flexible with your travel date, you can choose any date offering discounts. Look for connecting trains, which may be slower, but are cheaper than direct trains. Omio booking company compares the prices of different train providers at different times on any given date and allows you to choose the cheapest available train. You can also download the Omio app and get notifications whenever your trusted train provider offers discounts.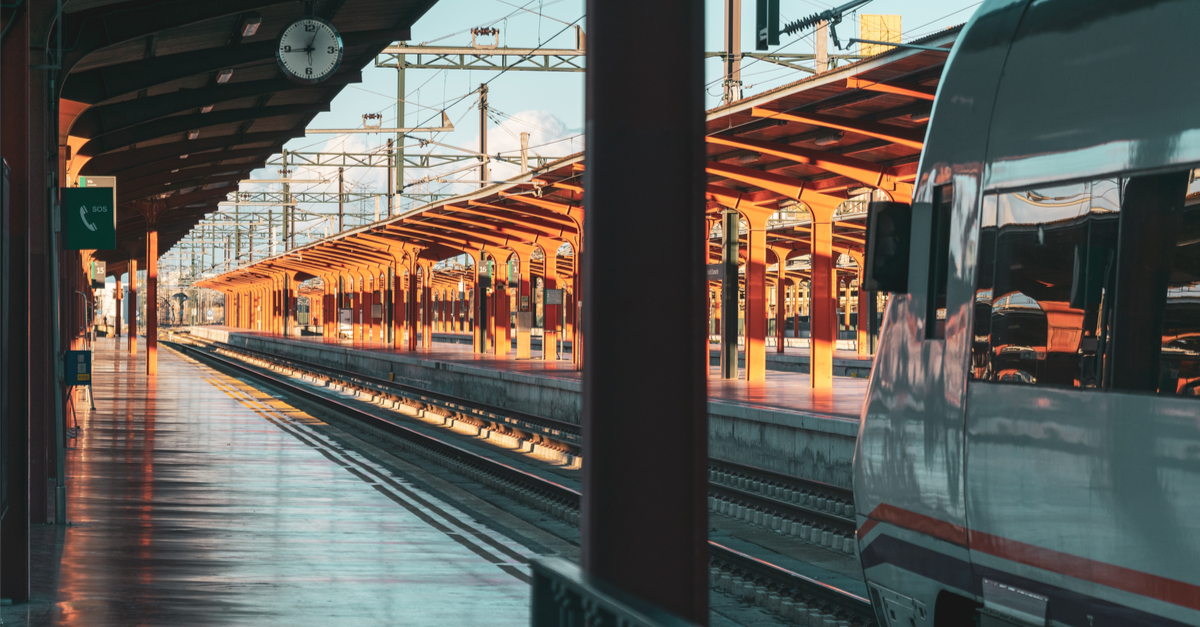 Train arriving to the train station in Madrid. Source: Shutterstock
To Madrid by train—travel tips
If it's your first time traveling to Madrid, you are about to visit one of the best cities in Spain. The city is one of the most affordable cities in Spain as well. Their delicious tapas are to die for. If you have some extra time to spare, you can visit the Palacio Real and gardens and enjoy the city's beauty. If you love history, you can see Plaza Mayor, the temple of Debod, and the Almudena Cathedral. Madrid has great nightlife as well. If you love walking, then Madrid is your city. There are adequate walking spaces for you to admire the city. The weather in Madrid is generally favorable. It has mild winters and hot summers. Finally, you can choose to relax at Retiro Park after your meeting or tour. You can also view theOmio magazine for more interesting places you can visit in Madrid.
Visit the royal palace of madrid
Take a city tour
Visit the Bernabeu Stadium
See the live flamenco live show
Take a day tour to toledo