The Málaga to Madrid Train
Want to find the best tickets for the Málaga to Madrid train? Well, look no further! Omio has pulled together the most up to date and important information for you to plan your journey from Málaga, the sunny city of Andalusia to Madrid, the capital of Flamenco. Our easy guide covers everything from the train stations in Málaga and Madrid, high-speed trains, the fastest routes, train providers, how to book tickets, train schedules, as well as travel tips for your time in Spain.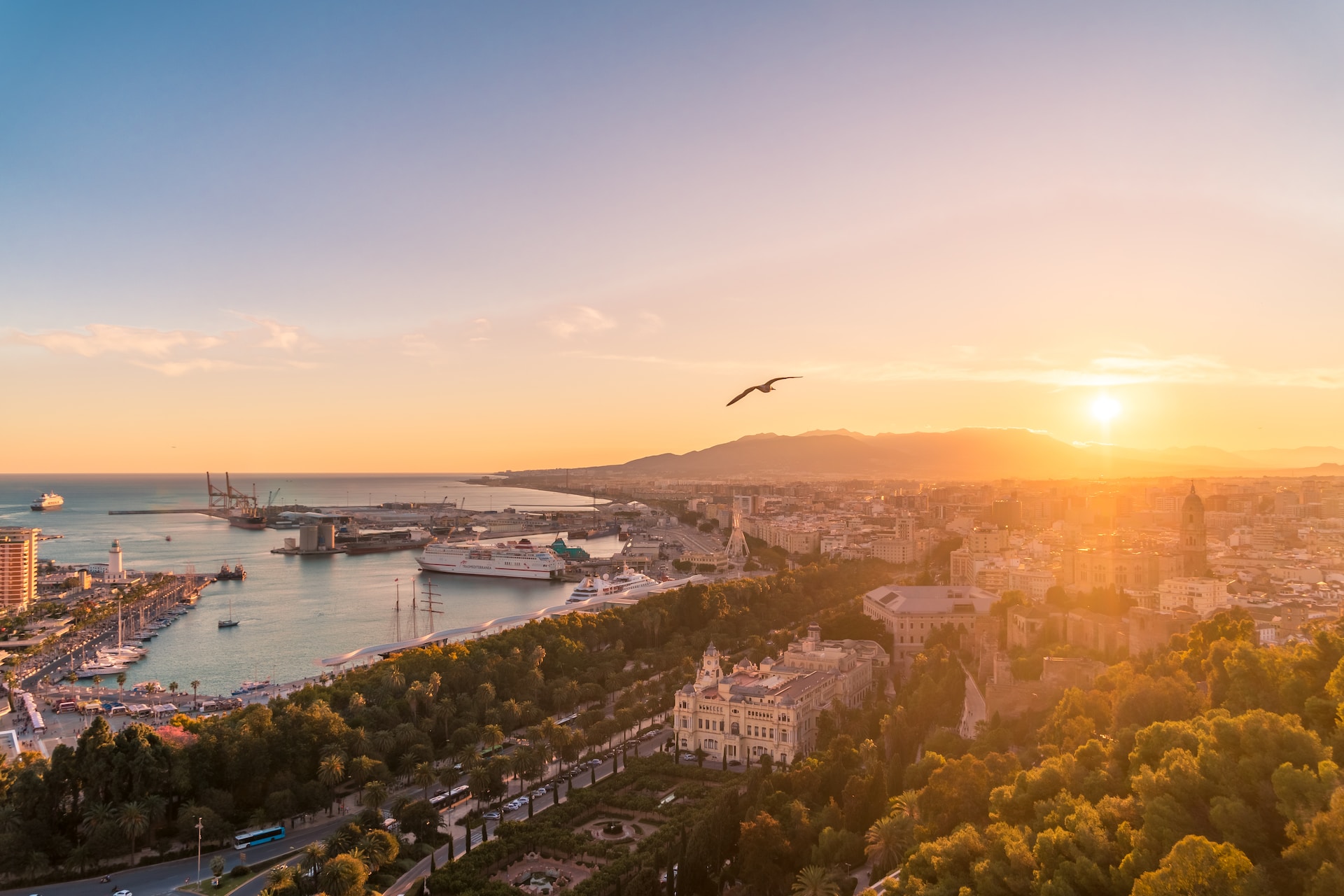 A sunset view over Malaga. Source: Shutterstock
How to find cheap train tickets from Málaga to Madrid?
Booking in advance is your best chance to secure a cheaper ticket as an earlier booking can be up to 20% cheaper. If you can be flexible, you can also look for dates and times that are outside of peak travel hours to get a better deal. Look for connecting trains, which may be slower, but are cheaper than direct trains. Omio compares the prices of different train providers at different times on any given date and allows you to choose the cheapest available option. You can also download the Omio app and get notifications for offers and discounts from different train providers.
Paperless train tickets from Málaga to Madrid
The Omio booking pages have been designed to give you a quick and easy snapshot of the best tickets available. Once you've purchased your ticket, you'll have everything sent to your phone with no need to print. What's more, you can also enjoy live journey updates, meaning you'll be notified of any platform changes or delays, and we'll send you a reminder when it's time to set off. If you need any help along the way, there's a dedicated helpline to make your journey as enjoyable and hassle-free as possible. Explore your train options on Omio from the comfort of your home or on the go.
Train providers from Málaga to Madrid
The leading train company operating the route is run by Renfe, Spain's state owned rail company. The fastest journey is operated by their fleet of AVE trains, which is the high-speed train service from Málaga to Madrid. Most passengers who travel this route prefer the train to other modes of transportation due to its ease, comfort and high speed – taking travels direct from city center to city center. The AVE trains are fully renovated to allow maximum comfort. Additionally, these high-speed trains are all direct with no need to get off and change along the way. From time to time, Renfe AVE offers discounts for their travelers. To keep up to speed with the latest deals, download the Omio app to get alerts direct to your phone.
Travel first class on trains from Málaga to Madrid
When traveling with Renfe you'll have the option to choose between three different ticket types. Each ticket type is priced according to the flexibility of the ticket, the level of comfort and service you'll receive onboard.
Básico (Basic) ticket: these are the cheapest tickets on the standard coaches. Passengers will receive all benefits of traveling on standard including plenty of legroom, WIFI, luggage storage and power sockets. Básico tickets cannot be exchanged or canceled for a refund. Add-ons can be bought however, and these include seat selection for €5 extra, or bringing a pet for an extra €10.
Elige (the Pick and mix) ticket: these tickets can be tailored to your needs. Elige ticket holders have more flexibility with exchanging or canceling their tickets or even changing the ticket holder. The Elige ticket also gives the option to travel on Elige ESTÁNDAR (with standard seats) or Elige CONFORT (with XL comfort seats). Add-ons include seat selection, traveling with pets, or a box of food delivered to your seat for an extra €7.50
Prémium (Premium) ticket: these tickets offer full first class comfort and flexibility. The perks of traveling with this ticket includes XL comfort seats, unlimited free changes to your ticket, a full refund if you cancel your ticket 7 days in advance, and if you miss your train simply hop on the next one for free. The Prémium includes all add-ons including seat selection, taking pets, food service to your seat.
How long is the journey by train from Málaga to Madrid?
Almost all trains from Málaga to Madrid are direct route trains with one or no transfers in a day. The sole train provider is the AVE Company, owned by Renfe. The trains are high-speed trains and the fastest takes just 1h 48 min, while the average journey time is 2h 30 min. The slowest high-speed train travels for an average of 3 h and will usually include more stops. The distance covered is 258 miles (416 km).
Daily departures from Málaga to Madrid
The earliest AVE train departs at around 6:20 a.m. from Málaga for Madrid. The last train departs at around 7:00 p.m. The trains depart at a frequency of about 45 min on weekdays and change over the weekends and holidays. If there are events going on in Madrid, then there may be a higher frequency of departures. As schedules can change depending on the weekday or time of year, it's best to check in on the Omio site which offers live timetables and up-to-date schedules for train departures.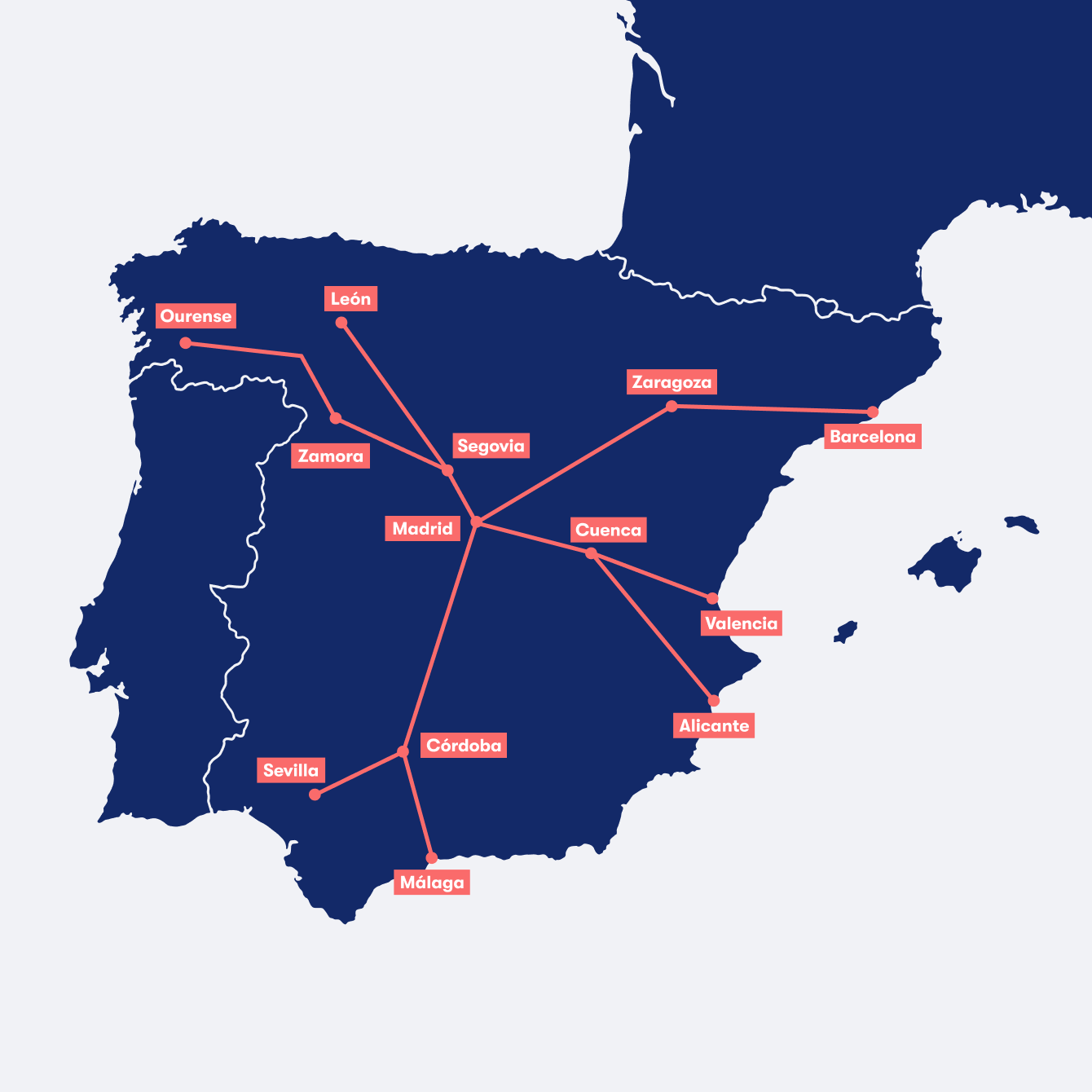 Popular Train Journeys in Spain
We've compiled a list of the most popular train routes through the country. These include high-speed, low cost trains from Madrid to Alicante and Madrid to Barcelona, as well as the speedy inter-city trains between Barcelona and Madrid. Omio helps you compare prices to different cities, see journey times and click through to buy train tickets for your upcoming holiday in Spain.
| | |
| --- | --- |
| Trains from Barcelona to Valencia | |
| Trains from Madrid to Toledo | |
| Trains from Madrid to Valencia | |
| Trains from Valencia to Barcelona | |
| Trains from Seville to Cordoba | |
| Trains from Alicante to Madrid | |
| Trains from Zaragoza to Barcelona | |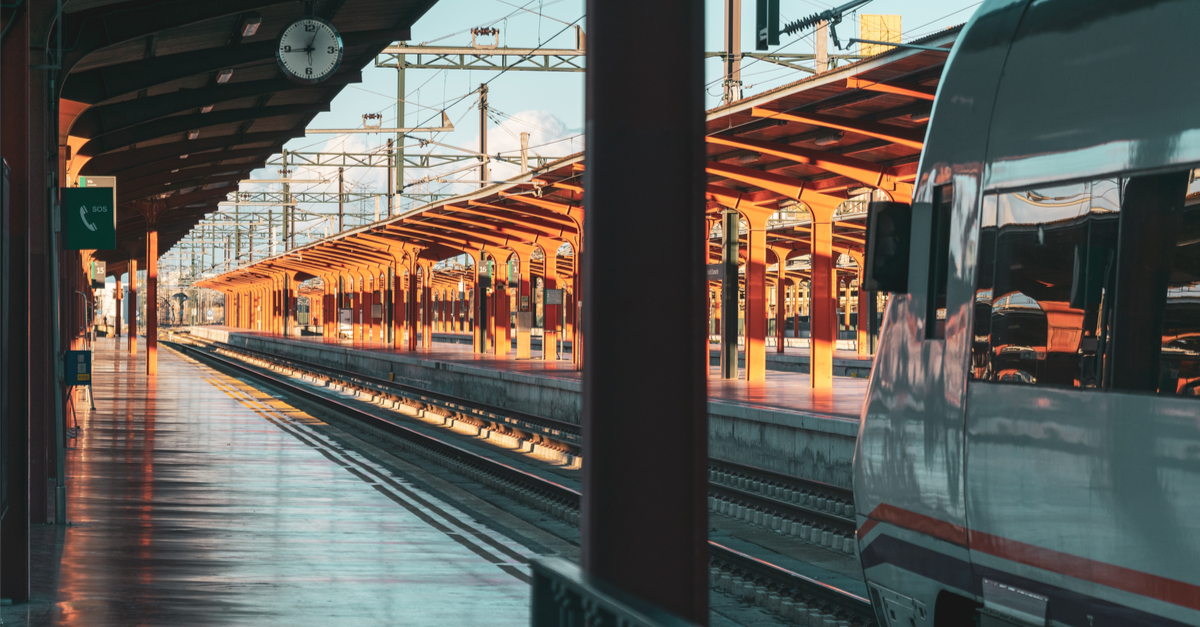 Train arriving at the train station in Madrid. Source: Shutterstock
What are the departure and arrival stations for trains from Málaga to Madrid?
Departure train station:the station in Málaga is Málaga María Zambrano railway station. The railway station is a 17 min walk from the city center. There are also plenty of options to take a taxi or a bus to the market center, which is just 3 to 5 min away. The rail station operates a shopping mall, a lounge, luggage storage, ATMs and toilets.
Arrival train station:the station is called Madrid Puerta de Atocha train station. This station is popular for its beautiful historic setting blended with a tropical garden next to a modern terminus. The station features a lost luggage area and luggage lockers with long-term and short-term storage options. It also offers several food and shopping concessions, ATMs, currency exchange services, and a waiting area. There are several washrooms, baby changing facilities, and water fountains. Travelers can get to the station by foot from the city center. Alternatively, they can get taxis or private transfers. Travelers can also hop on the metro with line 2 providing services to and from the station.
What's the latest train from Málaga to Madrid
An evening train departs from Málaga at around 7:00 pm and arrives in Madrid at 9:40 p.m. If you plan to travel later in the night, there are options to travel by bus. However if you would prefer not to take a longer journey, it's worth considering the early morning high-speed train can still arrive at the destination earlier than a night bus.
Sustainable travel with the Málaga to Madrid trains
Trains are by far the most sustainable and greenest means of travel. Their emissions only represent about two percent of the transport sector emissions. They also have a low energy consumption, which equals a tenth of the fuel used by small cars and aircraft. Trains have the ability to occupy minimal space in the environment and at the same time offer the most spacious areas to passengers onboard. Trains have a long lifetime and can go for up to 50 years without the need to re-invest in spare parts and non-renewable energy.
Services on board trains from Málaga to Madrid
AVE has first and second-class cars. First-class cabins have extra comfort seats which recline for relaxing or napping. There are footrests and leg rests for each passenger as well. Each seat has a power outlet and a table and offers more space and fewer passengers, making it quieter overall. The second classes are great in terms of economy. The seats are comfortable, have a power outlet, come with a work table, and include Wi-Fi.
Trains are also equipped with a buffet car, which offers seasonal menus, a children's menu, and a variety of drinks. The trains also provide free Wi-Fi onboard for travelers' entertainment. Renfe trains allow a maximum of three luggage items per traveler. The measurement limit is 33x21x13 inches (85x55x35 cm), and the weight limit is 50 lbs (25 kg). Pets are allowed on board with a ticket and as long as they are on a leash. Renfe trains are wheelchair accessible with designated areas for wheelchairs, step-free boarding equipment, and adapted services.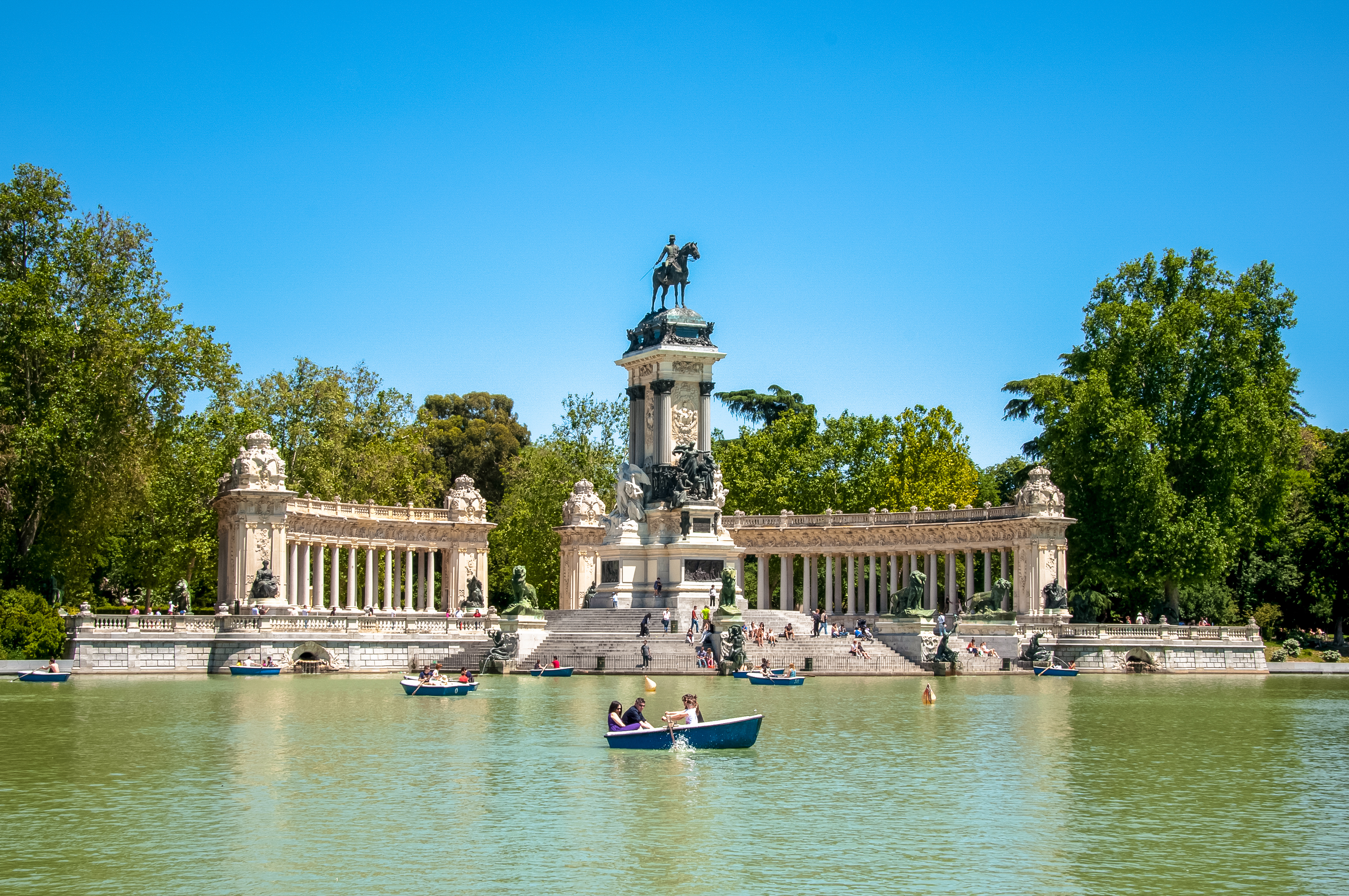 Boaters in the Park del Retiro in Madrid. Source: Shutterstock
Travel tips: exploring Madrid
If it's your first time traveling to Madrid, rest assured you are about to visit one of the most dynamic and exciting cities in Spain. It just so happens to be one of the most affordable too. Plus there's a bit of something for everyone. If you love history, visit the Plaza Mayor, the temple of Debod, and the Almudena Cathedral, or simply walk through the Palacio Real and its gardens to enjoy the city's beauty. If you love food, drink and music Madrid has a vibrant nightlife with plenty of restaurants serving regional and national dishes (plus the tapas in Madrid is to die for). Finally, you can choose to relax at Retiro Park at the end of a busy day sight-seeing. The weather in Madrid is generally favorable, it has mild winters and hot summers.
Visit the royal palace of madrid
Take a city tour
Visit the Bernabeu Stadium
See the live flamenco live show
Take a day tour to toledo
You can discover more about things to do in Madrid with the Omio magazine.