Booking ferry tickets by Positano Jet with Omio
Omio and Positano Jet have partnered to offer coverage for several international ferry routes. Omio makes it simple to purchase ferry tickets, enabling you to take pleasure in a hassle-free crossing of the sea. Positano Jet Ferries offers many special benefits, like excellent travel flexibility and onboard entertainment. They are especially excellent for large groups or families vacationing together. You can use Omio to compare ferries with trains, buses, and airlines to determine which mode of transportation is most practical for your next journey.
Simple and easy ferry booking and ticketing
Compare ferries with buses, trains and flights
Different ferry routes
Official partnerships with top ferry providers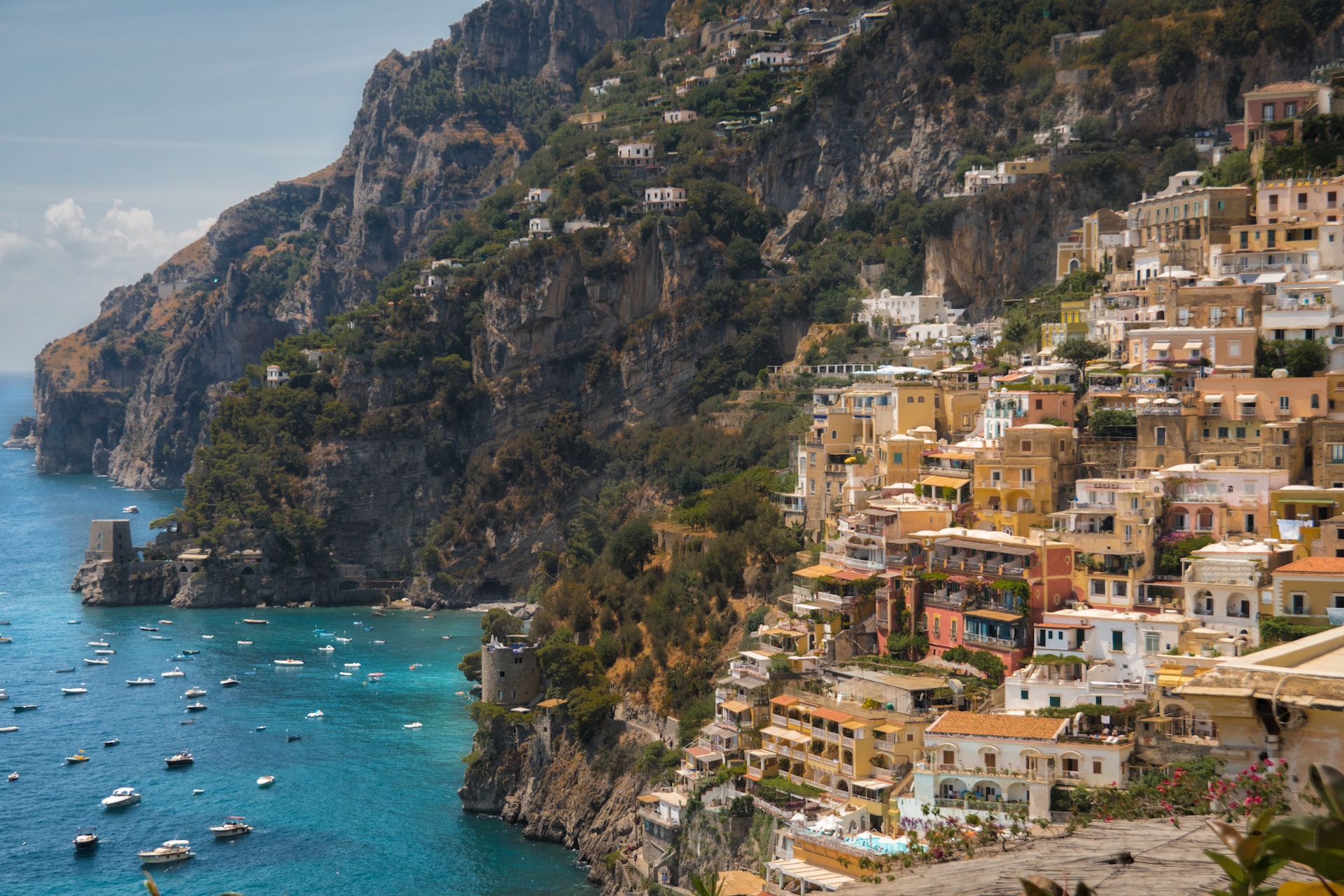 View of the Positano coast. Source: Unsplash
About Positano Jet
Positano Jet is an Italian fast ferry offering crossings between the Amalfi coast, Capri, Sorrento, and Positano coast. The ferry provider ensures quick, secure, and comfortable transfers for customers. The Positano Jet is part of the Lucibello fleet, an experienced charter and boat rental firm, which has been in service for over 70 years. Positano Jet fleets consist of 2 hydrofoils.
Positano Jet main destinations
Ferries by Positano Jet offer trips to multiple islands and coasts in Italy servicing islands and ports like Amalfi Coast, Positano coast, Sorrento Island, Capri Port, and Salerno Port. Sorrento, located in a quaint village on the Sorrentine Peninsula, is famous for its citrus fruits, sea cliffs, and stunning views of Mount Vesuvius, making it ideal for excursion lovers. Overlooking the Gulf of Solerno and the Tyrrhenian Sea is Amalfi Coast, popular for its cliffs, beaches, and charming seaside towns. It is renowned for its breathtaking coastline and vibrant communities with steep, winding alleyways. Capri Port and Amalfi Coast are the regular connections for Positano Jet hydrofoils.
Most popular Positano Jet connections
Most Positano Jet hydrofoils offer connections between Positano to multiple destinations like Capri, Sorrento and Amalfi. Positano Jet ships serve most of these routes throughout the year and its itinerary is usually busiest during the peak season with multiple sailings daily. These trips are usually frequent at the end of April and run throughout September. The Amalfi-Positano route is usually the busiest during these high seasons offering 5 crossings daily.
Popular Positano Jet Ferry Routes
Ferries by Positano Jet to Salerno island
Salerno is a city in Italy located in the southeast of Naples, with sparkling beaches and beautiful medieval structures. It is popularly served by Positano Jet. Popular connections along this route include:
Ferries by Positano Jet to Amalfi Coast
The Amalfi Coast is a stretch of land in the Campania area of Italy that is renowned for its gorgeous beaches, unspoiled landscape, and mouthwatering cuisines. Many ferries, including the Positano Jet hydrofoils, operate in the area. Popular connections to this region include:
Ferries by Positano Jet to Capri port
Capri Island, which lies in Southern Italy, is well-known for its stunning scenery, top-notch dining, and excellent cuisine. Positano's Capri jet mostly serves the island. The most popular connections along this route include:
Ferries by Positano jet to Positano
Positano is one of the ports located on the Southeastern side of the Amalfi coast popular for its scenic seaside and magnificent cliffside villas. Positano is mainly served by Positano jet hydrofoils. Popular connections on this route include:
Ferry routes by Positano jet and timetables
Positano Jet hydrofoils serve several routes in Italy offering crossings between different ports in the Amalfi coast, Capri islands, Salerno, and the Gulf of Naples. In total, the ships serve approximately 12 routes to different destinations.
Positano jet ticket types
Discounts are available for senior citizens over 60 years, children up to the age of 11, and infants and toddlers under the age of 2 years when traveling with Positano Jet. When reserving the return flight at the same time, there is also a little discount. You will be required to pay an extra fee for every luggage or pet that travels onboard these hydrofoils with you. Ticket prices include port tax. The route is mainly served by high-speed hydrofoils which are quite expensive, however, you can get access to slower ones if you want to save some money during your trip.
Positano Jet services on board
Postino Jet provides a variety of first-rate onboard amenities to make your travels and crossings along its routes more convenient and comfortable. On board the Postino Jet hydrofoils, you'll find a variety of amenities and activities to keep you entertained while you're traveling.
Types of accommodation on board Postino Jet ships
Positano Jet hydrofoils have cabins and lounges suitable for every age group traveling onboard their vessels. Passengers can easily choose the compartment that they want to board when cruising. Some of these vessels have open-air decks allowing you to have the best ocean views. Ensure that you identify your ticket type to get the best Positano Jet ferry deals.
Transporting vehicles with Positano jet ferry
Positano jet ferries do not allow vehicles onboard their vessels. However, you can take your bicycle onboard Positano Jet hydrofoils at an extra fee.
Services and events on board Positano Jet Ferries
Positano Jet hydrofoils are equipped with a bar, air-conditioned, spacious lounges, contemporary washrooms, and a covered upper deck, making them perfect vessels for cruising along this region.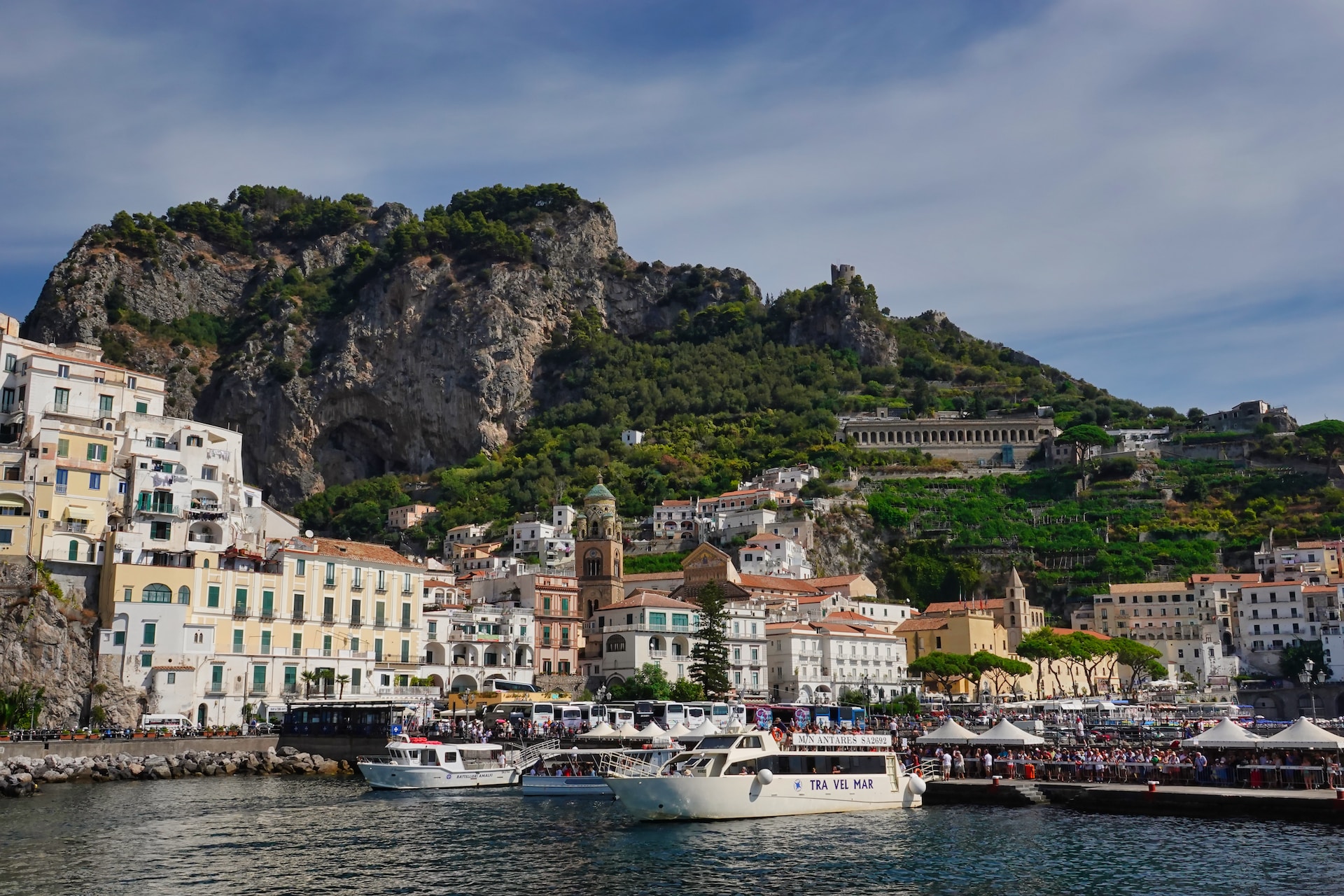 View of the Amalfi port. Source: Unsplash
Postino Jet: FAQs