Train to Palermo
Found on the island of Sicily in southern Italy, Palermo is a historic city that was established over 2,700 years ago. It is the capital city of Sicily and located in the northwest region of the island on the shores of the Tyrrhenian Sea. There are 38 train stations of various sizes throughout the Palermo region, with the primary station being Palermo Centrale. As such a large railway hub, Palermo serves as a critical stop for the trains running through Sicily.
It also serves as a stop or the terminal station for several domestic rail lines, including the Palermo-Messina, Palermo-Trapani, Palermo-Catania, and Palermo-Agrigento lines. Train to Palermo is typically operated by Trenitalia, the state-owned rail company of the Italian government. Due to its location on the island of Sicily, there are not yet Trenitalia Frecce high-speed trains running to Palermo. However, there are plans to expand high-speed rail to Palermo as part of the Berlin-Palermo railway axis project.
Trenitalia to Palermo
Train to Palermo are primarily operated by Trenitalia, one of the subsidiary companies of Ferrovie Dello Stato Italiane or Italian State Railways. This is a government-owned company that operates throughout Italy and is the largest rail company in the country. It is headquartered in Rome but operates a large number of lines that stop in stations throughout Palermo. A majority of the Trenitalia routes that stop in Palermo will stop at Palermo Centrale.
While Trenitalia is known for its high-speed trains such as the Frecciarossa or Frecciagente, the trains to Palermo are slower intercity and regional trains. This is because the rail infrastructure of Sicily does not yet allow high-speed trains. The fastest trains in this region are Regionale Veloce trains, which are faster regional trains that stop at fewer stations, resulting in quicker travel times.
Trenitalia also offers international connections to Germany, Austria, France, and Switzerland. These typically connect with Frecce high-speed trains in the mainland of Italy. Long-distance travel with Trenitalia that departs from Palermo will depart from Palermo Centrale.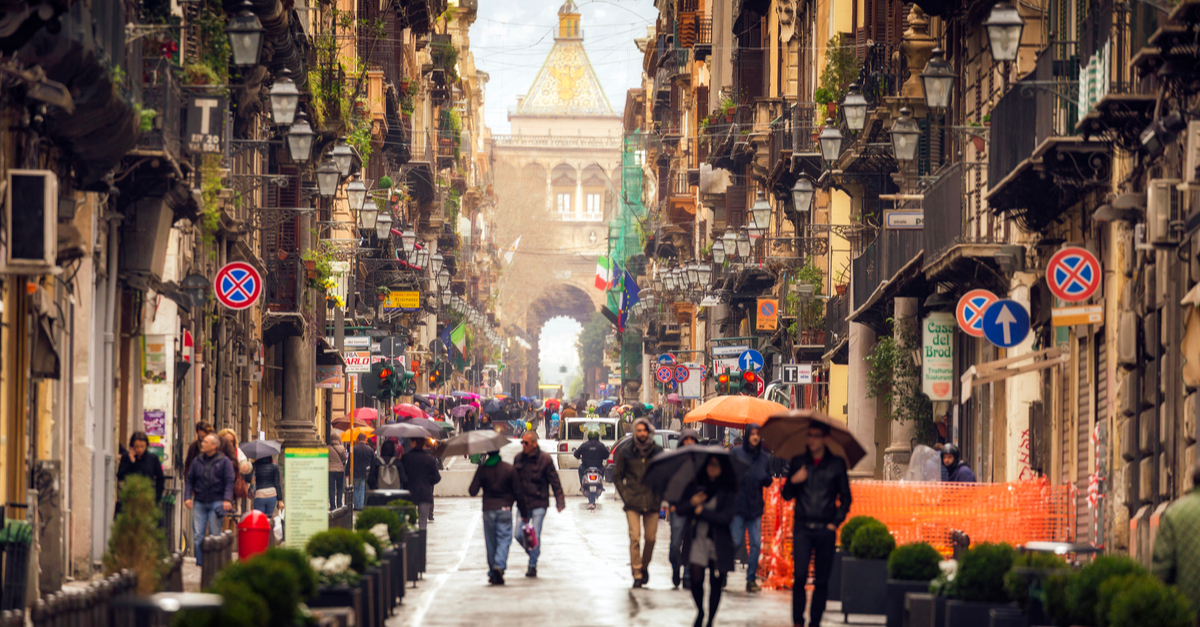 Palermo busy Street. Source: Shutterstock
Main train stations in Palermo
Out of the 38 railway stations of varying size and popularity throughout the Metropolitan City of Palermo, the primary station is Palermo Centrale. It features ten platforms and connections to public transit in Palermo. The station is located in the heart of the city center at Piazza Giulio Cesare or Julius Caesar Square.
Another major railway station is Palermo Notarbartolo railway station, which is found to the northwest of Palermo Centrale in Piazza Matteo Maria Boiardo. This station is slightly smaller, with seven platforms and connections to local bus routes. Both Palermo Centrale and Palermo Notarbartolo railway stations are owned by Ferrovie Dello Stato Italiane or Italian State Railways. As with all the lines running through Sicily, the trains stopping at these platforms are owned and operated by Trenitalia.
Onboard facilities Palermo
You will typically be riding Trenitalia Regionale, Trenitalia Regionale Veloce, Trenitalia InterCity, or Trenitalia Night Train on your journey to Palermo. If you are coming from further outside of Sicily, you may be riding one of the Trenitalia Frecce trains, and change to a slower train upon entrance into Sicily.
The Regionale and Regionale Veloce trains do not require seat reservations, so you can choose your seat upon boarding. The InterCity trains do require seat reservations. While onboard, you can enjoy complimentary wireless internet, electrical sockets, restrooms on each coach, and refreshments available for purchase.
Train tickets to Palermo: useful to know
During your train travel to Palermo, you can take advantage of e-tickets or mobile tickets through Trenitalia. You may need to provide valid identification while you ride, and it must match the name and information you provide when you purchase the ticket. There are a variety of tickets available for travel to Palermo, with prices varying based on the speed and route you take.
You will see higher costs to ride faster trains such as the Regionale Veloce or more luxurious coaches such as the InterCity trains. The least expensive options are typically Regionale trains. If you are coming from mainland Italy or internationally, you will likely have the option to select a Trenitalia Frecce high-speed train, which is more expensive but much faster than any other option.
Regardless of which ticket you choose, the easiest and safest way to purchase tickets and stay organized is through Omio. You can store all the tickets you purchase in your Omio account, so that is one less thing you need to worry about during your travel.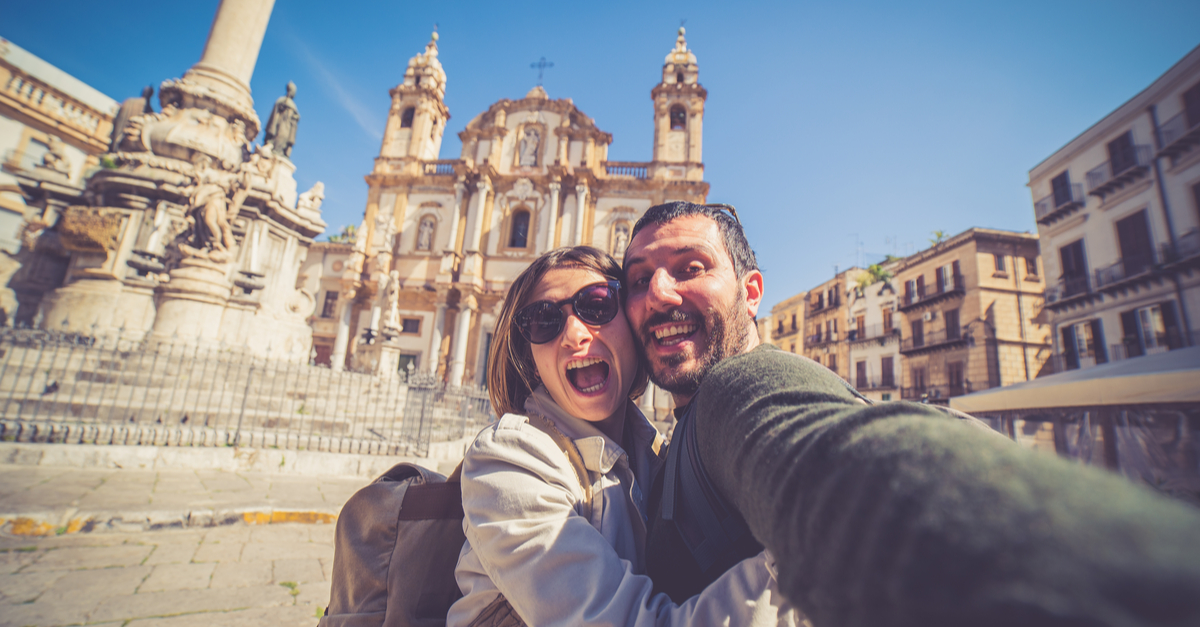 Palermo Selfie. Source: Shutterstock
To Palermo by train—travel tips
Upon your arrival in Palermo, you can utilize public transit to get around in several manners. The Palermo metropolitan railway service is a series of metro commuter rail systems operated by Trenitalia, stopping at railway stations throughout the region. These trains depart every 30min and connect to the Punta Raisi Airport, as well.
You can also utilize the tram system, operated by AMAT Palermo. There are also 35 bus lines that can connect you with cities around Sicily. Regardless of how you choose to get around the city, be sure to make time for a relaxing day on the shores of the Tyrrhenian Sea. Some of the most popular beaches are Lido Finanza and Spiaggia di Mondello.
You can also visit Ustica, a small volcanic island that is located north of Palermo. Whether you choose to spend your entire day lounging in the sand and watching the waves roll in, or take a boat out into the water, the beaches of Palermo are some of the most pristine getaways in Europe.
Considering this city was originally founded in 734 BC, there are over 2,700 years of history to unpack during your visit to Palermo. Start your visit in the historic city center, where you will find yourself surrounded by ancient buildings and landmarks. One of the most notable buildings in the city is Norman Palace, also known as the Royal Palace of Palermo.
This was the residency for the Sicilian monarchy and is the oldest royal residency in the entire continent of Europe. Just a few steps away is Palazzo Conte Federico, or Count Federico's Palace. This palace is home to the descendants of Frederick II, Holy Roman Emperor. He took reign in 1225, and his palace continues to be one of the most notable historic buildings in all of Italy. The 18th Century Palermo Cathedral towers over the historic center and is certainly worth a visit. After you get your share of historic landmarks, sit down for authentic Sicilian cuisine that has inspired dishes around the globe.
Some of the most famous Sicilian dishes are caponata and arancini. Caponata is famous throughout Europe and includes pine nuts, aubergines, raisins, and vinegar. It typically is served as an antipasto, with the fried aubergine in a stew with celery, tomatoes, and onions. Arancini is a deep-fried ball of creamy risotto rice, and can easily be popped into your mouth as a snack while you peruse the streets of Palermo. For dessert, find yourself a classic cannoli. This famous dish originated in Sicily and has turned into one of the most well-known Italian food exports in the world. You do not want to pass up on the opportunity to enjoy one in its hometown.