Trains from Paris to London
In Europe, trains are the most reliable and convenient way to travel between cities. Several train companies are offering international and domestic routes. Taking a train from Paris to London is often fast and reliable with Eurostar takes around 2h 30min traveling between the cities. Eurostar has created a generation of travelers who can hop on the train after breakfast and relax in a London-based bistro by lunch hour. The trains have helped build connections that could not have thrived before. There are about two trains daily operating from Paris to London, which is why you should use a journey planner to check train times and plan your journey accordingly.
Booking Your Train Ticket for Paris to London with Omio
Planning your travel can be exciting, but still, it could be a hassle. That is because you have to compare tickets and travel times which can be daunting. To alleviate this hassle, you can use Omio to book your train to London. Our app provides ideal traveling solutions to millions all over Europe. We have excellent customer service for all esteemed travelers. Our train ticket booking services are available in 18 languages, meaning you can get the assistance you need with no language barrier. A common problem of traveling by train often arises due to the inability to book tickets in advance. Luckily, with Omio, you can book your ticket even three weeks before, making your traveling plans as smooth as possible.
Train Companies in Paris to London
Eurostar is the only train company linking the UK to France through Channel Tunnel. Our company is committed to ensuring that you have an incredible experience traveling with us. Our trains travel at 200 m/h or 320 km/h, which means you can travel 213 miles (343 km) to London quickly underwater and through the Chunnel. Our trains leave Paris for London several times during the day from morning to evening. This gives you multiple travel options to choose from peak times, often around 8:30 a.m. and 4:30 p.m. You get to enjoy a wide range of amenities on board, including comfortable seats, free Wi-Fi, and plug-in sockets.
Popular International Routes by Train with Omio
Trains are an incredible mode of transport in Europe, especially with family and luggage. There is no extra cost for average luggage, the amenities are great, and the seats are incredibly comfortable. Omio has made it possible for you to travel from Paris to other cities in Europe. Eurostar operates hourly departures with direct routes from the heart of France, Brussels, and Amsterdam. Omio also operates with other international routes, including Paris to Milan, Paris to Rome, Paris to Berlin, Barcelona to Paris, and Rome to New York City. Omio has researched and ranked the popular international to give you a hassle-free experience choosing the route that suits your travel needs.
When Arriving from Paris to London
Traveling by train to London is one of the ways to make a memorable experience for your trip. There is no need to schlepping out to the airport because the train stations in both cities are conveniently located. From Paris, the Eurostar train will arrive in London in about 2h and 15min. Our company is devoted to ensuring that our unparalleled traveling experience does not end at the final station. We also offer hotel deals so that you can pair your travel and accommodation in one package. There's a lot more as we also strive to help with your entertainment needs. After arriving in London, you'll notice that the city is as big and has good transportation as Paris.
Train Providers from Paris to London
Eurostar is the main train provider for the route from Paris to London. You can offset some of your travel costs by planning and booking your train tickets as early as possible. This is because, depending on Omio's train travel data, ticket charges on Eurostar from Paris to London often decrease the further they get booked in advance. The train tickets are 51% cheaper when booked one week before the travel date and 63 % cheaper when booked one month before the day. Eurostar operates two trains, with the earliest leaving Paris for London at around 7:11 a.m. while the last train leaves at 3:11 p.m.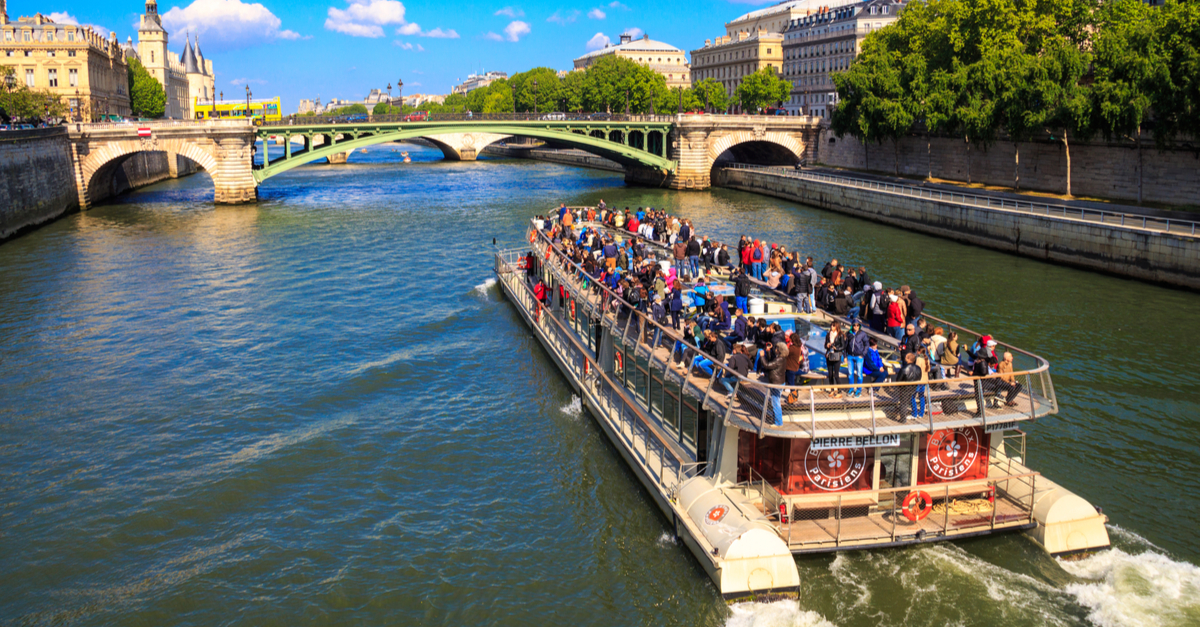 Paris Boat Tourists. Source: Shutterstock
Main Train Stations from Paris to London
The train to London from Paris leaves from Paris Gare du Nord station and arrives at St Pancras International in London. Paris Gare du Nord station is the number one busiest train station in Europe and the third busiest across the world. It is also the second biggest when it comes to passenger capacity. It is conveniently located and has multiple amenities such as ATMs, wireless internet access, gift shops, currency exchange, and registered luggage service. You arrive at St Pancras Rail Station in London. It is one of the most significant and top-rated landmarks in London, and you can easily connect to your ideal destination from the station.
Popular Journey in Paris to London
Traveling from Paris to cities within France has been made easier because Omio serves various routes. You can travel to various destinations including Marseille, Lyon, Bordeaux, Strasbourg and Toulouse. Traveling from Paris to Marseille takes 5h 43min, and the train ticket is $74, going from Paris to Lyon takes 2h 27min, and the train ticket price is $51. Traveling from Paris to Bordeaux takes 3h 6min, and the train ticket is $61. From Paris to Strasbourg takes 3h 51min and the train ticket is $58 while from Paris to Toulouse takes 7h 42min, and the train ticket price is $54.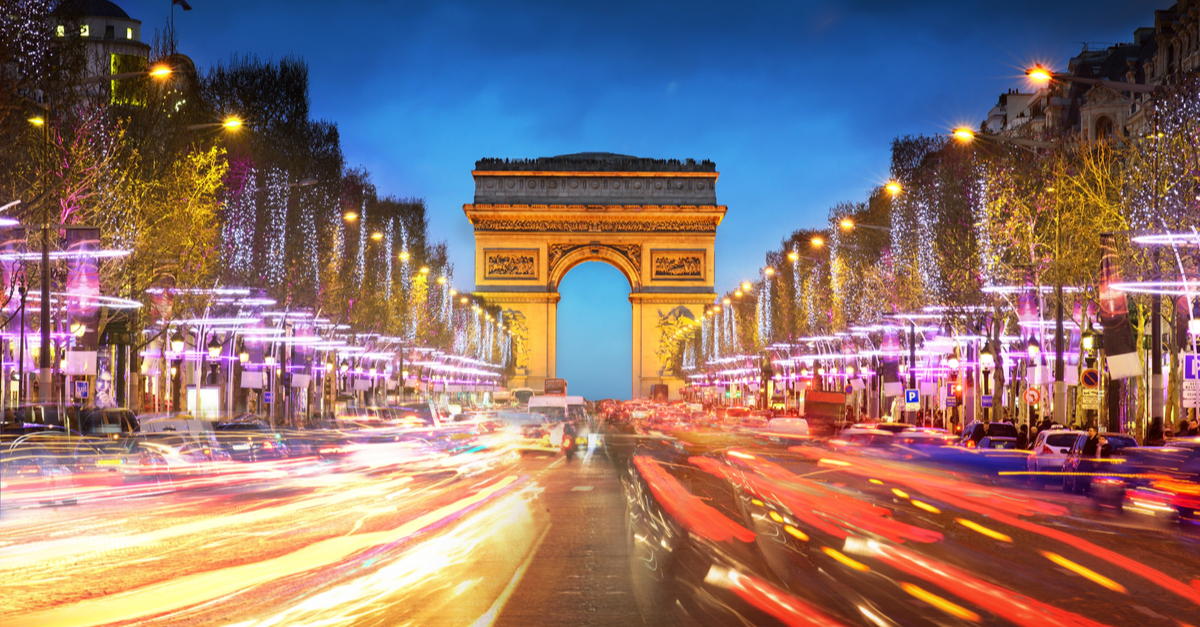 Paris Champs Elysee. Source: Shutterstock
Popular Train Routes from Paris to London
Omio also serves other popular international journeys. Eurostar provides the quickest way to travel by train from Paris to other countries. You can traverse from Paris by train to London within 2h 26min and the train ticket price is $113. Other popular journeys by train include Paris to Rome, which takes 11h 20min and the ticket is $60, from Paris to Milan takes 7h 19min, and the train ticket price is $128. Traveling from Paris to Madrid takes 20h 43min, and the price is $217 while from Paris to Barcelona takes 7h 37min, and the train ticket is $151.
Good to Know
Traveling by train from Paris to London might seem overwhelming, but it is the fastest and easiest way compared to flying. Traversing by train provides a fun and enjoyable way to see the cities. With Omio, you can get the best deals on train travel tickets. Again, traveling by train is convenient, and you'll reach your destination on time despite the route the train takes.
To London- Travel Tips
Regardless of your reason for traveling to London, the city has something for you. If you are an art enthusiast, you can visit the National Gallery and the West-End Theatre. Other places that showcase architecture in the city include Christ Church and Royal Naval College, where there are beautiful exhibitions. If you are a monarchy fan, you cannot ignore Buckingham Palace. London is among the most expensive cities, but it boasts a wide range of fascinations.
The best thing is that you can visit these attractions for free. Pubs in this city have literary connections and are ideal for thirsty hacks. Some of the best pubs in the city include The Newman Arms, Fitzrovia, The Harp, Covent Garden, and The Royal Oak, Marylebone. There are also many great swimming pools within the city, with most of them being open all year round. You can also spend your weekend intertwining through multitudes of food within Borough Market.
The market has everything significant about modern-day foods in London. Whether you need to eat street food or eat in a restaurant, London has all the options for you. If there are too many things for you to do in this city, you can sign up for the top tours to reap the benefits of local guidance. Warwick Castle, Stratford, Broadway & Costswolds Day Trip has professional tour guides who give you the satisfaction you desire. They also ensure you are safe and never let you down throughout the private tour. Thus, you can be assured that London is one of your best destinations.