Paris to London Train: Daily Departures and Length of the Journey
On any given day, there are typically around six trains from Paris to London for travelers to choose from. The train schedule from Paris to London offers trains approximately every one to two hours. You will find that there are around 30 trains to choose from each week. The average Paris to London train time is around 2h 17min. The distance between Paris and London is approximately 475 km (295 miles). High-speed trains are used for this route, allowing you to quickly reach London. The first train between Paris and London of the day normally leaves at around 9:12 a.m. The final train between Paris and London of the day will usually depart at around 3:13 p.m. All of the trains that are offered for this journey are direct and do not require transfers.
How to Find Cheap Train Tickets from Paris to London with Omio?
If you are hoping to find the cheapest train from Paris to London available, here are a few tricks that you can use to help you with this endeavor:
To find cheap train tickets from Paris to London, make sure to book your reservation as far in advance as you can, as the Paris to London train cost will typically rise the closer it gets to the day of departure.
Try to also be flexible with your travel dates and times, as this will make it easier to find an affordable Paris to London train price.
Whenever you have the option, you may also want to book a slower journey, as these are generally more budget-friendly and this is an easy way to find a cheap train from Paris to London.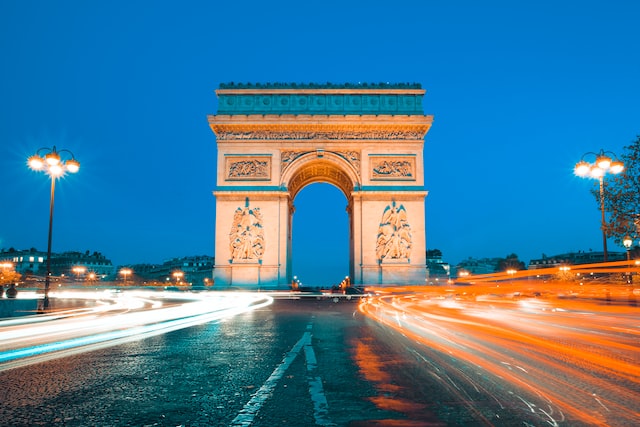 Champs Elysees. Source: Shutterstock
What is/are the Departure and Arrival Stations for Trains from Paris to London?
When you are taking a train to London from Paris, you can expect your train to leave from Paris Gare du Nord. Once you reach your destination, your train will arrive at London St Pancras.
Departure train station: When departing from Paris, your train will leave from Paris Gare du Nord. This train station is one of the largest transportation centers in the city and can be found approximately 7 km (4.4 miles) to the north of the city center. It is directly connected to public transport via metro lines 4 and 5. The station has several floors, with escalators, staircases, and elevators available to move between them. In Paris Gare du Nord, you will find a few different amenities that are available for passengers, including public restrooms, outlets for charging your electronic devices, shops to purchase souvenirs, travel essentials, and snacks, and sitting areas for you to relax in while waiting for your train to board.
Arrival train station: Once you reach London, your train will arrive at the station of London St Pancras. London St Pancras is the main train station in the city and can be found approximately 3.7 km (2.3 miles) to the north of the city center. It is connected directly to public transport via the Victoria metro line. London St Pancras also has several floors that can be reached by stairs, escalators, and elevators. In the station, you will find a selection of different amenities for travelers, including restaurants, shops, sitting areas, drinking fountains, public restrooms, and outlets. There is also free Wi-Fi and luggage storage that can be used for a small fee.
How can I Arrive at the Center of London from St Pancras Station by Public Transport?
Once your train arrives at London St Pancras, you can always use public transport to go to the city center. For example, the Circle, Northern, Piccadilly, and Victoria metro lines all connect the station to other parts of the city. You can also choose to take the bus, such as lines M38, 46, 63, and 214.
Book Paris London Trains with Eurostar
There is one train company that is primarily responsible for servicing trains from Paris to London and this is Eurostar. Eurostar is an international high-speed rail service that offers journeys between the United Kingdom, Belgium, the Netherlands, and France. The most common route offered by Eurostar is between Paris and London and this route goes through the Channel Tunnel between the United Kingdom and France. Eurostar operates high-speed trains for this journey.
Eurostar offers both first and second-class tickets for a train Paris London. A second-class ticket for a Paris London train will provide you with standard amenities, like a comfortable seat, access to an outlet, and the ability to purchase light snacks and drinks from the food car. If you opt to purchase a first-class ticket instead for your Paris to London Eurostar train, you will be provided with a seat in a more spacious coach that also has additional legroom and a meal service during your journey.
Trains from Paris to London: Sustainability Travel
Trains are well known for being a particularly sustainable form of transportation, notably in comparison to alternatives such as buses, private cars, or planes. When you choose to take a train to go to your destination, you can rest assured that you are doing what is best for the environment while also allowing yourself to travel in comfort. With trains, you do not need to sacrifice convenience in order to also be sustainable. Eurostar has taken steps to make its operations increasingly sustainable. For example, Eurostar has committed to switching entirely to renewable energy in its fleet by 2030, including for the Paris London route. The company has also taken steps to reduce paper ticketing and single-use plastics.
Train Paris to London: Services on Board
When you travel with Eurostar from Paris to London, you will be able to benefit from a variety of services and amenities on board.
Luggage: When you travel with Eurostar from Paris to London, you are allowed to bring a certain amount of luggage on board at no additional cost. Those traveling in both first and second class for a train Paris - London can bring up to two suitcases that are a maximum of 85 cm at their widest point. You can also bring one piece of hand luggage, such as a purse, backpack, or laptop bag for your Paris London train. There is no weight limit for your pieces of luggage. Instead, the only requirement is that you are able to lift and move your luggage on your own, as Eurostar does not have a porter service for travelers to use. There is also no limit on the amount of liquids that you can bring with you on board. Travelers are welcome to bring folding bikes or children's bikes on board as long as they are no longer than 85 cm. All bikes must be placed in a protective bag. It is not allowed to bring a pet on board unless it is an assistance or guide dog.
Passengers with reduced mobility: If you or someone you are traveling with from Paris to London by train has limited mobility, you can benefit from special assistance through Eurostar without having to pay an additional fee. Employees are there to help you with your luggage for your Eurorail Paris to London journey, as well as boarding and exiting the train. Keep in mind that you should contact Eurostar directly and request this service at least 48h in advance of when you are scheduled to travel on the Eurorail Paris to London journey. If you do not request this service at least 48h in advance of when you will be going from Paris to London by train, you are instead asked to show up at least 75min before your train is due to depart, and Eurostar will do its best to provide you with assistance.
To London by Train: Travel tips
During your train from Paris to London, you will see a variety of beautiful landscapes that you can enjoy from your window. For instance, you will pass directly through the scenic city of Amiens, which is known for being located along the Somme River and for having a variety of interesting pieces of Gothic architecture. You will also see the Regional Natural Park of the Caps et Marais d'Opale, which is famous for its scenic oceanfront, lush greenery, and cliffsides.
Famous for its rich history, impressive architecture, world-class museums and art galleries, and lush parks, London truly has something for every type of traveler. A trip to this city wouldn't be complete without learning more about the Royal Family, including visiting Buckingham Palace, which is known for being the administrative headquarters of the monarchy. You can also head to one of the many churches that can be found in town, including Westminster Abbey, a gothic-style building that was founded in 960. To learn more about what you can do during your stay in the city, check out our travel guide for London. To discover a few of the most popular places to visit, you can also browse through the list below:
Spend a few hours exploring the British Museum, which is home to over eight million different artifacts and is one of the largest museums in existence.
Explore the Tower of London, a historic castle that is home to the Royal Family's Crown Jewels and was founded all the way back in 1066.
Walk along the Tower Bridge, which crosses the River Thames and can be conveniently found near the Tower of London.
Take a ride on the London Eye, a riverside observation wheel that is a fun way to see the city and enjoy some impressive views.
Shop throughout the Borough Market, which is one of the oldest food markets in London and is a great place to purchase fresh produce, as well as pre-made delicacies that are ready to eat.
Relax in Hyde Park, a large greenspace that is in central London and which covers several acres.
See the sites in Trafalgar Square, an area that is in Westminster and is filled with a large fountain and several impressive statues.
Learn about the museum's interesting history by going to the Museum of London and walking through the various exhibits that are offered.
Admire the bright colors that are in the Columbia Road Flower Market, which is in Bethnal Green and filled with numerous different stalls.
Shop at Leadenhall Market, a market that has striking architecture and many different boutiques and restaurants.
Alternative Destinations from London
Once you have reached London, you may want to continue your travels and discover another new city or two. From London, you can take a train to Edinburgh, a Scottish town that is famous for its beautiful architecture and sweeping landscapes. Or you can visit Manchester, a city in the northwest region of England known for its rich industrial heritage.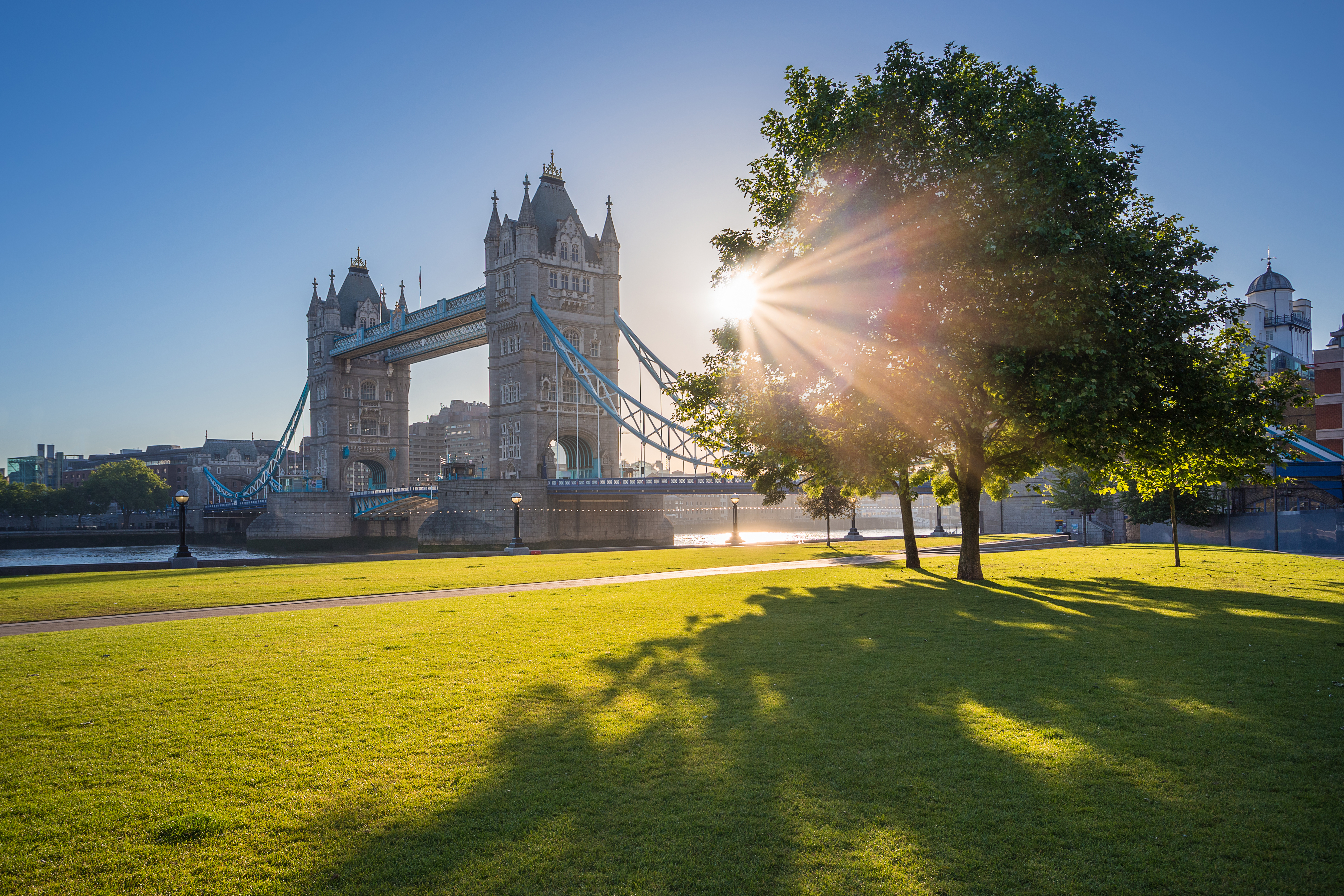 London Bridge. Source: Shutterstock
Most Famous Destinations from Paris
If you're interested in other places to travel to from Paris, there are quite a few options to mull over. For instance, you can take a train from Paris to Amsterdam, where you can enjoy the city's canals and unique museums. Or why not take a train from Paris to Brussels, which is famous for being the administrative center of the European Union.