The Easiest Way to Buy Train Tickets: Find Your Ticket with Omio
With Omio, it's never been easier to book all your travel in one place. Omio searches over 1,000 travel carriers for buses, ferries, flights, trains, cars, and even airports and train stations. Download the Omio app to book all your travel on your phone, or visit the mobile_friendly Omio website.
Book all your travel in one place. With Omio, all you have to worry about is your next adventure. When you choose Omio, you not only save money, you save time because we do it all for you.
Get unsurpassed support. You'll never be alone after booking your train tickets because using the Omio app you get support 24/7.
Discover unique ways to travel. With Omio, you can search across multiple buses, airlines, trains routes, and more.
Why visit Europe by train: tips
Booking cheap train tickets with Omio is easy, and it's the only platform you'll need for everything travel related. Seeing Europe by train is an exciting way to see the different cities across Europe.
Exploring Spain's Basque Country by train allows you to travel in ultimate comfort. With multiple ticket options and times, you can easily plan a trip that takes you to the mountains and villages of Spain.
Travel by sleeping trains allows you to travel overnight to your destination, with comfortable bunk_style beds.
Traveling with dogs on trains is allowed across Europe, so you won't have to leave your furry friend behind when traveling to Italy.
Your European train route to Amsterdam is efficient and sustainable, as train travel emits less CO2 when compared to other forms of travel.
You can travel by train to major cities in France, including Paris and Nice. Don't miss sampling the wines and cheeses of the area.
Try one of the Panoramic trains in Switzerland for a scenic tour of the Swiss Alps and tiny, quint villages. You'll have a variety of trains to choose from, depending on where you want to go.
Some of the most distinctive train routes in Europe include the Cinque Terre Express. You'll travel through five different villages in Cinque Terre, and have connections to Milan, Turin, and Florence.
For authentic passenger train routes to savor Italian cuisine, Italo rail is a good high_speed option to get you to Milan or Turin. The cities offer world_renowned cuisine and regional wines.
Euro train routes in Sweden connect major cities like Denmark, Germany, and Norway. Train travel in Scandinavia is the best way to see sites like the Fjords and the seaside villages.
Travelling by train routes in Sweden allows you the opportunity to experience the country's growing foodie scene, and see the famous Northern Lights of the region.
Train providers in the United States
For passenger train routes and travel in the United States, there is an abundance of efficient train services to choose from. Some of the major train providers include Amtrak, Alaska Railroad, and The Metro_North Commuter Railroad. With over 137,000 route miles in the United States, the rail system extends across the country, from the West Coast to the East. Amtrak operates trains to Canada and the US, and is the largest provider in the country, serving millions of passengers. The train's routes will take you to all major cities, and train travel is an efficient, comfortable way to spend your vacation in the United States.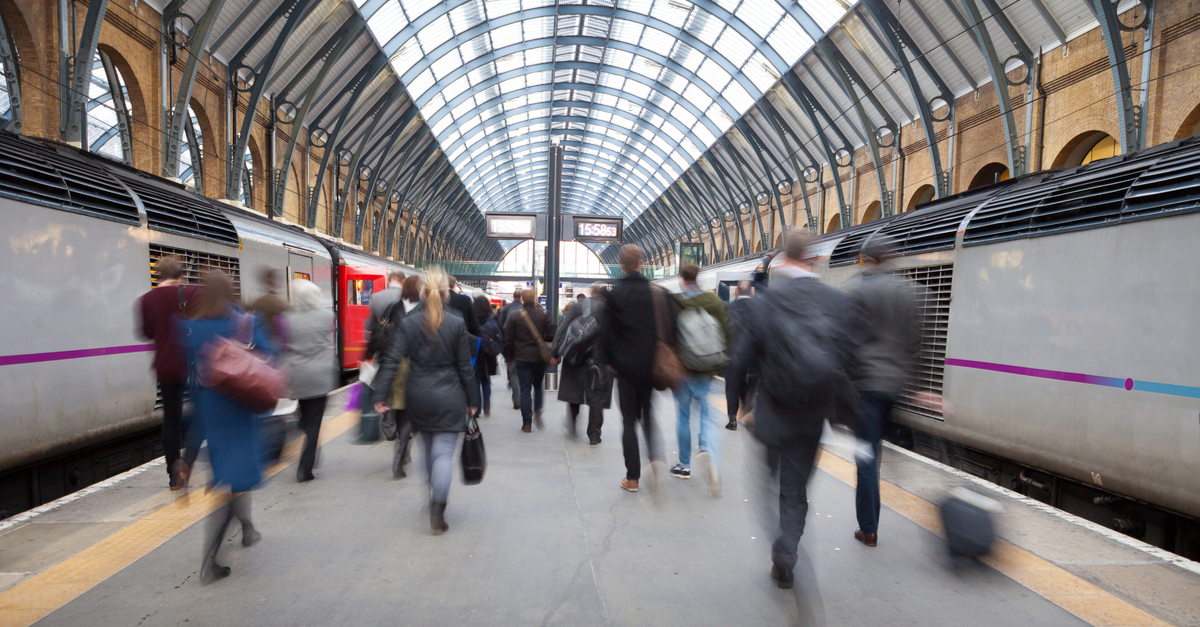 Train UK People. Source: Shutterstock
Amtrak
For passenger train routes in the United States, Amtrak is the largest train provider. Amtrak offers three different types of fares, including Coach, Business, and Sleeper fares, to get you to your city in comfort and style. The Business fare offers more cabin room and more luggage allowances. The Sleeper fares offer seats that fold into beds for those long journeys. Some of the trains in Amtrak's wide fleet include California Zephyr, the Empire Builder, and Grand Canyon Railway. If you're thinking of a fishing expedition in Alaska, Amtrak offers service to the interior of the wilderness and other remote destinations. Some of Amtrak's most popular stations include Union Station, the NYC Grand Central Terminal, and the Los Angeles Terminal. Amtrak offers many amenities for comfortable train travel, including adjustable seats, electrical outlets for charging your devices, and reading lights so you'll never be in the dark. You can check two pieces of luggage and have one carry_on piece as well. Dining options include a choice of dine_in or seat service, and depending on the train routes, grab_and_go cafes for quick dining choices. Amtrak offers discounts on certain fares, and you can always save when booking your cheap train tickets early. Check the Omio app for all offers, and manage your travel in one place.
How Train Travel is Sustainable
After you book your train tickets, you should know that travel by train is incredibly sustainable. Train travel emits less CO2 than other forms of travel, and trains take up less space across the Earth. Continued improvements to engine technology and engineering make travel by train Earth_friendly and safe.
Save Time with the Sleeper Trains and Night Train Routes
Travel by night is an excellent way to get to a distant destination and sleeper trains are popular in the United States and Europe. In Europe, Trenitalia rail offers a night trip to many destinations and passengers wake in their destination city. Night trains are no secret to Americans, where long, overnight train travel is offered for cross_country routes.
Night Train Routes in Europe
For overnight train travel in Europe, ÖBB Nightjet offers sleeping trains on multiple routes. You can expect to rest comfortably in your sleep chair in your cabin as you quietly fall asleep at your departure. Free Wi_Fi, power outlets to charge all your devices, and reading lights are at your service. You can choose dining options when booking your fare. The train's whisper_quiet performance is sure not to wake you as you make your way on your journey. Train departures from Paris Gare de Lyon to Saint_Raphaël, France, take approximately 4h 3min, and there are at least five direct trains nightly. Trains from Milan to Munich take around 7h 51min, and you have a choice with five train departures nightly. The Milan Central is the train station in Milan, and you will arrive at the Munchin Os station in Munich. The departing and arriving stations have either small cafes or restaurants around the station. Discounts might be available for night trains, and you can save by booking your fares early. Check the Omio app for more information.
Night Train Routes in the United States
For passenger train routes in the United States that offer sleeper cars, Amtrak is the leader in rail travel. Amtrak offers many options to make your overnight journey a comfortable one. Their Roomette car is for two adults, and it's the less costly option. The rooms feature an upper and lower level with bunk_style beds, electrical outlets, and a pull_down table for eating or playing games. For more room on longer trips, the Bedrooms option provides larger beds and more space. Suites are also available for more than two travelers. You have a choice with different fare options as well, including your dining experience and fare upgrades like premium seating which should be considered for long treks. A popular sleeping trains route is from Chicago to San Francisco, and there is one train per day. The route takes approximately 69h 5min and covers 1,849 miles (2,983km). There might be stops on certain trains, so it's best to check the schedule for more information. Trains depart from Union Station in Chicago and arrive at Mission St. and Freemont St. station. Another cross_country option is Chicago to Seattle. That route covers 1,729 miles (2,788km) and takes around 46h 10min.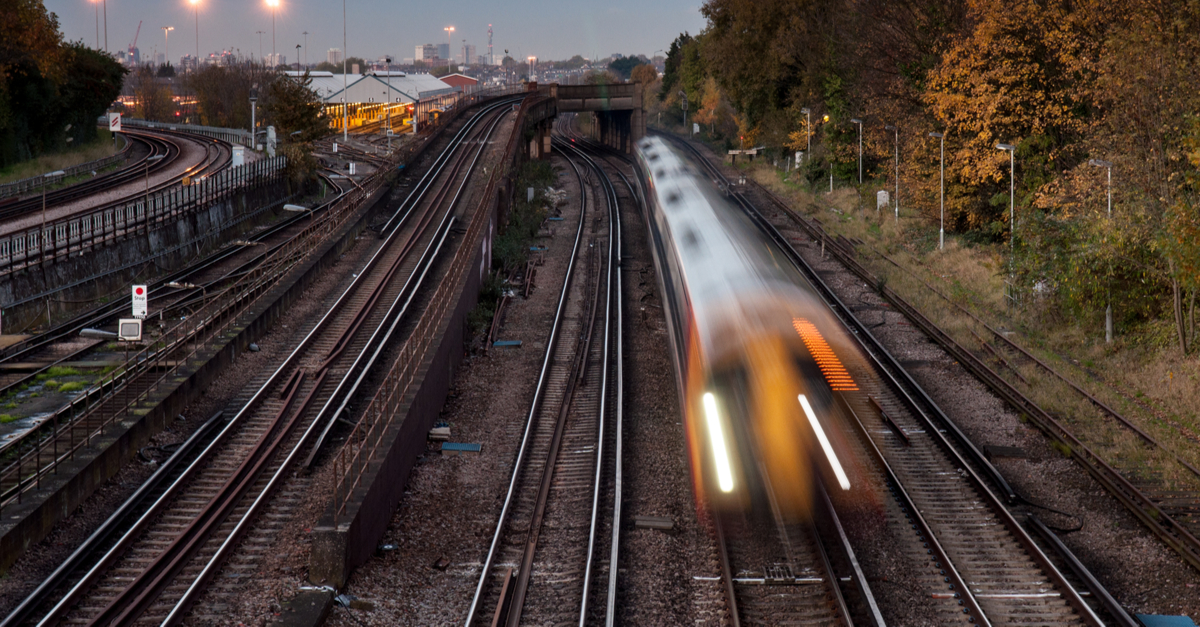 Train UK Aerial View. Source: Shutterstock
Trains: FAQs
On the Omio app, you can book travel tickets, search for trains, airlines, cars, and buses, and download your ticket to your phone. You can even find train, airline, and bus companies, and get information about train and bus stations.
You will need a copy of your ticket when traveling. The ticket can be a digital copy on your phone, or you can print a paper copy. You'll need a valid ID, such as a driver's license, when your board your train.
You can cancel your ticket by going to the Your Booking's Page. Keep in mind that you can only cancel your ticket if it's a refundable type, and this is listed on the ticket.
Most seats are booked to fill the train accordingly. You cannot change a seat that is already booked because of this. For any questions or issues, please contact the help area.
While it depends on the carrier, most trains offer one or two checked bags. It's best to check when booking your fare. Information is available on the Omio app.
All trains aid passengers with disabilities. When booking your fare, there will likely be options to choose the type of help you will require.
All trains adhere to assisting passengers with disabilities. Wheelchair storage and equipped restroom facilities are available. For buses, lifts are on every bus to help with medical device transfers.
You must be at least 16 years old to travel alone on most carriers, though complete rules are available when you book your ticket. Some trains, buses, and airlines might require an adult to travel with younger passengers.
Flammable liquids, weapons, and other dangerous substances are not allowed.
Yes, but identification is required for all passengers in the group.
You can change names but must show proof of the person the ticket is for by photo ID.
Pets are allowed to travel but must remain in a carrier. Weight restrictions apply depending on the train.
Train Companies in Europe
Most trains in Europe are owned and operated by a national rail company such as Deutsche Bahn in Germany, Renfe in Spain, or Trenitalia in Italy. However, since a new European Union agreement in 2019, member countries have to open their train travel marketplaces and allow competitors to offer alternative services. In the United Kingdom, this has already happened as it deregulated its rail infrastructure.
Countries throughout Europe are constantly modernizing, expanding and improving their rail services with better intercity networks and new high-speed trains, making train travel faster and more convenient. Most major rail providers in Europe offer a range of services and ticket types and provide service to destinations in neighboring countries. Such international rail routes include the 186 mph AVE train from Madrid and Barcelona to Paris, the Italo service that connects Milan, Rome and Naples, and the Paris–London Eurostar line.
In recent years, night trains across Europe have been making a comeback. Once a popular way to travel the continent, there were lots of routes that connected capital cities. With the rise of cheap flights, night trains in Europe saw a decrease in popularity and most routes were canceled. However, now with a new focus on sustainability, some rail companies are relaunching old night train routes. So, watch this space…
Major Train Providers in Europe
Eurostar
Operating via the Channel Tunnel, Eurostar has provided high-speed train connections between the United Kingdom, France, Belgium and the Netherlands for more than 20 years. Eurostar trains are a popular and competitive travel option in Europe, often providing faster travel times, greater luggage allowances and more leg room than traveling by plane. Additionally, there are almost twice as many Eurostar train connections offered between London and Paris per day as flights between the two capitals. Eurostar offers easy connections to rail providers throughout Europe including SNCF, Deutsche Bahn, and SNCB—allowing travellers to reach more rural or mountainous destinations.
Popular Connections
Renfe
Renfe (officially Renfe Operadora) is the main provider of train transport in Spain. The original company was formed in 1941 following the Spanish Civil War, as there was a need to renew the damaged infrastructure of the private sector. Long-distance, commuter and regional trains are all offered by Renfe throughout the peninsula. Some of the most popular routes offered by Renfe include trains from Barcelona to Madrid, Valencia to Seville and Madrid to Valencia.
Popular Connections
Deutsche Bahn
Deutsche Bahn is the state-owned German railway company that describes itself as being the second largest transport company in the world. Deutsche Bahn was formed in 1994 following the reunification of Germany when Deutsche Bundesbahn, of the west, and Deutsche Reichsbahn, of the East, were consolidated into one company. The most popular connections provided by Deutsche Bahn include those from Berlin to Hamburg, Berlin to Cologne, Hamburg to Stuttgart and Munich to Berlin.
Popular Connections
Trenitalia
Owned by the Italian government since 2000, Trenitalia is the primary train company operating in Italy. Trenitalia provides both regional and long-distance connections in Italy. The most popular train routes include Rome to Florence, Rome to Venice, Florence to Venice, Milan to Rome and Rome to Naples. It has recently started operated a high-speed train between Milan and Paris in France.
Popular Connections
Thalys
Since 1996, Thalys has provided high-speed train connections between Paris, France, Brussels, Belgium, Cologne, Germany and Amsterdam, the Netherlands. Thalys' high-speed trains provide efficient service with trains that are capable of reaching speeds of 186 mph. Thalys trains are a popular and competitive travel option in Europe, often providing faster travel times, greater luggage allowances and more leg room than travelling by airplane. Thalys offers easy connections to rail providers throughout Europe including SNCF, Deutsche Bahn, and SNCB meaning you can easily travel more of Europe by train.
Popular Connections