Trains from London to Amsterdam
It is convenient to make a 340-mile (540 km) journey from London to Amsterdam by train and even more relaxing and enjoyable than taking a flight, driving, or using a ferry. Train services to Amsterdam Central depart regularly from London St Pancras International throughout the week and on weekends. It takes less than four hours for the fastest trips to Amsterdam. All services from London to Amsterdam are run by Eurostar, although passengers must switch to other operators, such as Thalys or InterCity, where changes are required.
Booking your train ticket with Omio to Amsterdam from London
Customers looking to book Eurostar to Amsterdam from London can choose from several different ticket options on the website. They can choose between booking tickets under the standard tickets category, the standard premier categories, which offer light refreshments and spacious seats, or booking tickets under the business premier category, which offers flexible travel options, packed lunches served, lounge access, luxurious seats, and prior boarding.
When purchasing a train ticket from London to Amsterdam, travelers can specify which amenities they prefer and then relax and enjoy the most pleasant travel experience Eurostar provides. Booking for travel in the middle of the week is typically the best time to find inexpensive Eurostar tickets. The morning and evening trains, and holiday evenings, Friday and Sunday afternoons, are more expensive.
Train companies in Amsterdam
Several European train company, including Thalys and NS International IC Brussel, operate as the first option of any train journey from Amsterdam to London. Unless otherwise specified, all journeys usually need a single change either at Paris Gare du Nord or Brussels Midi Station, where passengers mostly transfer to the Eurostar service.
Popular international routes by train
Travelers from other countries who wish to visit London (England) may find the Omio app and website a handy and simple tool for buying their tickets. Trains in England's major international routes typically depart and arrive from London as well as Amsterdam. International routes connecting to London include those to London Euston, London Kings Cross, and London Victoria.
The most popular international routes from Amsterdam, on the other hand, are Amsterdam Centraal, Amsterdam Centraal, and Amsterdam Sloterdijk. Omio clients traveling this route most frequently arrive in Amsterdam Centraal from London Victoria.
When arriving by train in Amsterdam
Travelers who plan to visit Amsterdam should be aware of the following before departure. Although British English is the primary language spoken in the UK, it is essential to remember that many indigenous languages are spoken in London and Amsterdam, including Welsh, Irish Gaelic, and Cornish. This is especially true if tourists wish to visit more rural areas, where almost everyone will speak some form of English.
Additionally, travelers unfamiliar with London's traffic flow, travelers coming from areas with right-hand traffic should exercise extra caution when crossing the street. The Amsterdam Central Station is situated in the city and serves as the city's busiest public transportation hub.
Trams, buses, and waterfront stations for city ferries transporting passengers to North Amsterdam are all available. The historic canals found in the region are the Rijksmuseum, the red-light district, and the city's numerous cafeteria shops are the most popular attractions.
Train Provider in London
When traveling by train from London to Amsterdam, most travelers rely on Eurostar as the most direct route. Additionally, they can check all possible train companies that operate between London and Amsterdam and compare their amenities before purchasing a train ticket, which is available on the Omio website.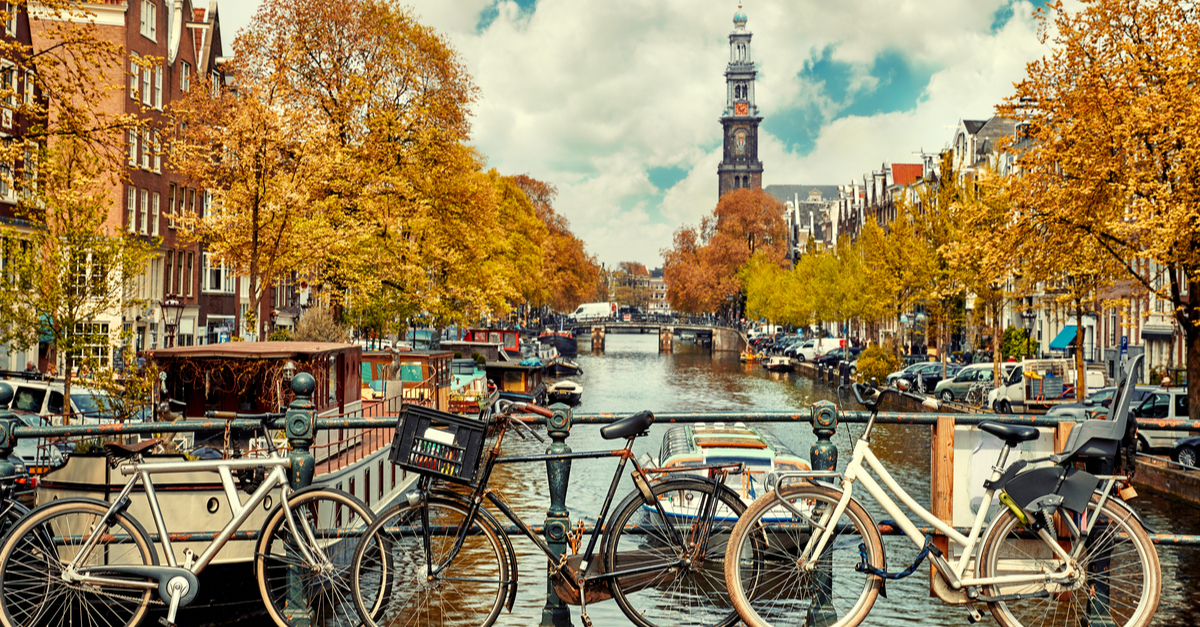 Amsterdam Canal . Source: Shutterstock
Main train stations in London
The UK has a vast network of railways. Stations are usually the hub of public transport in the UK. Thus, these frequently act as a focus of daily existence. These buildings are large, category listed, and often dominate the skyline. London is the center of the vast rail network in Britain London. The Agency of Rail Regulation reports that Liverpool Street, London's Waterloo, Paddington stations, and London Bridge, are the country's busiest.
Three major train stations outside of London are Glasgow Central, Birmingham New Street, and Manchester Piccadilly, which serve many cities in the UK. Three stations cover every region in the UK; Scotland. The North of England, and the Midlands.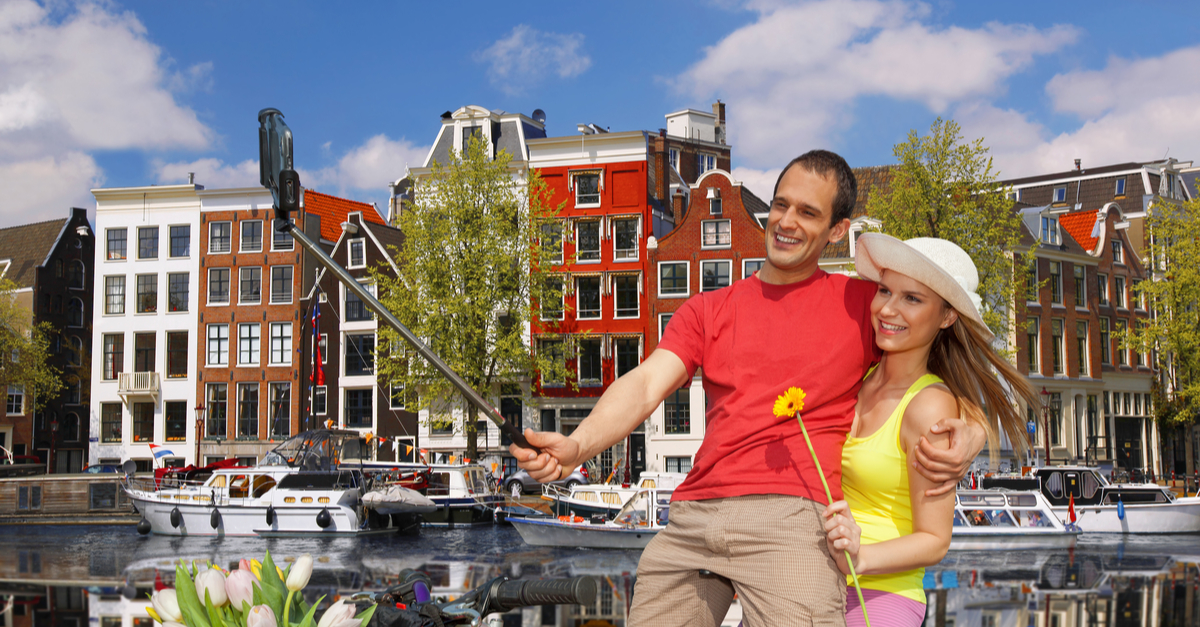 Amsterdam Couple . Source: Shutterstock
Popular train journey from London to Amsterdam
Eurostar provides a relaxing as well as a convenient route between London and Amsterdam. In its capacity as a travel partner of Eurostar, Omio usually provides you with Eurostar train timetables for the London to Amsterdam train and Eurostar prices for this trip, which start as low as £71 ($97).
With routes connecting London to Amsterdam, Brussels, Lille, and Paris, among other destinations, Eurostar is the premier high-speed railway service that connects Europe to the United Kingdom through the Channel Tunnel, also known as the "Chunnel." Eurostar trains can travel at speeds of up to 200 mph, allowing you to travel 221 miles (356 kilometers) in record time through the Chunnel, which connects London and Amsterdam underwater.
Popular train routes from London
Travelers who plan to visit cities in the United Kingdom via train will find Omio a valuable and convenient tool to streamline their planning process. Despite its proximity to water, the UK is accessible by train via the Channel Tunnel, which connects the UK to mainland Europe. Therefore, if travelers wish to travel to the United Kingdom via train from mainland Europe, the London St. Pancras International station usually will be their starting point.
Eurostar services often operate direct routes from London to Brussels/Paris/Amsterdam. For travelers wishing to travel further into the United Kingdom, additional popular routes include London to Bristol, London to Southampton, and London to Bath. However, all international routes will pass through London. Given London's trains' speed and dependability, they are a popular mode of transportation for both locals and visitors alike.
There is only one route from London to Amsterdam for all trains, which happens to be the shortest and fastest. Eurostar, the largest company in the region, is operating and managing the train route. In the United Kingdom, the Eurostar is a high-speed train service that connects the country to continental Europe and beyond.
Good to Know
Booking train fares in London is simple when you use Omio. Enter the route and date you're looking for, and our search engine will locate all of the available options for you to choose from. All you have to do now is choose the one that best suits your needs! With a fully charged phone, one can use most Eurostar tickets within London and Amsterdam. To use mobile tickets, make sure your phone is fully charged. Travelers should print their tickets before boarding the train if the travelers' day of travel does not support mobile ticketing.
London to Amsterdam- travel tips
The distance between London to Amsterdam is 341 miles (547 km). Some trains can take up to 7h 13min, but the fastest train takes 4h 7min. The train journey offers scenic views of the passing scenery. Amsterdam is the ideal spot for all types of travelers. Lovers of history and charm can visit Rijksmuseum, which features cultural artefacts from the 13th century with over 8000 paintings.
Other historical points of view in Amsterdam include Anne Frank House, Vann Gogh Museum, Rembrandt Square and Oude Kirk. Nature lovers can explore Vondelpark, which offers a large green space, playgrounds and a rose garden. The Royal Palace of Amsterdam features lush gardens and painting exhibitions of Europe.
If you out of some learning, visit the NEMO science museum for informative and interactive exhibits. Amsterdam features world-class cuisine at restaurants like Ron Gastrobar and The Whiteroom. Enjoy japan cuisine at Yamazato r dutch and south American fares at Waterkant.