The best option for traveling with TGV only in Omio
Whether you want to travel during the day or overnight by train, Omio has you covered. Make Omio your most trusted travel companion by booking a train ticket with them. Booking your ticket with Omio can assure you of getting to your destination in style. During the booking, Omio will assign you the most appropriate seat for you and your companion in the best way possible. Check out these helpful benefits of using Omio to reserve your ticket:
Easy and quick booking process
Easy access to Omio mobile tickets
Easy retrieval of your mobile ticket
General information about TGV
The TGV is an acronym for Train Grande Vitesse (French) or high-speed trains. Previously known as Turbo Train a Grande Vitesse, TGV is France's version of intercity high-speed rail service provider operated by SNFC. TGV was originally designed to run on gas turbines but has since evolved into a fleet of ultra-modern electric trains. TGV covers both domestic and international routes, serving about 110 million passengers annually. The company operates trains in France, Belgium, Germany, Luxembourg, Italy, and Spain including additional services between Switzerland and France. Five TGV trains are in use and they include TGV Atlantique, TGV Reseau, TGV Duplex, TGV POS, and TGV 2N2.
The most popular TGV train routes
Paris-Lyon
About 24 trains depart from Paris to Lyon daily. These 24 trains offer direct journeys, making it easy for you to travel without a change along this train route. On average, these trains take around 2h 23min, covering a distance of 244 miles (393 km). Some of them travel this route in as little as 1h 54min. However, the slowest train takes a duration of around 5h 11min, involving one or two changes along the way. Such connecting journeys are suitable, especially for passengers traveling on a tight budget. With direct trains, you should expect to take approximately 2h 00min when traveling by the TGV high-speed train line between Paris and Lyon.
During weekdays, the first train leaves Paris for Lyon early in the morning, with one train departing every hour. On weekends, the first train on this route departs slightly later in the morning hours. Train tickets on the Paris-Lyon route vary considerably depending on the time of your booking. It is advisable to do the booking at least a day in advance prior to the travel date. Doing so will help you offset some traveling costs on this train route in Europe as ticket prices for Paris to Lyon trains tend to decrease the further you book in advance.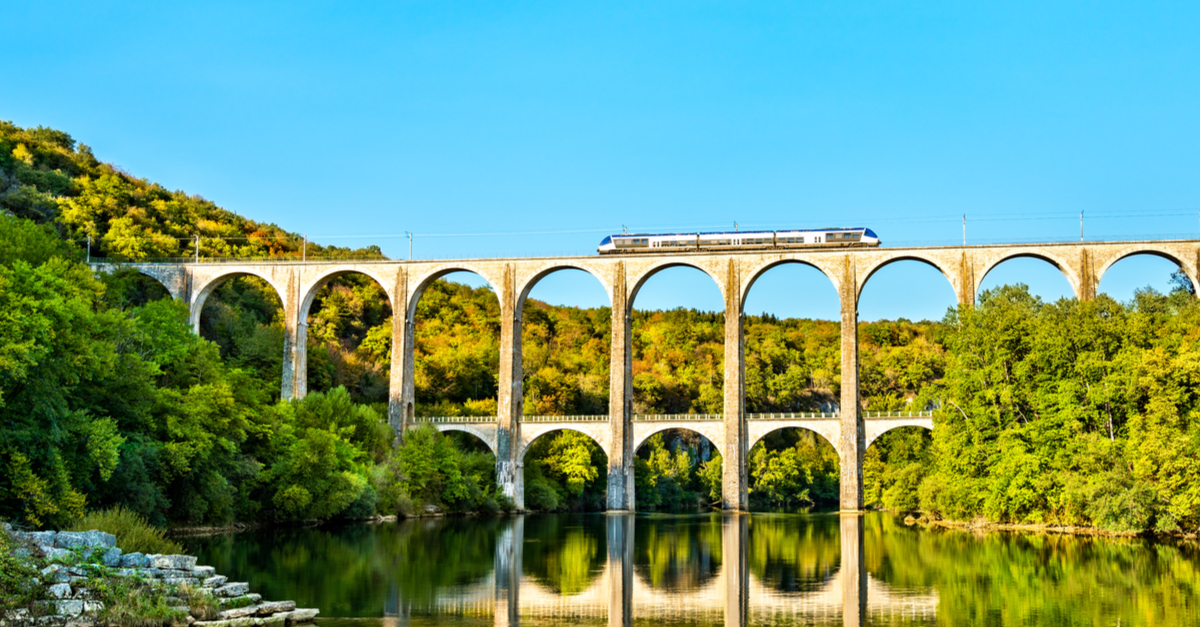 Travel with TGV. Source: Shutterstuck
Paris-Nice
If you are traveling from Paris to Nice, you might want to book a train ticket to have the most out of this journey. About six trains travel between these two cities every day. Around four of them provide direct journeys daily, so it is easy to avoid connecting journeys along the way. Direct trains take an average duration of around 7h 10min to cover approximately 426 miles (686 km) distance from Paris to Nice. The fastest train takes about 5h 41min and the slowest one takes around 11h 48min while making a few changes on the way. Most trains leaving Paris Gare de Lyon train station make their changes at Avignon on their way to Nice train station.
Quite a number of train companies including TGV often offer promotional prices on train tickets, especially when you book in advance. So, if you are looking to travel along this route, make sure to search on Omio for affordable train tickets and their actual prices to help plan your journey in advance. Look for the most attractive rates for travelers on this route. Bear in mind that train ticket prices on Paris to Nice route decrease the more they are booked before the actual travel date.
Marseille-Paris
If you are planning to visit Paris from Marseille, then a train journey is a great option for you. Commonly known as the sunny Cote d'Azur, Marseille is approximately 410 miles (660 km) from the capital of France. TGV high-speed train will take you there in just 3h 30min although the average travel time is usually 6h 58min. Up to 11 trains a day operate between Marseille and Paris with the first train departing at around 6:36 p.m. and the last one leaving at around 8:14 p.m. Most trains along this passenger train route provide direct services while a handful of them make one change along the way. As a traveler on this route, you can book a TGV First Class ticket to enjoy exceptional onboard services such as wider seating with footrests and headrests.
TGV also offers flexible service options and access to several Grand Voyageur lounges in most train stations around France and beyond. Choose First Class tickets if you fancy traveling by train in style or settle for the Second Class option to save money along the Marseille-Paris route. Also, consider doing an early booking to find cheap tickets. With TGV high-speed trains on this route, you can expect to travel quickly while enjoying onboard amenities such as at-seat dining and a free WiFi connection throughout the journey.
Trains offer sustainable way to travel
Many travelers around the world are willing to go the extra mile to reduce their impact on climate change. Most are willing to spend extra minutes on trains just to create a positive effect on their environment. They consider trains as a more sustainable option the best mode of transport than flying or riding their cars.
TGV options for overnight train travel
TGV offers not only direct and connecting journeys but also night trains. With TGV sleeping trains, you can travel comfortably from Paris all the way to Nice, Lyon, or Marseille. Most overnight trains provide First Class services that include four-berth couchettes, Second Class services with up to six-berth couchettes, and plenty of reclining seats for maximum comfort. Unfortunately, there are no sleepers or sleeping cars with one and two-bed compartments at the moment. The French government withdrew all these features from domestic overnight trains more than a decade ago.
If you want to travel in absolute privacy, you may book a ticket for a whole couchette compartment. You can as well take your luggage with you into the overnight train compartment. Usually, there is enough space for bags right under the bottom bunk beds, in the large recess just over the compartment door, and on the rack. Some routes like the Paris-Nice may charge a small fee for your bike. Taking an overnight train to travel from city to city can help you save on one night's accommodation, optimize your travel time, and enjoy onboard services.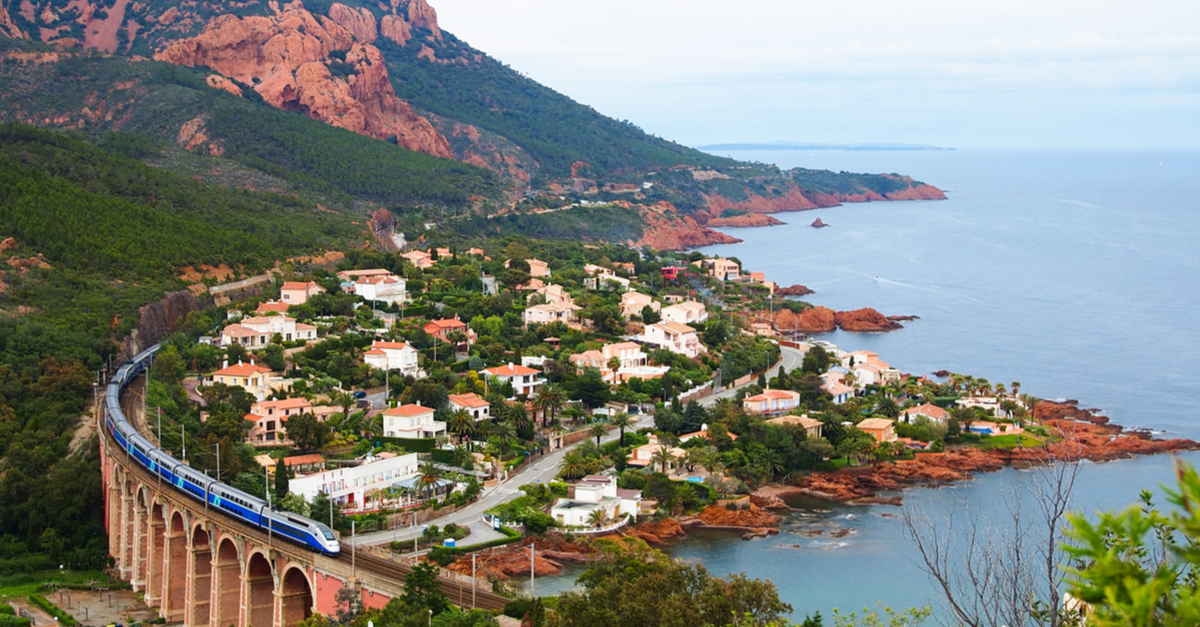 Passengers on TGV Train. Source: Shutterstuck
All you need to know about TGV:FAQ
Where can I buy my train ticket? You can easily and quickly buy your train ticket from Omio. All you need to do is to enter your booking details and email address, and you will have your ticket number sent to your confirmation email shortly.
Do I need to print my train ticket? Most companies allow train passengers to use "ticketless" options. To them, it is not mandatory to have a ticket in a hard copy form before boarding their trains. This is always true with high-speed trains like TGV. However, some train companies will demand a printed ticket upon departure. Make sure to confirm with individual service providers to know whether they require a printed ticket or not.
Can I cancel my train ticket? Yes, you can cancel your train ticket if you feel that you are not ready to travel at that particular moment. Ticket cancellation is easy, especially if you had previously booked online.
Can I exchange my train ticket? Unfortunately, it is not recommended to exchange your ticket. Train tickets are usually created automatically using your details during the booking process. Once the booking process is completed in your name, you cannot transfer or exchange it with anyone.
How many pieces/kilo of luggage can I check on the train? Each passenger is allowed to travel with a maximum of three pieces of luggage, each weighing no more than 55 lbs (25 kg). Hand luggage is also allowed on board provided that it weighs less than 66 lbs (30 kg).
What are the services available for people with reduced mobility? Onboard services available for passengers with limited mobility include wheelchair accessibility, barrier-free access, special coaches, toilets, a transfer chair onboard, special fares, and assistance services.
Are the trains adapted to persons with restricted mobility? Yes, there are trains adapted to travelers with limited mobility. Such trains have upgraded couches or railcars that feature specific amenities tailored to suit passengers with restricted mobility. The trains provide enough space for wheelchairs, emergency buttons for the crew, ramps, and other helpful signs.
Can children under 18 travel by train themselves? In most cases, children under 18 and above 12 can travel on their own provided that they have signed and verified consent from their guardian or parents. However, the age limit for children traveling themselves may vary from one service provider to another.
Can I bring my bike onboard the train? Yes, it is possible to bring your bike with you when boarding a TGV train. Often train companies allow foldable models or disassembled bikes on board. Confirm with individual service providers to know their bike policy before booking your train ticket.
How can I find the cheapest train tickets? It is possible to find a cheap train ticket if you visit the Omio website. With Omio, you can be sure of booking your ticket online at affordable rates. Also, book in advance before your travel dates.
Do I need a Covid-19 test to travel by rail? At this time of the pandemic, you may be required to conduct a Covid-19 test to travel beyond the borders of your country. Make sure to get tested before you can proceed to book your train ticket.
Can I change the name on the train ticket? Unfortunately, you cannot change the name on your train ticket once the booking process is over. Always check and countercheck with your travel company to be sure of your personal details on the ticket during the booking time.