About Frecciargento Train Italy
Frecciargento Train Italy is a high-speed train operated by Italy's railroad operator Trenitalia. It's part of the Le Frecce series of trains introduced in 2011 as Eurostar Italia and later rebranded to Le Frecce in 2012. Frecciargento trains operate on the high-speed and traditional rail network at speeds of up to 250 km/h (155 mph), connecting major cities like Rome and Milan to Italian cities such as Venice, Trento, Bolzano, Mantua, Lecce, Genoa, Reggio Calabria, and Verona. Three different train types make up the Frecciargento: ETR 600, ETR 485, and ETR 700.
Frecciargento train first class tickets
First class tickets on Frecciargento trains grant you access to spacious seating with extra legroom and wider reclining seats. The number of first-class carriages depends on the type of train. ETR 600 trains have two first-class carriages, while ETR 485 trains have three. Frecciargento first-class carriages are spacious with 3 seats per row (2+1 seats) instead of 4. Upon boarding, you'll receive a complimentary hot or cold drink and a snack. There is also a choice of newspapers to read in the morning.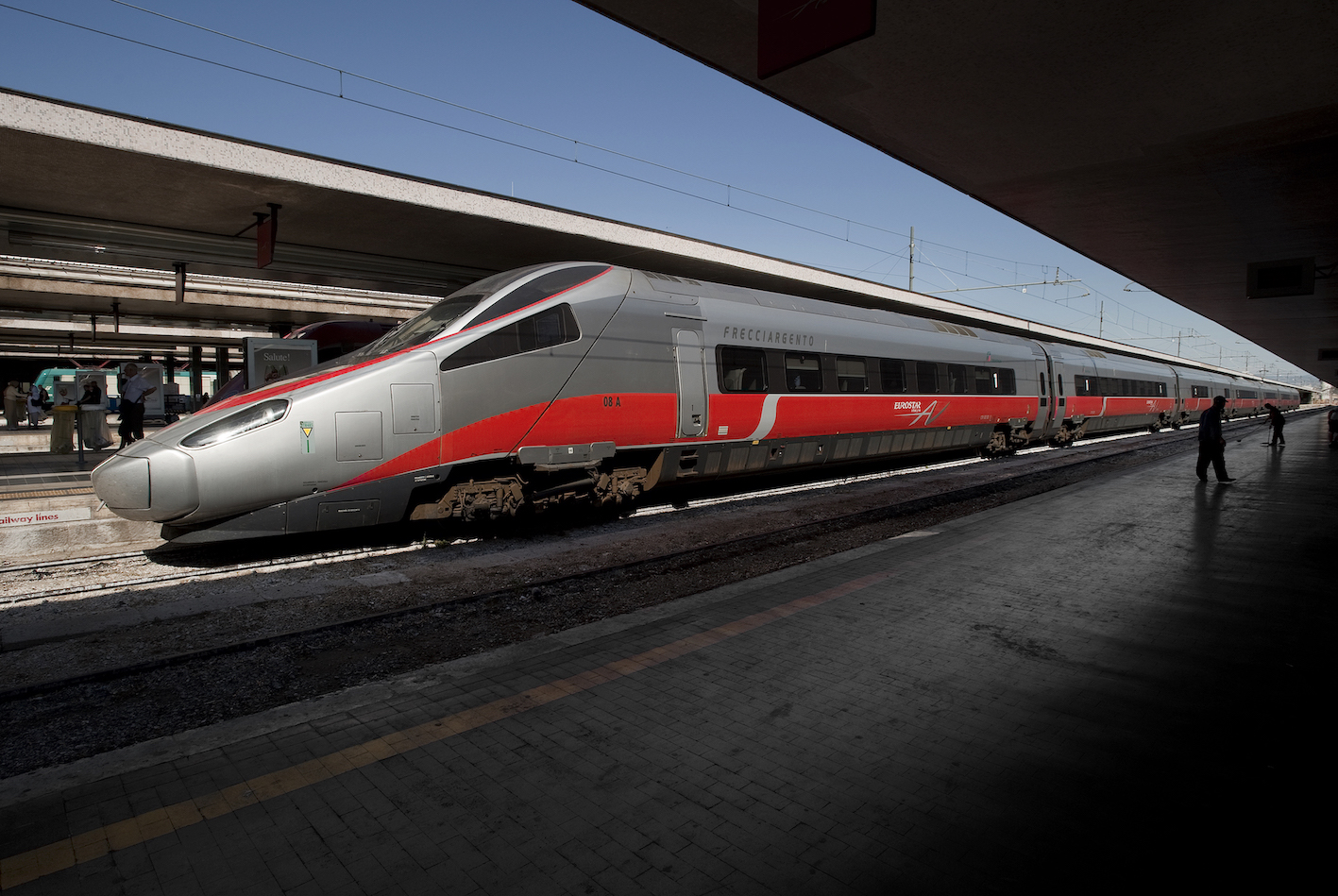 Frecciargento Train. Source: Trenitalia
Frecciargento tickets and seating plan
Frecciargento offer three types of tickets: Super Economy, Economy, and Base. The Super Economy fare is the most affordable but least flexible since you can't change your ticket nor request a refund after booking. The Economy ticket is another affordable option but more flexible compared to the Super Economy fare in that you can reschedule your ticket only once after booking. Frecciargento's Base ticket is slightly costly but more flexible. You can reschedule your travel date as many times as you want before departure.
The seating plan on Frecciargento Trains Italy depends on your travel class. Frecciargento Ist Class carriages have 3 leather seats per row (2 by 1), while 2nd Class carriages have 4 seats per row (2 by 2). Both travel classes have some sets of seats around a table facing each other, which is ideal for group travelers.
Frecciargento connections
Frecciargento has three types of trains with locomotives on different routes. The newly launched ETR 700 serves the Adriatic route from Milan to Bari. The Frecciargento ETR 600 connects Rome to Bari, while ETR 485 trains offer connections from Rome to Reggio Calabria. Other connections served by Frecciargento trains include Rome to Bolzano and Lecce and Venice to Milan.
Frecciargento av trains connect Rome to Italian cities such as Venice, Bari, Verona, and Reggio Calabria on high-speed and traditional lines.
Frecciargento train types and destinations
Frecciagrento has multiple numbered trainsets on different routes across Italy. They include Frecciargento 9406 on the Rome Termini - Venice Santa Lucia route, Frecciargento 8520 on the Rome Termini - Vicenza route, Frecciargento 9354 on the Lecce - Rome Termini route, and Frecciargento 9408, which also connects Rome Termini to Venice Santa Lucia.
Popular Frecciargento Train Routes in Italy
Frecciargento night routes
Frecciargento offers night trains on different routes, including Milan to Bari and Rome to Venice. You can take advantage of the Night & AV offer by Trenitalia, which lets you enjoy reduced prices for one-way night travel and a high-speed train.
Difference between Frecciargento, Frecciabianca, Intercity and Frecciarossa trains
Frecciargento, Frecciabianca, Intercity, and Frecciarossa are high-speed trains operated by Trenitalia. They serve major cities across Italy but differ in comfort, speed, and amenities. Frecciarossa trains are the fastest at 190 mph (300 km/h), followed by Frecciargento trains at 155 mph (250 km/h). Frecciabianca trains operate on conventional and high-speed lines at a maximum speed of 124 mph (200 km/h), while Intercity trains are the slowest in the fleet at 99 mph (160 km/h). Frecciarossa trains are the most expensive trains offering a high level of comfort and amenities, followed by Frecciargento trains, which are slightly cheaper with enhanced comfort and amenities. Frecciabianca trains have comfortable seats but fewer amenities. Intercity trains are the least comfortable option. Frecciarossa, Frecciargento, and Frecciabianca trains connect several cities across Italy, while Intercity trains operate in small towns and cities.
Travel Tips
Italy is one of the popular European destinations with amazing cities full of rich history, culture, and beautiful attractions. One of the must-visit cities is Rome. The Italian capital has everything for different types of tourists. You can admire ancient ruins like the famous Colosseum or head over to Vatican City - the Centre of Catholicism. Milan - the second largest city in Italy - is another destination famous for its architectural landmarks, rich history, and luxury fashion outlets. Other Italian cities worth visiting include Capri, Turin, Naples, Florence, Bologna, Tuscany, and Venice.
If it's your first time in Italy and you don't know where to start, check out our travel guide for places to visit and things to do in Italian cities like Milan, Rome, Naples, and more. In Italy, you can:
Sail through Venice for the best sightseeing experience
Watch an Opera in the Roman Arena in Verona
Sample Italian cuisines such as Pizza, Risotto, Lasagne, Pasta, and Gnocchi in cities like Naples, Florence, Milan, Turin, and Bologna
Relax at some of the best beaches in Italy like Sanremo, Viareggio, Rimini, Costa Verde, and Calabria
Trek through Sardinia
Frecciargento: Services on Board
You'll access several services and amenities on board Frecciargento trains. They feature air-conditioned carriages with reclining seats and extra space for luggage and legroom. Luggage space is available beneath the seats, on the overhead racks above seats, and between seat backs. Passengers with larger suitcases can keep them on the racks at the end of each carriage. There is enough space for large-sized luggage in both carriages and lobbies.
For onboard entertainment, you can connect to free WiFi and access the FRECCE Portal. This digital newsstand offers a range of weekly and monthly magazines and top newspapers in Italy. You'll also access TV shows, music, movies, and news on some of the day's happenings. ETR 600 trains have LCD screens in the vestibule displaying different offers and services. They also have a screen in each coach displaying information about the journey.
Frecciargento trains offer restaurant service with different types of dishes. An onboard catering service, FRECCIABistrò, serves snacks, cold drinks, breakfast, and lunch menus. Other amenities you'll access on board include coat hooks close to the window, plug sockets with USB outlets at each seat on ETR 700 trains, a baby changing table for passengers traveling with infants, a courtesy light at each seat, and two designated spaces for travelers using wheelchairs and two seats for those escorting them.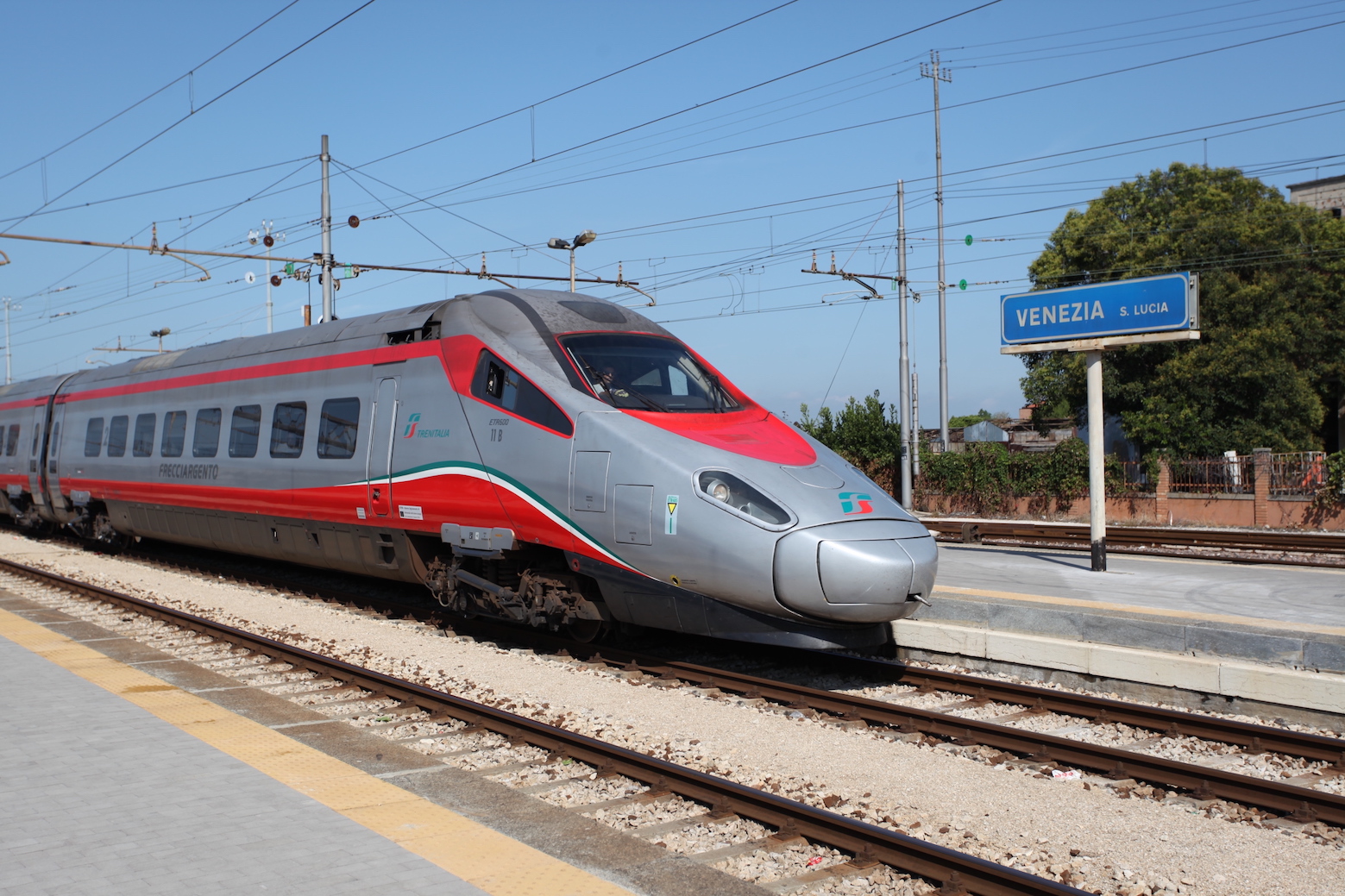 Frecciargento Train. Source: Trenitalia
Frecciagrento: FAQs
Yes. Free WiFi is available on Frecciargento trains. Just connect to the network 'WiFi Frecciargento' and start browsing.
You must present a valid ID or passport to board Frecciargento trains.
Frecciargento trains have two designated spaces for passengers with reduced mobility on wheelchairs and two companion seats in each carrier.
No. Transporting your luggage is free since there is enough storage space for small and large-size suitcases on Frecciargento trains.
Onboard catering is available onboard Frecciargento trains through the restaurant service or FRECCIABistrò, a bistro car serving snacks, drinks, and different breakfast and lunch menus.
You can only access first aid emergency care on Frecciargento trains. They have a well-trained crew to deal with different medical emergencies on board before taking the next appropriate steps.
Yes. It's safe to travel on Frecciargento trains when pregnant. However, we advise you to consult a medical expert to confirm if traveling by train is safe for you and the unborn child during the specific stage of your pregnancy.
Once you arrive at the station and pass through the necessary checks, head to the ticket office where you'll present your ticket and print your boarding pass.
You should arrive at least 40 minutes before departure.
Small pets are allowed on Frecciargento trains free of charge. They should be kept in a container not exceeding 70 x 30 x 50 cm, with only one pet carrier per passenger. Dogs of all sizes are accepted provided they are leashed and muzzled.