How to travel from London to Birmingham?
Passengers looking to journey from England's capital, London, to Birmingham, which sits in the heart of the country, can choose from a multitude of transportation options that depart with great frequency throughout almost every hour of the day and each day of the week. Trains and buses make the 128 mile (207km) trip daily.
Fortunately, a majority of these options operate directly, so transfers aren't a significant factor when determining the best route. With both train and bus options operating roughly around 2h, Birmingham can easily be a day-trip or weekend-trip. Once in Birmingham, take some time to absorb the culture—the city is home to Cadbury World, where visitors can taste amazing chocolates, as well as a number of museums, like Thinktank, a science museum with interactive galleries.
What is the cheapest way to get from London to Birmingham?
Journeyers looking for cost-efficient travel from London to Birmingham will recognize that there are train and bus options available at low prices, and that both modes of transportation offer direct routes. However, buses, which do tend to have lengthier services, will generally have the lowest price. The cheapest tickets from London to Birmingham by bus can run anywhere from about 2h 20min to just around 4h, and there is handful of bus companies that operate the route: Flixbus, Megabus and National Express. Several departure options are available each day of the week.
Typically, buses depart most frequently from Victoria Coach Station and Heathrow Airport. To ensure that the London to Birmingham cost is the lowest available, passengers should book tickets in advance. Also, having flexibility with travel times and dates—like traveling during off-peak times—helps. Checking for discount eligibility is another effective trick for getting from London to Birmingham the cheapest way.
What is the fastest way to travel from London to Birmingham?
The travel time from London to Birmingham will generally range from about 1h 22min for some direct train routes, to as long as about 4h 10min for some bus options. However, some train services departing after midnight could take as long as about 7h, due to transfers.
Generally, train routes have the quickest London to Birmingham travel time, and a vast majority of these daily routes run direct. While all train companies that service the trip have options that can take around 2h, Avanti West Coast tends to provide the most options that run between about 1h 22 to just under 2h. What's more, the company provides at least one service almost every hour of the day, typically departing from London Euston and arriving at Birmingham New Street.
Find the best tickets from London to Birmingham and book with Omio
Whether passengers are searching for round-trip tickets or one-way tickets for a London-Birmingham trip, all travelers will appreciate getting results from a search platform that amasses a variety of transportation choices provided by a range of companies—and for several times and dates. Omio does this. It is a booking platform that allows users to compare modes of transport from London to Birmingham, and book the best one for their needs.
Additionally, the platform and its content allows users to select their preferred language Options are provided based on search parameters and results are delivered in an easy-to-review list, which can be filtered. Filtering options allow users to whittle down choices based on times, modes of transport, transfers and a range of other preferences. Once a ticket is bought, it can be accessed via mobile device. Travelers are encouraged to visit the Omio magazine For interesting travel insiders to learn tips and tricks for getting the most from their travel.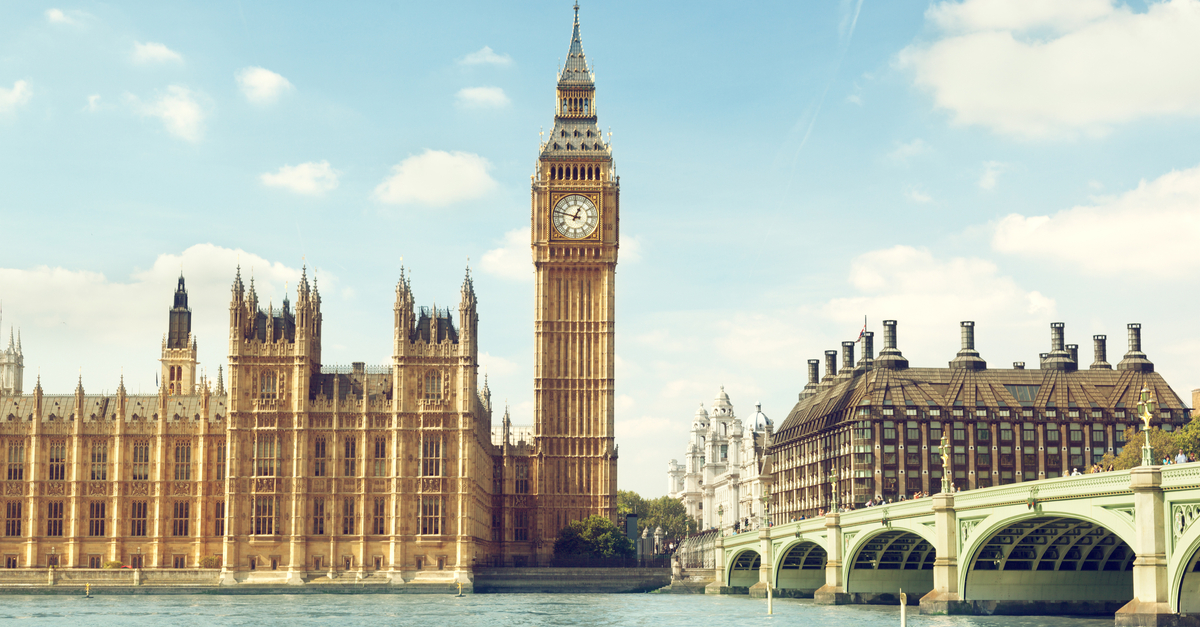 Sunny London Big Ben. Source: Shutterstock
Trains from London to Birmingham
On average, the trains that carry passengers from London to Birmingham tend to run significantly quicker than other transportation options. Travelers who are looking for speedy and direct trips will benefit from choosing these routes. For those who are making this north-bound journey for a day-trip, the quicker services will also allow for more time in Birmingham. Fortunately, there are a range of departure options available seven days a week. Three train companies offer scheduled routes: Avanti West Coast, Chiltern Railways and West Midlands Railways. The daily schedule has between 80 and 90 options available Mondays through Fridays, then close to 50 to 60 options on weekend days. Services operate almost every hour of the day.
Typically, the Avanti West Coast trains run quicker routes and operate with slightly more frequency. However, all companies provide several direct options—only about nine options a day, of all the train companies' routes, include a transfer. All London departures are from Euston and Marylebone stations. Trains arrive at either New Street, Moor Street or Snow Hill, which are 0.7 miles (1.2 km), .7 miles (1.1 km) and 0.5 miles (850 m) from the city center, respectively. To get to the city center from any of the stations, passengers can walk, grab a taxi or rideshare, or catch one of the NX West Midland buses.
Train travel from London to Birmingham with Avanti West Coast or Chiltern Railways
An Avanti West Coast London to Birmingham train will typically leave from Euston Station. The London Euston to Birmingham routes tend to be the quickest and offers passengers both Standard and First Class ticket options. These trains also tend to be less expensive. However, the London to Birmingham price per ticket does fluctuate throughout the day. The Chiltern Railways London to Birmingham journey will typically depart from Marylebone Station. These London Marylebone to Birmingham trips will arrive at Snow Hill Station, which is closest to the city center.
Buses from London to Birmingham
There are a handful of bus companies that provide service from London to Birmingham, including Megabus, National Express and FlixBus. Each of these provers will have routes that are scheduled every day of the week and almost every hour of the day. Additionally, a vast majority of the service options operate directly. Of the three companies, FlixBus provides the fewest options, making Megabus and National Express the preferred companies for travelers looking for flexibility in their schedule.
However, all companies have routes that vary in duration, typically operating anywhere from 3h to 4h. There are a select few bus services that run around 2h 20min, give or take. Buses will depart from either Heathrow Airport, Victoria Coach Station or Finchley Road. The arrival locations include Birmingham Coach Station, Hill St-Railway Bridge and Comet Road, at the airport; respectively, these are 1 mile (1.6 km), 0.9 miles (1.5 km) and 8.9 miles (14.5 km) from the city center. The first two options are walkable, but there are also taxis, rideshares, NX West Midlands buses and, from the airport drop-off location, regional trains.
Traveling by bus from London to Birmingham with Megabus or National Express
The two bus companies that provide the most options for trips to Birmingham are Megabus and National Express. The Megabus London to Birmingham bus routes will depart from either Heathrow Airport or Victoria Coach Station. Typically, Megabus offers more options later at night, especially for travelers who are looking to make a London Heathrow to Birmingham journeys.
National Express regularly departs from the same two stations as Megabus, but the National Express London to Birmingham options depart with greater frequency. What's more, the routes are typically run as London Victoria to Birmingham. For these twp bus companies, the London to Birmingham price per ticket varies based on departure time and location.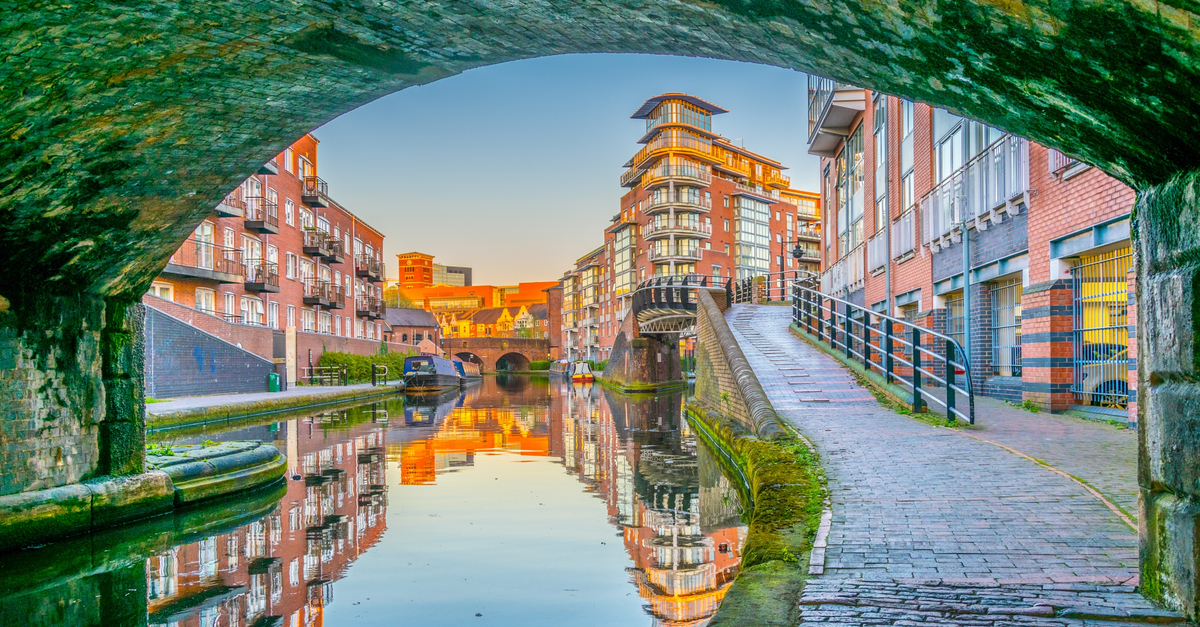 Birmingham Stone Bridge. Source: Shutterstock
To Birmingham by train/bus—travel tips
North-bound journeyers will want to find the cheapest way to get from London to Birmingham so that a majority of the travel budget can be spent in the city. Birmingham is a surprising and robust city—the landscape of which has evolved significantly over the last decade and feels ever-changing. While here, travelers will enjoy using the city's canals to get around; a great alternative to other public transportation. The Thinktank, a science-focused museum, is a must-see for visitors with families since it has a range of interactive galleries as well as areas dedicated to the exciting field of space exploration.
Alternatively, for a weekend with friends, The Mailbox should not be missed. The industrial-looking site is packed with trendy restaurants and bars—all in a canal-adjacent spot. Fans of the band Led Zeppelin are encouraged to bar-hop. The legendary front-man, Robert Plant, lives in Birmingham and is known to drop in to local pubs—so keep an eye out for this larger-than-life figure.