Bus from Boston to New York
You can find about 17 to 24 buses from Boston to New York operating every day on weekdays and Sundays. Saturday presents about 21 services, delivering an average weekly frequency exceeding 150 rides. The distance between the two regions is around 225.7 miles (363.23 km) and takes anywhere from approximately 4h 5min to 9h 45min to finish the journey.
Boston to New York Bus Time: Daily Departures
You can get between approximately 17 and 24 buses operating each day to New York from Boston, enabling you to access a ride every other hour. The initial Boston to New York train generally leaves at around 7:00 a.m. on weekdays and Sundays. Notably, the schedule for the first daily ride changes for Monday and Saturday services according to departure dates. You can get the first ride on Saturdays at about 2:00 a.m., 6:05 a.m., or 6:30 a.m., whereas Monday departures begin between around 2:00 a.m. and 6.30 a.m. The last bus departs at approximately 6:00 p.m. on Tuesday, Wednesday, and Thursday and from about 8.30 p.m. on Friday, Sunday, and Monday. You can board the final ride between about 8:30 p.m. and 9:36 p.m. when traveling on Saturdays. Most daily buses operate non-stop from Boston except one departure at around 9:00 a.m., stopping at Barnstable and Providence before reaching New York.
How long is the journey by bus from Boston to New York?
The buses from Boston to New York take anywhere between around 4h 5min and 9h 45min to complete the trip. Most services run directly between the two towns, creating durations that range from approximately 4h 5min and 6h 20min. The route has only one bus incorporating transfers on the way, leading you to take about 9h 45min to reach your destination. Besides, you can board some efficient options when dealing with tight itineraries and arrive in New York between around 4h 5min and 4h 15min.
Boston Bridge Sunset. Source: Shutterstock
What are the departure and arrival stations for bus from Boston to New York?
Departure bus station: You can depart from Bus Terminal South Station, Essex Street @ Atlantic Avenue, or Alewife Station when traveling from Boston to New York by bus. The primary departure station is Bus Terminal South Station, sitting about 0.5 miles (0.8 km) from the city center and accessible via bus within around 10min. This venue has a lost & found office, information desk, luggage storage, Wi-Fi, and restrooms.
Arrival bus station: Your ride from Boston to New York stops at Port Authority Bus Station or Go Buses Station Manhattan. Most buses end at Port Authority Bus Station, where you can board a bus or train for around 16min to reach the central city. This station incorporates free Wi-Fi, charging stations, and parking spaces.
Which bus companies travel from Boston to New York?
Greyhound, Peter Pan, Go Buses, and OurBus are the companies operating buses from Boston to New York. Peter Pan is the leading operator for these buses, providing between seven to twelve services per day. The company includes one daily departure with two transfers, needing you to stop in Barnstable and Providence before proceeding to New York. All other services operate each day directly, enhancing your convenience with a stress-free voyage. Go Buses and OurBus present the shortest durations on this course, taking from around 4h 5min to 4h 15min.
Peter Pan buses from Boston to New York
Peter Pan is the primary provider for buses from Boston to New York, with about seven to twelve rides per day. All buses operate directly except the service leaving at around 9:00 a.m. that requires two changes on the way. The transfer time makes it the most extended journey per day, taking around 9h 45min.
Greyhound buses from Boston to New York
You can get about eight Greyhound buses running each day between Boston and New York, making it the second busiest company on this route. This company runs non-stop to ensure a hassle-free experience for experienced and first-time visitors. Greyhound rides take anywhere between approximately 4h 20min and 6h 20min to reach New York from Boston.
OurBus buses from Boston to New York
OurBus operates this route every day except Tuesday and Wednesday, with its departures mostly at around 8:50 a.m. and 5:30 p.m. This company offers the quickest duration between these two cities, lasting between approximately 4h 5min and 4h 20min.
Go Buses buses from Boston to New York
Go Buses operate twice per day from Monday to Saturday, setting off at approximately 8:30 a.m. and 5:00 p.m. The second departure remains the same on Sunday, but the first ride leaves at around 10:00 a.m. Go Buses take about 4h 15min to complete the voyage to New York, making it one of the fastest options on this course.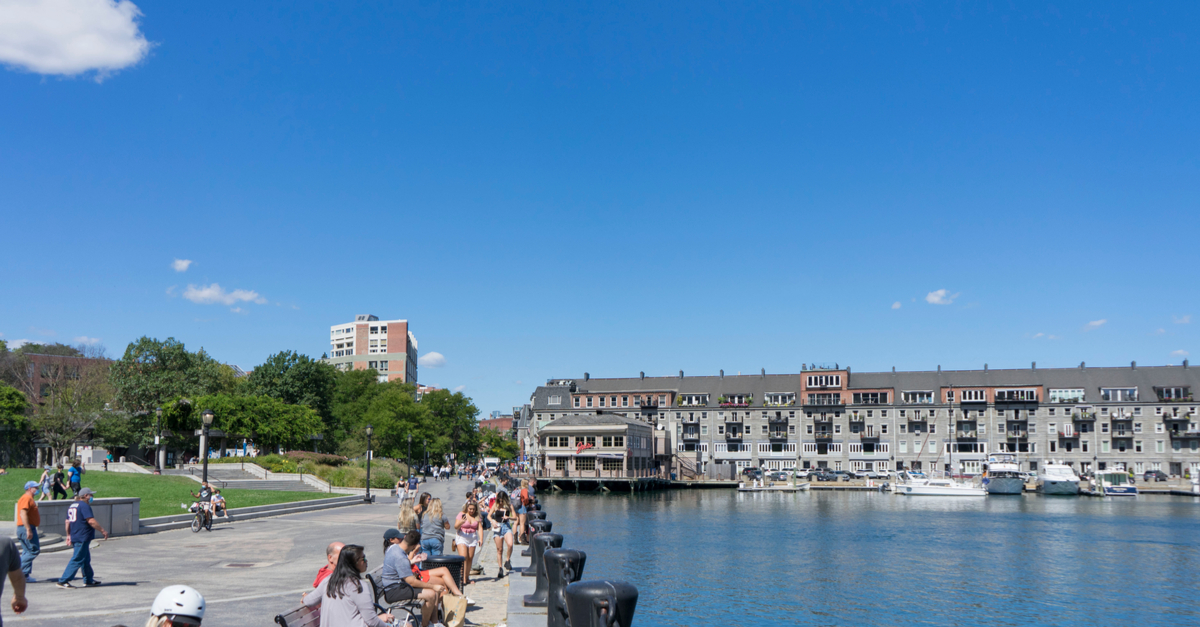 Boston Lake. Source: Shutterstock
Bus Boston to New York: Services on Board
Peter Pan offers standard services on most buses, allowing you to take one 25-pound (11 kg) carry-on bag that you can put in the overhead storage or under your seat and place an extra 50-pound (22 kg) baggage piece in the baggage bay. You can journey with your pet and a bike by putting the bicycle in a compact container and placing the small cat or dog in a carrier. The company personnel assists disabled passengers throughout the journey. Greyhound has standard and economy class services. You can bring one carry-on piece on board the bus and store up to three bags under the bus, with the first of the three being cost-free. The company counts a bike as oversize luggage and requires you to pack it in a compact bicycle box. Aside from these, you can only travel with a legitimate service animal onboard these coaches. Greyhound incorporates wheelchair lift-equipped rides to suit travelers with minimized mobility. OurBus presents quality buses with standard classes available, permitting you to have one carry-on bag and one checked item in the cargo hold. You can also place a bike in the cargo hold if it fits the available storage dimensions. Besides these, you can only travel with a service animal in a harness on board these buses. Passengers with disabilities can contact the company in advance to arrange for special assistance during the voyage. Go Buses provide an economy class with free Wi-Fi connectivity and a restroom. You can take one small item and a carry-on bag onboard the bus, with the company allowing up to two suitcases in the baggage bay. Additionally, you can put a bike underneath the bus when space is available. The company prohibits pets on their rides, except trained service animals. Go Buses has some equipped buses, increasing accessibility for disabled travelers.
How to find cheap bus tickets from Boston to New York?
You can get cheap tickets when journeying by bus from Boston to New York by booking your seat in advance. In addition, you can be flexible with your itinerary and choose later dates and departure times with more affordable options. Slower voyages also provide pocket-friendly rates, allowing you to enjoy a more prolonged and cheaper ride to Apple City.
To New York by bus – travel tips
You can visit Central Park for a comfortable walk or carriage ride along the crisscrossing and scenic pathways. The venue also has Wollman Rink, where you can skate on the icy surface during winter trips. A tour around the 9/11 Memorial and Museum allows you to learn about the attacks, their aftermaths, and their impacts. You can go to Times Square and sightsee one of the busiest areas in New York, famous for its New Year's Eve Celebrations. Walking along The Brooklyn Bridge enables you to appreciate architecture at one of New York's iconic landmarks, with lovely Manhattan and the East River views.