Travel to Nice from Paris
There are many ways of getting from Paris to Nice. The distance between the two France cities is 579 miles (931 km). The fastest way to get between the two cities is by plane, taking less than an hour. Travelers that opt for road travel can choose between public transports or drive themselves.
If you opt for public transport, there are Eurolines buses offering rides between the two cities. France has a comprehensive high-speed rail network so that you can opt for train rides travel in France . The TGV train offers rides from Paris to Nice every four hours.
Trains from Paris to Nice | Buses from Paris to Nice | Flights from Paris to Nice
About Nice
When visiting Nice, remember to keep your ID valid process close even before traveling for smooth visits. The currency used in Nice is Euros, and you can easily withdraw the currency at bank ATMs. You can use your Visa, MasterCard, or any other foreign cards at ATMs for currency exchange. Most locals speak French, so try to grasp as many essential French words as you can for formalities to ease your trip.
In urban areas, greetings are exchanged in the form of a double kiss on the cheeks. In rural areas, you can use a handshake for greetings. Suppose you wish to fit in your dress game as most locals dress in fancy outfits. Remember to employ some table manners in restaurants to avoid sticking out like a sore thumb. Nice restaurants.
Public transport in Nice
Public Transport in Nice is provided by buses and trams. Buses on the Nice run all day through the week. Travelers can find buses in Nice even during late-night hours. Buses are in great condition, and each line has a specific route. The main bus stations are located near the airport, and the other is the Vauban bus station.
There are three tram lines in Nice: T1, T2, and T3. T1 connects the North to the south through Massena square. T2 connects Old Port with Nice Airport and runs from east to west parts of Nice. T3 connects the airport to the stadium. Travelers that wish to take public transport should purchase tickets at their bus stations.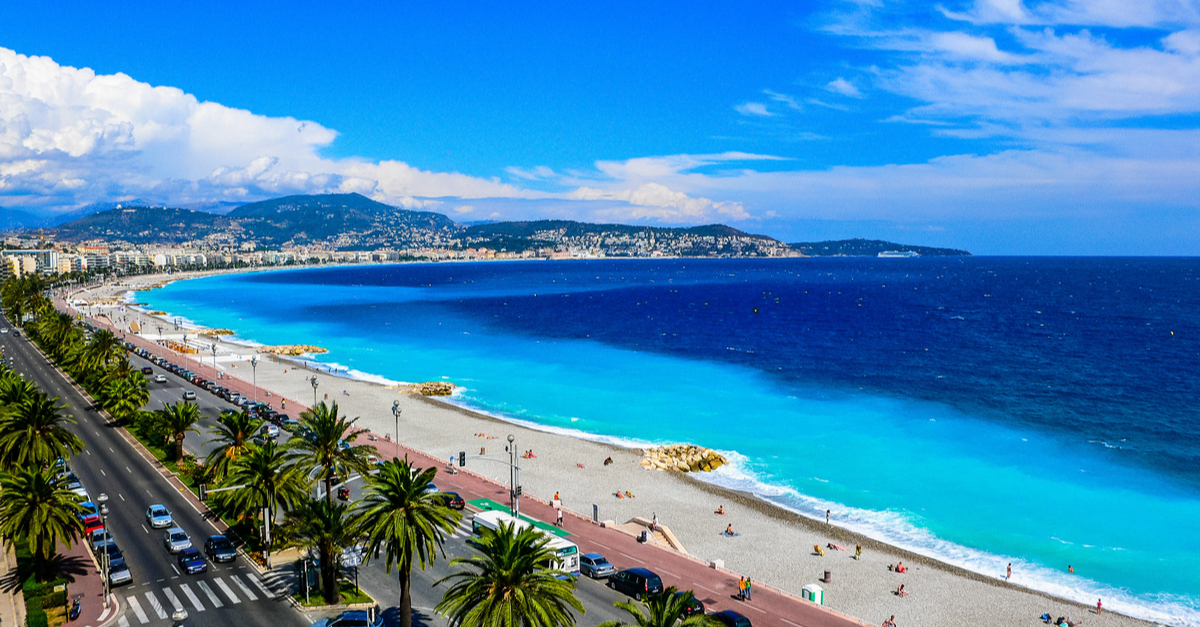 Nice Beach. Source: Shutterstock
Important train stations and airports to Nice?
Arrival bus, train, flight station, airport: The arrival airport for flights to Nice is the Nice Cote d' Azure Airport. It lies 4 miles (7 km) from Nice. It has two terminals and its public transport means including taxis and bus rides.
Bus rides take 20min to get to the city centers. The airport features duty-free shopping stalls, luggage storage facilities, ATMs, parking lots, and communication facilities. The Nice bus station is located in O6300, and it features great connectivity. It offers an ATM, vending machines, and wheelchair accessibility.
Which companies travel to Nice
Three prominent train companies offer train rides to Nice; TVG, SNCF, and OUIGO. The French state owns TVG and has the fastest operating speed trains to Nice. When it comes to flights, carriers to Nice include easyJet, Air France, Volotea, WizzAir, Norwegian, Euro wings, Iberia, Airporsica, Nouvelaoir, British Airways, and Tunisair.
Easyjet is the most popular carrier to Nice. Deta separates from the U.S to Nice, easyJet offers direct flights to Marrakech. At the same time, Air Canada provides seasonal flights from Canada to Nice, easyJet, Middle East, Turkish Airlines, and El Al provide flights from the Middle East and Western Asia to Nice.
TVG to Nice
The French state owns TVG and has the fastest operating speed trains in Paris, the quickest moving at a speed of 357 mph (574.8 km/h). From Paris, it connects the northern part of France and Lilies, then from Lilies to Brussels. There are more than 330 TVG trains in France. So book your ticket with Omio today and travel as far as Brussels with TVG. The trains have Wi-Fi, food, and comfort traveling services for their passengers. With TVG, you can travel for hours without needing to descend.
SNCF to Nice
SNCF is the national railway owned by the state. It is in charge of France's national rail traffic and Moscow as well as the TVG. It covers 1616 miles (2600 km) high-speed rails and 9010 miles (14500 km) electrified routes. Approximately 14 000 trains operate in a day. It covers both regional and intercity travel.
OUIGO to Nice
They are speed-train providers within France, with their headquarters located in Marne-la-Vale. It is independent of SNCF; however, it uses some of the SNCF TVG train sets. Its central station in Paris is the Marne-la-Vallée and calls in other 17 secondary stations.
KLM flights to Nice
KLM offers flights to Nice from Nice Cote d'Azur Airport. It provides services from Birmingham, Johannesburg, Zurich, and Stockholm. It offers both direct and connecting flights from most cities to Nice.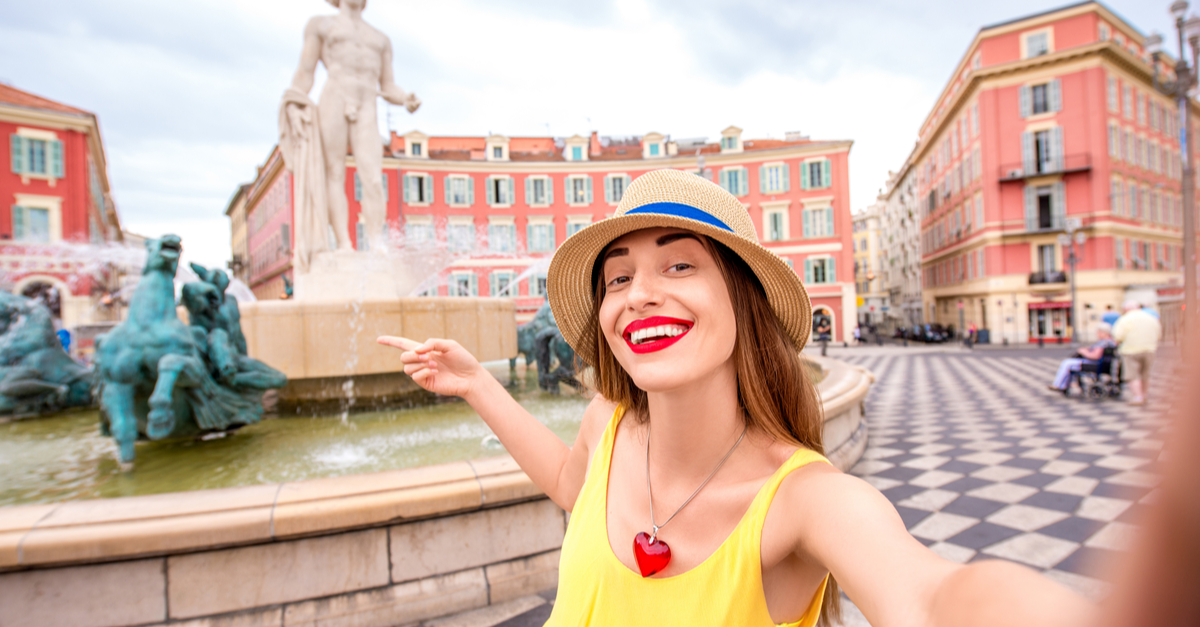 Nice Fountain . Source: Shutterstock
SAS flights to Nice
SAS offers flights to Nice via Oslo, Copenhagen, or Stockholm, depending on the route you prefer. SAS airlines offer flights to Nice from cities in Europe and the USLIKE Boston, Chicago, Los Angeles, Miami, New York, San Francisco, and Washington. From Asia, SAS provides flights to Nice from Singapore, Tokyo, Shanghai, and Beijing.
How to find cheap tickets to Nice
With Omio, you can book as early as possible to avoid the last-minute rush disappointments. You can also cancel your ticket at a 100% refund before eight days of your departure. In addition, we offer a 24- hour booking service via our user-friendly website. Enter your destination (Nice), and then click the "search" icon.
A list of available tickets from different rail providers will appear; choose your access. You will now fill in your details in the appropriate field. The best thing is that we have 12 languages; you can select your most preferred language. Select your payment method and receive your ticket. Save it on your computer and have a printed copy too. You can also download your Omio mobile app and book with your phone at the tap of your phone. Let us ease your ticket booking process, book with us, and receive your travel bonus.
Travel to Nice –travel tips
Your arrival station from Paris to Nice is the Gare du Nord and is the busiest train station in Nice. On arriving, you can use some of the amenities the station offers, which include gift shops, ATMs, and cafes. Traveling to the city center, you can use the bus, taxi, foot or commuter underground trains which will take you few minutes.
Nice provides accommodation to people and decent restaurants where you can rest and take a meal. Nice is a beautiful city; the name comes from "nice la belle," meaning beautiful. It has mesmerizing coastal views and multiple-colored smooth rocks on the beach that you'd love walking on. At night, you will probably think it's a festive season: there are traffic lights almost everywhere; the simultaneous blink of light from far resembles neon lights: it's beautiful.
From June to October is the warmest time, the weather is friendly for outdoor activities. The city's culture propels towards tourism and hospitality, and at the same time, it has preserved its culture. You will note the relaxed state of the town, and a sit having your favorite drink will feel therapeutic. Treat yourself to a few moments of calm and let the city of Nice envelop you.
Paris to Nice Travel Comparison
| | Average Price | Travel Time | Cheapest Time to Book |
| --- | --- | --- | --- |
| | €29 | 11:45 h | 1 Week Ahead |
| | €100 | 5:41 h | 2 Months Ahead |
| | €115 | 1:20 h | 2 Months Ahead |
What is the best way to travel from Paris to Nice?
Cheapest way to travel from Paris to Nice

Taking the bus is the cheapest way to travel from Paris to Nice. Buses traveling from Paris to Nice depart from either Paris' Porte d'Orléans or Porte Maillot bus station and take at least 11:45 h to arrive at Nice's Aéroport Nice Côte d'Azur. Approximately 5 buses travel from Paris to Nice every day, with the first departing Paris at 2:00 a.m. Flixbus is the main bus company that travels from Paris to Nice. Rideshares also frequently travel from Paris to Nice.
Fastest way to travel from Paris to Nice

Taking a flight is the fastest way to travel from Paris to Nice. Flights depart from either Paris' Charles de Gaulle or Orly airport and arrive at Nice Côte d'Azur Airport after 1:20 h of flight time. It takes approximately 3:30 h to travel from Paris to Nice when travel time to and from Paris and Nice's airports is taken into consideration. Approximately 30 flights travel from Paris to Nice every day, with the first departing Paris at 4:45 a.m. Both EasyJet and Air France travel directly from Paris to Nice.
Most popular way to travel from Paris to Nice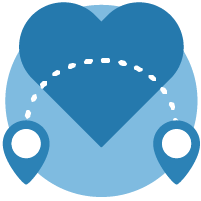 Taking a flight is the most popular way to travel from Paris to Nice. Taking a flight is at least an 1:40 h faster than taking a train when travel time to and from Paris and Nice's airports is taken into consideration, while being only €15 on average. Similarly, taking a flight is at least 10:20 h faster than taking the bus. Taking a SNCF TGV or TGV Lyria high-speed train is a popular alternative for people who would prefer to travel from Paris to Nice while avoiding the airport.