Travel to Copenhagen
If you want to travel from London to Copenhagen, the quickest way is via plane. A direct flight can get you to your destination in under 2h. However, you can also select a connecting route whose layover time contributes significantly to the overall voyage time that can clock to about 15h and counting. There are over 20 flights that transport passengers between the two cities each day, and you can expect to find multiple rides scattered within the day hours.
It's also possible to travel by rail from London to Copenhagen. The best way is to take a Eurostar train to Paris (around three daily trains present) or Brussels (one ride available) and then catch a transfer train to your destination. There are various daily train trips to Copenhagen from Paris or Brussels, and a train ride on this route can take approximately 18h.
About Copenhagen
The Danish Capital, Copenhagen, is the country's governmental, economic, and cultural center. The city is renowned globally as one of the happiest globally, along with an innovative restaurant scene, excellent beer, and multiple canals. Although part of an EU-speaking nation, you can't pay for anything using the Euro. Instead, Denmark accepts the Danish Krone as its money currency; one Euro equals 7.44 Danish Krone. When contemplating a visit to Copenhagen, note that June and July are generally the sunniest and warmest months ideal for outdoor activities. However, if you want to experience Copenhagen's snowy landscape, late December to early March is the time to visit.
Public transport in Copenhagen
Copenhagen's public transportation comprises a well-established rail, road, and water network. The primary transport facilities are the metro and the S-trains. The Copenhagen Metro serves three municipalities: Copenhagen, Tårnby, and Frederiksberg. It has four lines, namely M1, M2, M3, and M4. Movia public bus transportation agency also integrates with the metro system, meaning that metro tickets can be valid on buses.
The S-train will be the perfect choice if you'll be staying within the city center vicinity. It's an urban rapid transit train network that usually serves Copenhagen, connecting its inner and outer boroughs. When taking one of the scenic trips across the harbor, you'll find that Copenhagen Harbor Buses serve around ten water bus stops.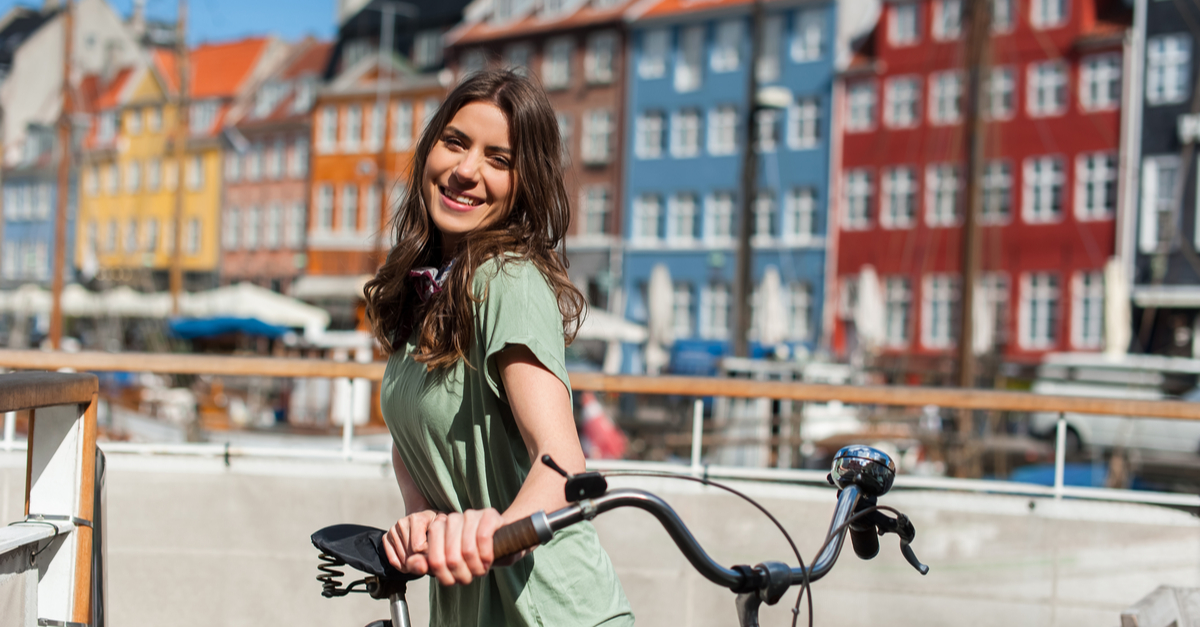 Copenhagen with Bike. Source: Shutterstock
Important train stations and airports to Copenhagen?
Arrival train station, airport: When flying into Copenhagen from London, your likely entry point will be Copenhagen Airport (CPH). It sits 5 miles (8 km) to the south of central Copenhagen, a distance you can easily cover in about 17min via car ride. The airport also has rail public transit connections under terminal 3 on the Øresund Railway Line and through Copenhagen Metro's Line 2; a journey time to the city center is approximately 15min.
Airport amenities include two terminals, free ground transportation on location, a shopping center, and various eateries. Copenhagen Central Station will be your entry point when you travel from London to Copenhagen by train. The terminal lies in the city center; hence will put you in proximity to public transit connections like buses, local S-trains, and taxis. Copenhagen Central Station houses amenities like a bakery, eateries, supermarkets, showers, bathrooms, and a shopping center.
Which companies travel to Copenhagen
When it comes to flight travel from London to Copenhagen, you'll find the service in airlines such as Ryanair, KLM, and SAS. Ryanair typically runs direct flights, KLM has connecting routes, while SAS offers direct trips and layovers. A direct trip can get you to Copenhagen in approximately 2h or less, while a connecting journey onboard SAS can take a travel time of approximately 15h. Of the three airlines, Ryanair will get you to your destination in the shortest possible time.
For train rides, the first part of your journey will involve taking a Eurostar train that travels to Paris or Brussels directly. Afterward, you can transfer to one of the Deutsche Bahn trains that leave Paris or Brussels for Copenhagen, with trains journeying this voyage having about 2-5 transfers en route. Note that traveling the Paris route will give you more train options on the first part of the journey, while you'll have multiple choices for the last part if you journey through Brussels.
Eurostar train to Copenhagen
If you want to travel from London to Copenhagen via train, you might have to catch a train to Paris or Brussels before changing trains for your destination. This first part of the train journey involves boarding a Eurostar train. The train ride is usually direct regardless of the route you choose to take, but the trip time will differ. Train Eurostar to Paris lasts about 2h 16min, while train Eurostar to Brussels takes approximately 2h 01min. Around three daily trains travel the Paris route and one train journeys to Brussels from London each day.
Deutsche Bahn train to Copenhagen
A Deutsche Bahn train will take you through the rest of your journey once you alight at either Paris or Brussels. About 6-9 trains travel to Copenhagen from Paris each day, and approximately 11-14 trains depart from Brussels to Copenhagen daily. The train time from Paris can take about 14h 24min, while trains from Brussels to Copenhagen can last around 16h 01min. Depending on the trip you select, you'll encounter anywhere between 2-5 layovers. Overall, journeying through Paris will take a shorter time than taking the Brussels route.
Ryanair flight to Copenhagen
Per our research, Ryanair is the airline to select if you want to travel from London to Copenhagen in the shortest time possible. The trip is usually direct and lasts about 1h 40min. You'll find about 1-2 early morning trains each day except Saturday, whose schedule starts in the afternoons. Ryanair flights for this voyage depart from London Stansted Airport (STN) and arrive at Copenhagen Airport (CPH).
KLM flight to Copenhagen
KLM dispatches around 4-9 planes daily to serve people traveling from London to Copenhagen. Your trip can begin at either London Heathrow Airport (LHR) or London City Airport (LCY), and the route entails a layover at Amsterdam before arrival at Copenhagen Airport (CPH). KLM flights on this voyage can last anywhere between 3-11h.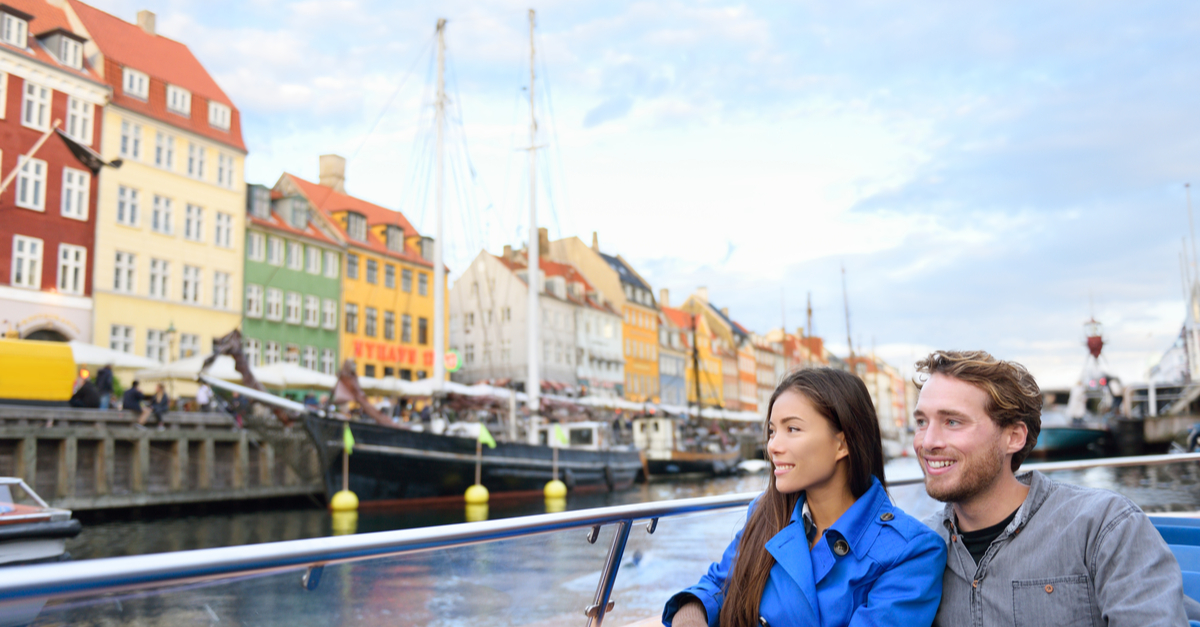 Copenhagen with Boat. Source: Shutterstock
SAS flight to Copenhagen
SAS offers direct and transfer flights when you travel from London to Copenhagen. You'll find about 7-11 daily flights serving this route, most of which are transfers. Direct connections will get you to your arrival airport in roughly 1h 50min, while layovers occurring in Oslo or Stockholm contribute to the 10-16h overall travel time for connecting flights. SAS flights from London to Copenhagen begin at London Heathrow Airport (LHR)and end at Copenhagen Airport (CPH).
How to find cheap tickets to Copenhagen?
When on a budget, you can still conveniently travel from London to Copenhagen by finding cheap tickets. One way is to book your ticket far ahead in advance when companies offer sweet deals. Here, make sure that you don't intend to make any changes to your travel plans as tickets usually are not refundable. Another hack is to be flexible with your traveling days, such that you can travel whenever cheap tickets arise. Also, you'll find that selecting slower journeys or connecting trips will generally be cheaper than a direct trip.
Travel to Copenhagen—travel tips
Copenhagen is full of happy people, and that's reason enough to visit this Danish city. You'll get to experience some of the joy for yourself and find out first-hand why the Danes are renowned as among the happiest people on earth. The hygge culture or cozy feeling when people come together is one of the contributors to the happy city. Tour Copenhagen and discover why it has earned the title "green city," partly due to the cycling culture. The sight of traffic on bicycle lanes during rush hour is also one to behold.
If you're a shopping fanatic, you'll love shopping at the Stroget pedestrian street. It's the longest pedestrian street globally, full of international brand names and local Danish items. The city's fine dining establishments are another thing you wouldn't want to miss out on. Multiple Michelin Star restaurants are available, including the best in the world. Your entire family will love the amusement park that sits in the city center. Tivoli gives you a unique experience as you ride on old roller coasters, with one dating about a hundred years old.
Your trip to Copenhagen wouldn't be complete without visiting one of its canals. Nyhavn is the common one, but Christianshavn has many canals such that its nickname is "Little Amsterdam." Do not forget to pass by a coffee shop and taste excellent coffee—Denmark has among the highest coffee consumers globally; it's no wonder its baristas prepare outstanding cups.