Bus from Turin to Taranto
If you're traveling to Taranto from Turin, you should consider taking the bus. It is arguably the most convenient and flexible form of transport with about six buses on average plying this route. The bus times are regularly distributed throughout the day so you're sure to find a bus regardless of what time you're departing. The average travel time between the two cities is 14h 30min but it can vary depending on the bus company.
Turin to Taranto Bus Time: Daily Departures
For the Turin to Taranto route, there are about six buses on average each day but it could go to up to ten on peak days. The earliest bus departs as early as 06:35 with the latest one leaving the station late in the night at around 22:00. It is worth mentioning that weekends and holidays tend to have more buses due to the increased demand among travelers.
How long is the journey by bus from Turin to Taranto?
Taranto is about 670 miles (1081 km) from Turin which translates to a 10_hour drive when using private means. Since this isn't sustainable, taking the bus would be more appropriate in which case you should expect your journey to be just over 14 hours in the case of a zero_transfer journey with connecting buses taking as long as 21 hours.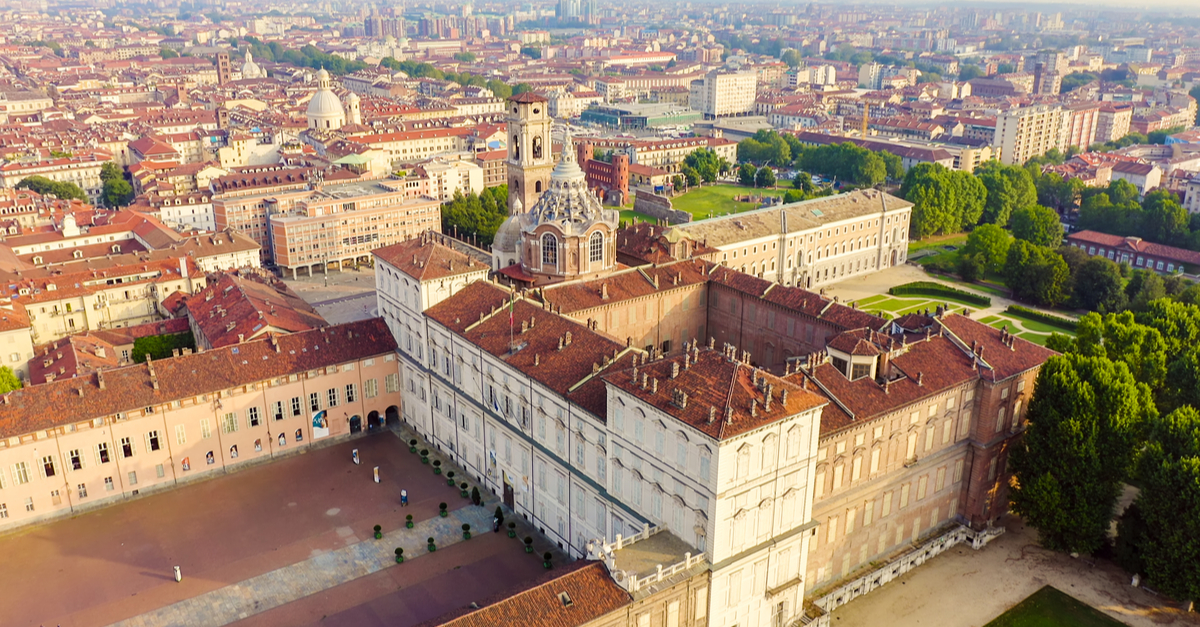 Torino Oldtown Castle. Source: Shutterstock
What is the departure and arrival station for buses from Turin to Taranto?
Departure bus station: When taking a bus from Turin to Taranto you have the option of two bus stations. The first one is Turin (Vittorio Emanuele) Corso Vittorio Emanuele II which is just 15 minutes away from the metropolitan area via train. The second one, Stazione Torino Stura, is 21 minutes away from downtown Turin. Both stations have some decent facilities including a ticket office as well as restrooms.
Departure bus station: When you get to Taranto, you are most likely to stop at Porto Mercantile station which is the main bus station in the city. It is only 2 miles (3.2 km) away from the city center and only a few minutes when you take the number 30 train. The station has a few amenities including general shops and restrooms.
Which bus companies travel from Turin to Taranto?
The Turin to Taranto route is mostly serviced by two bus companies, bus from Turin to Taranto MarinoBus and Movelia. Both of them are well known and loved across Italy so it is a little hard to distinguish which one the locals love the most. Both companies offer direct and connecting buses, so it is up to you to choose which one suits you the most. If you choose the indirect option with MarinoBus, your stopover is likely to be at Florence while Movelia tends to connect at Bologna. It is also worth pointing out that both bus companies are equally fast with almost similar travel durations between the two cities.
MarinoBus buses from Turin to Taranto
MarinoBus has about three buses servicing the Turin to Taranto route every day with only one being a direct bus. When traveling with them, expect a 14h long journey for the direct bus and about an extra hour or half_hour for the one with changes. Currently, all their buses are standard buses but keep an eye out as they might introduce high_speed buses on this route soon.
Movelia buses from Turin Taranto
Movelia also has three buses servicing this route every day with only one requiring a transfer. Journeys with Movelia take about 14h for the direct bus and an extra 30min for the one with a transfer in Bologna bus from Turin to Taranto. At the moment, they do not have any high_speed buses that take on this route but there might be a few in the future so be sure to keep your eye out for that.
Traveling by bus is a sustainable journey
If you're looking for ways to travel more sustainably, then you will be happy to hear that bus provides one of the most sustainable means of transport compared to the rest. With bus travel, there are significantly lower carbon emissions compared to flying and the fact that it is shared among many people makes it a better option compared to driving alone.
Bus Turin to Taranto: Services on Board
When traveling to Taranto from Venice via Movelia, expect a wide range of onboard amenities to make your long journey a little bearable. For instance, the buses have a Supra+ class which is equivalent to first class. Here, passengers get the privilege of leather seats and the best part is that you can have your choice of which seat you fancy the most. You also get a hostess catering and personal assistance. The bus provider also gives permission for passengers with disability to come with someone who can help them get into and out of the bus. Also, the bus company also allows passengers to travel with their cats and dogs as long as they are in a rigid pet carrier and don't act as a nuisance to other passengers. Special luggage such as bicycles and surfboards can be carried but you have to mention this during booking and pay an extra charge. If you're traveling with MarinoBus, keep in mind that their luggage policy only allows hand luggage weighing no more than 5kg to be carried into the bus and then two additional pieces of luggage with a maximum weight of 12kg to be kept in the bus trunk. It is also worth adding that they do not have any distinct classes and tickets can be refunded for a 30% fee up until 48 hours before departure.
How to find cheap bus tickets from Turin to Taranto?
If you're looking for ways to cut down the cost of your travel please consider booking your tickets in advance. The reasoning behind this is that generally, ticket prices increase as the date of departure approaches because of a relative increase in demand. Another way to make traveling between Turin and Taranto cheaper is being flexible with your travel dates. Typically, some days, especially weekends, have a higher demand for tickets. Therefore, tickets for such days will naturally be more expensive. Finally, try going for the connecting buses instead of direct buses, they're usually less expensive.For more information you can check out the Omio Magazine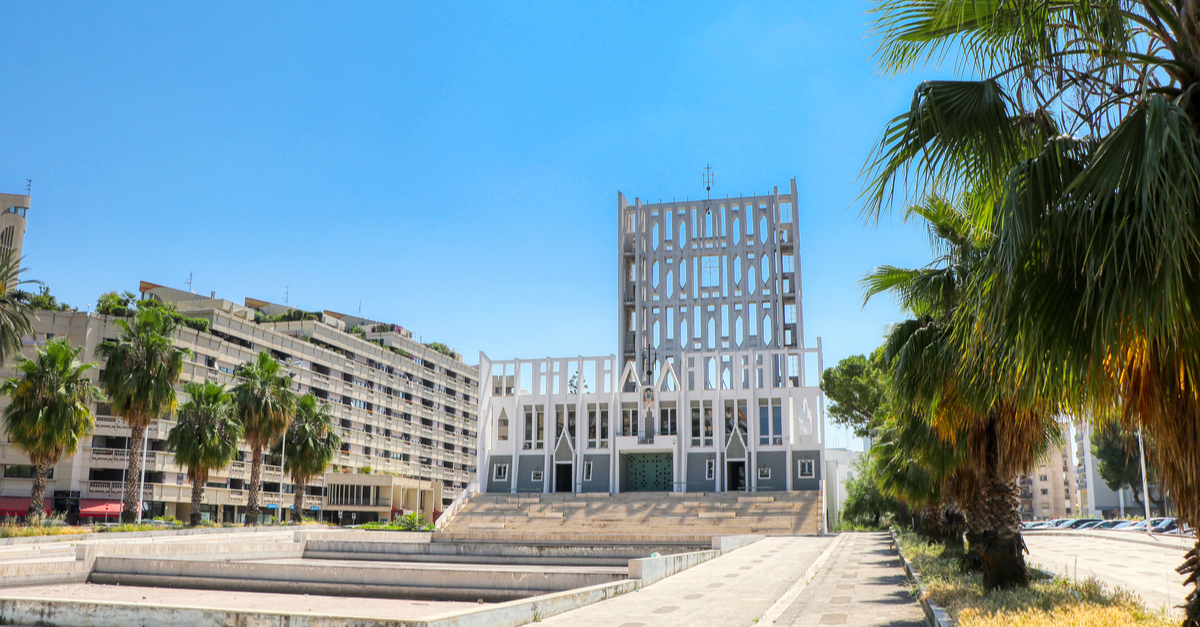 Taranto Modern Church. Source: Shutterstock
To Taranto by bus—travel tips
Compared to some other Italian cities, Taranto ranks very highly among other popular tourist attractions. There is a range of museums, ancient monuments and even amazing sceneries that are guaranteed to provide you with a good time while visiting the city;
National Archaeological Museum of Taranto: Operated by the Ministry for Cultural Heritage and Activities, this Italian museum exhibits an impressive collection of artifacts from the Magna Graecia.
Castello Aragonese: This was a purpose_built fortress that was built in the 15th century to reinforce the link between the old town of Taranto on a peninsula, and the mainland. Since then it has served as an artillery platform, a prison, and then a fortress again, so there's plenty of history here.
Jonian Dolphin Conservation: If you love animals, then this is the one for you. The Jonian Dolphin Conservation houses endangered dolphins and you can go there to learn all about dolphin conservation as well as see the cute little creatures.
Mare Picolo: If you enjoy the general outdoors, take note of this. Located along the shores of the sea, this is an excellent place relax and have some fun in the sun.
Taranto Cathedral: The cathedral has been around since the 10th century and had some reconstruction done in the 11th century. You can visit it to have an amazing experience of the Byzantine influence. It has wonderful mosaic floor tiles.