Train to Manchester
Visiting Manchester for the immense sports and industrial heritage in the city is a great idea any time of the year. There are numerous train stations that you can arrive in, but three are the most prominent. These are Manchester Piccadilly Station, Manchester Oxford Road Railway station, and Manchester Victoria station. While Manchester Piccadilly is busier than the other two stations, Manchester Victoria is closer to the city center. Trains that make it to the three train terminals depart from several UK cities like London, Edinburg, Southampton, Glasgow, and Oxford.
As you travel from cities like London, you might not come across any stops. However, trips originating from regions such as Bournemouth may include some two or three transfers. Therefore, based on your departure city, you can spend approximately 2h and up to roughly 5h 24min when traveling on a train to Manchester.
Avanti West Coast to Manchester
One of the companies servicing the various train routes to Manchester is Avanti West Coast. The railroad enterprise has been providing trains to Manchester since 2019 after taking over operations from Virgin Trains. It currently operates under First Group and Trenitalia. Avanti trains provide both nonstop, and indirect train rides subject to the city they exit.
Mostly, you will find the trains starting their journeys in London, Edinburg, Glasgow, Birmingham, and Southampton. Thus, the exit train terminals for Avanti trains include Edinburg Waverly Railway Station, Glasgow Central, Euston Railway Station in London, and Birmingham New Street. Avanti's arrival station is usually Manchester Piccadilly.
CrossCountry to Manchester
You might also travel aboard a CrossCountry train to Manchester from various UK metropolitan centers. UK authorities formed CrossCountry, which is now under the operation of UK Arriva Trains, in 2006. The company provides two rides per hour for passengers wishing to travel by train to Manchester. While connecting cities like Oxford to Manchester, CrossCountry trains provided direct train rides.
However, you may encounter single transfers when departing from urban centers like Edinburg. Some of the stations you can use CrossCountry trains during departure include Edinburg Waverly Railway Station, Oxford Train Stations, Bournemouth Train Station, Birmingham New Street, and Southampton Central. On arrival, the trains use both Manchester Piccadilly and Manchester Victoria as their destination.
Manchester Terraces. Source: Shutterstock
Main Train Stations in Manchester
After you take a train to Manchester, you may use Manchester Piccadilly as an arrival station. Being the primary train terminal in the city, the station features a list of facilities. You can find various restaurants and several takeaway outlets where refreshments, snacks, and meals are available. There are also shops and a supermarket operating inside. Further, you can use the trolleys available throughout the station, a long-stay car park, Wi-Fi, luggage storage facilities, and washrooms.
Given that Manchester Piccadilly is approximately 0.9 miles (1.4 km) from Manchester city center by road, you may need to seek some transfer options. Firstly, you can take a cab that gets you to downtown Manchester in nearly 6min. If your travel budget caters to bus fares only, you can board any of the various buses in Manchester, such as Free Bus, and get to the city center in approximately 9min. Manchester Vitoria is the other train terminal receiving trains to Manchester. Compared to the other stations, Manchester Victoria is closest to the city center at a distance of 0.4 miles (0.6 km).
When connecting the station to downtown Manchester, you can use either a cab or bus. Taxis take about 3min while buses require travel times of between approximately 3min to 7min. In Manchester, Victoria, you can enjoy several amenities, including luggage storage centers and washrooms. There is also a sit-in restaurant and takeaway spots where you can find meals at an affordable cost. Other than trolleys, there happens to be an ATM and a payphone available in Manchester Victoria.
Onboard facilities Manchester
When you travel to Manchester by train via Avanti West Coast, you will ably access some laudable services. You can spend the trip seated in cozy chairs. Onboard, you can browse via the free Wi-Fi installed on all Avanti trains. While surfing, you can use personal devices like phones and tablets, which are allowable on the train. If you would like to charge the electronic devices, Avanti provides power outlets at no additional costs. The sockets are near all First Class seats. If you are the Standard Class, charging is possible via the electrical outlets at the table seats.
For added entertainment, you can use the Avanti app to stream movies using your phone. If your Manchester trip goes on for an extended duration, you can proceed to order some food on board. You don't have to find a restaurant to make your order. Instead, use the free Wi-Fi to examine the menu and select the delicacy that best suits you. Whenever you travel heavy, you can place your baggage in designated spaces, overhead racks, or under your seat. On the trains, there are also spaces reserved for bicycles.
Pets are also welcome in Avanti trains, with each passenger being allowed at most two. Disabled travelers can get assisted travel services by calling the travel company a day before departure. When you enjoy a ride on one of a train to Manchester via CrossCountry trains, you are free to surf the internet using the onboard Wi-Fi at no cost. There is a socket on First and Standard Class chairs to plug in your phone or laptop and start charging. If you feel hungry before arriving in Manchester, CrossCountry trains will provide a tasty menu from where you can order a meal.
During your journey, you can leave your comfortable seat and use the clean toilets on the train. Additional facilities available onboard include overhead racks where you can store your luggage and reserved spaces for those who want bicycles on the train. As a passenger, you can bring a maximum of three pets while you travel. Remember to call CrossCountry at least 6h before departure time if you would like a staff member to help due to a disability.
Train tickets to Manchester: Useful to know
If interested in getting a low train price to Manchester, consider buying tickets in advance. Most train companies provide e-tickets, which you can use when getting on the train. However, printed tickets are also acceptable on most trains. You don't need to show ID alongside your tickets to board a train. Remember, it essential to maintain an organized registry of your tickets. The practice helps prevent the inconveniences that problems like losing a ticket may cause. On Omio, buying train tickets to Brighton is fast and easy, and it's possible to store all your tickets in your Omio account.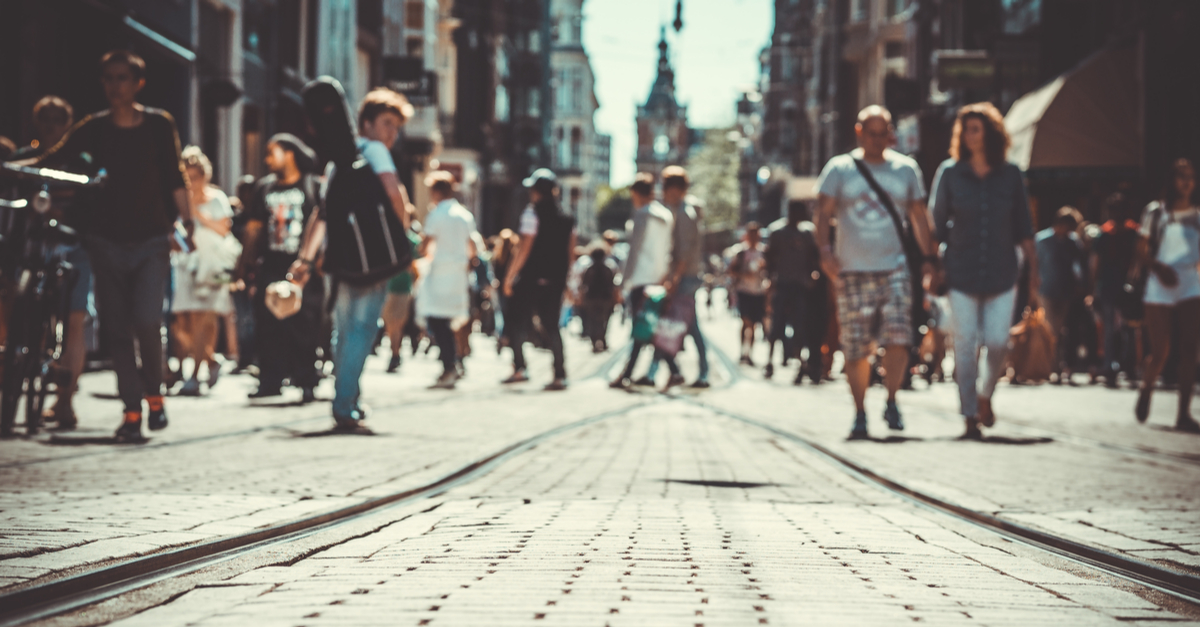 Manchester Street. Source: Shutterstock
To Manchester by train – travel tips
Manchester has the distinctive quality of being among the first industrial capitals of the world. When you visit the city, you can explore the rich history in the Science and Industry Museum. The site, which sits where the oldest passenger train terminal was, features ancient trains and planes and experiments on the upper floor.
To get to the Science and Industry Museum, you can use public transport. There are the pocket-friendly Free Bus buses that travel throughout the city center and most Manchester trains stations. In addition, there is a tram named Metrolink that will arrive in all its stations every few minutes. You may also find it easy to navigate through Manchester on a bike you can get from the city's bike rentals.
Whether the reason you decide to travel to Manchester by train is sports, fun-seeking, or art exploration, you will find something for yourself. Art galleries like Whitworth and Manchester provide their visitors with a good dose of ancient, famous, and contemporary art. Afterward, you can make time to tour Trafford Centre.
Here, you join a bowling tournament or shop in the numerous retail centers under the structure's roof. Right after, trek down to the Northern Quarter. The spot will provide you with the chance to enjoy the best of UK Manchester dishes and coffee. Of course, you mustn't leave Manchester without touring National Football Museum to learn of the city's iconic sport: football.