Train to Birmingham
Birmingham is a large metropolitan city in the United Kingdom. It is most known for its manufacturing of Cadbury chocolates and its picturesque canals. While in Birmingham, you can enjoy a pint at one of its many pubs. Birmingham also has a city symphony orchestra, a touring ballet company and museums with impressive art collections. If you're traveling by train to Birmingham from a major city in the UK, like London or Liverpool, you'll have many train departure times to choose from.
Trains leave these cities going to Birmingham as frequently as every hour. When you travel to Birmingham on the train, you can get off at one of three stations. The main station is located in the city's center and is called the New Street Station. There are also other stations on Snow Street and Moor Street, both of which are close to downtown.
Chiltern Railways to Birmingham
Chiltern Railways is a British train company with its headquarters in the Sunderland District. It provides train travel from cities like London, Liverpool, and Cambridge to Birmingham. This train company typically operates out of the Birmingham Snow Street Station.
Cross Country Railways to Birmingham
Cross Country is another British train company. Its headquarters are in Birmingham and it offers train service from and to Birmingham from the cities of Manchester, Newcastle, Leicester, and Bristol. This train company uses the Birmingham New Street Station for arrivals and departures.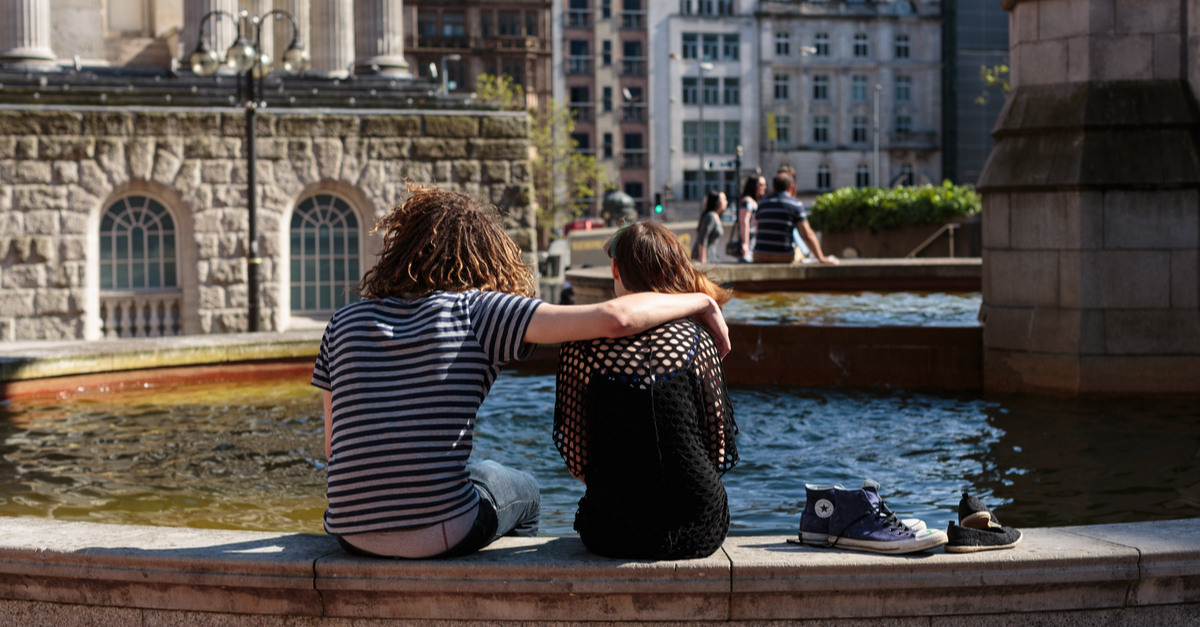 Birmingham River. Source: Shutterstock
Main train stations in Birmingham
When you're traveling by train to Birmingham, you'll likely arrive at the Birmingham New Street Station. This station is very large and quite busy. It is located in the city center and is connected to the Grand Central Shopping Center. Therefore, this location offers a variety of services and amenities for travelers such as waiting rooms and complimentary Wi-Fi.
There is also a wide selection of restaurants and several boutiques and stores where you can shop for a new outfit for your upcoming visit to Birmingham. Close by is the Snow Street or Snow Hill Station. This train station handles trains by Chiltern Railways as well as local trains and public transport to nearby cities such as Wolverhampton. At this station, you can only enjoy basic amenities such as public restrooms and a ticket kiosk.
Onboard facilities to Birmingham
Whether you choose train travel to Birmingham with Cross Country or Chiltern Railways, you'll have access to an array of travel comforts. Cross Country trains offer free Wi-Fi, toilets, bike storage, and a food and dining service with your choice of soft drinks, chips, and pastry snacks. Gourmet coffee and alcoholic beverages such as wine and beer are also available.
Onboard Chiltern Railways, you'll be able to use Wi-Fi for business communications. However, if you just want to relax, you can watch different movies or play games on the Chil.tv service. If you're traveling for business, on some Chiltern trains to Birmingham, you can reserve a seat in the train's business zone where you can enjoy added benefits such as wider seats and a spacious working table.
Train tickets to Birmingham: useful to know
Many train companies now offer mobile tickets in lieu of printed tickets. A mobile ticket can be more convenient because you can access it from your electronic device or the cloud. With Cross Country Train Company, you can choose an e-ticket for your train trip to Birmingham. An e-ticket takes the place of a paper ticket.
It is e-mailed to you for instant download and you can simply show your e-ticket from your smartphone or tablet to the conductor when it is time. Train riders on Cross Country must be 16 years of age and you must show a photo id before boarding. Chiltern Railways offers something that they refer to as a smart ticket. Similar to an e-ticket, it can be viewed online and its barcode scanned by an employee of the railway. You will need a photo id along with your smart ticket before you're admitted on any Chiltern train.
For fast service and to keep your travel information in one place, buy your ticket with Omio. When you do, if needed, you can change your travel dates or point of departure on the Omio website. And when it is time to board, you can access your train ticket from your Omio account anytime. No need to download or print your ticket. Instead, you can access it from anywhere as long as you have Wi-Fi.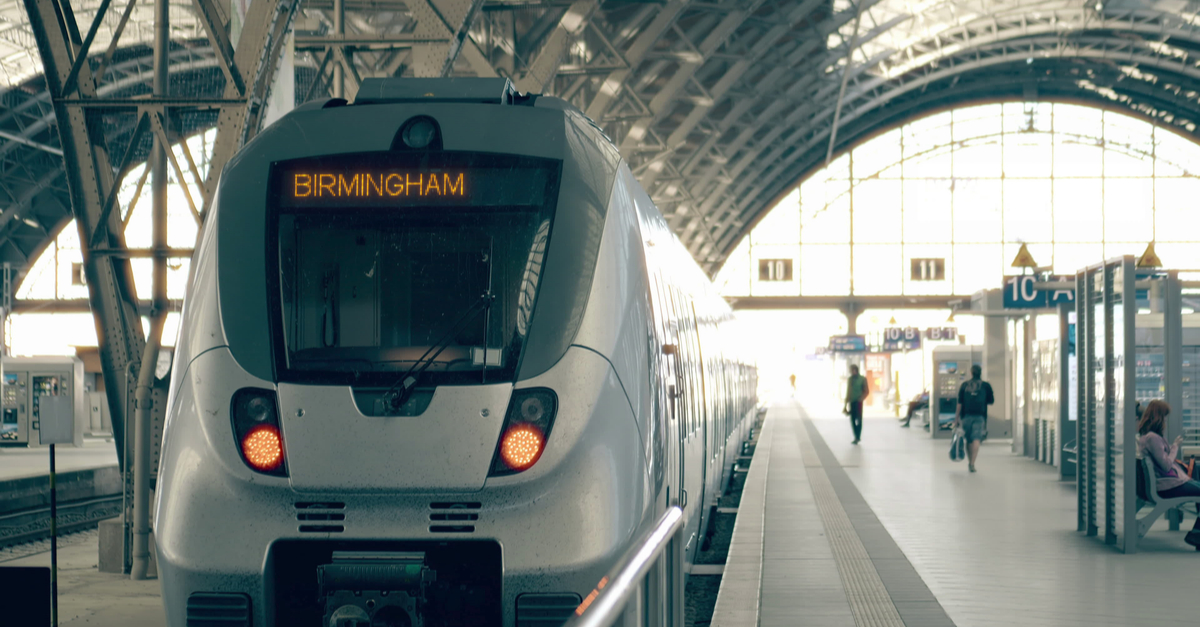 Birginham. Source: Shutterstock
To Birmingham by train—travel tips
During your stay in Birmingham, you can do some fun things like tour the National Motorcycle Museum or catch a ball game at the Villa Stadium. If weather permits, take a ride on the waterbus around the canals of the city. The boat stops at many of the city's most popular attractions such as Sherborne Wharf and King Edwards Wharf. There is a tram system to help you get around the city center and to tourist areas such as Digbeth, Jewellery Quarter, the West Side, and Wolverhampton. In Wolverhampton, you can visit the wild zoological park and various historical buildings such as the Moseley Old Hall.
Known as the West Midland Network, the tram runs Monday through Sunday. Check the tram schedule to find out when the tram runs from your hotel or airbnb to your destination. You can buy a tram ticket in advance, or you can pay the conductor. If you'd prefer, there is a public bus system that is a useful source for transportation. Network West Midlands is the bus company that covers Birmingham. There are preset routes so you can plan your trip(s) accordingly. Many locals in Birmingham ride a bicycle to get around. If you're staying around the city center, you might opt to rent a bicycle. They are leased by the day.
Birmingham is a lively city with a vibrant nightlife scene. It is also home to several historical sites and unique museums such as the Coffin Museum and the Key Museum. If you enjoy spending time outdoors, you can do some kayaking or canoeing in the summer or fall, and in winter, skiing and snowboarding at Ackers Adventure.
Go dancing at a nightclub on Broad Street or grab a drink at one of the hip bars in the West Side after-hours. Most tourists don't leave Birmingham without a visit to the Cadbury World. This amusement park pays homage to the history and flavors of Cadbury chocolate and has something for both adults and children to enjoy. Other things to do with children in Birmingham include the National SEA LIFE Centre Birmingham and the Black Country Living Museum where you can take a carriage ride.
If you want to splurge on a meal, Adam's and Purnell's are both Michelin-starred restaurants. However, if you're dining on a budget, stop by one of the farmer's markets such as the Moseley Farmer's Market or the Kings Norton Farmers Market. When you're ready to shop for souvenirs, stop by the Bullring & Grand Central Birmingham (a shopping mall in the heart of town). Along with purchasing mementos, there are several designer shops including a Michael Kors and a Coach store in this neighborhood.