Trains from Manchester to London
The trains from Manchester to London operate very frequently. There are about two to three trains per hour, running from about 5:00 a.m. to around 10:30 p.m. on a daily basis. There are both direct routes as well as ones that require one or two train connections somewhere along the way. The direct trains take about 2h 12min to get from Manchester to London.
Manchester to London Train Time: Daily Departures
The trains operating the route from Manchester to London run multiple times an hour. Depending on the time of day, there are two or three trains per hour, adding up to over 15 routes per day. These journeys are available through Omio every day of the week. The first train departs from Manchester at around 5:05 a.m. and the last one leaves at about 10:24 p.m. The last train of the day is an overnight route.
How long is the journey by train from Manchester to London?
The journey by train from Manchester to London covers a distance of more or less 162 miles (261 km). It takes the trains from about 2h 12min to over seven hours to get to London, depending on the route chosen and how many stopovers the train makes in between, requiring passengers to change trains. There are multiple direct routes throughout the day, that are the fastest routes between the two cities in England.
What are the departure and arrival stations for trains from Manchester to London?
Departure train station: Almost all of the trains for these routes depart from the Manchester Piccadilly Station. The station is located less than a mile (1.6 km) east of the city center of Manchester. Travelers can easily get to the station either walking or hopping on a direct bus that takes you to the station in under 10min. The Manchester Piccadilly Station is large and offers a wide selection of amenities such as restaurants, shops and traveling services. The overnight train is the only one that departs from the Manchester Oxford Road Station in the south of the city center.
Arrival train station: Almost all of the trains making this route arrive at the London Euston Station. This station is located right by the University of London and Regent's Park. Depending on where you wish to get to in London, the train station is connected to the city's underground system that can take you to Trafalgar Square, for example, in about 10min. The station has various eateries and shops offering plenty of amenities for passengers arriving at the station. The overnight train arrives at the London St. Pancras Station just a few blocks away.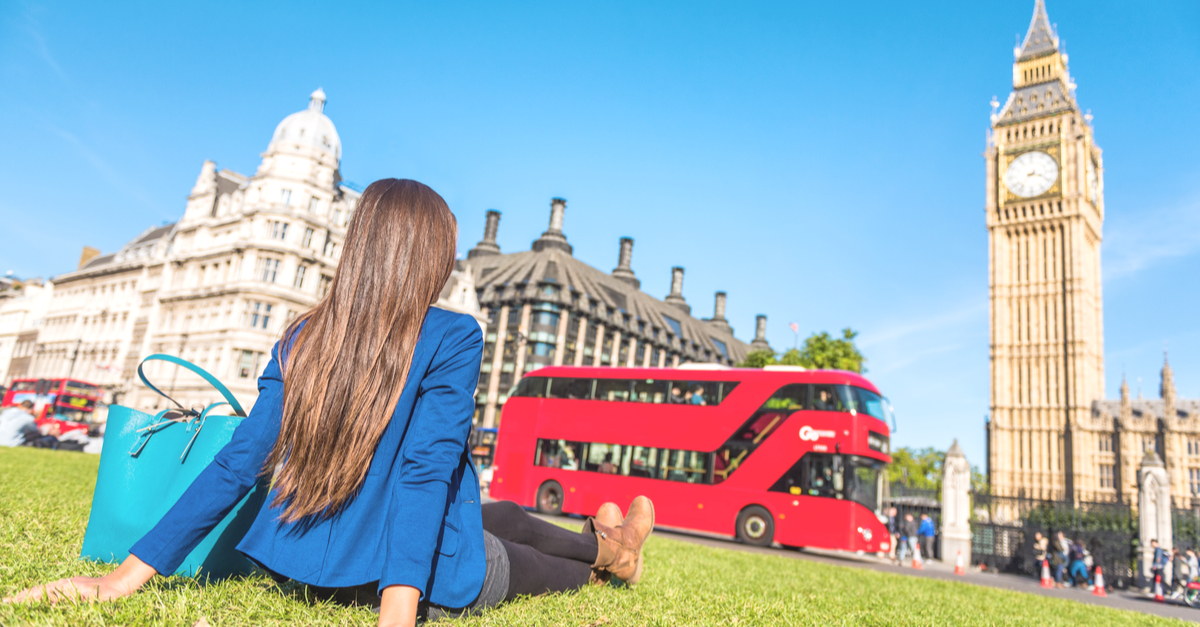 London Tourist City Icons. Source: Shutterstock
Which train companies travel from Manchester to London?
There are two companies operating routes from Manchester to London. The one that makes almost all of the journeys over the course of the day is Avanti West Coast railway. These trains run more or less two or three times per hour, starting at about 5:05 a.m. There are both direct routes with Avanti West Coast, as well as ones with train connections.
The other railway company is East Midlands Trains. This company operates the overnight route between Manchester and London. This trip takes more or less 7h 46min, changing trains once in Nottingham. The fastest option for traveling by train from Manchester to London is taking a direct route with Avanti West Coast.
Avanti West Coast trains from Manchester to London
Avanti West Coast is the main operator of trains traveling from Manchester to London. These routes run daily and multiple times. The Avanti West Coast trains offer both direct journeys as well as ones with a stopover or two in between. The routes without connections generally run once or twice an hour. The earliest one being at around 5:05 am., and the latest at approximately 9:15 p.m. The direct trips with Avanti West Coast take about 2h 10min to 2h 30min to get to London from Manchester depending on the time of day.
East Midlands Trains from Manchester to London
East Midlands Trains only has one trip a day going from Manchester to London. This train ride is not direct, and has a stopover of about three and a half hours in Nottingham. It runs over night leaving at around 10:24 p.m. from Manchester Oxford Road Station and arriving at London St. Pancras Station at about 6:10 a.m. the next morning. The total duration of the trip with East Midlands Trains adds up to about 7h 46min.
Train Manchester to London: Services on Board
Both Avanti West Coast and East Midlands Train have the option of traveling in either Standard or First Class. Avanti West Coast doesn't specify a luggage allowance restriction. The only thing passengers must keep in mind is that their luggage must fit in the designated areas. As for East Midlands Trains, the maximum baggage per passenger is one small item and two suitcases.
When riding with either Avanti West Coast or East Midlands Trains, you may bring up to two pets with you free of charge. The pets must be either on a short lead or in a pet carrier. Traveling with a bicycle is allowed with both Avant West Coast trains and East Midland Trains. However, you just have to make a reservation beforehand. As for services for passengers with restricted mobility, you may book an assistance service with your train operator. All of the trains are wheelchair accessible and offer accessible seating.
How to find cheap train tickets from Manchester to London?
When booking your train ticket from Manchester to London, take into consideration that the routes with Avanti West Coast trains are generally more affordable than the overnight route with East Midlands Trains. The price of the Avanti West Cast trains depends on the departure time and if you want to travel when there is high demand. Be flexible with your travel dates and times to be able to pick the more affordable route options. Also, booking in advance can help you find cheaper options. Normally, the closer it is to the departure dates, the more probable it is that prices increase.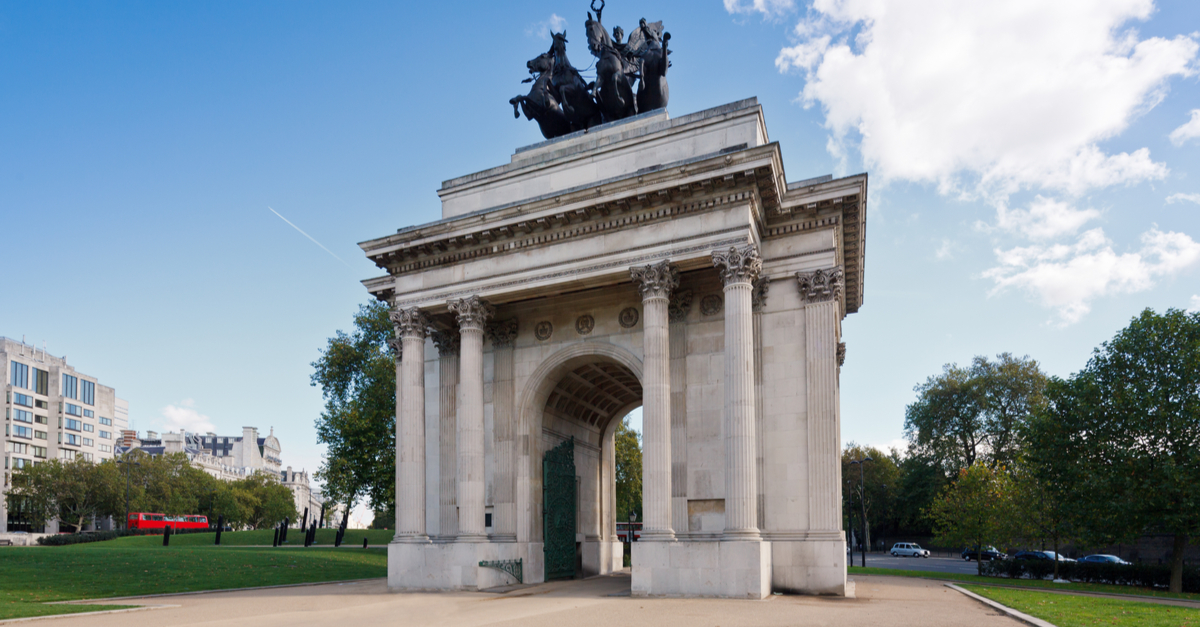 London Wellington Arc. Source: Shutterstock
To London by train—travel tips
Take a train to London to see England's magnificent capital city. You can start off in the district of City of London. Here you'll see the iconic London and Tower Bridges as well as the Tower of London known for its various functions over the years of castle, fortress and prison. On your way out of the City of London, stop by the Baroque-style St. Paul's Cathedral.
Make your way along the Thames River to the district of Covent Garden. This area is famous for its Royal Opera House and plenty of shopping. A few more things you must see during your stay in London is Trafalgar Square, Westminster Abbey, Big Ben and the Buckingham Palace with the beefeater guards.
Take a break and enjoy the outdoors, hanging out in Hyde Park. If you're looking for a bite to eat, head towards Camden Town or Soho. Camden Town is known for its street food and market. Soho is where you'll find multi-cultural restaurants and trendy spots.