Trains from London to York
There are a lot of trains a day operating the route from London to York. The departures are more or less every half an hour, and at some points of the day, more frequent than that. The journey generally takes about 1h 50min to two hours depending on the time of day it leaves out of London. More of the route options covering this journey within England are direct and don't require passengers to make and train connections.
London to York Train Time: Daily Departures
The trains from London to York are very frequent. There are generally over 30 trains per day covering the journey, making at least 200 trips per week. The first train of the day normally departs from London at about 6:15 a.m. As for the last train, it tends to be at around 11:00 p.m. There is a route option about once a week that departs at about 12:15 a.m.
How long is the journey by train from London to York?
The journey from London to York by train covers a distance of approximately 173 miles (179 km) in as little as 1h 45min. Almost all of the trips are direct without any train changes before arriving in York, only making a few stops long the way. The few trips that do have a stopover in between, make the change at Derby or Selby Stations.
What are the departure and arrival stations for trains from London to York?
Departure train station: Almost all of the trains depart from London King's Cross train station. It's located near downtown London and has multiple public transportation routes connecting it to different parts of the city. It can take less than 20min to get to King's Cross station from Downtown London. The station has a wide selection of cafes and restaurants inside, as well as a few stores and kiosks. There is one provider operating once a week that has departures from the London St. Pancras Train Station across the street from King's Cross.
Arrival train station: The arrival station for these routes is the York Station within walking distance of the City Center and some main attractions. However, there are also some public transportation routes that can take you to the center of York in about 15min. The York Station has a few cafes and pubs available for travelers, as well as public restrooms and waiting areas.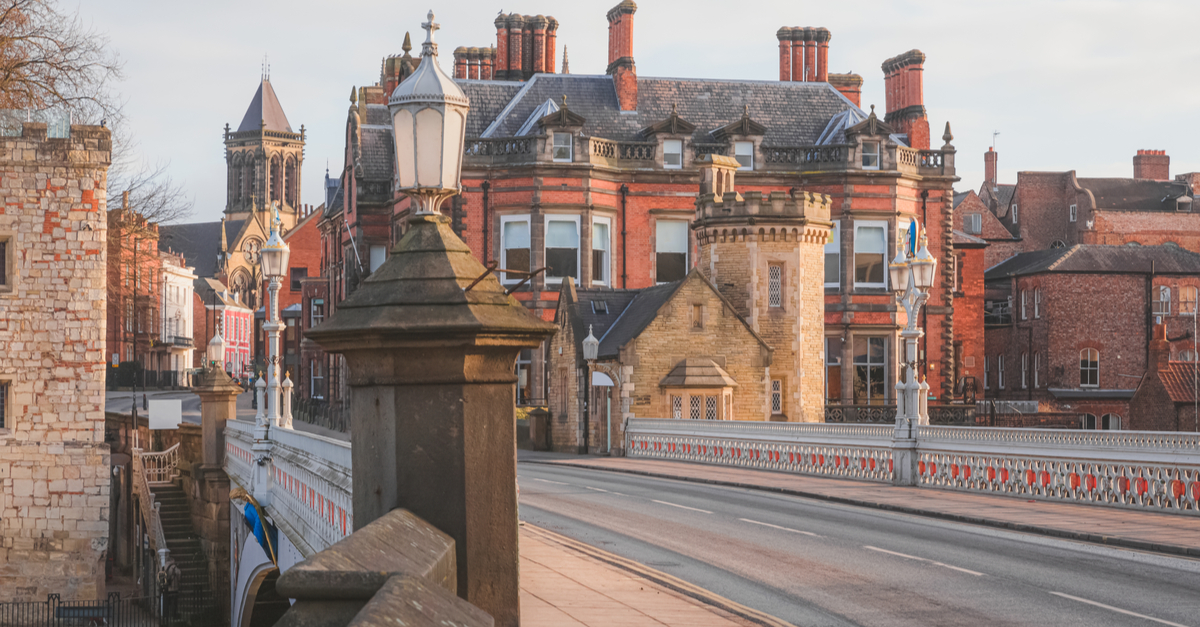 York Fortress Old Town. Source: Shutterstock
Which train companies travel from London to York?
The main company operating the routes from London to York is the LNER, the London North Eastern Railway. It offers over 30 trips per day that are all direct, without any train connections. The trips with LNER take about 1h 50min to get to York. Another company with train from London to York is the Grand Central rail. This provider offers one route, generally only on Mondays.
The Grand Central Trains routes get to York without connections as well and take about 1h 53min. East Midlands Trains is a provider offering a night route with one train change from London to York. It operates once from Tuesdays to Saturdays, and takes about 8h 15min.
LNER trains from London to York
The London North Eastern Railway is the main operator of the train routes from London to York. LNER offers more than about 30 trips per day on every day of the week, every half an hour more or less. The LNER trains run from 6:15 a.m. to about 11:00 p.m. All the LNER journeys from London to York are direct and take about 1h 50min to make it to the final destination.
Grand Central trains from London to York
The Grand Central trains are not very frequent. There's generally only one route from London to York operated by them once a week, on Mondays. This route is direct, no needing to make any train connections along the way. The journey takes more or less 1h 53min departing from London King's Cross Train Station. The Grand Central Train trip leaves at about 8:27 a.m., putting passengers in York at around 10:20 a.m.
East Midlands trains from London to York
The East Midlands trains operating trips from London to York are night trains. They generally leave out of the station in London at about 12:15 a.m. The East Midlands trains depart once a day, from Tuesday to Saturday. The departure station in this case is the London St. Pancras Station. These journeys have one train change in Derby Station.
Train London to York: Services on Board
Whether you're traveling on the LNER trains, the Grand Central Trains or the East Midlands trains, you have the options of riding in either Standard or First Class. When booking trains with LNER, you must abide to the luggage allowance. LNER allows passengers to bring three items with them; one small handbag, one carry-on bag and one large suitcase maximum.
As for Grand Central rails and East Midlands trains, you're also allowed three items with you, however, in this case one personal item and two large bags are permitted. Foldable bikes are allowed on any of the LNER, Grand Central and East Midlands trains without a reservation. However, if they do not fold you must reserve a spot for your bicycle with LNER, and it's recommended for both Grand Central and East Midlands since it has limited spots for non-foldable bikes.
Small domestic pets are allowed on LNER, Gran Central and Eastern Midlands trains as long as they are out of the way, and either in a pet carrier or on a leash. Passengers with reduced mobility may request assistance as well as having access to accessible seating on board.
How to find cheap train tickets from London to York?
The best way of managing to find more affordable train tickets from London to York is by booking them in advance. The sooner you book them, generally means you'll get your tickets for a better price. If you can be flexible with your dates and departure times this may also help you to find less expensive options.
Sometimes prices increase due to high demand or specific trains that are more expensive than normal, so if you're flexible you can avoid it. Some routes are faster than others, it may be more affordable to pick routes that take longer to get to York. In Omio you can compare all the available routes and choose the one that suits you best.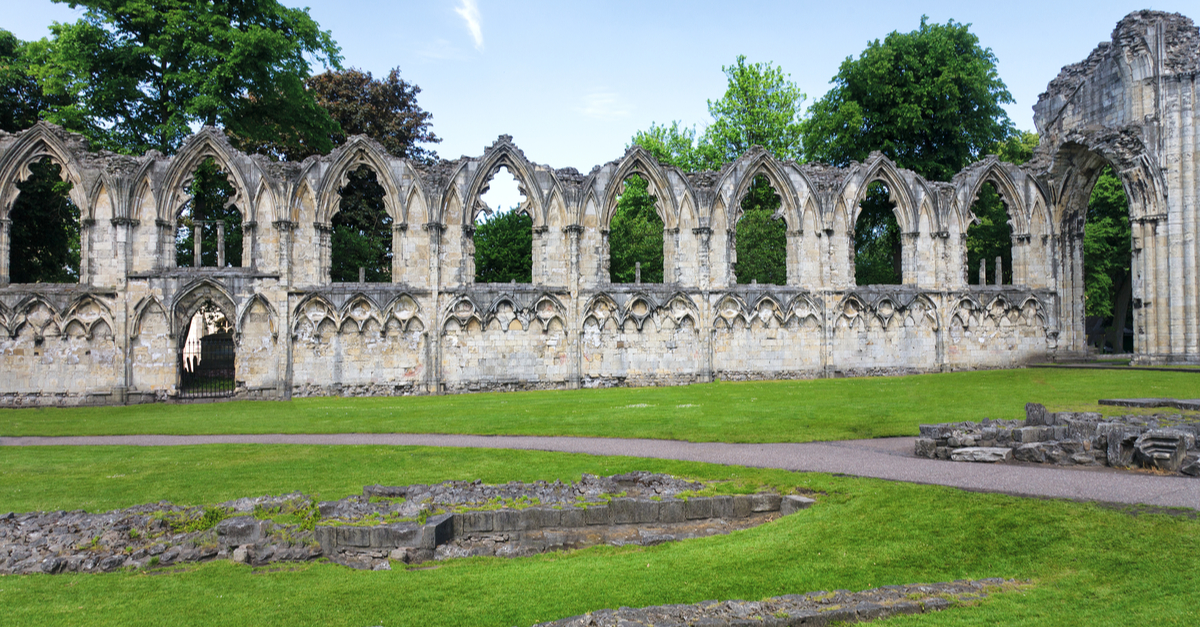 York St. Mary Abbey Ruins. Source: Shutterstock
To York by train—travel tips
York is a city known for its medieval center and chocolate making. Visit this city in Northern England and travel in time walking through the medieval streets surrounded by medieval architecture. Make your way to the historic center of York to Shambles Street. It's an old picturesque street lined with timber-framed buildings, perfect for walking around and shopping.
Nearby, you'll find York's Chocolate Story, a top attraction and chocolate museum. Surrounding the city center are the York City Walls. These walls date back to Roman times. You can't go to York without seeing the impressive Gothic-style York Minster. During your visit, make sure to try some of the typical dishes of the area such as black pudding or fat rascals for breakfast, Yorkshire pudding and Nidderdale lamb.