Train to Leeds
Take a train from your city to Leeds, England. Leeds has an array of museums, art galleries, and historical buildings for you to see. It is also a good place to shop for fashions and furniture. Its beautiful botanical gardens and nature reserves are also a must-see. Trains go often to Leeds from other cities in England like London and Bristol, as well as from cities in Scotland such as Glasgow and Edinburgh. Leeds City Railway Station services most of the long-distance trains coming into the city. It is located in the city center of West Yorkshire.
Cross Country Train Company to Leeds
You can take train travel to Leeds with CrossCountry Train Company, which is also affiliated with Arriva Trains. This company covers routes between Bristol and Leeds, Newcastle and Leeds, and Swansea to Leeds, just to name a few. All trains with CrossCountry use the Leeds City Railway Station.
LNER (London North Eastern Railway) to Leeds
If you're taking the train to Leeds from Scottish cities like Edinburgh or Glasgow, or the English cities of London, you will likely travel with LNER. From these cities, trains depart going to Leeds almost every 1/2h. LNER trains use the Leeds City Railway Station.
Transpennine Express to Leeds
Transpennine Express offers travel between cities in Northern England and Scotland. If you're traveling by train to Leeds from Manchester or Warrington, you'll find several Transpennine Express trains taking this route. They leave from main train stations multiple times an hour, both day and night on both the weekdays and weekends. These trains arrive at the Leeds City Railway Station.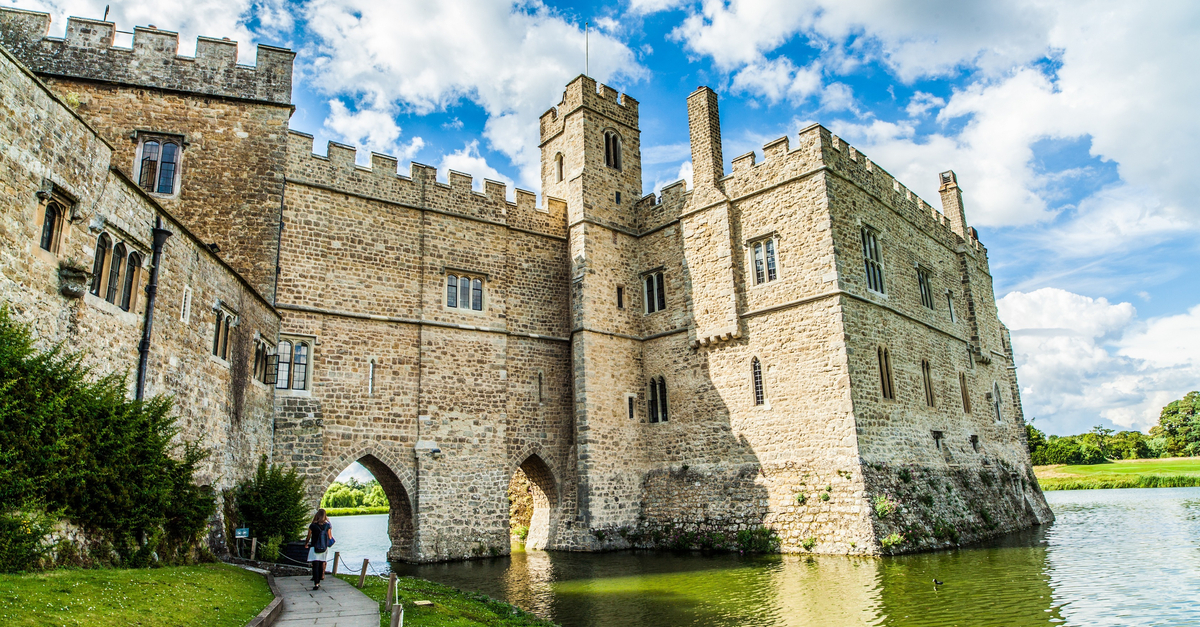 Leeds Castle. Source: Shutterstock
Main train stations in Leeds
Leeds City Railway Station is open 24h a day, seven days a week. It is about 0.5 miles (0.8 km) from the city center. This station offers many comforts for travelers including a waiting room, bathroom facilities and several fast-food restaurants including a McDonald's. The railway station is within walking distance of several hotels and restaurants making it very convenient for train travelers.
Onboard facilities Leeds
When you travel by train to Leeds with any of the three train companies, you'll enjoy a variety of amenities. With LNER, you can take advantage of numerous onboard benefits such as a cafe' bar where you can purchase food and drinks. If you're traveling with your electronic device, you'll appreciate the electrical outlets at each seat and access to Wi-Fi for checking e-mails, texting buddies or watching on-demand tv on your trip.
Cross Country also offers an array of comforts for train travelers such as food and dining service with a wide selection of snacks and drinks. Onboard a Cross Country train, you'll have access to Wi-Fi so that you can keep up with work at the office or catch up with friends on social media.
When you travel with Transpennine Express, you'll have the benefit of free Wi-Fi and access to a train app that lets you watch movies or read recent issues of your favorite newspapers and magazines. This train company also offers food and drink service which includes sandwiches and snacks. For added convenience, onboard every Transpennine Express train, there are bathroom facilities with at least two toilets.
Train tickets to Leeds: useful to know
Many train companies now offer the option of an e-ticket or mobile ticket for more convenient travel. Cross Country gives its customers the choice of having your ticket sent to you via e-mail. You can then save it on your smartphone, or you can print it at homre or the office if that is what you prefer. You must present either a digital or printed ticket when boarding a Cross Country train to Leeds along with a photo id. When you buy your ticket from LNER, you'll be asked to choose the method of ticket delivery that you prefer.
One option is a mobile ticket. When you choose a mobile or e-ticket, you'll be able to show your ticket from your electronic device and won't need to show a paper ticket. Transpennine Express will deliver your tickets directly to your phone. You will then present your digital ticket at the time of boarding. However, when you purchase your mobile ticket in advance, you can print it if you'd prefer.
Purchase your train ticket to Leeds from Omio for added convenience. Along with the opportunity to search for the best ticket prices, you'll be able to change your travel date or departure time directly from the site. Additionally, you can show your mobile ticket from the Omio website when boarding the train. Download the Omio app to your smartphone or tablet for quicker access and availability.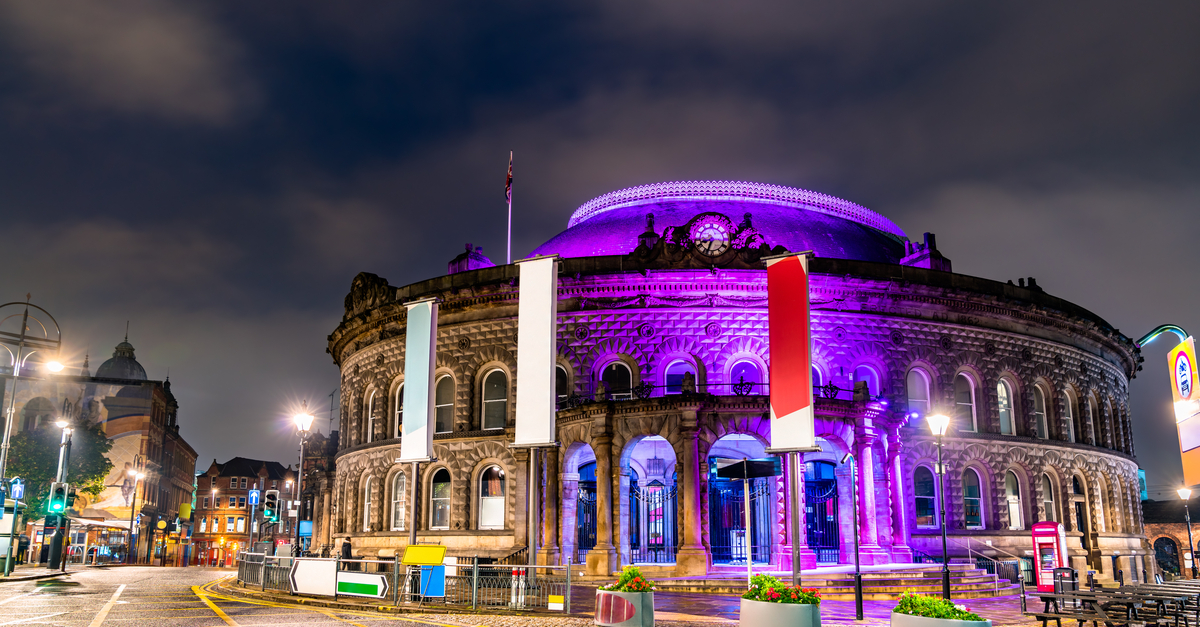 Leeds Round Building. Source: Shutterstock
To Leeds by train—travel tips
The city of Leeds is committed to being a green city. Visit green spaces in the city such as Roundhay Park, Tropical World, and Kirkstall Abbey where you can take in the beauty of nature including British native wildflowers and other plants. You can explore the countryside and rural areas of the city on a boat ride down the Leeds & Liverpool Canal.
You can also walk or cycle along the canal through the city center of Leeds. Leeds also hosted the first Ryder Cup tournament in Europe at the Moortown Golf Club just outside of Leeds. You can play 18 holes at this same championship golf course. On your trip to Leeds, you'll have easy access to public transportation. The city buses and the metro train run often in and around the city center.
You can also take public transport to other tourist areas including the University District and the Cultural Quarter. Both run from early in the morning until late at night. With Leeds being a green city, many of its residents opt to walk or take a bicycle to their destination. You can rent a bike during your stay in Leeds to fit in while also saving a little spending money.
You can spend time outdoors or indoors on your visit to Leeds. Along with golfing, during the warmer months in Leeds, you can go kayaking or horseback riding, or you can hop on an ATV or hike in the woods to take in the scenery. In the winter months, you can enjoy outdoor sports like skiing, snowboarding, or snowshoeing. If you're a history buff, you'll enjoy touring the Thackray Medical Museum (a place that is known for ghosts), the Harewood House and the Abbey House Museum. When you're ready to shop for souvenirs, stop by the Trinity Shopping Center.
On the top floor of the Trinity Shopping Center, there are a few cocktail restaurants and eateries where you can taste some delicious food while enjoying city views. Are you into designer duds? If you are, the Victoria Leeds district is where you should be. It houses many chic shops along with the Victoria Quarter, a historical shopping center with chandeliers and lots of gold ornamentation.
Theater lovers might be able to catch a performance at the opulent Leeds Grand Theater. The city also boasts of the Northern Ballet Company, which makes their home in Leeds, the Leeds Conservatoire, and the Leeds Comedy Club where you can enjoy a variety of comedic acts.