Train to Glasgow
Glasgow is the largest city in Scotland. It is known for its interesting architecture and picturesque gardens. Glasgow is a great place to visit if you're interested in history, arts and culture. It has several museums, theaters and art galleries for you to tour. Many ships dock in Glasgow including cruise ships. If you're traveling by train to Glasgow from a large metropolitan city such as Manchester, you'll have many train times to choose from.
Many of these cities, including London, Edinburgh, Swansea, and Newcastle have trains going to Glasgow at least every hour. The city of Glasgow has nearly a couple of hundred train stations. However, long-distance trains typically arrive and depart from either the Glasgow Central Station and the Glasgow Queen Street Station.
ScotRail to Glasgow
ScotRail operates out of Scotland. It is the main train company that provides train travel to Glasgow from Edinburgh and other cities in Scotland. It operates out of Glasgow's Queen Street Station.
Avanti West Coast to Glasgow
Avanti West Coast offers train travel to Glasgow from London, Manchester, Birmingham, Leeds, and Sheffield. It services all of the United Kingdom. This train company uses Glasgow's Central Station for both arrivals and departures.
LNER (London North Eastern Railway) to Glasgow
London North Eastern Railway (LNER) is one of the largest train companies in the United Kingdom. Because it services all of Scotland and the United Kingdom, if you're taking the train to Glasgow from Newcastle or Aberdeen, you might take a train operated by LNER. LNER also runs out of the Glasgow Central Station.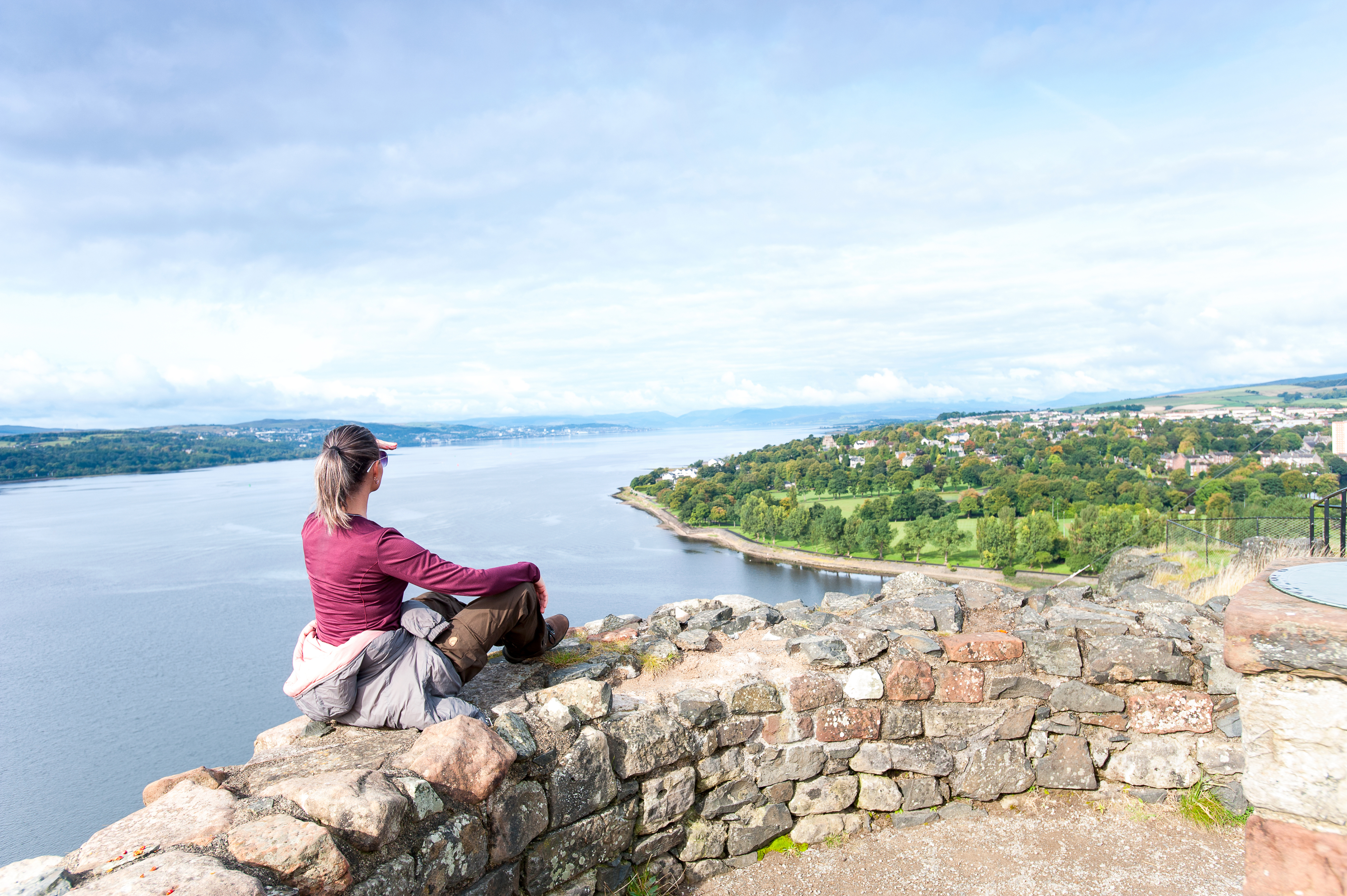 Glasgow Landscape. Source: Shutterstock
Main train stations in Glasgow
Glasgow has two main train stations. They are both in the city center and are only five minutes apart. The Glasgow Central Station offers many comforts for travelers. This includes bathrooms with shower facilities, free Wi-Fi, and places to eat such as a bakery, coffee shop, and casual dining restaurant. Glasgow Central Station is also within walking distance of the Hope Street and Union Station bus stops. The Glasgow Queen Street Station is not as large as the Central Station. It is close to many tourist attractions such as George Square and City Chambers. This train station is within walking distance of the Dundas Street and the George Square bus station making it easy to get to and from the station.
Onboard facilities Glasgow
When you travel by train to Glasgow with any of these train companies, you'll be able to enjoy convenient amenities and facilities including train bathroom facilities, onboard luggage space, and space for extras like bikes and golf clubs. If you choose to travel with Avanti West Coast, there are several extras that you can enjoy onboard such as free Wi-Fi, access to an entertainment portal, and food and drink service.
For added convenience, you can place your food or drink order using your smartphone or tablet and our staff will bring your order to you. If you weren't able to eat before leaving home, ScotRail also offers a dining service. Its menu includes a variety of snacks such as porridge and biscuits. Onboard an LNER train, you'll have access to high-speed Wi-Fi, outlets to charge your electrical devices, and a cafe bar.
Train tickets to Glasgow: useful to know
Take a train to Glasgow with ScotRail and you won't need a printed ticket. They now offer mobile tickets that can be presented using your smartphone or tablet. When boarding ScotRail, you'll have to show a photo id to verify that you are the person named on the ticket. Avanti West Coast will send your ticket directly to your email and you can download it to your smartphone or tablet. You must show your e-ticket before boarding the train. When traveling with Avanti West Coast, they will also require that you show a photo id for proof of identity. LNER offers several forms of ticket delivery including an electronic ticket.
You must present your electronic ticket from your device, or if you'd prefer, you can print out the ticket and bring it with you when you travel. Omio is a good place to shop for train tickets to Glasgow. The Omio website will label the cheapest and fastest trains for you making it easy for you to find the best train for your trip. With Omio, you'll also be able to make changes to your itinerary and access your train ticket quickly on the Omio app.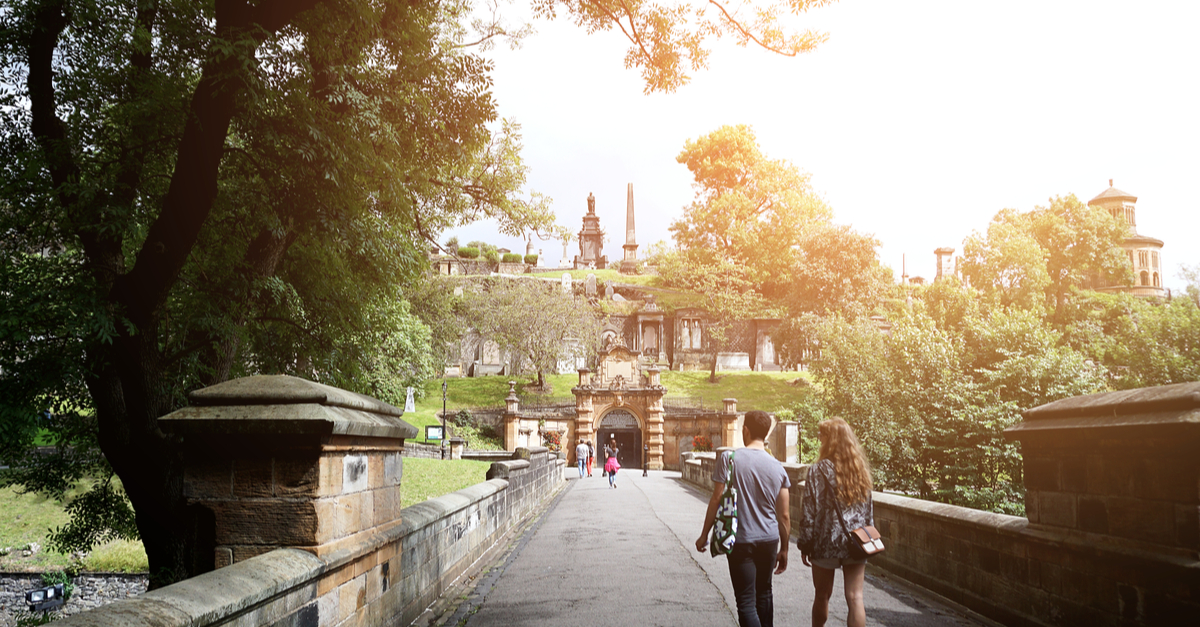 Glasgow Walking. Source: Shutterstock
To Glasgow by train—travel tips
If you're interested in history, you should stop by the Royal Exchange Square where there is a statue of Duke Ellington, and George Square where you can get a close-up look at the Sir Walter Scott Monument, a statue of Robert Burns, and the Queen Victoria Statue. Take a walk on the Glasgow City Center Mural Trail to appreciate the works of street artists.
There are also numerous museums and art galleries that you can tour including the Scotland School Museum, the St.Mungo Museum of Religious Life and Art, the Lighthouse, and the Glasgow Police Museum. You can always catch a taxi to get around town. Most Glasgow taxis are either black or a bright pink color. Because many in the city ride bikes, some tourists choose to rent a bike to ride around the city center.
Some hotels provide bike rentals or you can rent one from a bike-sharing company. You can also get around very easily with Glasgow's public transportation services. The city has both a reliable bus system and a Metro or subway system. Its buses run throughout the city. You can purchase single tickets, a ticket for the entire day, or a pass for the week. The Metro (or subway) has 15 stations around the city. It circles the river and stops in both the inner and outer circles of the city. Trains depart every five minutes and it takes just 20min to go around all of downtown.
Glasgow sits on the River Clyde where there are several parks and walking trails for you to enjoy. There are many outdoor activities to enjoy in Glasgow such as river rafting, tubing, mountain biking, or scuba diving. In the winter months, you can ski, snowboard, or go ice skating. On your visit to Glasgow, the largest city in Scotland, you'll want to explore the culture, food, and nightlife of the city.
There are several distilleries and breweries such as Tennent's Brewery and the Glengoyne Distillery where you can sample a variety of Scottish beers and whiskeys. If you're a milk drinker, you'll want to grab a drink (or milk cocktail) at the Panther Milk Bar on Great Western Road.
Scotland is known for its haggis or meat pudding. Stop by one of Glasgows' restaurants like the City Merchant or the Stravaigin to taste some deep-fried haggis. Then, at night, stop by the Garage (one of the largest nightclubs in Scotland) for some live music and stylish cocktails. The following morning, you can schedule a tour of the University of Glasgow to see the buildings and their architecture. It is a beautiful campus with many open spaces. Before you leave Glasgow, visit Glasgow's Necropolis (a Victorian cemetery) and the Riverside Museum and the Tall Ship.