Train to Liverpool
Liverpool is one of the more connected cities in the United Kingdom when it comes to railways from other parts of the country. Its main train stations are Liverpool Lime Street and Liverpool Central. Liverpool James Street is another station, albeit only a local one. Liverpool Lime Street is the largest train station in the city, primarily serving long-distance trains arriving and departing from many cities across the country, including London in the south and Leeds in the north. By contrast, Liverpool Central station is more often used for local trains serving various parts of the city and its surroundings, such as Chester or Southport. Liverpool James Street station in an underground stop in the city center which provides trains to Liverpool's inner loop of neighborhoods.
First Transpennine Express to Liverpool
First Transpennine Express is a carrier which provides daily trains to Liverpool, such as from Leeds to the north of the city. These trains depart hourly every day of the week, making the direct 65-mile (105 km) journey southwest to the Liverpool Lime Street station in about 1h 30min to just under 3h.
Avanti to Liverpool
Avanti (formerly Virgin Trains) offers regular service to the city, such as from London to Liverpool Lime Street, on most every day of the week, excluding Saturdays. These trains depart throughout the day from London, sometimes with multiple departures per hour. Avanti trains to Liverpool make the direct 169-mile (272 km) journey northwest from London in about 2h to 3h.
West Midlands Railway to Liverpool
Trains to Liverpool are offered by West Midlands Railway from the southeast, such as from the city of Birmingham as well as occasionally from the city of London. West Midlands Trains from Birmingham to Leeds Lime Street travel every day of the week, with multiple departures each day making the 92-mile (148 km) direct trip in around 1h to 2h.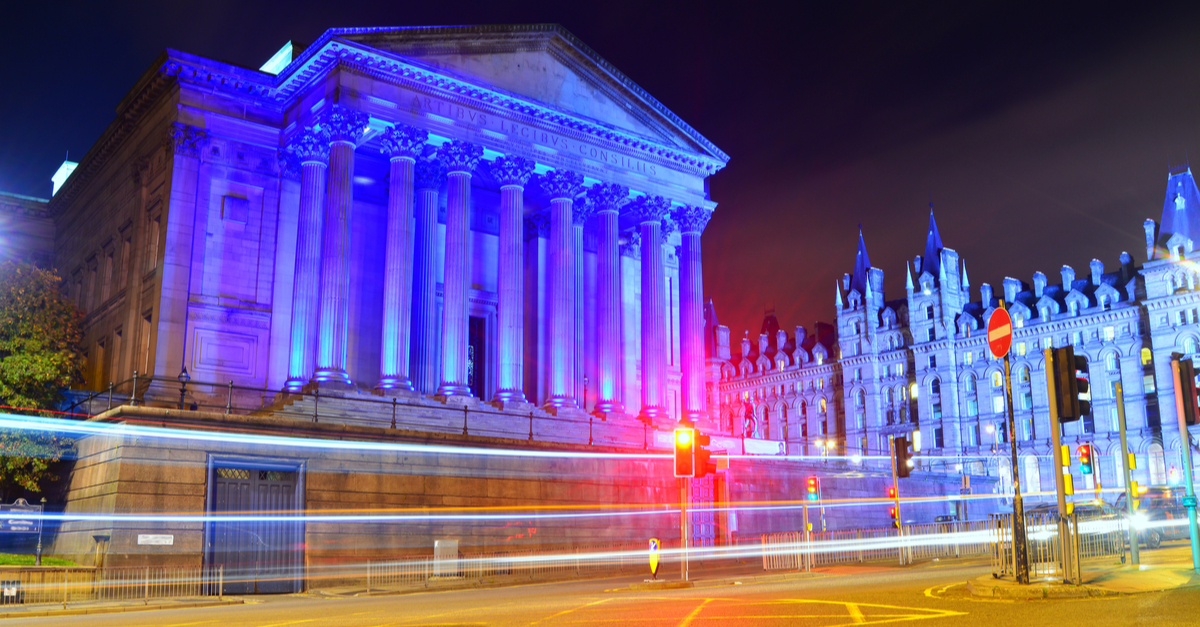 Liverpool Iluminated Building. Source: Shutterstock
Main train stations in Liverpool
Trains to Liverpool will arrive at either the Lime Street or Central railway stations, depending on their origin. For example, long-distance trains such as from London or Leeds will arrive at Liverpool Lime Street. This station is located in the center of Liverpool, and is easily accessed by using the C4 or C5 city buses (or "circulars" as they are known locally). Being the primary railway station in Liverpool, one can expect to find various shops, coffee bars, and booking offices at the station, in addition to the standard public restrooms and also a left luggage office for travelers only in town for a brief trip.
Travelers who are coming by train to Liverpool from nearer cities in the region, such as Chester or Southport, will most likely arrive at the Liverpool Central Station, which is also located in the city center, very near to the Lime Street station. The same buses and taxicabs are also available at this station for transit elsewhere in town.
Although smaller than Lime Street, Central Station is actually quite a bit busier, processing more trains and travelers annually than its larger sister station. Liverpool Central Station features a slightly more modern set of amenities, with tickets, food, newspapers, etc. all sold in the new travel center which can be found on the station's street level. Free WiFi, restrooms, and ATM machines round out Liverpool Central's passenger services.
Onboard facilities Liverpool
Onboard services for Liverpool trains will vary slightly depending on the provider. For example, Transpennine Express trains will permit bikes onboard without a fee so long as they fold. If they do not, then they must be booked separately. By contrast, West Midlands Railways permit up to two bicycles to be brought onboard the train for free, space permitting. Other services, such as free WiFi, are equally available on Transpennine Express, West Midlands Railways, and Avanti trains to Liverpool. Each of these primary rail carriers offering services by train to Liverpool also offer special onboard services in First Class, such as more legroom and better dining options, as well as designated station lounges.
Rail travelers making their way to Liverpool on any of these major carriers may also take advantage of special assistance offered to those with reduced mobility. This may include the permitting of service animals on board as well as the availability of designated wheelchair spaces on board the trains.
Train tickets to Liverpool: useful to know
It's always a good idea to look at all the options when booking your train to Liverpool. For example, Avanti offers both paper and e-tickets, with discounts applied to trains booked in advance. When traveling on Liverpool trains by First Transpennine Express, travelers can buy tickets online, thus avoiding the need to find a ticket machine in busy rail stations. West Midlands Railways offers a range of online ticket options, from seasonal passes to "anytime" tickets, while also providing discounted pricing for students and job seekers.
Broadly speaking, the various train carriers to Liverpool will each provide such e-tickets to travelers' smartphones in order to limit contact. When traveling across the United Kingdom by train to Liverpool, it is always advisable to carry photo identification in case you're asked to prove your identity by train staff.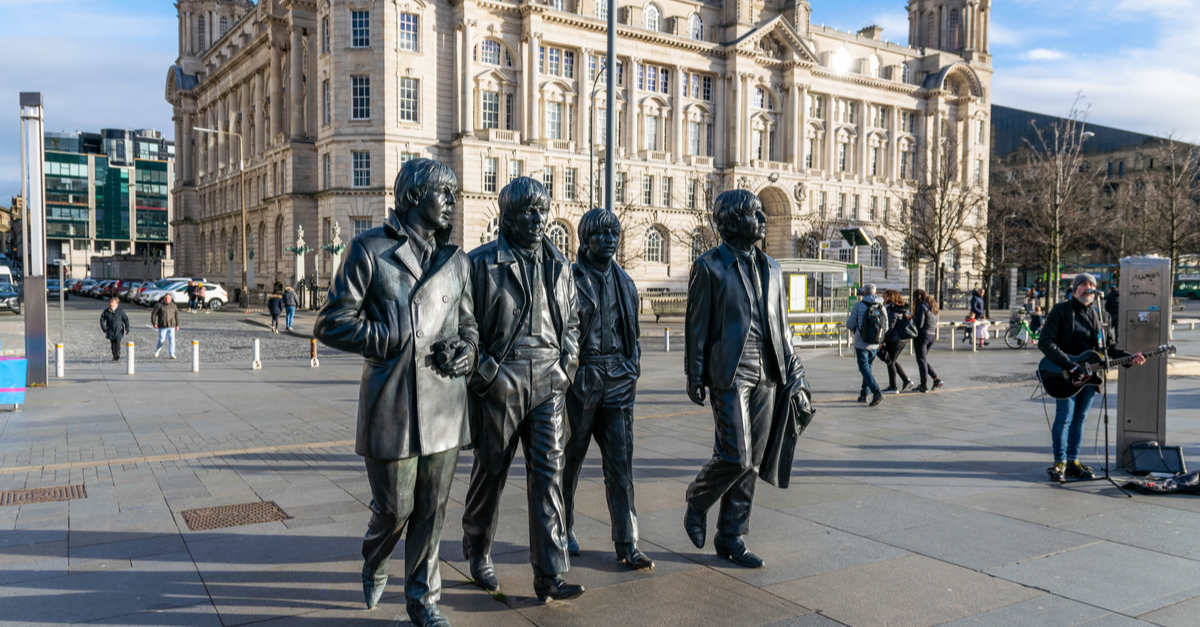 Liverpool Figures. Source: Shutterstock
To Liverpool by train: travel tips
Whether you are a Beatles fan coming to pay homage to the band's birthplace or just a tourist looking for some of the best restaurants in the United Kingdom, Liverpool is well worth the trip! If you are already in the region, your train to Liverpool will likely arrive at the Liverpool Central train station, certainly the city's busiest. From here it's easy to use local buses C4 or C5 on what's called the "City Centre Circular" to get around town. This is helpful if you are wanting to explore some of Liverpool's more well-known museums and galleries.
The easiest way to get to all the best spots around the center of town, however, is to take the underground train which loops around from the James Street train station. This station is near to the other major ones, but just serves Liverpool's inner ring. This might be the best option if you are in town for one of Liverpool's famous (or infamous?) soccer matches! Keep these tips in mind, and you'll be traversing Liverpool like a true Scouse (local slang for Liverpoolers)!
Why should you take the train to Liverpool after all? Because, simply, there's just no place like it anywhere else in the United Kingdom! Perhaps that's why Liverpool is the capital of British film, with movies from "Harry Potter" to "Sherlock Holmes" and many others filmed on this beautiful city's streets.
And Liverpool's streets are a sight to behold, with architectural wonders like the Three Graces and St. George's Hall drawing tourists from around the world. Liverpool is also home to some of the best music in the UK, such as the popular British Music Experience and Sir Paul McCartney's own Liverpool Institute for Performing Arts, a testament of the lasting impression the Beatles left on their hometown so long ago!
Once your train arrives in Liverpool, the opportunities to see, taste, and listen to all this amazing city has to offer will seem endless. Thankfully, Omio is right here to help you find the right trains and buses to get you there and back again!