Train to Newcastle
The city of Newcastle sits on the River Tyne. For this reason, it is officially Newcastle Upon Tyne but is called Newcastle for short. It is a major city known for its sports/sports teams (like the Newcastle United soccer team), breweries, and vibrant nightlife. But, it has lots of theater and culture for individuals who appreciate the arts. Newcastle is also home to several colleges and universities including Northumbria University and Newcastle University.
Newcastle Train travel to Newcastle is possible from most major cities throughout the United Kingdom. Trains run back and forth between London and Newcastle almost every 30min and from Manchester, Swansea, and Birmingham almost as often from morning until night From Scottish cities like Glasgow and Edinburgh, trains go to Newcastle daily. You'll have many train route choices with a few train companies. When traveling by train to Newcastle, you'll arrive at the Newcastle Station on Neville Street.
LNER A.K.A London North Eastern Railway to Newcastle
LNER is a British train company. It offers train travel to Newcastle from Glasgow, Edinburgh, Nottingham, and Leeds. Upon arrival from any of these cities, you'll get off at the Newcastle Train Station.
Transpennine Express to Newcastle
Transpennine Express services cities in Northern England, Scotland, and the surrounding region. Trains to Newcastle are provided by Transpennine Express from Manchester, Liverpool, and London. Newcastle trains by Transpennine Express depart from and arrive at the Newcastle Train Station.
Cross Country to Newcastle
Cross Country is affiliated with the Arriva Train Company. It provides travel to and from cities all around the United Kingdom. Take a Cross Country train from Sheffield, Bristol, Cardiff, and Aberdeen. You'll arrive at the main Newcastle Station when you're traveling by this train company.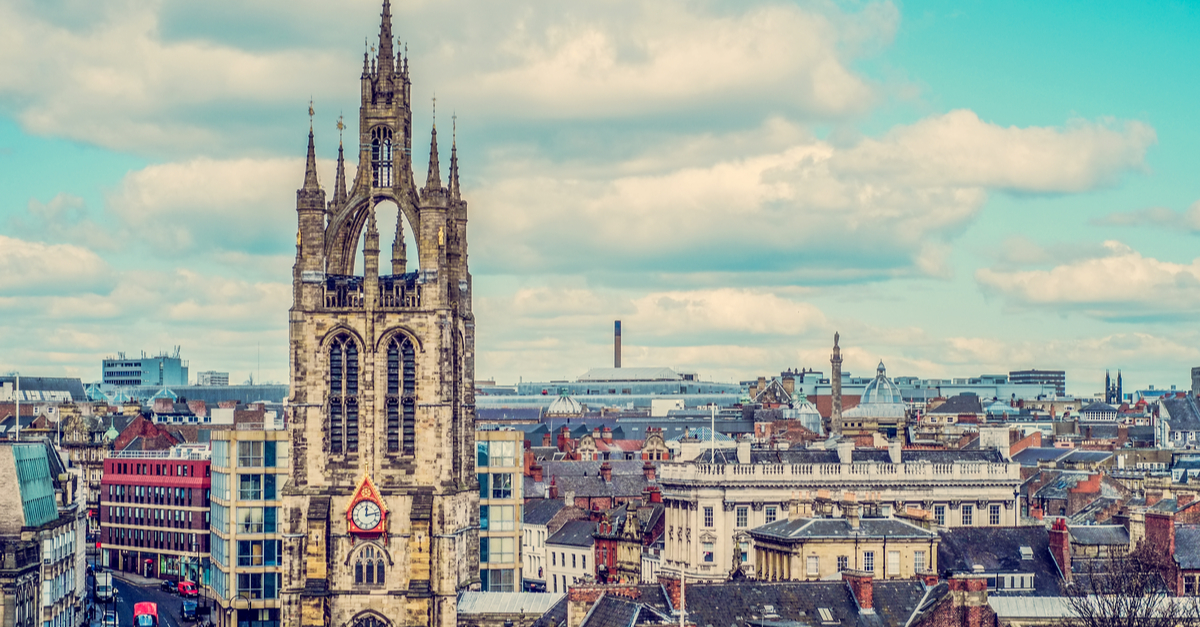 New Castle Tower : Shutterstock
Main train station in Newcastle
Newcastle Train Station is located on Neville Street and is about 0.77 miles (1.25 km) from the city center. Arriving and departing from the Newcastle Station, you'll enjoy several comforts and amenities such as bathroom facilities, free Wi-Fi, onsite dining, convenience stores, ATM machines, and lockers for storing your luggage. It is also close to a parking garage where you can leave your car overnight or for a longer period while you travel.
Onboard facilities Newcastle
Take any of the Newcastle trains for convenient travel from one city in the United Kingdom to another. Each train company provides a variety of amenities to make travel more easy and comfortable. When you travel by train to Newcastle with LNER, you'll be able to grab a bite to eat or a cold or hot drink from the cafe bar.
To let you keep up with business at the office, this train company makes Wi-Fi available to all of its passengers and has electrical outlets for charging your smartphone or laptop at your seat. Onboard Cross Country, you'll have access to free Wi-Fi and toilets on the train. You can also order food and drinks on your travels.
With Transpennine Express, you can watch free movies, catch up on the news or read recent copies of your favorite magazine with their entertainment app. Other benefits offered onboard their trains include food and drink service and bathroom facilities with two toilet stalls on each train. Priority seating and quiet train cars are possible with this company upon request.
Train tickets to Newcastle: useful to know
Keeping with the goal of being more environmentally friendly, many train companies give customers the choice of ticketless travel. This is made possible with e-tickets or mobile tickets that can be scanned from a smartphone or tablet. Cross Country is one company that offers travelers this option. When you purchase your ticket from Cross Country, you can request that your ticket be e-mailed to you.
You can then save it on your phone to show when you're getting on board. To ride on a Cross Country train, travelers must be at least 16 years old. You'll also need a photo id before boarding to verify who you are. Transpennine Express will also deliver a digital ticket to you. Show your phone when getting onboard or print your ticket from your home or office.
This company also has ticket vending machines at the station for last-minute purchases. If using an e-ticket with LNER, you must present the ticket from your electronic device or you can self-print it if preferred. When you buy your ticket with Omio, you won't have to download your ticket. Instead, you can access your ticket from Omio's website. You can also manage your trip and change dates and travel times on the site.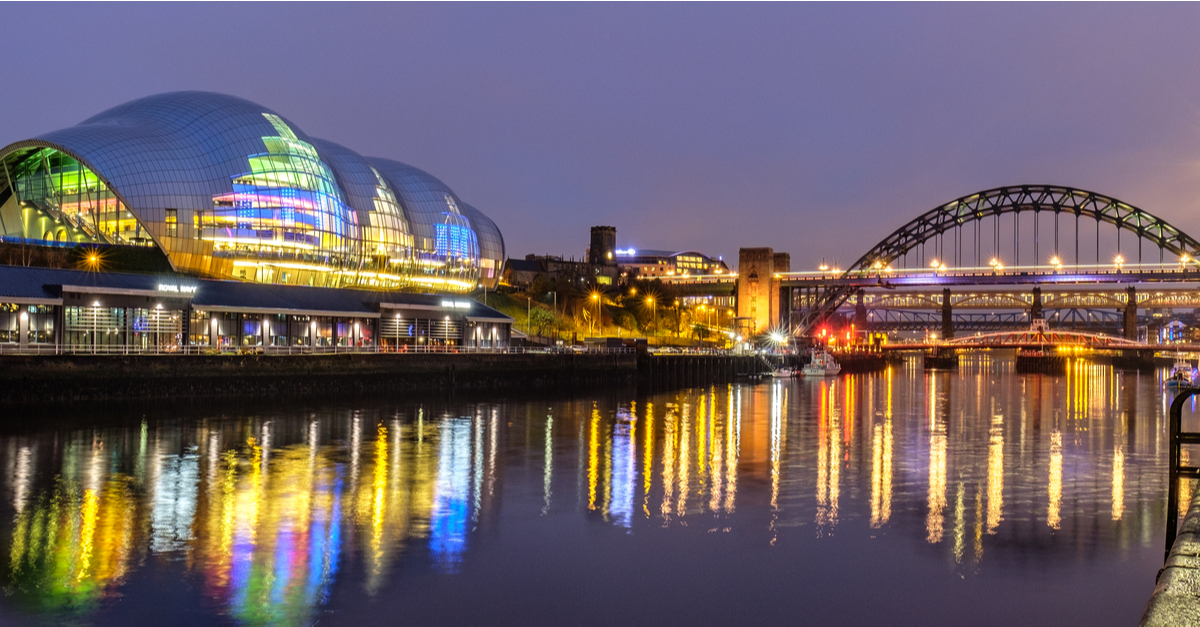 Neww Castle Night : Shutterstock
To Newcastle by train: travel tips
While you're in town, you might want to take the Metro from your hotel to attractions like the Stephenson Steam Railway or the National Center for Children's Books where you can take part in storytelling hour and enjoy interactive displays. With its many universities in Newcastle, there are lots of educational events and opportunities to learn in the city.
Explore exhibits at the Baltic Center for Contemporary Art or the Watch House Museum which houses many artifacts and historical data. The Metro covers much of the city and even travels to the airport. If you have a car, you can drive and then park your car at one of their "park and ride" stops. This way you don't have to worry about navigating the city. The Metro runs from early in the morning until midnight. Trains typically leave every 10-15min so you don't have to plan ahead. The city also has a bus system called Newcastle Transport. It runs both day and night.
There are several places to walk and enjoy the beauty of Newcastle and the River Tyne. Walk along the River Tyne Trail to enjoy the scenery of the forests, countryside, and the river, or take a walk around the beautiful waterfalls of Jesmond Dene. Boat trips on the river are also popular with tourists.
You can choose from one to a few hour tours. There are numerous bridges over the River Tyne. Many are unique and worth seeing. Be sure to ride over the oldest bridge, the High Bridge built in the late 1800s. The Gateshead Millenium Bridge is often used by walkers and cyclers around the city. Take a walk across the river on this bridge or rent a bicycle to ride across it. While in Newcastle, you can delve into a little history. Learn all about wagon trains at the historic Victoria Tunnel and visit the Newcastle Castle to see how the royals once lived.
When you're ready to taste some delicious British cuisine, you can dine at one of Newcastle's Michelin Star restaurants such as the House of Tides or the Broad Chare in Quayside, or the Staith House in North Shields. When you want to do some shopping, go to the Grainger Market or the Quayside Sunday Market where you can buy from local vendors.
If you're looking for souvenirs for family or friends, stop by Eldon Square, a two-story mall in the city center. Before you leave the city, stop by the Diamond Strip for a drink and a little dancing. If you want to hang out with the locals, check out the bars in Jesmond.