Flights in Paris
There are approximately 20 airports in Paris (including airstrips). However, there are three major airports: Orly, Charles de Gaulle (CDG), and Beauvais. The main airports closer to the city are CDG and Orly airports. The two airports are well served by public transportation and will take you a maximum of 40min to the airports. Beauvais is further north of Paris and is commonly used by Budget airlines.
Paris has numerous airlines, including EasyJet, Ryanair, Air France, Volotea, Lufthansa, Air Corsica, and Eurowings. The airlines travel from Paris to other cities in France as well as international travels from Paris. You can always choose your favorite airline with Omio and get the flight that suits you. Book with us and enjoy our quality booking services at the comfort of your device.
Booking your flight ticket with Omio for Paris
Booking with Omio is easy, convenient, and time-saving. We have simplified everything for you! Our user-friendly website will guide you with ease through your ticket booking process. It's easy; I'll take you through. On our website, enter your destination (Paris) and search for available tickets. You will then choose a key from your favorite airline.
From there, you will fill in your personal information and make your payment. Just like that, and your ticket is ready. Print your ticket and have a copy on your computer. If you are far from your computer, you can download our Omio app on your phone and book from there. Everything is simplified. Book with us today for a quick plane travel.
Flight companies in Paris
Flight companies in Paris operate within France (regional travel) and internationally. Some regional flight providers include Air Guyane Express, Chair Aviation, HOP!, St-Barth Commuter, Twinjet, St-Barth Commuter, and Finist'air. The international airline providers include Air France, Corsair International, French Bee, and La Compagnie. We offer both regional and international freight booking services.
We offer you all available options to choose from. We also list prices by different airline companies to help you select an affordable flight to your destination. Tour France and beyond, we are here to help you with your first step to your travel.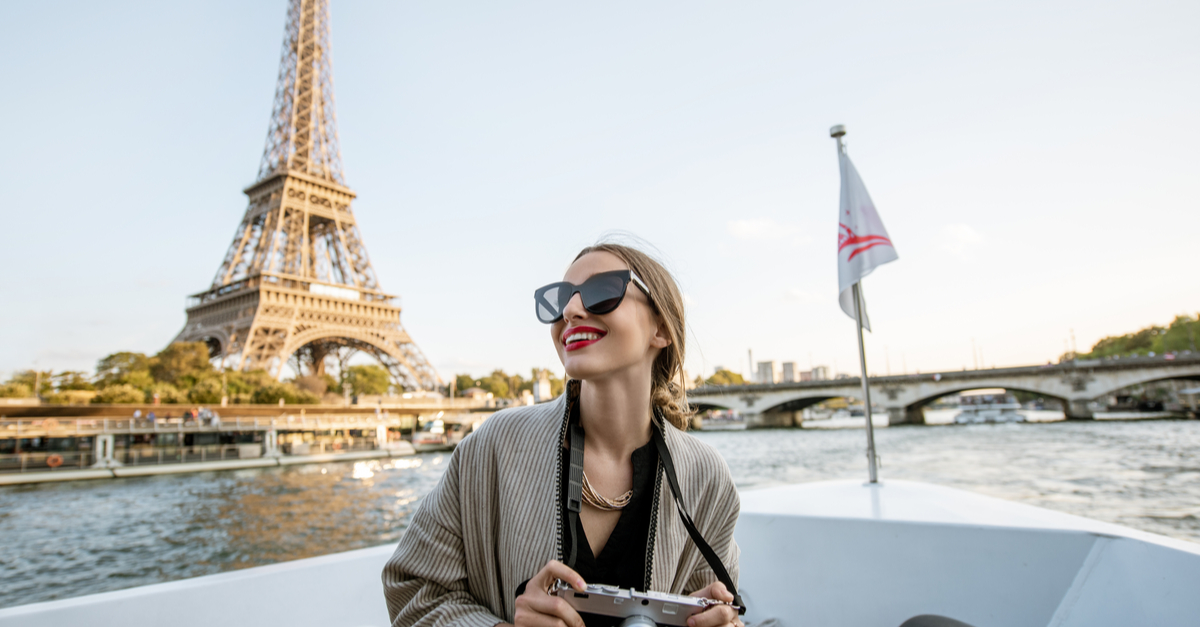 Paris Eiffel Tower . Source: Shutterstock
Popular international routes by flight
There are over 500 international routes from Paris by different flight companies. They include Paris to Tunis, Paris to Marrakech, Paris to Frankfurt, Paris to Lyon, Paris todakar and Paris toDakar. Flights in Paris are a fast way of getting to your destination. Omio has you covered for any flights in any route you prefer.
When arriving by flight in Paris
An oddity in every country is what makes unique culture; France is no different. In France, bonjour is how they greet people, and the fascinating thing is that they welcome almost everyone, especially if you seem friendly or seem familiar. The other word you will hear a lot is "sorry," if someone bumps you on the streets, if you accidentally slip, or simply trying to get someone's attention. You will note that their numerous streets in Paris, people love walking.
If you are used to shaking hands for greetings, prepare for kisses on the cheek instead. Don't look embarrassed when couples speak openly on intimacy; they are used to it. You will adapt. Finally, people run to shops a few minutes before noon. Very few shops open on Sunday and close midday; however, people are used to buying at the last minute. You will see people running to the shops 3min before closing time.
Flight provider in Paris
Several airlines provide flights in Paris. They include Air France, Easy Jet, Vueling, Delta, Turkish Airlines, American Airlines, ASL Airlines, Aegean, and Air Algerie. American Airlines, Turkish Airlines, and Easy Jet provide flights to most destinations worldwide and regionally. If you are not sure of which airline to use, Omio compares the flight rates per airline for you, making booking flights easier for users.
Main airports in Paris
Paris houses several airports. The main airport in Paris is Orly Airport. It is located in 94390 Orly, France, and it features free unlimited WI-FI, ATMs, currency exchange platforms, VAT refunds, lost and found, and a business Center. Charles de Gaulle Airport(CDG) lie at 95700 Roissy-en-France, France. Amenities at the facility include lost and found, free wifi, medical aid, prayer room, lounge, and business facilities. Beauvais Airport is located at Tillé CS 20442 60004 Beauvais Cedex. It provides restaurants, cafes, accommodation, shopping, and free Wi-Fi.
Popular journey in Paris
Some of the most popular journeys in Paris include Paris Lyon, Paris-Marseille, Paris-Nice, and Paris-Nantes. Flights from Paris to Lyon take 1h 10min and cost 267. The Paris- Marseille flight tkes 1h 20min and costs $377. Paris to Nice takes about 1h 05min and costs $250. The flight time in the Paris Nantes is 1h 5min and averagely costs $393.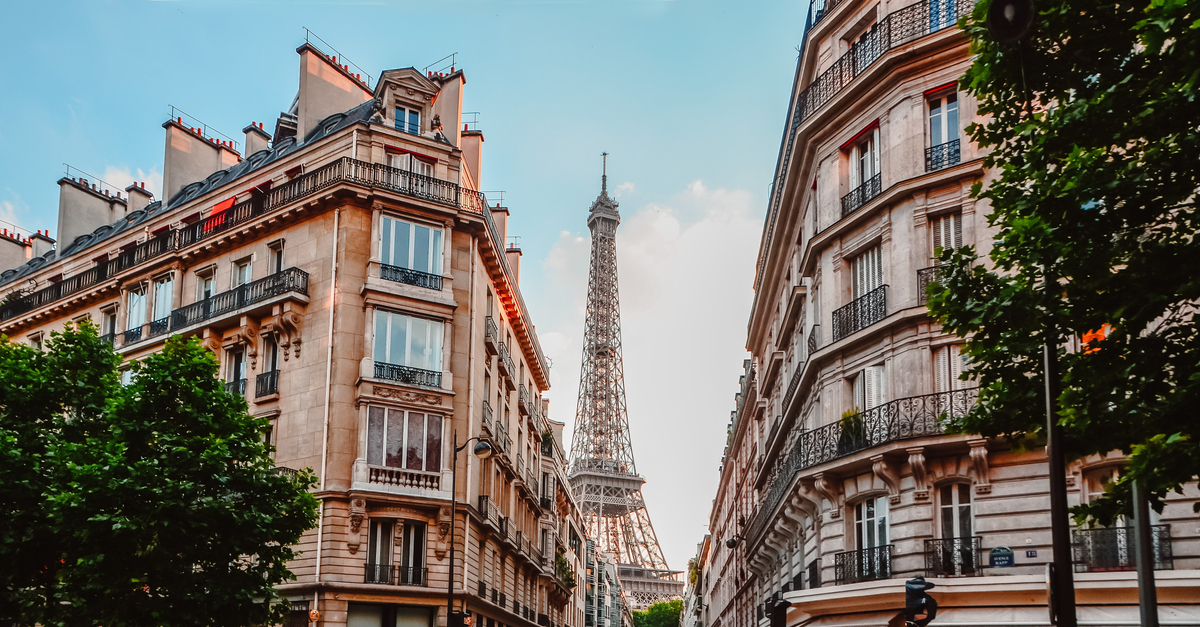 Paris Eiffel View . Source: Shutterstock
Popular flight routes from Paris
Common international flight routes from Paris include: Paris to Tunis, Paris to Mumbai Paris to Marrakech, Paris to Athens, and Paris to New York City. Flights from Paris to Tunis take about 2h 30min and cost about $197. FIGHTS from Paris to Marrakech take about 3h 25min costing an average of $426. Flights to Athens take 3h 15min and cost an averagely of $98. Fights between Paris and Mumbai take about 30h 50min costing $630 with one-stop. Flights to New York from Paris take 15h 15min.
Good to know
Connecting flights tend to take longer than direct flights but cost cheaper. Taking flights is the most expensive option compared to the road or train. However, flights are faster and get travelers to their destination efficiently if they are in a hurry or hate to spend too much time on the road.
To Paris by flight—travel tips
While in Paris, people seem to gamble along the streets; do not get tempted to play. The games are mind tricks with a group of coordinated people to steal your money, don't gamble. It's a holiday in August, and it's probably your best time there, no rush on the streets. Most Paris speakers speak French nut there are speakers of English.
At least learn how to respond to greetings; you will have to reply to more than few dozens of them in a day. Dress in more black, people in Paris prefer to dress more formal wear. If you don't want to appear overly unique, dress like the ordinary French person Cheese is everywhere in Paris, and it comes in more than 500 different varieties; you should try it.
As you plan to visit the Eiffel Tower, also put Disneyland Paris in your travel bucket; it's probably the second-best tourist site in Paris. I have some fun news for you; Tour de France hosts thrilling cycling competitions in June and July, so if you enjoy cycling races, don't forget to watch the exciting match. And finally, take a tour of the French Alps. The overlapping ranges are undoubtedly the most scenic worldwide; they cover a 745 miles (1200 km) stretch.
Travelers can soak up Paris Histort at Musee du Louvre, Cathedral Notre- Dame de Paris, Musee d'Orsay and Palais Garnier. Nature lovers will love a cruise in Seine River the bustling boulevards, Jardin du Luxembourg Ad Parc des Buttes- Chaumont. There are multiple activities, both summer, and winter; the experience will leave you nostalgic. Finally, enjoy the long lunch from noon to 2:00 p.m.