Train to Geneva
Nestled along the southern shores of Lac Léman, the municipality of Geneva is the second most populated city in Switzerland. It is known around the world for international policy and diplomacy and has earned the nickname Peace Capital of the World. There are five railway stations dispersed throughout the municipality, with the primary being Genève-Cornavin railway station or Geneva railway station. Geneva serves as a terminal stop on the Lausanne-Geneva line and the Lyon-Geneva line.
It also supports the Cornavin‒Eaux-Vives‒Annemasse line, better known as CEVA. Train to Geneva is operated by Swiss Federal Railways, the national railway organization of Switzerland. As a global city, Geneva is well-connected to international destinations via railway. Routes include Paris, Florence, Venice, Munich and London.
Swiss Federal Railways to Geneva
The main railway company that operates train to Geneva is Swiss Federal Railways. This company was established in 1902 and is headquartered in Bern, Switzerland. All of the train stations in Geneva are owned by Swiss Federal Railways. The primary station used by this company is the Geneva railway station, which serves as the terminal station for several of the largest lines it provides. Swiss Federal Railways operates the Lausanne-Geneva line, which is one of the most important and popular lines in all of Switzerland.
BLS AG to Geneva
Another Swiss railway company that you might find yourself aboard is BLS AG. This company does not operate trains directly to Geneva but might provide a leg of your journey if you find yourself coming from other cities in Switzerland, specifically the eastern region. BLS AG owns and operates several lines in Switzerland, including the Bern–Neuchâtel railway line, Grenchenberg railway line, and Gürbetal railway line. If you change from one of these routes to a Geneva-bound train, you will be transferring onto a Swiss Federal Railways train.
SNCF to Geneva
Société nationale des chemins de fer français (SNCF) is a French railway company that operates out of Saint-Denis. This company owns and operates the Lyon-Geneva line that ends at the Geneva railway station. It also feeds the Geneva-Valence line that travels through Grenoble. Train to Geneva from international destinations will often involve some transit via SNCF due to its prominence in the French railway system.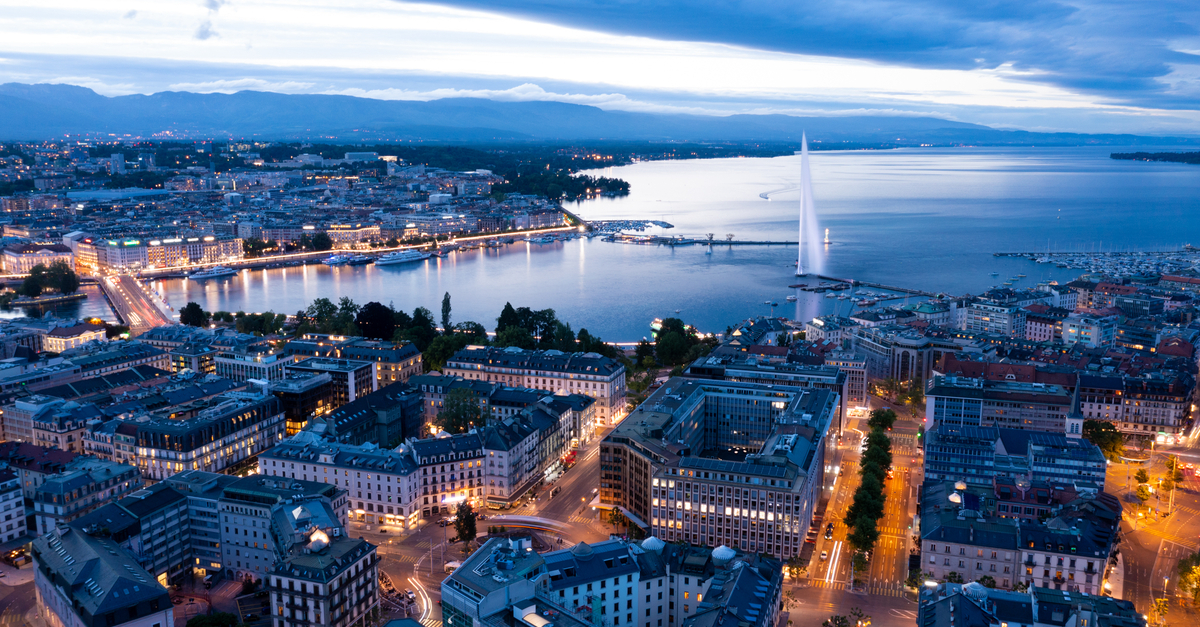 Geneva Aerial. Source: Shutterstock
Main train stations in Geneva
There are five total railway stations throughout Geneva, each owned and operated by Swiss Federal Railways. The primary station is the Genève-Cornavin railway station, better known as the Geneva railway station. It is located in the heart of the city center and serves as the primary station for stops in Geneva along the Lausanne-Geneva line and the Lyon-Geneva line.
You can also travel the Cornavin‒Eaux-Vives‒Annemasse (CEVA) line to this railway station. Another important railway station in Geneva is the Geneva Airport railway station. This station connects directly to Geneva International Airport through a covered passageway. It also falls along the Swiss Federal Railways Lausanne-Geneva line and serves as the terminal station for this route. Chêne-Bourg railway station is located outside the municipality but within the canton of Geneva, serving as a stop on the CEVA line. Genève-Sécheron railway station is an additional stop within the Geneva municipality on the Lausanne-Geneva line. Lancy-Pont-Rouge railway station is in the Geneva canton and serves the CEVA line.
Onboard facilities Geneva
On the journey to Geneva with Swiss Federal Railways, you will be riding an electrified rail network. All trains offer complimentary wireless internet, restrooms, and refreshments available for purchase. You can select from a variety of onboard experiences during your journey, along with the continuous support of passenger attendants. The Business Zone offers workspaces with electrical sockets, reading lamps, and tables. It also includes optimal phone reception and better internet speeds.
The Quiet Zone does not allow any conversations, phone calls, music, or audio programs from a digital device, so you can enjoy your journey in peaceful silence. The Family Coach on all double-deck InterCity trains has a jungle-themed playground on the upper level, along with a variety of board games to support families along their journey. There are also Family Zones on the front or rear coaches of InterCity and InterCity tilting trains that provide more room for strollers, board games, and a friendly environment for children who might be a tad noisier than other passengers.
Train tickets to Geneva: useful to know
You can choose between physical copies or electronic and mobile tickets during your journey to Geneva. There is a multitude of ticket types you can select, from point-to-point tickets that bring you along one journey to the SwissPass which allows you unlimited access to trains and public transit throughout Switzerland on the Swiss Federal Railways network. You can also choose from the style of train you are riding. Regional trains (R) stop at all stations along the line.
S-Bahn commuter trains have high-frequency services and operate as a rapid transit system for larger cities. RegionalExpress (RE) trains are local trains confined to a certain municipality or canton. InterRegion (IR) trains cross the borders of cantons on long-distance journeys. InterCity (IC) trains only stop at major cities, such as Geneva or Fribourg, to save time along long journeys. InterCity Tilting (ICN) trains follow this same pattern but are tilting trains that lean outward during travel to maintain a faster speed instead of the standard or double-decker trains.
Regardless of the train, you choose to ride or the ticket you select for purchase, the easiest and safest way to make your journey a success is by purchasing through Omio. This also allows you to store tickets and travel information in your Omio account, so you do not need to worry about holding onto that paper throughout your journey.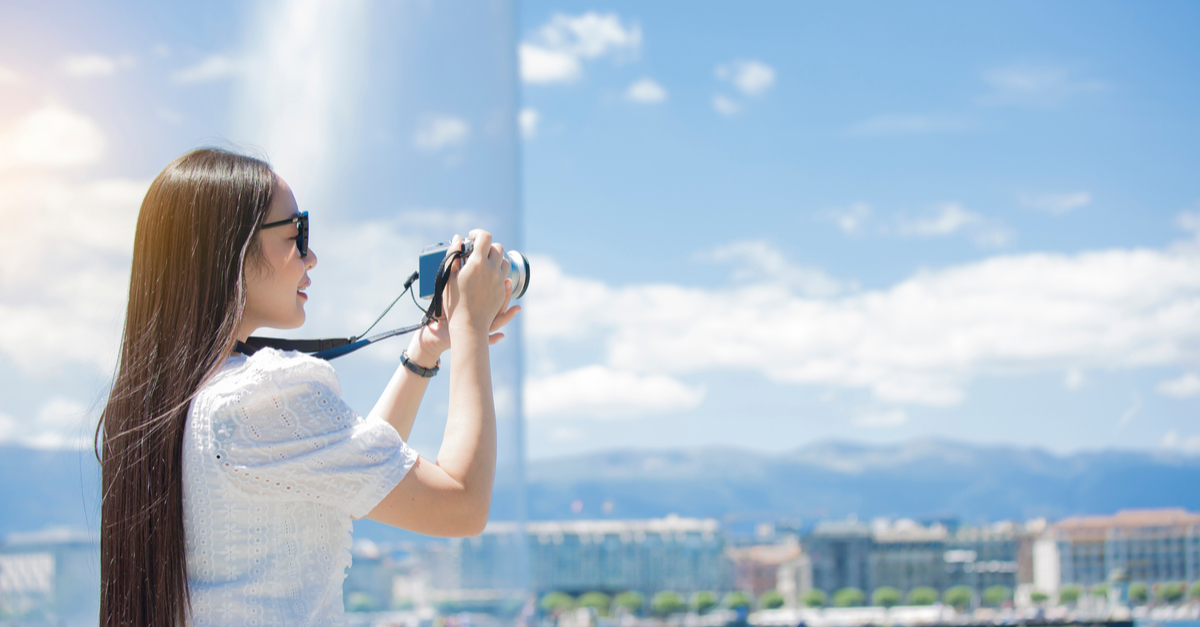 Geneva Camera. Source: Shutterstock
To Geneva by train—travel tips
Once you arrive in Geneva, whether you find yourself at Geneva railway station or Genève-Sécheron railway station, you can connect with the dense network of public transit operated by Geneva Public Transport. You can choose from buses, trams, trolleybuses, metros, and ferries. Swiss Federal Railways also offers rail transport from station to station with the Geneva municipality and throughout the canton.
Geneva Public Transport (TPG) and Swiss Federal Railways use a common fare system called Unireso to ensure your ticket can be used between systems, along with certain public transit systems across the border in neighboring France. Regardless of how you choose to get around Geneva, make time for a visit to scenic Lake Geneva. As you relax along the shores of this mountain lake, you can marvel at the surrounding castles and historic architecture that make this spot look as though it belongs in a fairytale.
Geneva has played a critical role in world history, from the Geneva Conventions to its role as the European headquarters for the United Nations. It is also the headquarters for the Red Cross, a global humanitarian organization dedicated to protecting and supporting life. Simply walking the streets of Geneva and seeing the global importance of this Swiss city is a destination in itself.
You can learn more about the history of Geneva by visiting several museums and historic landmarks throughout the municipality, including the Red Cross Museum that tells the story of how this massive international organization got its start in Geneva. You can also visit the Palace of Nations, headquarters for the United Nations, and where the League of Nations was headquartered previously.
Before you leave, be sure to enjoy some fondue in the country where this delicious meal got its start. Whether you are dunking bread, meat, or anything else into the melted cheese goodness, fondue and Switzerland are meant to be enjoyed together.