Train to Nice
Nice is one of the world's great beach destinations. Set on a broad, sandy bay at the heart of the glamorous Cote d'Azur, it is filled with elegant old hotels, fine dining options and boutiques to stroll around. Historical attractions abound as well, from the spectacularly situated fortress, to the Russian Orthodox Cathedral. Art lovers will want to visit the engaging Matisse Museum in the north of the city, as well as the Museum of Fine Arts, with works by Picasso and Rodin. The city also boasts plenty of modern art in its squares and parks. Trains to Nice are also an ideal way to explore southern France. A short bus or train ride will take visitors to famous resorts like Cannes or the medieval walled village of Eze.
Take a train ride to picturesque Nice, France. This city sits on the French Riviera which borders the Mediterranean Sea making it a popular tourist venue. In fact, many celebrities enjoy Nice for summer and holiday vacations. It has several nice beaches, casinos, shopping malls, and historical attractions for you to see. Nice also has several fine dining restaurants and nightclubs for after-hours fun. Trains travel daily from Paris, Nimes, and Marseilles to the city of Nice several times a day.
Long-distance train trips to Nice from other regions in the United Kingdom and other parts of Europe, such as Manchester, London, Brussels, and Bristol, are also possible. Nice trains depart and arrive at one of three stations. Trains to Nice arrive at the Gare de Nice-Ville or the Nice-Ville Station. The Nice-Ville Station, however, is the main train station.
SNCF (the French National Railway Company) to Nice
SNCF train company provides train routes from Brussels, Geneva, Nimes, Montpellier, and Mareilles to Nice. This is a government-operated train company with its headquarters in Saint-Denis, France. It provides train travel from other cities in France as well as long-distance train routes from cities in other parts of Europe to Nice. It manages all of the TGV/inOui trains (or turbo trains) offered by SNCF.
Long-distance trips, such as those from London, however, might require that part of the trip be with the Eurostar Train Company. On these train routes, you might switch train companies in Paris. The Eurostar Company is a high-speed rail service that is also French-owned and works with SNCF. In the city of Nice, SNCF (the French National Railway Company) departs from and arrives at the Nice-Ville Station.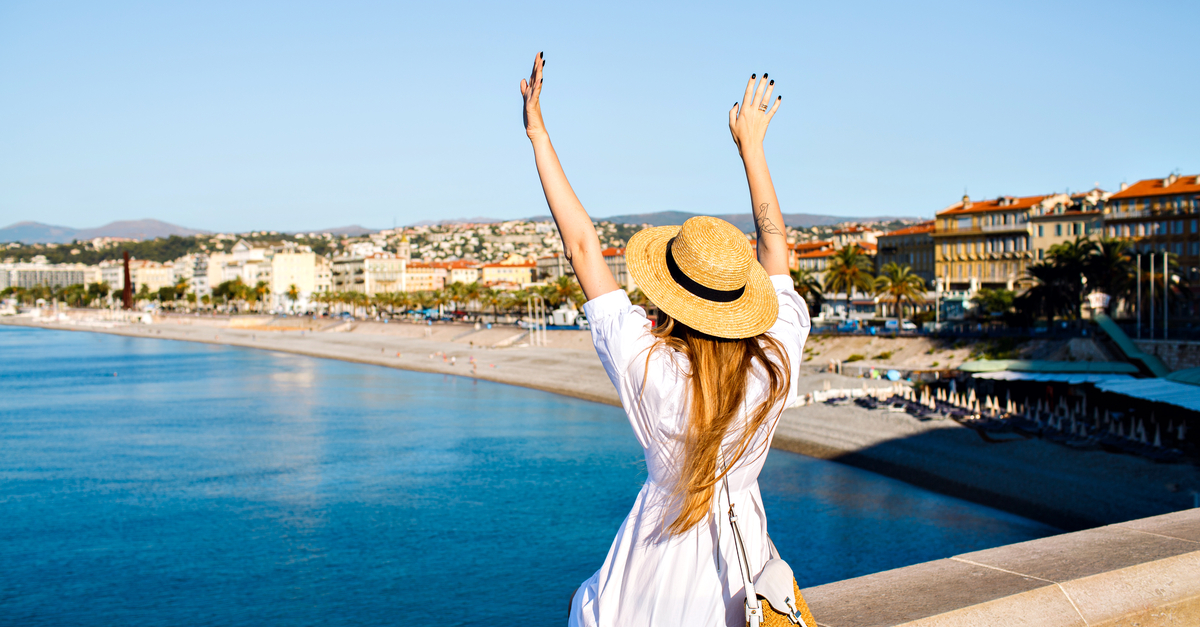 Nice Sea : Shutterstock
Main train stations in Nice, France
Nice-Ville Train Station rests in the Thiers neighborhood close to the heart of the city. It is a grand train station with lots of historical ornamentation and architectural interest and modern features such as elevators and an escalator. At this station, you'll find a wide selection of food from pastries to deli sandwiches. There are also convenient shops around where you can buy necessities such as deodorant or a toothbrush.
Onboard facilities Nice
Take a train to Nice with SNCF and you'll enjoy a variety of comforts and amenities. Onboard a Nice France train with SNCF, you'll have access to free Wi-Fi so that you can keep up with all of your emails or watch a favorite movie from On Demand tv. There are several seating options on these trains.
On SNCF trains, you'll have the option of upgrading to side-by-side, face-to-face, or group seats for families or friends who are traveling together. When you're hungry, you can purchase a sandwich or snack from the cafe bar. A good option for business travelers, on board the train you'll enjoy a spacious table for holding your laptop and outlets for charging your electronic devices. Preferred seating is also possible upon request.
Train tickets to Nice: useful to know
Choose the e-ticket option when you travel with SNCF for convenience. You'll be able to download your Nice France train ticket and save it to your phone to show at the time of boarding. If you'd prefer, the ticket can also be printed at your home or office. SNCF also has touch-screen machines at train stations where you can purchase and print tickets for travel.
To come on board an SNCF train, you must have a photo id such as an identity card or passport. Shop for your train ticket to Nice with Omio. You'll be able to easily identify the best prices and the quickest trips on the site. Additionally, you can access your ticket from anywhere on the Omio website. Because the information is kept in the cloud, you'll never have to worry about accessing it.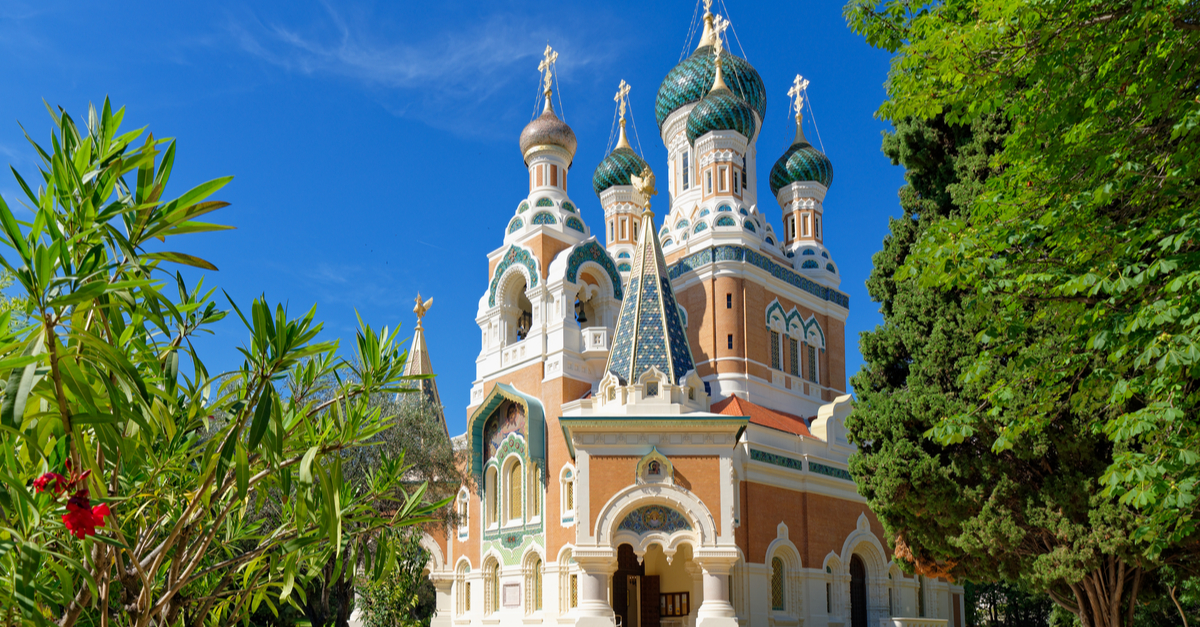 Nice Church : Shutterstock
To Nice by train—travel tips
If you're adventurous, on your stay in Nice, you can watch for dolphins or you can get into some extreme sports like snorkeling or wakeboarding on the French Riviera. You might also enjoy a rappelling or canyoning tour to get that adrenaline rush. If you're a history buff, you can dig into archaeology with a visit to Castle Hill or La Crypte Archéologique de Nice where you can explore the ancient city.
The tramway goes to the Nice Train Station and most other areas and around the city. You can catch a train to your destination and popular attractions around the city. Known as a tram, they run more often in the day and less at night.
There is a tram line that travels around the city square, and another that goes from east to west. Still, another connects to the airport and outlining areas. If you are traveling on a budget, the bus is the most economical way to travel around Nice. The bus goes around the city and travels out to the airport. Buses in Nice don't have official stops, instead, they have to be flagged down by the rider. If you're downtown, look for the free shuttle that goes around the city center and Old Town where there are lots of quaint shops, pubs, and restaurants.
Nice is a relaxing and leisurely city. On your visit to this city, you can do lots of fun things like gambling at one of the casinos located on the pier. Here you can try your luck at card games like Blackjack or slot machines. Nice also has several vineyards and wineries in its countryside. If you're more of a beer drinker.
The city also has a number of local breweries where you can sample some craft beers. Take a tour of one or more of them and you can sample some tasty French wines. The city is home to several majestic churches and cathedrals that you can tour including the Basilique Notre-Dame de Nice and the Cathedrale Sainte-Reparate. Most tourists spend lots of time on the Nice beaches. There are several public beaches that offer fun activities like surfing, sunbathing or looking for seashells.
You can also swim safely at beaches that have lifeguards on staff. Most are not sandy but have pebble rocks. Some beaches also have boardwalks with carnival games, amusement rides, and food. If you want to wake up to views of the sea, consider lodging at one of the waterfront resorts in Nice. If you're an art connoisseur, many well-known artists have their works displayed in Nice at the Musee Marc Chagall or the Musee Matisse so be sure to add these to your travel itinerary. When you're ready to shop for souvenirs, stop by the Avenue Jean Medecin. Walk up and down this street to shop at both designer shops and private boutiques. You can also do some shopping on Golden Meade Avenue.
On your vacation in Nice, you'll have to chance to taste really great French cuisine. Choose to dine at one of Nice's Michelin Star restaurants such as the Restaurant Janne or the Le Chantecler where you can also take in views of the water. After-hours, stop by one of the rooftop bars for a drink and views of the Mediterranean Sea. There are also several beach bars and dance clubs on the waterfront. Do some dancing or enjoy some live music at one of these clubs.