Flights to Barcelona
Barcelona is one of Europe's most famous tourist and commercial destinations, and it is well known for flies from most of the continent's largest cities. The UK provides affordable airlines such as Ryanair, Monarch, and Vueling with direct flights from Manchester, Liverpool, Edinburgh, and most other major British cities in Barcelona.
Carriers like Aer Lingus and KLM also provide one-stop flights to Barcelona via their hometowns. Barcelona is served by one main airport, El Prat, situated in the city's southern region. El Prat is approximately 12 miles (19 km) from the city center and typically connected to the greatest of the city's significant neighborhoods via the Metro, train, and road networks.
In addition, several airlifts to destinations in North Africa and the Balearic Islands pass through the town on their way to their respective destinations.
Booking your flight ticket with Omio for Barcelona
Booking flights with Omio is the best option when traveling around Europe. This ensures that travelers take the quickest route or the best deal. Omio requires travelers to enter their destination and preferred travel dates, after which they will be shown flights from a variety of airlines.
During booking, the traveler can filter out the search results by airport or flight and sort the routes available cheaper and quicker with the Omio Website. Travelers can use various payment methods, including Apple Pay, Paypal, and more, to securely book luggage and tickets. In addition, the company is always available for all travelers to and from the airport to reserve mobile tickets before going and returning.
Flight companies in Barcelona
Travelers planning to use the fight as their primary mode of transportation in Barcelona should familiarize themselves with the region's foremost providers. Vueling, Eurowings, Lufthansa, Norwegian Air, and EasyJet are significant airlines operating in the country. These companies provide a variety of flight services and operate a variety of domestic and international routes.
Europeans travel to other countries for various reasons, such as business and vacation destinations being trendy. The most frequently flown domestic route - Madrid to Barcelona. All of these flight companies are committed to passenger satisfaction and always take the shortest route possible. Additionally, low-cost airline companies such as Ryanair and Easyjet offer inexpensive flights to Barcelona.
Popular international routes by flight
Omio's app and website are a valuable and convenient tool for travelers from other countries in Europe who want to book their tickets quickly and easily. International flights to and from Barcelona are primarily served by flights that originate in Madrid or Barcelona. Continental flights within Europe depart from London-Heathrow, Berlin-Tegel, Paris-Orly, and Barcelona-El Prat, which are the most popular airports. When it comes to transportation, traveling by discount airline is still a viable option, mainly because domestic flight connections are usually shorter in duration than traveling by bus or train.
When arriving by flight in Barcelona
During a visit to Barcelona, the following information is necessary to make the journey easier. When visiting Barcelona, the following information should be provided to visitors to make their trip easier. Travelers can enjoy some traditional cuisine and dine in an authentic restaurant while visiting the beautiful Barcelona region.
Visitors should note that food is eaten later than in the US in Barcelona. Lunch is typically provided at approximately 2:00 p.m., and dinner is usually eaten late, around 9:00 p.m or 10:00 a.m. This is important to note, as most restaurants may not be opening or serving food until 8:00 p.m. So, travelers can always go to the tapas bar for a small finger food before dinner to satisfy their hunger before dining time.
Flight Provider in Barcelona
Ryanair is a low-cost airline based in Dublin, Ireland, and is one of the world's largest in the world. Ryanair was established in Ireland in 1984 and has developed from rags to riches since that time. The airline operates in over 30 republics throughout Northern Africa and Europe, with flights into and out of approximately 180 airports. Ryanair works in favor of the consumers' pockets (pocket friendly).
It accomplishes this by employing a point-to-point strategy for flights and flying to smaller airports located a distance away from the city center of each destination. Flying with Ryanair is a good option if you want to see many different parts of Europe in a short amount of time because of the numerous flight options they provide.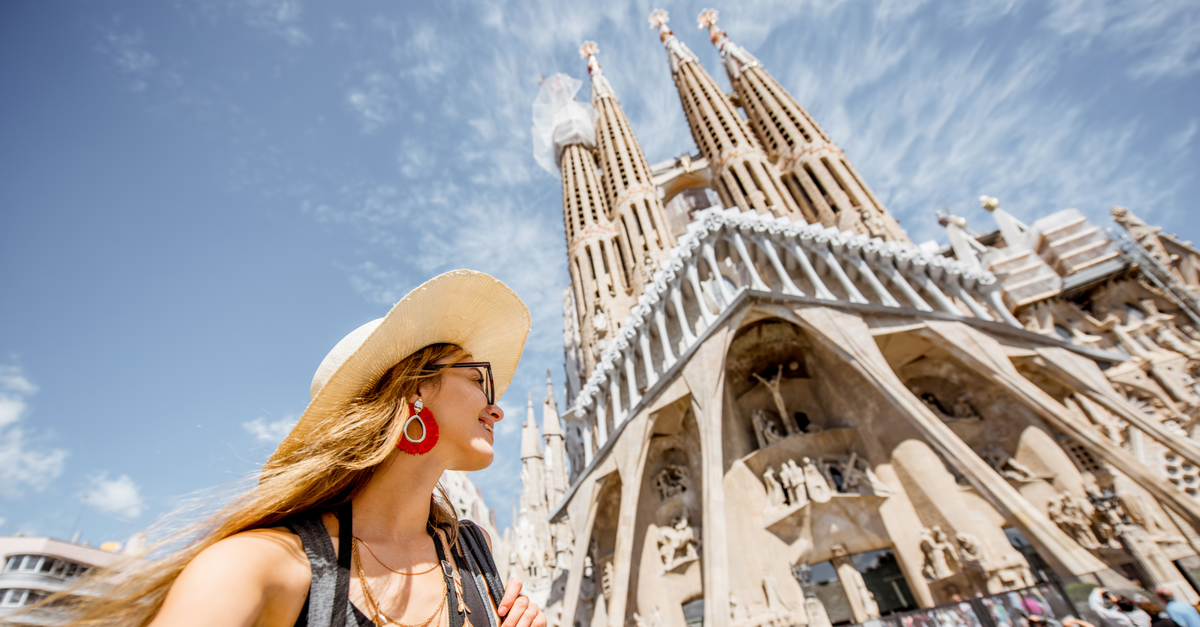 Barcelona Sagrada Familia . Source: Shutterstock
Main airports in Barcelona
Main airlines usually fly direct to Barcelona and typically to the country's leading hubs. However, there are many modes of travel that allow travelers to journey across the country. The main airport in Barcelona is El Prat Airport with the address: 08820 El Prat de Llobregat, Barcelona, Spain. Facilities available in the location are Shops and Eateries, Airport Lounges, Wi-Fi, Toilets, Tourist Information Spas, and Currency Exchange.
Barcelona's main airport, El Prat, is situated in the same-named exurbia as the city's central train station. It is situated 12 miles(19 km) south of the city center; the airport is accessible by train, which takes 30min to spread Sants. Some air travel may land in Girona, which is approximately 70 miles (112 km). Transfers by bus from north of Barcelona take about 45min.
Popular journey in Barcelona
Travelers can fly to Europe and arrive at major European airports such as de Gaulle, Paris-Charles, and Amsterdam-Schiphol. In addition, when flying within Europe, plenty of smaller regional airports exist, making it easy to plan any route or itinerary.
In recent years, flights in Europe have become increasingly affordable and can often be the fastest option for the best price. Therefore, travelers should prefer using the Omio website to book and have great deals for air transport.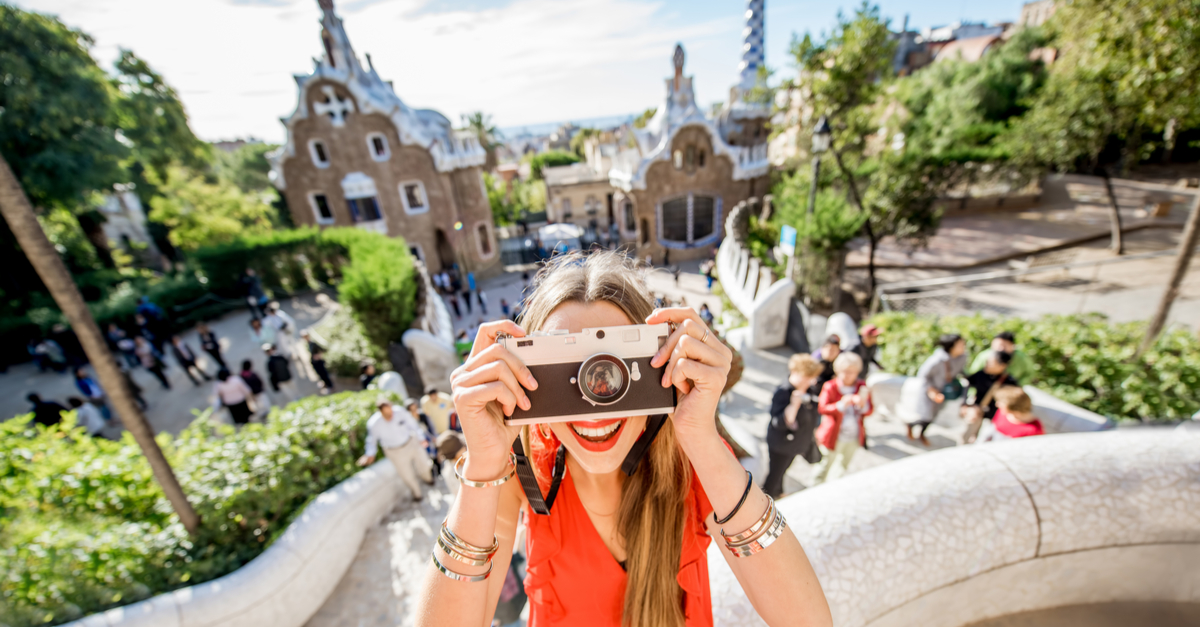 Barcelona Tourist . Source: Shutterstock
Popular flight routes from Spain
The most popular flight route from Barcelona is the flight to Madrid taking an average of 1h 15min costing $48 (€40). Another popular route is the Barcelona-Paris that takes 1h 55min. Flights to London cost $101 (€85), taking about 2h 20min, while flights to Santiago take 1h 50min, costing about $93 (€78).
Good to know
When transferring to Barcelona's central business district, it's prudent to buy a three-day Hola travel pass. They are available at the airport's Train post and can be acquired with a discount of 10% online before flying. Attractions such as the Sagrada Familia, the Parc Guell, and the Picasso Museum are frequently crowded, so reservations are recommended.
Additionally, savings could be provided on the Barcelona City Pass that includes return transactions to El Prat airport. Lastly, travelers arrive at Mout Tibidabo. The theme park is luxurious, providing a lot of fun to the visitors, and the views are breathtaking.
To Barcelona by flight- travel tips
Air travel to Barcelona is the quickest mode of travel from major cities in the United Kingdom. Barcelona is a vibrant eastside city that offers gorgeous scenery, stunning architecture, and new cultural sites. It provides everything for every type of visitor. History lovers can visit Basilica de la Sagrada Familia, Barri, Casa Mila and Palau de La Musica Catalana .
Guardo Surrealist Park features splendid fountains, viaducts, garden space, and a picnic area ideal for nature lovers and families. Sports lovers can catch a game at Camp Nou, which features a large stadium. Shopping lovers can head to Mercant la Boqueria, which boasts an abundance of sweet pastries, authentic specialty food, chocolates, bread, and smoothies.