Trains from Florence to Pisa
While there are various ways to get to Pisa from Florence, trains are an ideal transport mode. They combine low travel costs with fast arrival times as they encounter no traffic. Florence and Pisa are within an estimated distance of 42 miles (68 km) of each other. When traveling the route, trains can take nearly 51min on average. However, slower trains, which also happen to be quite affordable, may cover the same stretch in approximately 2h 29min. A majority of the train trips are direct.
However, you are likely to find one transfer if you decide to travel aboard a slow train. Numerous trains travel the Florence-Pisa route, with roughly 58 trains making daily departures. Even on Saturdays and Sundays, you can catch any of the 55 daily departures available. Having reached Pisa, you can tour some popular sites such as the Leaning Tower of Pisa.
Florence to Pisa Train Time: Daily Departures
Daily, about 58 trains from Florence to Pisa make their departures. Therefore, a week sees nearly 400 trains service the route between the two cities. Trains are available from 12.40 a.m. These are usually long-distance trains that require close to 1h 23min to complete their trips. After being available throughout the day, the last departing train leaves Florence around 11.54 p.m. While weekends see slightly fewer trains, the earliest and latest departures remain the same. The frequency of departures increases as the day goes by. Thus, between 12.40 a.m., and 7.00 a.m., a train exits Florence for Pisa every hour. However, from around 7.00 a.m. onwards, between 3 and 5 trains ferry passengers seeking to leave Florence for a Pisa destination.
How long is the train trip from Florence to Pisa?
Among the fastest trains from Florence to Pisa can cover the rail distance of 42 miles (68 km) that sits between the cities in around 46min. These trains provide direct trips, hence the short travel duration. However, if the train encounters a stop, the travel time may increase to an estimated 2h 29min.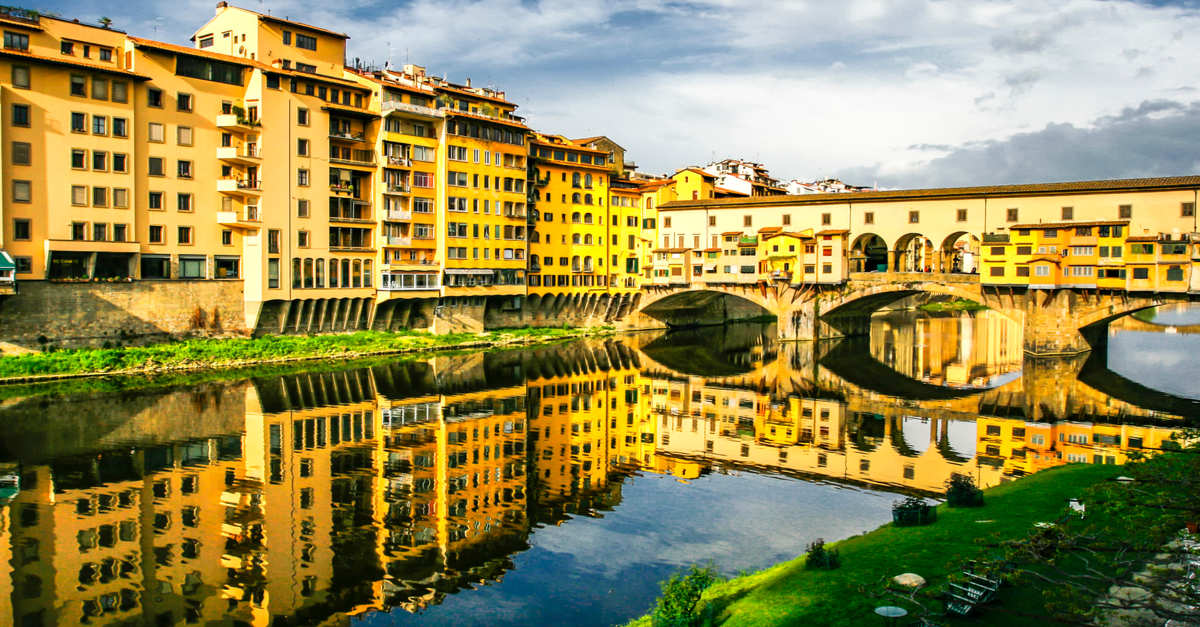 Florance Old Bridge. Source: Shutterstock
What are the departure and arrival stations for trains from Florence to Pisa?
Departure train station: The beginning of the train journey from Florence to Pisa is usually Florence Santa Maria Novella Train Station. The busy terminus, which sits 4 miles (6.5 km) from Florence, features a unique infrastructure that allows easy navigation. It receives any train to Florence and those Florence to other cities. If you happen to be in downtown Florence, you can get on a bus and reach Florence Santa Maria Novella Train Station in approximately 20min. The name of the bus company servicing the route is ATAF.
Alternatively, you can hire a fast, albeit relatively expensive, cab to the train terminus. If you are keen on getting a mini-tour of the heritage-rich city of Florence, you can walk to the station from the city center. A shorter route measuring an estimated 0.8 miles (1.3 km) exists, and you may cover it in about 15min. At times, cheap trains from Florence to Pisa may depart from Florence Campo di Marte.
The terminal is 1.3 miles (2.2 km) from the city center, a distance that you can cover by taxis, buses, or on foot. Cabs can take about 5min, while buses need approximately 15min to connect the city center and the terminal. If walking, you may use nearly 18min. Before boarding your train, you can grab some refreshments from the shops that operate in the terminals. Further, you can make use of some Florence Santa Maria Novella Train Station and Florence Campo di Marte amenities like restrooms and restaurants.
Arrival train station: Pisa Centrale, among the busiest train terminals in Pisa, usually receives all trains from Florence. Between Pisa Centrale and Pisa city center, there are around 2.9 miles (4.8 km) to cover. When traversing it, you can go on take a bus, taxi or simply walk. While a trek is comparatively affordable, it takes the most travel time at about 49min. Buses come in second when it comes to cost-effectiveness. You can board the CCT North buses and cut the travel time by a few minutes as the buses' travel time is approximately 30min. However, if you need to get to central Pisa within an estimated 10min, taxis are the better option. In Pisa Centrale, you can find some usable amenities, including a luggage storage area. In addition, there is a waiting area, refreshment-selling shops, and washrooms at passengers' disposal.
Which train companies travel from Florence to Pisa?
The trains from Florence to Pisa are all under a train company called Trenitalia. The Italian government-backed corporation came into being in 2000 and endeavored to service various rail routes within Italy. A subsidiary of Ferrovie Dello Stato Italian, Trenitalia also services some European cities. Ordinarily, when traveling from Florence to Pisa by train via Trenitalia, you may encounter both nonstop and single-transfer train rides.
Trenitalia trains from Florence to Pisa
Trenitalia runs several train types, and two of which serve the Florence-Pisa route daily. These are the Regionale and Frecciargento trains. Regionale trains are long-distance, and they take the maximum travel time during their journeys. If aboard this train, you can spend up to 2h 29min before arriving in Pisa. Notably, trips by the Regionale trains take the lion's share of the daily departures.
You can board the Regionale train from around 12.40 a.m. to approximately 11.45 p.m. Regionale trains' trips are direct, while trains that depart from Florence Campo di Marte will include one stop at Florence Santa Maria Novella Train Station. The high-speed Frecciargento train makes one departure every day on weekdays at about 9.54 p.m. The train's travel time is around 46min. Be sure to book the Frecciargento train tickets in advance through Omio, as they sell out in advance.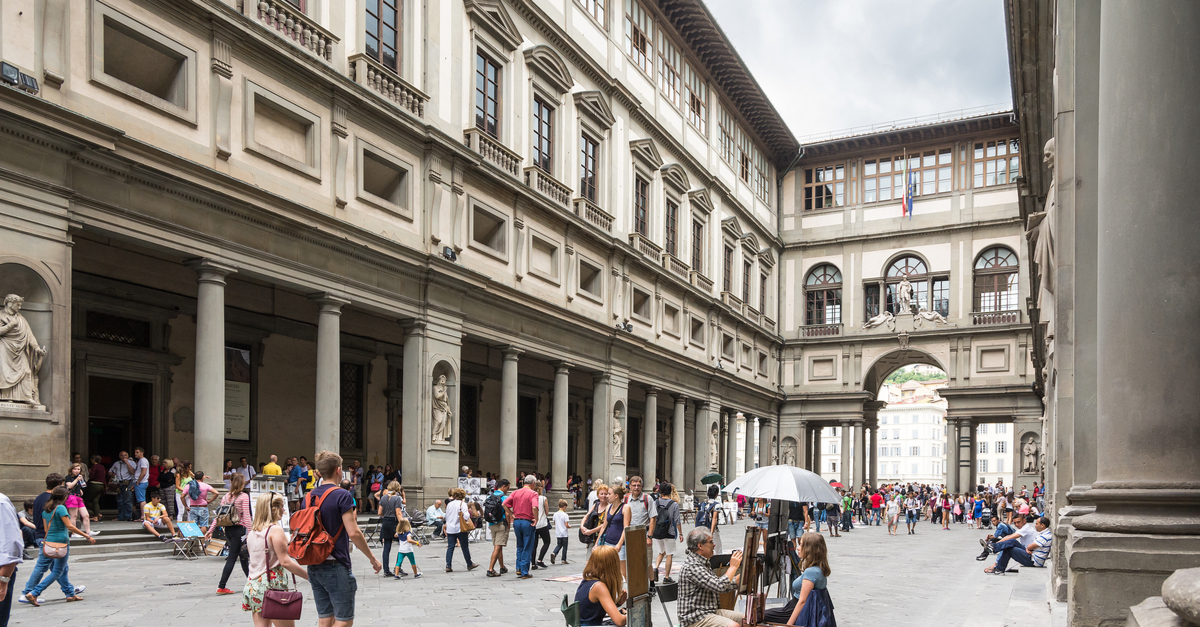 Florance Uffizi. Source: Shutterstock
Train Florence to Pisa: Services on Board
Whether traveling aboard the long-distance or high-speed Trenitalia trains, various perks guarantee a memorable travel experience. Firstly, you may have to buy Economy, Super Economy or Base tickets. Then you can decide to travel in varied seating classes, namely Standard, Premium, Business, and Executive. The Regionale trains feature the Standard class, which has cozy seats, free Wi-Fi, a table, and an entertainment pad. Further, there are some electrical outlets for phone and laptop charging.
If on the Frecciargento, additional services in different classes may include flat-screen TVs, leather seats that rotate, and private rooms. In Trenitalia trains, transporting up to two luggage pieces and a folded bike attract no extra cash. Also, small pets can find some space in the cabin at no cost. If you expect some trouble moving around due to reduced mobility, be sure to let the staff at Trenitalia help by alerting them 36h before the departure time.
How to find cheap train tickets from Florence to Pisa?
Trains from Florence to Pisa present you with a variety of ways to access cheap train tickets. You can buy the flexible Base tickets and alter your travel date such that you board a train when a travel discount exists. If you don't mind being on the train for an hour or two, be sure to check into the slower Regionale trains. They charge a significantly lower fare amount compared to their faster counterparts. Also, if you have a chance, purchase your tickets three months before traveling, as early bookings usually cost less.
To Pisa by train—travel tips
Pisa presents tourists with a unique chance to explore medieval architectural constructions, tasty street food, and art. The world-renowned Leaning Tower is in the city and sits just next to the grandiose Cattedrale di Pisa. If you have the desire to observe an ancient structure that features a relaxing outdoor, be sure to add the serene Camposanto to your must-visit attractions.
In addition, you may want to visit the National Museum of Palazzo Reale and enjoy a lesson on ancient arts. Finally, be sure not to leave Pisa without sampling the nightlife and native street delicacies served in Piazza delle Vettovaglie.