Train to Rotterdam
With the nickname "Gateway to Europe," Rotterdam has a massive transportation infrastructure with a heavy emphasis on railway. It is the largest seaport in Europe and has connections to both the Dutch railway network and international rail lines. There are six train stations throughout the city, with the primary station being Rotterdam Centraal railway station. You can ride with Nederlandse Spoorwegen (NS) on domestic intercity lines to destinations such as Amsterdam, Gouda, and Schiphol. The Rotterdam stations also serve international lines, reaching major cities like Paris, Brussels, and London. If you are looking to get around the city of Rotterdam via train, there are local lines connecting to the six stations and the RandstadRail metro system.
Nederlandse Spoorwegen to Rotterdam
Nederlandse Spoorwegen (NS), also known as Dutch Railways, is the busiest rail network in the European Union. The primary station it uses in Rotterdam is Rotterdam Centraal railway station, operating several lines that connect across the Netherlands. This includes the Amsterdam–Haarlem–Rotterdam railway, the HSL-Zuid railway, the Utrecht–Rotterdam railway, and the Breda–Rotterdam railway.
Nederlandse Spoorwegen provides additional services at Rotterdam Alexander railway station, Rotterdam Blaak railway station, Rotterdam Lombardijen railway station, Rotterdam Noord railway station, Rotterdam Zuid railway station, and Rotterdam Stadion railway station. Nederlandse Spoorwegen also operates international travel via train to Rotterdam, with lines such as InterCity Direct on HSL-Zuid railway from Amsterdam to Brussels. Any international lines that are operated by Nederlandse Spoorwegen are technically under Nederlandse Spoorwegen International, which is owned by Nederlandse Spoorwegen and specializes only in international travel.
Thalys to Rotterdam
If you are taking an international train to Rotterdam, you might find yourself riding with Thalys. This is a French and Belgian company that operates high-speed trains between Paris and Brussels on the LGV Nord line. It stops in Rotterdam at Rotterdam Centraal railway station before continuing to either Schiphol or Antwerp.
Eurostar to Rotterdam
Another company that operates international trains with stops in Rotterdam is Eurostar. This is a joint international high-speed railway company that operates across Europe. The line stopping in Rotterdam is the Amsterdam-London line. After stopping at Rotterdam Centraal railway station, it either completes the line at Amsterdam Centraal railway station or continues on towards London St Pancras railway station with stops at Brussels-South railway station and Lillie-Europe railway station.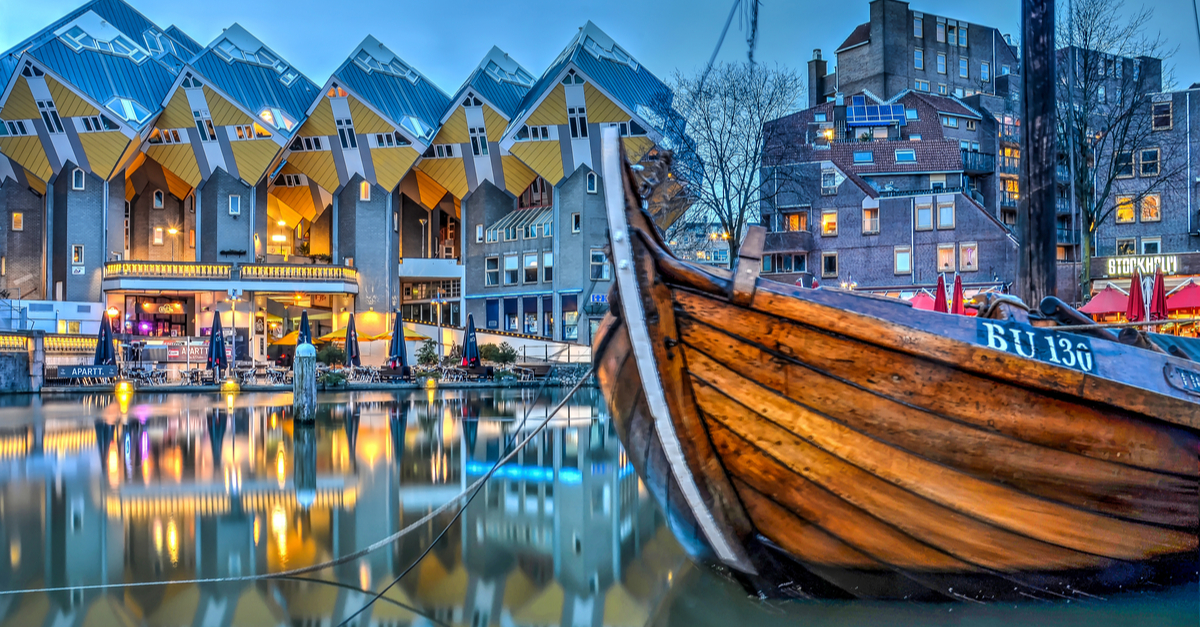 Rotterdam Harbour : Shutterstock
Main train stations in Rotterdam
There are six train stations throughout Rotterdam, with the largest and primary station being Rotterdam Centraal railway station. It is located at Station Square, and serves over 100,000 travelers per day. The station was recently opened in 2014, as the old station was demolished in order to build a new station that could accommodate the growing demand for train services through South Holland.
The station has 13 platforms, with three additional tracks that do not have a designated platform. The other stations in Rotterdam are Rotterdam Alexander railway station, Rotterdam Blaak railway station, Rotterdam Lombardijen railway station, Rotterdam Noord railway station, Rotterdam Zuid railway station, and Rotterdam Stadion railway station. Rotterdam Alexander railway station is found in the eastern part of the city with access to the nearby Alexandrium Shopping Mall.
Rotterdam Blaak railway station is near the city centre, close to the famous cube houses designed by Piet Blom. Rotterdam Lombardijen railway station is located in South Rotterdam in the IJsselmonde borough. Rotterdam Noord railway station is in North Rotterdam, on the border between the municipalities of Noord and Hillegersberg-Schiebroek. Rotterdam Zuid railway station is at the end of the Willemspoort Tunnel, located in South Rotterdam within Feijenoord district. Rotterdam Stadion railway station only operates during events at Stadion Feijenoord (best known as its nickname De Kuip), the home of Feyenoord Rotterdam, a professional football club.
Onboard facilities Rotterdam
During your journey by train to Rotterdam, the support from Nederlandse Spoorwegen, Thalys and Eurostar will offer convenient amenities and helpful facilities. This includes Wi-Fi, streaming entertainment, electrical sockets, restrooms, quiet zones, and baby-changing facilities. If you are riding a long-distance train, you can enjoy drinks and meals in dining cars, personal seats, or overlooking the scenery in lounge cars with artwork throughout the coaches. Complimentary meals and refreshments are often included in long-distance tickets. If you need to work on the go, work cars for business and silent reading are available on long-distance coaches.
Train tickets to Rotterdam: useful to know
Whether you want to print a hard copy of your ticket or use an electronic ticket on your phone or mobile device, you control the ticketing style during your journey to Rotterdam. When you present your ticket and scan the QR code, you will be able to pass through the ticketing gates and provide proof of ticketing aboard the train itself.
Be sure to have a valid form of identification that matches the name on your ticket. Regardless of who you travel with, where you depart, and the station where you arrive, you can save tickets on your Omio account to keep them safe and secure. No need to worry about keeping all your papers together or adding the electronic tickets to your digital wallet - just keep them stored in Omio and pull them up quickly when you need them. Use the filters and search tools on Omio to ensure that you find the best tickets available for your journey, with the budget and schedule that matches your travel plans.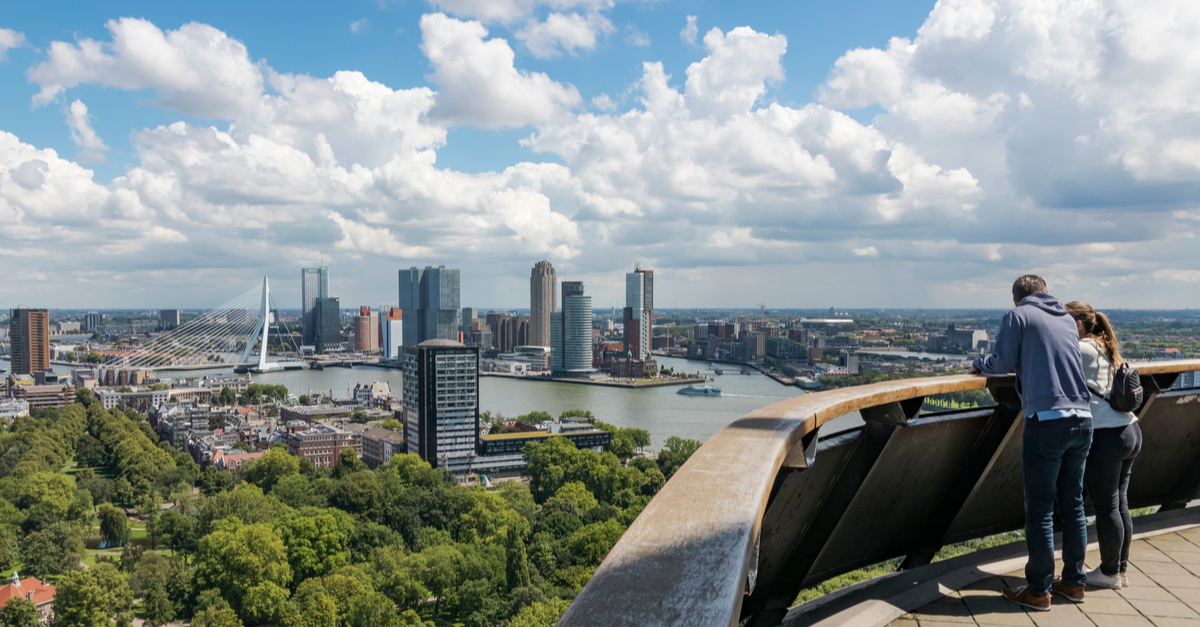 Rotterdam Couple : Shutterstock
To Rotterdam by train—travel tips
Once you arrive in Rotterdam, you can utilize the extensive public transit to get around the municipality. RandstadRail is a metro, tram, and bus line that provides transportation as far as The Hague and Zoetermeer. There is a metro stop located within Rotterdam Centraal railway station that you can use to explore the city center and beyond.
The tram lines are operated by HTM Personenvervoer NV and use Alstom Citadis streetcars. The bus lines are nicknamed ZoRo-bus lines because they connect between Zoetermeer and Rodenrijs RandstadRail station. Regardless of how you choose to get around, be sure to find time for a visit to Markthal. This is a massive food market with over 50 food stalls. The building itself is an architectural marvel, with more than 200 residents who have windows looking into the market.
Once you enter, gaze up at the ceiling and admire the artwork that has been nicknamed The Sistine Chapel of Rotterdam. If this whets your appetite for interesting architecture, hop on RandstadRail for a visit to the cube houses. Built in the 1970s, these residencies are meant to represent a grouping of trees with the peak of each house looking like a pine tree.
With history dating back until 1270, Rotterdam has everything from a vibrant arts culture to historical landmarks for you to enjoy. The Kinderdijk windmills are a great way to explore the Dutch countryside and feel immersed in the history of Rotterdam. If you are looking to explore the artistic culture of the municipality, visit Witte de Withstraat.
This neighborhood is filled with museums, street art, and vibrant nightlife. Take a step back in time with a trip to Delfshaven, a historic neighborhood with quaint brick houses, shops, and restaurants. For a bird's eye view of the city, look no further than the top of the Euromast. This is one of the tallest structures in the municipality and will offer panoramic views of the entire skyline, including the Erasmus Bridge and Hotel New York.