Trains from Amsterdam to Frankfurt
On average, there are around 37 trains from Amsterdam to Frankfurt that depart each day. Each hour, there are usually anywhere from one to three trains to Frankfurt from Amsterdam. While it is possible to find approximately 6 daily trains for this journey that are direct, many of the voyages offered will require you to make at least one transfer. Normally, the most transfers that you will have to make are five.
How long is the train ride from Amsterdam to Frankfurt? The quickest journey offered is a direct train that takes 3h 48min, while the longest journey requires transfers and takes 10h 49min. On average, the trip takes approximately 6h 10min.
Once you reach your destination of Frankfurt, there are many things for you to see, including the Paulskirche (St Pauls Church), Museumsufer (Museum Embankment), the Goethe House, the Museum of Modern Art, and Palmengarten (the Botanical Gardens).
Amsterdam to Frankfurt Train Time: Daily Departures
On any given day, travelers can expect for there to typically be around 37 trains from Amsterdam to Frankfurt to choose from, with a train leaving approximately every 21 minutes. On an hourly basis, there are usually one to three trains that are offered, while weekly, there are over 250 journeys for this route. Typically, the first journey of the day will depart at approximately 4:45 a.m. The final departure of the day will normally leave at approximately 10:40 p.m. Fewer trains are usually offered on the weekend than during the week.
Boarding your train Amsterdam to Frankfurt
To make sure that you have plenty of time to board your fast train to Frankfurt from Amsterdam and find your seat, you will want to arrive at your departure station at least 30min in advance for trains from Amsterdam to Frankfurt.
All railway tracks at Amsterdam Centraal are on the same level, making it easy to find your boarding area. The station offers many amenities for travelers to enjoy while waiting to board their trains, including sitting areas, public restrooms, stores to shop and grab a bite to eat, and complimentary Wi-Fi.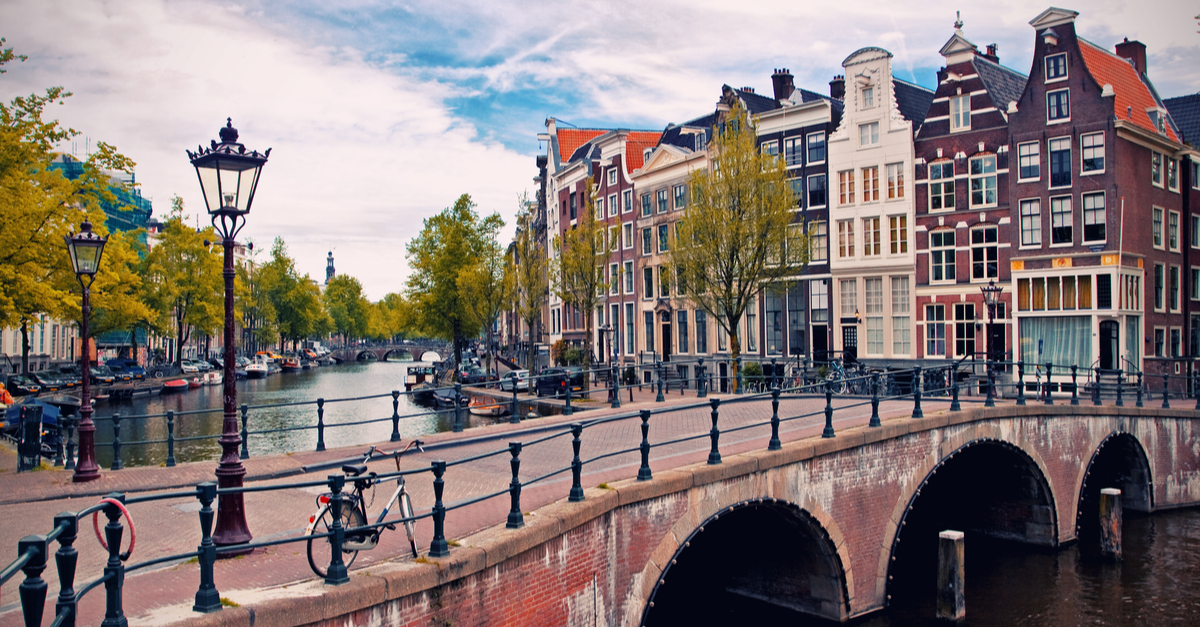 View of the iconic channels and architechture in Amsterdam. Source: Shutterstock
Where does the train depart in Amsterdam and arrive in Frankfurt?
Trains from Amsterdam to Frankfurt will depart from Amsterdam Centraal, which is famous for being the largest railway station in the city and for being a major international railway hub. The station is found in the city center and is well connected to local buses and trams, making it easy to get here from other parts of the city.
There are a few amenities for travelers that are offered, including restaurants, shops, luggage storage, vending machines, and information desks. Once you reach your destination of Frankfurt, you will arrive at Frankfurt (Main) Hauptbahnhof, known as Frankfurt (Main) Hbf. This transport hub is known for being the busiest railway station in Hesse, Germany and can be found in the western part of the city center.
Travelers can use subway lines S8 and S9 in order to travel to and from the station. There are also a few local buses that have stops here. Within the station, you will find shops, restaurants, luggage storage, a parking area, and facilities for individuals with disabilities.
When is the best time to book your train ticket from Amsterdam to Frankfurt?
You will want to book train tickets from Amsterdam to Frankfurt as early in advance of your journey as you can, as this will allow you to benefit from more affordable prices while also ensuring that you secure your ticket before they are sold out.
It's always best to book trains from Amsterdam to Frankfurt before you arrive at the train station for departure, as you can never ensure that tickets will still be left. In general, Amsterdam to Frankfurt train prices can vary, depending on how far in advance you book and how fast the train is.
What to see between Amsterdam and Frankfurt?
On speed trains from Amsterdam to Frankfurt, you will find that there are many interesting things for you to see before reaching your final destination.
It's common to have a stop at Düsseldorf Hbf, which is a charming station in an area that is known for being lush, green, and particularly beautiful to pass through.
If you have time, make sure to enjoy the charming city of Venlo, which you will pass through before reaching Frankfurt. This town can be found in the southeast of the Netherlands and is popular for its architecture and museums.
Information on Frankfurt (Main) Hbf
Once your train reaches your destination, you will arrive at Frankfurt (Main) Hbf. This station can be found approximately 0.9 miles (1.5 km) southwest of the city center.
To go to the city center once your train from Amsterdam to Frankfurt has arrived, you can either walk, which will take around 20min, or you can take local bus lines ICE11, ICE121, or ICE529, which will take closer to 13min. You can take as well the subway lines S8 and S9, which will take you to Frankfurt's city center.
There are several different amenities that you can enjoy at the train station, and these include access to public toilets, a free Wi-Fi connection, shops to purchase light refreshments or travel essentials, such as chargers for your electronics, and sitting areas if you need to rest for a few minutes. Adding to those, you can find restaurants, luggage storage facilities, parking, disabled facilities, and much more.
Night trains Amsterdam Frankfurt
If you would like, it's possible to grab a night train that departs Amsterdam for Frankfurt. The latest train from Amsterdam to Frankfurt that is typically offered will usually depart at around 10:40 p.m. Depending on how many transfers you are required to make, you will then arrive in Frankfurt anywhere between 7:45 a.m. and 9:30 a.m. There is also a train that often will leave at around 8:30 p.m. and arrive in Frankfurt at approximately 2:30 a.m.
Deutsche Bahn Amsterdam to Frankfurt
For trains from Amsterdam to Frankfurt, you will find that Deutsche Bahn is the primary transportation provider. Deutsche Bahn is famous for being the national railway company of Germany and for being one of the largest train providers in Western Europe. Each day, this company services approximately 37 trains from Amsterdam to Frankfurt, for a total of over 250 trains that are offered each week.
While some of these trains that are offered are direct, many will require travelers to transfer at least one time and up to five times in total before reaching Frankfurt. On average, the journey will take anywhere from 4h 23min to 12h 42min. The trains that are used for this route are normally standard regional trains.
Trains Amsterdam to Frankfurt: Sustainability travel
When you choose to travel by train, you can rest assured that you are traveling in one of the most sustainable ways possible. Trains are known for having a much lower carbon footprint in comparison to other modes of transportation, meaning that your impact on the environment will be lessened by opting for railway service. You won't have to sacrifice comfort for the sake of sustainability, as trains are also known for being an enjoyable way for travelers to arrive at their destination.
Train Amsterdam - Frankfurt: Services on Board
When boarding a Deutsche Bahn train to Frankfurt from Amsterdam expect to have a lot of services available:
On trains from Amsterdam to Frankfurt, you will have the option of two types of ticket classes, which are first and second class. If you select a first-class ticket, you will have additional legroom, as well as more luggage space and a particularly comfortable seat.
Deutsche Bahn does not have an official limit on the amount of luggage that passengers may bring with them, so you can bring however many items you like of any size as long as they fit in the designated luggage storage area. Folding bikes may be brought on board as long as they are secured in a luggage rack. You can travel with a small pet, but make sure that your furry friend is placed in a proper pet carrier for the duration of your trip.
The trains operated by Deutsche Bahn are typically accessible for individuals with disabilities or limited mobility. If you or someone traveling with you will need additional assistance, you can always contact the company ahead of your voyage, and ask for an employee to help.
When you purchase your train ticket, you will be assigned a seat reservation that you will be required to adhere to for the length of your trip.
Depending on the specific train you will be traveling on, there may be a cafe car where you can purchase light food and refreshments throughout the duration of your trip.
When to book your train tickets from Amsterdam to Frankfurt?
For cheap train tickets from Amsterdam to Frankfurt, there are a few different tactics that you can use. For example, you will normally find the cheapest train from Amsterdam to Frankfurt if you book your reservation as far in advance as normal, as tickets will typically go up in price the closer it gets to your departure date.
To find a cheap train from Amsterdam to Frankfurt, you will also want to be flexible with when you will be traveling, as this will make it easier for you to opt for affordable prices. When possible, try to choose a connecting train that requires at least one transfer, as this will normally be more affordable than a direct train.
To Frankfurt by train — travel tips
With all of its interesting sights, unique museums, and delicious restaurants, you are sure to never run out of things to see and do in this vibrant town with the Omio guide for Frankfurt. You can always take a look at some European art from the 14th century by exploring the Städel Museum, or head on over to the Schirn Kunsthalle Frankfurt to enjoy some modern art exhibitions.
Go to the top of the Maintower, a 56 story skyscraper that is famous for offering some of the best panoramic views in the city.
Visit the Goethe House, which is the birthplace of the famous writer of the same name and is decorated with period furniture and paintings, providing an authentic atmosphere for visitors to learn more about the life of this iconic man.
If you want to spend some time amongst nature, take a few hours to go to the Palmengarten, a botanical garden that has several large greenhouses and spans across more than 20 hectares.
Natural history fans will want to wander through the Naturmuseum Senckenberg, which is the second-largest natural history museum in Germany and a particularly popular destination amongst children.
Enjoy a show at the beautiful Alte Oper, a concert hall that was first built in 1880 and is still one of the most famous opera locations in the world.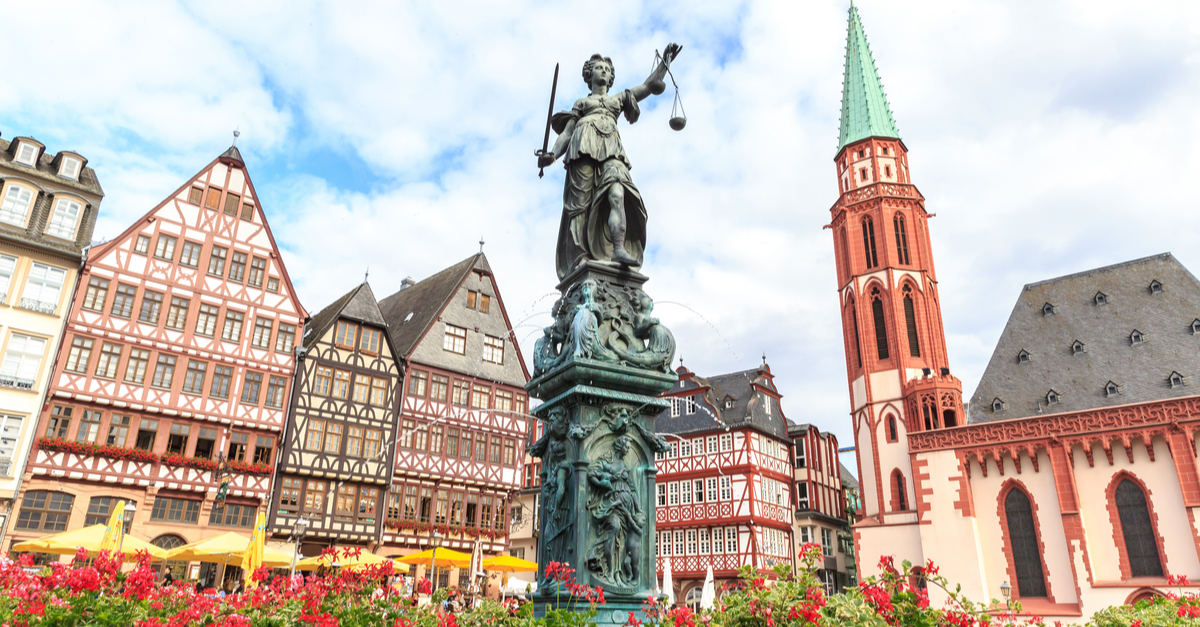 Traditional half-timbered houses in Frankfurt. Source: Shutterstock
What are the other cities you can go to from Frankfurt?
Once you arrive in Frankfurt, there are a few other cities that you can then head to if you wish. For example, you can always choose to take a trip to Strasbourg, France, a charming town that is known for being pedestrian-friendly and for providing visitors with access to the scenic Rhine valley and the Vosges mountains.
You can also go to Cologne, a city in Western Germany that was created over 2,000 years ago and is considered to be the region's cultural hub. Explore famous sites like the Cologne Cathedral or the Museum Ludwig that showcases 20th-century art.