Trains in Canada
Trains in Canada are a reliable way of exploring the country. Canada features an extensive rail network that connects major cities like Vancouver, Toronto, and Quebec. These train routes are scenic and pass through Canada's hidden gems. There are intercity and commuter train services. Intercity trains include The Ocean, which runs through Halifax to Montreal. The Canadian intercity trains operate from Toronto to Vancouver and the cities in between. The Corridor route is the busiest, and it runs from Quebec through Montreal and Toronto and stops at Windsor. VIA Rail Canada operates Canadian long-distance trains and intercity trains.
Booking your train ticket with Omio for Canada
Omio offers a reliable platform for travelers to get organized and efficient train services. To get your ticket, you need to feed your destination, travel dates, and departure points on the website. When travelers provide this information, Omio provides all the information and services along the route. Travelers can choose their preferred providers and schedules. Once you have paid, Omio sends the tickets to your phone.
Train Companies in Canada
VIA Rail is the main provider for train rides within Canada. It operates over 400 trains and connects more than 450 locations in Canada. Commuter train services are available in Montreal, Toronto, and Vancouver. In the Montreal area, train services are operated by Exo. Exo serves cities and towns along the north shore of Mille Lles River and the South Shore of St. Lawrence River. Go Transit is a regional transit system that serves the greater Golden Horseshoe Region of Ontario and the Toronto area. West Coast Express serves the Vancouver and Fraser Valley Regional District.
Popular International routes by train
Travelers can get international train routes by train in Canada. They can cross cities in the U.S and Britain to Canada by Train. The Amtrak Cascades is an amazing way of exploring the Pacific Northwest region. Trains run from Vancouver to Eugene via Seattle. Another popular route is the Toronto-Montreal route which goes through Lake Ontario, Buffalo, and Niagara Falls. The Vancouver- Chicago route is another international route with views of the Great Lakes, Glacier National Park, and the Appalachian Mountains.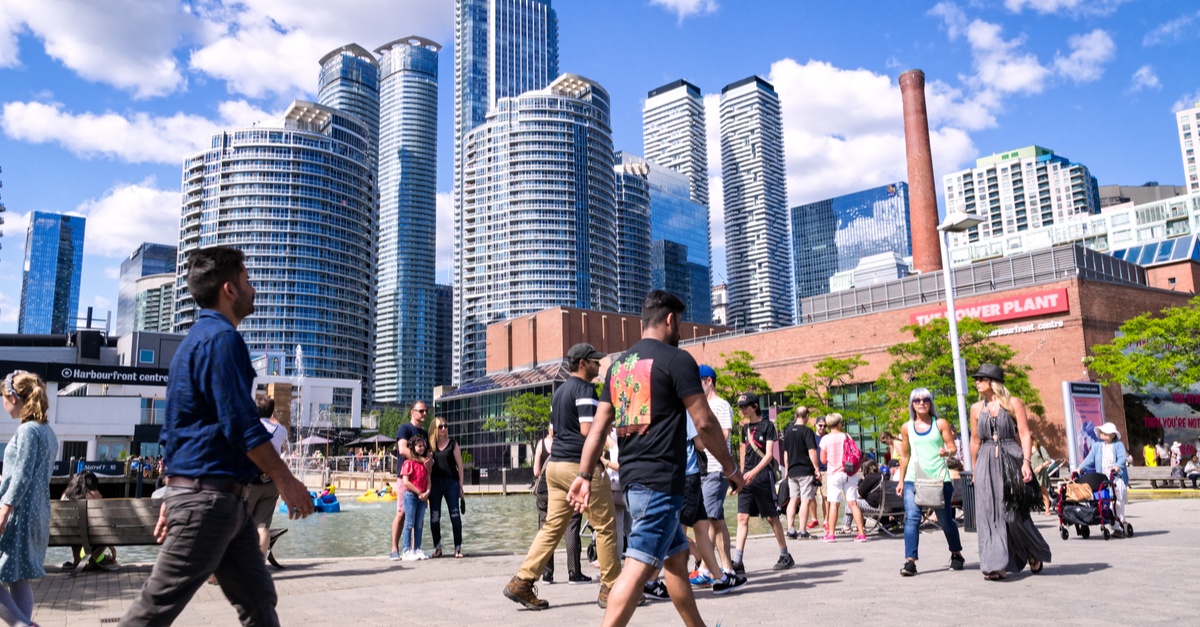 Canada People. Source: Shutterstock
When arriving by train in Canada
Canada features diverse geography, and trains are an amazing way of exploring it. Canadian cities are well spread out, so ensure to book the right train and the distance. Even though most Canadians speak English, French is often used by Canadian locals. Canadians have a reputation for being polite. So ensure you do not stand out by littering or unruly behavior. Most stores open seven days a week and run from morning to late at night. Most restaurants cater to every possible diet preference, and waiters are friendly. Citizens from other countries besides the U.S need a visa to enter Canada. The currency used is the Canadian Dollar, and travelers can acquire them in major train stations, banks, and airports.
VIA Rail in Canada
VIA Rail is the main provider for train rides within Canada. It operates over 400 trains and connects more than 450 locations in Canada. There are four major train routes in Canada: The Canadian, The Skeena, The Corridor, and the Ocean. Ontario Northland provides one passenger train called the Polar Bear Express. It operates from Cochrane to Moosonee. Rocky Mountaineer provides luxurious train rides. It operates on two routes; Vancouver -Jasper, and Vancouver Banff.
Main train stations in Canada
One of the major train stations in Canada is the Montreal Central Station. It operates daily from 6:45 a.m. to 9:45 p.m. It features a ticket counter, baggage services, a lost and found center, Wi-Fi, photo machines, snack bars, vending machines, payphones, exchange services, and washrooms. Pacific Central Station is another major train station in Canada that lies on 1150 Station Street. It features an ATM, payphones, restroom, and tickets sale office. The facility is wheelchair enabled. There are baggage services and parking options. Toronto Union Station lies at 65 Front Street West Toronto. It operates daily from 5:00 a.m. to 12:45 p.m.
The station provides Wi-Fi, baggage services, and washrooms. Additional amenities include photo booths, food concessions, a snack bar, a waiting room, newspapers, banks, and ATMs. It is wheelchair enabled and provides a lost and found area. Churchill train station is a major train station in Canada, and its address is 1 Mantayo Seepee Meskanow. It operates from 8 a.m. to 8:30 p.m. It provides outdoor parking options, washrooms, and payphones. Finally, the Windsor train station lies at 298 Walker Rd. Windsor. It operates daily from 4:45 a.m. to 12:15 p.m. The station provides baggage services, washrooms, telephones, and taxis.
Popular train journeys in Canada
One of the most popular train journeys in Canada is the Cochrane -Moosonee route. Trains from Cochrane to Moosonee take an average of 5h, covering a distance of 186 miles (300km). Another popular train journey in Canada is the Sudbury- White River route. The distance between Sudbury and White River is 247 miles (398km) and the journey time is 8h 3min. The Winnipeg- Churchill is another popular route for trains. They take 44h 55min. The Toronto-Quebec train journey takes 9h 29min. Trains from Toronto to Ottawa take about 4h 24min to get between the two cities. Finally, the Montreal-Halifax train route takes about 22h 7min.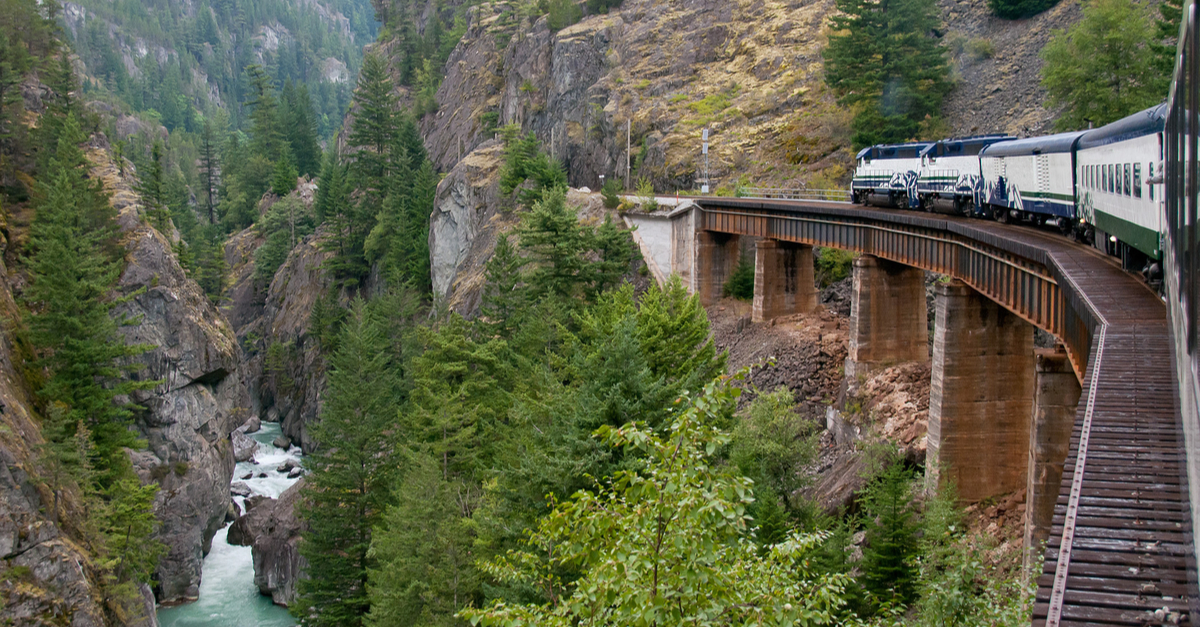 Canada Trains. Source: Shutterstock
Popular train journeys from Canada
One of the most popular international train routes from Canada is the Toronto-Vancouver route. It takes 4 days and 1h.The Jasper-prince Rupert is another popular route and trains take 20h. Another popular international route is the Vancouver –Jasper train route that takes 19h. Trains from Vancouver to Banff, a popular international route, takes about 36h. Finally, the Skagway- Carcross train journey takes about 3h 35min.
Good to know
Trains are the best way of exploring vast Canada. Trains also provide comfort hard to find in other means. Some Canadian trains come with glass-dome-viewing train cars. They are mostly found on long-distance trains. Visitors should make sure they adjust their watches as the country uses six different time zones. Long-haul trains also provide extra facilities like sleeper train cars. Before starting your journeys, ensure to check the duration of your journey and how many layovers the journey may have. Research about the given layovers and activities to do during these stops.
To Canada by Train- travel tips
Canada is a large country, and it features some of the most scenic routes in the world. With train journeys, travelers catch breathtaking views of the West coast, the prairies, Maritimes, and the Rockies. Canada features diverse geography and natural wonders, making it an ideal destination for all travelers.
Outdoor thrill-seekers will love to visit the Banff National Park, which offers visitors hiking trails, pristine lakes, and lush unspoiled landscapes. Cypress Hills is another ideal destination for outdoor enthusiasts. It lies on the Alberta and Saskatchewan border, and it features a blend of lush forests, wetlands, and grasslands. Visitors can enjoy zip-lining, horseback riding, and a tour around the historic Fort Walsh. Outdoor lovers can consider visiting Canada's iconic Niagara Falls.
Families can enjoy a walk on Clifton Hill or catch a cruise at the base of the falls. The Skylon Tower offers an impressive aerial view of the falls. When you visit Canada, be sure to visit the CN tower, which dominates the Toronto Skyline. It features a revolving 360 restaurant where visitors can get impressive city views and views of the lake. Thrills seekers can enjoy a walk in the CN Tower Edgewalk.
If you are out to soak in history during your visit to Canada, consider visiting Drum Heller. It lies in the heart of Canada's Badlands, and it features the Royal Tyrrell Museum. The museum offers a wide variety of fossil exhibits and dinosaur exhibits. Old Quebec features outstanding architectural designs, cobblestone streets, and the iconic Chateau Frontenac. Prince Edward Island offers rich history tours through Montgomery's Cavendish home, ideal for art and charm lovers. Nature lovers seeking ideal destinations will love a tour of the Butchart Gardens. It lies in Victoria, and over a million bedding plants bloom around the year.
Nature-lovers should also consider visiting The Forks in Winnipeg that features live entertainment, vast dining options, and unique attractions. During your visit to Canada, be sure to explore its capital, Toronto. It blends museums, art galleries, live music, arts, theaters, sports, and shopping stalls. A train to Quebec is a great way of exploring the scenic landscape. Quebec offers visitors various activities like dog sledding, fishing, cruise rides, whale watching, skiing, and hiking. It is the ideal getaway for families and couples.