Flight to Florence
When you think of Italy, Florence might not be the first city to pop up in your mind. However, it leaves a lasting impression once you visit it. This could be true due to its charming features, such as intriguing history, and eye-catching architecture, all in what feels like a small town. Some may even describe the city as an open-air museum.
Luckily, you can conveniently access Florence by air and experience the city's mystery and lifestyle firsthand. When flying to Florence, which is located in the Italian peninsula, you will touch down at the Florence airport (FLR), also known as Amerigo Vespucci. The airport is in the northwest outskirts of Florence, approximately 2.5 miles (4 km) away from the city center. Although the Florence airport connects to a wide range of cities, some of the popular ones include Amsterdam, Barcelona, and Paris.
AirFrance to Florence
Air France is one of the major airlines that fly to Florence. Each day, multiple Air France flights leave major airports in the US. However, your flight to Florence with Air France will involve at least one connection, in most cases, in Paris. To fly into Florence, you will need a passport valid for at least three months the expected date of departure from Italy. However, if you plan to travel to Florence for less than 90 days, you don't need a visa.
Swiss Air to Florence
Swiss Air is another popular airline you can fly to Florence in. Having been running the aviation business for slightly less than two decades, the company has exemplary customer service. In addition, given that Florence Airport has one terminal, it's quite easy to get around after landing in Florence. Notably, Swiss Air offers direct flights to Florence, so you don't have to worry about spending too much time on layovers.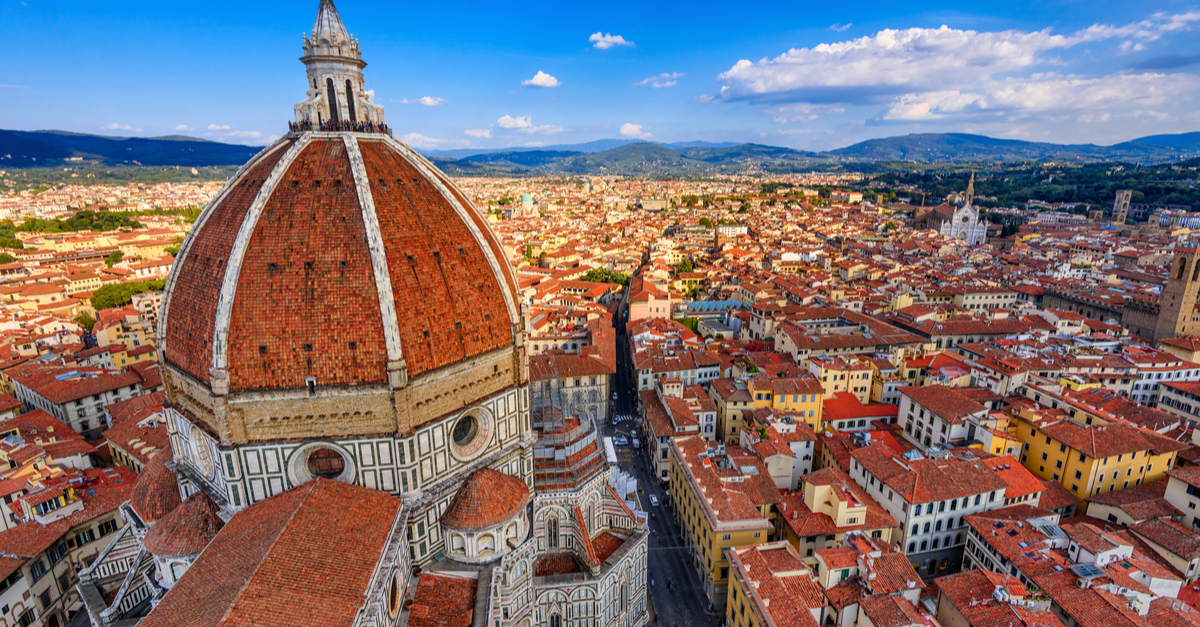 Folrence Aerial Dome. Source : Shutterstock
Main Flight Stations in Florence
Florence has only one airport close by. The airport, located only 2.5 miles (4 km) northwest of the city, has only one terminal. It would take you approximately 20min by bus to get to the city center from the airport. However, despite having one terminal, Florence airport has several amenities you would greatly appreciate. For instance, expect to find car parking right outside the terminal building all day and night. The airport also has a wide selection of shops and a duty-free at departures. Furthermore, the terminal has wheelchair provision and assistance and other disabled facilities like adapted toilets. Other amenities you can enjoy at the airport include free Wi-Fi, ATMs with money exchange, and a café.
Onboard Facilities
If you are flying to Florence via AirFrance, you can enjoy a wide range of onboard services. For instance, the cabin will offer some help if you have reduced mobility. The airline also has a Kids Solo service, where a staff member accompanies your kid throughout the flight to Florence if they are flying alone. Their airplanes are also comfortable, with generous legroom and a fully retractable armrest in most flights. If you'd like to fly to Florence with your dog or cat, you can do so on AirFrance. However, the combined weight of your pet and courier must not exceed 17 pounds (8 kg).
Swiss Air also offers a wide range of onboard services to make your travel experience as smooth as possible. They offer complimentary wine, beer, and spirits. When it comes to baggage, how much you can carry depends on your travel class. If you are traveling in the Swiss Economy, you can only carry one piece of cabin luggage not exceeding 17 pounds (8 kg). When traveling in Business and First class, you are allowed to bring to pieces. Additionally, every passenger can bring one personal item.
Flight Tickets to Florence: useful to know
In the wake of tremendous digital trends, e-tickets have become the norm. You can book your Air France ticket online. After you purchase your ticket, you will receive a confirmation email outlining all the fare conditions for your ticket. Additionally, you will also receive a trip summary, which contains your ticket number. Should anything about your flight change, the airline will update you through the contact information you provide during booking.
Although there is no harm in printing your electronic ticket, you don't have to worry in case you haven't. Similarly, you can also purchase your Swiss Air ticket online. The airline offers an online check-in service, which allows you to check-in 23h before your departure to Florence. By checking in online, you save time you would otherwise spend on the queue. Notably, whichever airline you choose to fly to Florence in, you don't have to worry about losing your ticket as you can store it in your Omio account.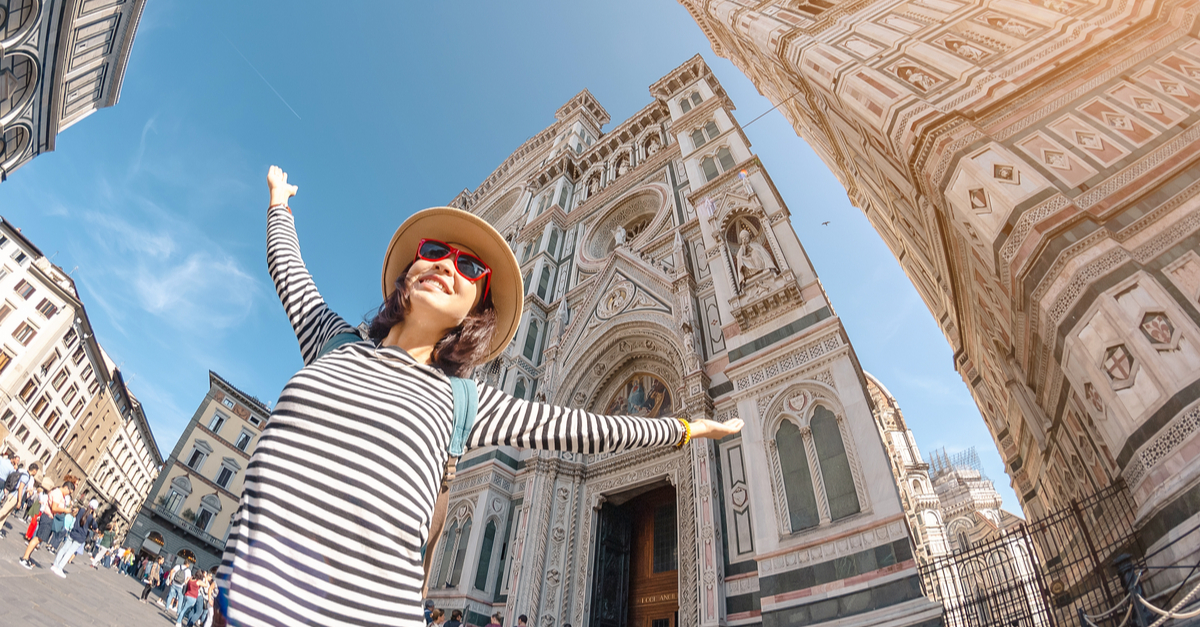 Florence Cathedral. Source : Shutterstock
To Florence by Flight- Travel Tips
Florence has a charm you are not likely to find in any other city. Things move much slower, and the beauty is breathtaking. Florence is also recognized as the cradle of Renaissance art, making it even more worthwhile to visit. When in the city, you can't go without noticing its gorgeous architecture, such as the main cathedral of Santa Maria de Fiore.
The church, which is hundreds of years old, boasts a gothic and Renaissance period architecture. Florence is also home to the Uffizi Gallery, one of the most renowned art galleries in the world. Some of the historical artists whose work is featured in the gallery include Da Vinci, Giotto, and Michelangelo.
Notably, the best way to get around this city is by foot, as you can traverse from one extreme end of Florence to the other in around half an hour. Lucky for you, the streets in Florence are quite easy to navigate. However, if you don't feel like walking anymore, you can board an ATAF bus. You can find a ticket at a local convenience store, but don't forget to validate it once you board the bus. While using a taxi is also another option, it's slightly on the expensive side.
Florence ranks quite high on the list of Italy's most visited cities. Whether you are a history buff, art enthusiast, or a sightseer, the Tuscan capital has something for you. If you enjoy seeing art and architectural masterpieces, then Florence would be fulfilling every minute to you. You will especially find Renaissance-style structures on almost every street. You would be amazed to learn how alive centuries-old traditions are in this city.
Although you can find contemporary fashion pieces and works of art, you can also go artisan shopping. Some of the artisan trades that flourish in this city include leather-crafting, paper making, and jewelling. The Oltrarno area is one of the areas in Florence dubbed Artisan Quarters. You can never say no to delicacies in Florence. Local chefs use homegrown ingredients to prepare sweet meals.
To enjoy your meal like a local, you might consider throwing in a glass of local wine. Tuscany being one of Italy's major wine producers, you are spoilt for choice with options like Chianti and Vernaccia di San Gimignano. Besides, Florence has such nice views that you would still enjoy as much even without going to an art gallery (though that would be adventurous as well). If you can't speak Italian, you will be just fine as almost everyone around Florence can speak English.